Open Access This article is
freely available
re-usable
Review
Diversity of Myxobacteria—We Only See the Tip of the Iceberg
Microbial Drugs (MWIS), Helmholtz Centre for Infection Research (HZI), 38124 Braunschweig, Germany
Received: 6 June 2018 / Accepted: 8 August 2018 / Published: 11 August 2018
Abstract
:
The discovery of new antibiotics is mandatory with regard to the increasing number of resistant pathogens. One approach is the search for new antibiotic producers in nature. Among actinomycetes,
Bacillus
species, and fungi, myxobacteria have been a rich source for bioactive secondary metabolites for decades. To date, about 600 substances could be described, many of them with antibacterial, antifungal, or cytostatic activity. But, recent cultivation-independent studies on marine, terrestrial, or uncommon habitats unequivocally demonstrate that the number of uncultured myxobacteria is much higher than would be expected from the number of cultivated strains. Although several highly promising myxobacterial taxa have been identified recently, this so-called Great Plate Count Anomaly must be overcome to get broader access to new secondary metabolite producers. In the last years it turned out that especially new species, genera, and families of myxobacteria are promising sources for new bioactive metabolites. Therefore, the cultivation of the hitherto uncultivable ones is our biggest challenge.
Keywords:
myxobacteria; diversity; uncultured; secondary metabolites; new antibiotics
1. Introduction
We know little about the real diversity of myxobacteria in the environment. How many myxobacteria are cultivable under standard laboratory conditions? How many resist these cultivation efforts and lie undiscovered in the ground? After an introduction to myxobacteria, the status of antibiotics, myxobacterial secondary metabolites, the Great Plate Count Anomaly phenomenon, and microbial biogeography, the diversity of cultivable and uncultivated myxobacteria in different habitats is presented. Therefore, numerous sequences from the NCBI database were analysed. The intent of this review is to draw attention to the high amount of undiscovered myxobacteria and encourage further discovery and isolation of these hidden treasures with regard to their potential as new antibiotic producers.
2. Biology and Phylogeny of Myxobacteria
3. Current Status of Antibiotics and Myxobacterial Secondary Metabolites
4. The Great Plate Count Anomaly and Microbial Biogeography
To give an impression about the diversity of cultivable and uncultivable myxobacteria in different habitats, published and unpublished 16S rRNA sequences from NCBI are compared with each other and the results are summarised subsequently.
5. Distribution of Myxobacteria in Different Habitats
5.1. Terrestrial Habitats
However, phylogenetic analyses of the 16S rRNA gene sequences from clones revealed a great potential of undescribed myxobacteria in both sampling sites. Several OTUs (operational taxonomic units; groups of sequences with ≥97% similarity) represented unknown taxa exclusively detected by cultivation-independent analyses, but not by cultivation. Furthermore, clone library analyses indicated that the myxobacterial community of the investigated samples is predominantly indigenous.
Most of the known myxobacterial secondary metabolites were previously isolated from terrestrial myxobacteria, because the majority of strains was isolated from (moderate) terrestrial habitats. However, myxobacteria are extremely adaptable and can also be found in demanding environments like acidic soils, fresh water, oceans and salines, anaerobic/microaerophilic, and extreme habitats, respectively.
5.2. Acidic and Alkaline Habitats
Acidic wetlands have a major impact on the global carbon and water cycles. With high acidity (pH 3.5 to 5.0), low temperatures, and extremely low concentrations of mineral nutrients (5 to 50 mg per liter), wetlands are moderate to extreme habitats. Their microbial diversity remains poorly understood, because only microbial populations involved in CH
4
cycling, i.e., methanotrophic bacteria and methanogenic archaea, have attracted considerable research interest. Other members of the microbial communities in acidic
Sphagnum
peatlands remain largely unknown [
87
].
The pH range for growth of the majority of myxobacteria is rather narrow, approximately 6.5–8.5. Therefore, they are common in soils of pH 6–8 (neutral to slightly alkaline pH). However, acidic or alkaline habitats also seem to be suitable for myxobacteria [
10
]. Even in 1977, Hook isolated ten species from waters of an alkaline bog and adjacent soils [
88
] like
Archangium
,
Corallococcus
,
Melittangium, Myxococcus
, and
Sorangium
(former
Polyangium
).
Corallococcus coralloides
, (formerly
Myxococcus coralloides
) was dominant in the terrestrial samples. With pH between 6.0 and 8.7, the investigated habitats were between slightly acidic and slightly alkaline. In 1979, Rückert also described
C. coralloides
as the predominant species in soils of pH 4.1–4.9 and as dominant as
M. fulvus
in soils of pH 3.0–3.5 [
89
]. In alpine acidic soils
C. coralloides
was the third-most dominant species behind two
Myxococcus
species. But, Rückert also noted that the overall myxobacterial diversity in acidic soils (pH 3.5–4.9) was less than in slightly acidic or neutral environments (pH 5.0–7.8). In 1984, Dawid isolated
Myxococcus xanthus, M. virescens
and
Polyangium
sp., but no cellulolytic species from undisturbed
Sphagnum
bogs of the Hohen Venn, Belgium [
3
].
Mohr et al. studied myxobacteria in peat bog and fen with cultivation and cultivation-independent methods [
2
]. Therefore, 38 moor samples of soil, water, plant residues, mud, and feces-material (
Figure 7
a–c) were screened using standard as well as moor-adjusted cultivation conditions (low pH, low temperature, moor-water for preparation of agar plates), screening numerous replicates over several years. The pH of moor samples analyzed in this study was between 4.0 and 7.0 and therefore comparable to those from the other studies. But almost exclusively species of the genus
Corallococcus
could be isolated from acidic soils of the Harz-region (
Figure 7
d,e). A
Sorangium
strain was detected on a raw culture plate with filter (
Figure 7
f), but could not be purified. In addition, the community composition of acidic high moor and fen revealed by cultivation-independent 16S rRNA clone library analysis gave a rather different picture of the myxobacterial diversity.
Phylogenetic analyses of clone sequences revealed a high diversity of undescribed myxobacteria in high moor and fen. Many sequences represent totally unknown taxa. However, numerous clones were closely related to sequences from other cultivation-independent studies of eubacterial diversity in which samples from peat swamp, wetlands peat bog,
Sphagnum
moss, pine forest, acidic fen soil, and forest soil were analysed (
Figure 8
). As mentioned above, cultivation exclusively revealed strains from the genus
Corallococcus
(but from almost all analysed samples).
To my knowledge, no publications about (bioactive) secondary metabolites from myxobacteria isolated from acidic or alkaline habitats are available. However, we screened 21
Corallococcus
spp.-strains from the moor study for production of bioactive metabolites. Raw extracts of all strains showed high activity against Gram positives (
Micrococcus luteus
,
Staphylococcus aureus
,
Bacillus subtilis
, and
Mycobacterium
sp.), the yeasts
Saccharomyces pombe
and
Rhodotorula glutinis
, as well as against the filamentous fungi
Mucor hiemalis
, but no activity against Gram negatives. HPLC analyses of the raw extracts revealed three dominant peaks. By HPLC-fractionation of bioactive extracts and subsequent HPLC-MS analyses the already known substances dibenzylpyrazine, myxothiazol A, and myxothiazol Z/A-methylester, respectively, were identified (data not published). In summary, the moor habitat is a promising source and of high interest with regard to the cultivation of prospective new bioactive secondary metabolite-producing myxobacteria.
5.3. Freshwater Habitats
In natural aquatic environments, microbial cells often build complex, surface-attached biofilm communities. Within the water body or pelagic zone of unpolluted freshwaters, the number and diversity of bacteria is normally lower than on the available substrates. Myxobacteria glide in swarms over solid surfaces. If it is possible, they prefer attached in contrast to planktonic living.
Only very few studies about myxobacteria in fresh water habitats are published. In the 1960th/1970th several studies dealt with nonpathogenic or pathogenic non-fruiting "myxobacteria" as colonizers of freshwater fish [
90
]. However, these publications deal with strains of the Cytophaga-group, which do not belong to the Myxococcales, but to the Cytophaga—Flavobacterium—Bacteroides group. No myxobacterial pathogens are published. Reichenbach mentioned that myxobacteria can also be isolated from fresh water, but explained these findings with soil organisms notoriously exchange into water bodies, being regularly washed or blown in and often surviving there periodically or permanently [
12
].
In 2012, Li and co-workers investigated the myxobacterial community in freshwater lake mud using high-throughput 454 pyrosequencing and myxobacteria-enriched libraries with Cystobacterineae- and Sorangiineae-specific primer pairs, respectively, and reported that myxobacteria were one of the major bacterial groups in the lake mud [
91
]. Phylogenetic analysis showed that the limnetic myxobacteria exhibit closer relationships to their soil than to their marine relatives, but there are also exclusive taxa of limnetic myxobacteria. The major conclusion was that the unclassified Myxococcales in the lake mud comprise a large portion of the microbiota and exhibit high species diversity. Kou et al. analysed bacterial communities in sediments of freshwater (Poyang Lake) in China. There,
Anaeromyxobacter dehalogenans
turned out to be a main part of the bacterial community composition (1–14.6%) [
92
]. In another study about methanogenic microbial communities in sediments of Amazonian lakes using terminal restriction fragment length polymorphism (T-RFLP) and pyrosequencing, the proteobacteria revealed as the most abundant phylum in all lake sediments. Delta-proteobacteria (mainly Myxococcales, Syntrophobacteriales and sulfate/sulfur-reducing bacteria) dominated this habitat [
93
]. In 2014, Kandel et al. investigated the abundance, diversity, and seasonal dynamics of predatory bacteria in aquaculture zero discharge systems by cultivation-independent analyses and found out that in addition to the detected
Bdellovibrio
and similar organisms, other potential predators were highly abundant, especially from the Myxococcales [
94
].
In the absence of cultures which are verifiable natural fresh water inhabitants, up to now, no (bioactive) metabolites have been isolated from limnic strains. However, the above-mentioned detection of exclusively limnic taxa [
95
] suggest that also the habitat fresh water could be a promising source for the cultivation of new secondary metabolite producing myxobacteria.
5.4. Marine/Saline Environments
5.5. Facultative or Strictly Anaerobic Myxobacteria
All known myxobacteria live aerobically, with one exception: The facultative-anaerobic genus
Anaeromyxobacter
comprises one species,
A. dehalogenans.
The type strain was isolated from stream sediment and grows with acetate as electron donor and 2-chlorophenol (2-CPh) as electron acceptor [
11
]. Since 2002, several strains of
Anaeromyxobacter
were isolated from various habitats. Flooded rice field soil [
105
], uranium contaminated surface environment [
106
], corrosion material of drinking water pipelines [
107
], arsenic-contaminated soils [
108
], or chemically and electro-chemically enriched sodic-saline soil (unpublished) served as sources for the cultivation of
Anaeromyxobacter
-strains. A total of 23 sequences designated as
Anaeromyxobacter
(sequence lengths > 1000 bp) are available from the NCBI database (FJ90053–FJ90062, FJ90048, FJ90049, FJ90051, EF067314, AJ504438, KF952446, AF382397, AF382399, AF382400, FJ939131, KF952441, KF952438, KC921178) and were added to a phylogenetic tree of myxobacterial type strains. A similarity matrix calculated with arb (
www.arb-home.de
) revealed 98.4–100% similarity (on basis of 16S rRNA gene) for 20 of these strains to the type strain of
A. dehalogenans
. Assuming that the standard value for the definition of a new species is 98.65% [
109
] and 94% for a new genus, respectively, the above-mentioned 20 cultures probably do belong to
A. dehalogenans
. However, strains OnlyC-B2 (KF952441) and SSS-B8 (KF952438) show only 96.3% and 96.0% similarity to the corresponding type strain (but 99.4% to each other) and putatively represent a new species. One culture, isolated from ginger foundation soil, and also designated as
A. dehalogenans
(KC921178), shows only 86% similarity to the next cultivated (myxobacterial) type strain
Vulgatibacter incomptus
. This culture definitely represents at least a new family if not even a new suborder of myxobacteria (unpublished).
In summary, there are currently two cultivated species of
Anaeromyxobacter,
but only one is validly described. But what about further facultative or even strictly anaerobic myxobacteria?
The NCBI search for 16S rRNA gene sequences of "uncultured
Anaeromyxobacter
" revealed more than 1200 hits. Nevertheless, not all sequences designated as "Uncultured
Anaeromyxobacter
" are close relatives of
Anaeromyxobacter
, as a revision of randomly selected sequences revealed. For example: the sequence GU271851, mentioned as "Uncultured
Anaeromyxobacter
", shows 91% similarity to the next type strain
Haliangium tepidum,
but only 87% to the type strain of
A. dehalogenans
[
110
]. Clone GU271788, also mentioned as
A. dehalogenans
, shows 92% to the next type strain,
Sorangium cellulosum
, but only 86% to
Anaeromyxobacter
[
111
]. On the other hand, there are probably numerous sequences deposited at NCBI which are close relatives of
Anaeromyxobacter
. However, these sequences are just mentioned as "uncultivated Myxococcales", "uncultivated (delta) proteobacteria" or "uncultured bacterium clone" such as clone EUB_19 (FJ189540), which shows 98.7% [
112
] or clone A_Ac-2_16 (EU307085), which shows 97.8% similarity to the next type strain:
A. dehalogenans
[
113
]. In 2009, Thomas et al. analysed the diversity and distribution of
Anaeromyxobacter
strains in a uranium-contaminated environment by mainly cultivation-independent methods. Phylogenetic analyses of the clone and culture sequences revealed that there are at least three distinct
Anaeromyxobacter
clusters at the IFC (Integrated Field-Scale Subsurface Research Challenge) site near Oak Ridge, whereby two sides are exclusively represented by clones. As mentioned above, quantitative PCR assay and pyrosequencing analysis of 16S rRNA genes also revealed
A. dehalogenans
as a part of the microbial community in the sediment of Poyang Lake, the largest freshwater lake in China [
95
].
To get an impression about the diversity of uncultured
Anaeromyxobacter
, I added about 80 clone sequences from NCBI with corresponding designation to a phylogenetic tree of myxobacterial type strains (data not shown). The clones revealed 90.0–100% similarity on the basis of 16S rRNA gene to the type strain of
A. dehalogenans
(AF382396).
Figure 11
shows the affiliation of some representative clones. These clones represent at least several new genera, if not even families of myxobacteria, which are probably also facultative or strictly anaerobic and which could not be cultivated so far.
Although the 16S affiliation of clones does not give any information about metabolism of the corresponding organism, high similarities to aerobic or anaerobic cultures indicate similar metabolic capabilities. However, no bioactive secondary metabolites have been described so far from
Anaeromyxobacter
strains, which is certainly because anaerobic isolation, cultivation, and large scale fermentation requires special efforts regarding equipment and microbiological skills and experience.
5.6. Moderate to Extreme Hot or Cold Environments
Due to long incubation times of psychrophilic strains, their biotechnological use in large scale fermentation would be expensive and time consuming and would only be worthwhile if a highly promising antibiotic was detected in such a psychrophilic strain.
6. Conclusion
In summary, myxobacteria are highly adaptable cosmopolitans. They can grow/survive in various kind of habitats and areas of different, even extreme climatic conditions. In 1993, only 2 suborders, 4 families, 12 genera, and 38 species were assigned to the order Myxococcales [
28
], but in 2018, already 3 suborders, 10 families, 29 genera, and 58 species are described. Although the number of species grows every year, consideration of data from cultivation-independent studies reveals that we only see the tip of the diversity iceberg.
In 2010, 67 distinct core structures and about 500 derivatives were known from approximately 7500 myxobacterial strains [
48
]. Only seven years later, Herrmann et al. could refer to five natural product classes produced by myxobacteria [
49
]. These new molecules show such promising activity that several of them may serve as early lead structures for drug development. This shows the enormous potential of myxobacteria as producers of new, bioactive secondary metabolites. As mentioned by Müller and Wink, three of the most promising approaches toward finding novel anti-infectives from microorganisms are the use of biodiversity to find novel producers, the variation of culture conditions and induction of silent genes, and the exploitation of the genomic potential of producers via "genome mining" [
119
]. With focus on novel producers, the biggest challenge for microbiologists is to get access to the so far uncultivated bacteria.
Acknowledgments
I would like to thank Klaus Peter Conrad, Diana Telkemeyer and Birte Trunkwalter for taking the nice pictures of myxobacteria, Wera Collisi and Steffi Schulz for technical assistance, and Aileen Gollasch, and Sabrina Karwehl for HPLC-MS analyses.
Conflicts of Interest
The authors declare no conflict of interest.
Figure 1. Monophyletic order Myxococcales (delta-proteobacteria), suborders, families, and genera of myxobacteria (status May 2018). The number of species within the genera is mentioned in brackets (original graphic from Corinna Wolf, modified by K. I. Mohr).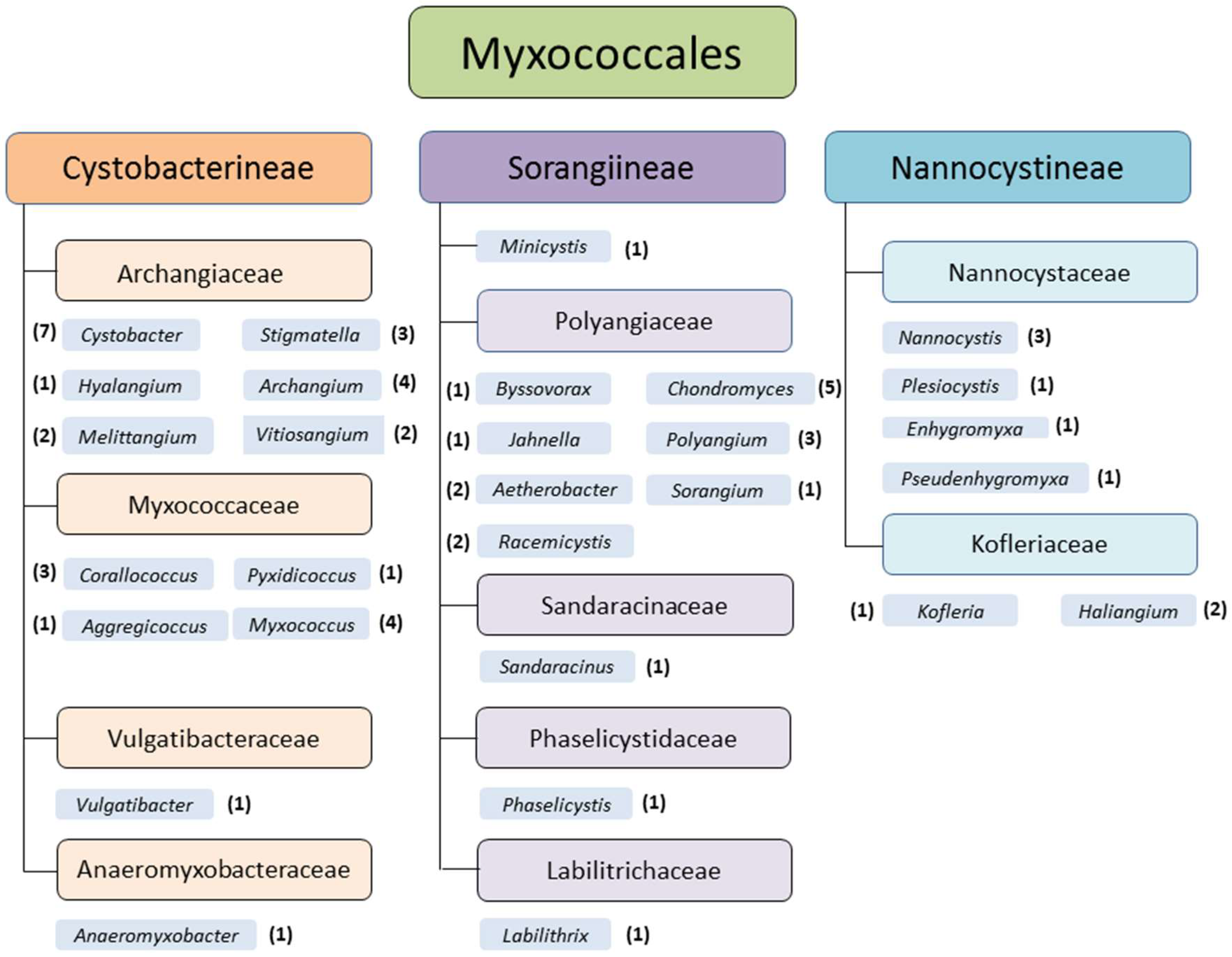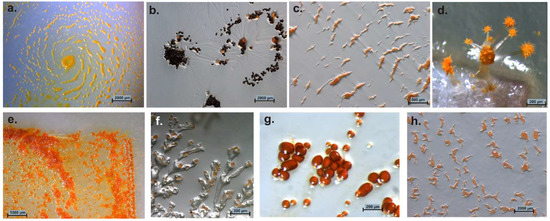 Figure 2.
Variation of myxobacterial fruiting bodies. Genus/species, strain designation, (agar medium) are mentioned. (
a
)
Myxococcus xanthus
Mxx42 (P); (
b
)
Cystobacter ferrugineus
Cbfe48 (VY/2); (
c
)
Archangium
sp. Ar7747 (VY/2); (
d
)
Chondromyces
sp. (Stan 21 with filter); (
e
)
Sorangium
sp. Soce 1462 degrading filter paper on Stan 21 agar; (
f
)
Polyangium
sp. Pl3323 (VY/2); (
g
)
Cystobacter fuscus
Cbf18 (VY/2); (
h
)
Corallococcus coralloides
Ccc379 (VY/2).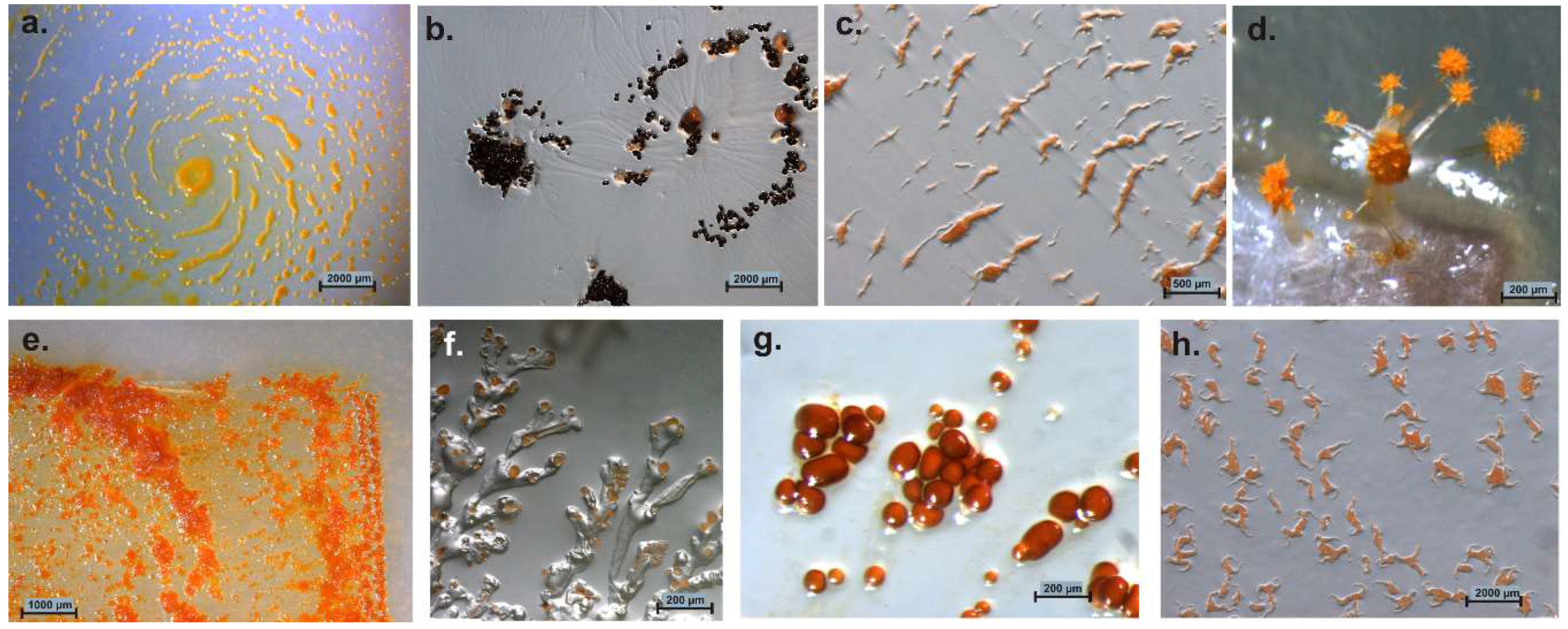 Figure 3.
Sorangium
sp. strain Soce 1014, an ambruticin-producer, swarming on VY/2-agar and the structure of ambruticin A, the first secondary metabolite which was isolated and described from myxobacteria.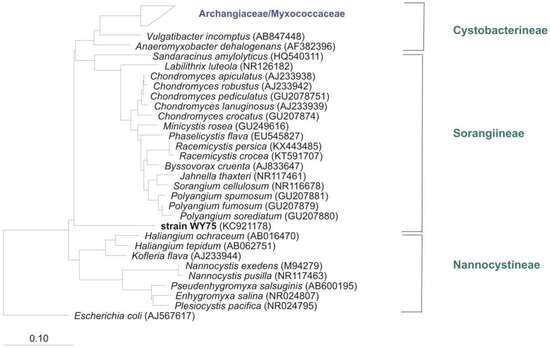 Figure 4.
Neighbour joining tree with myxobacterial type strains shows the phylogenetic position of strain WY75, cultivated from ginger foundation soil, within the Sorangiineae suborder. Comparison of 16S rRNA sequences revealed only 87.4% similarity to the next myxobacterial type strain
S. amylolyticus
. Accession numbers are in brackets. Bar, 0.1 substitutions per nucleotide position.
Figure 5.
Common isolation procedure for myxobacteria: Soil/environmental sample is placed on
a.
Stan 21 with filter paper to enrich cellulose decomposing strains and
b.
on water agar with
E. coli
bait (cross) for predators. Numerous transfers of fruiting bodies/swarm edge material to fresh plates are necessary to purify myxobacteria.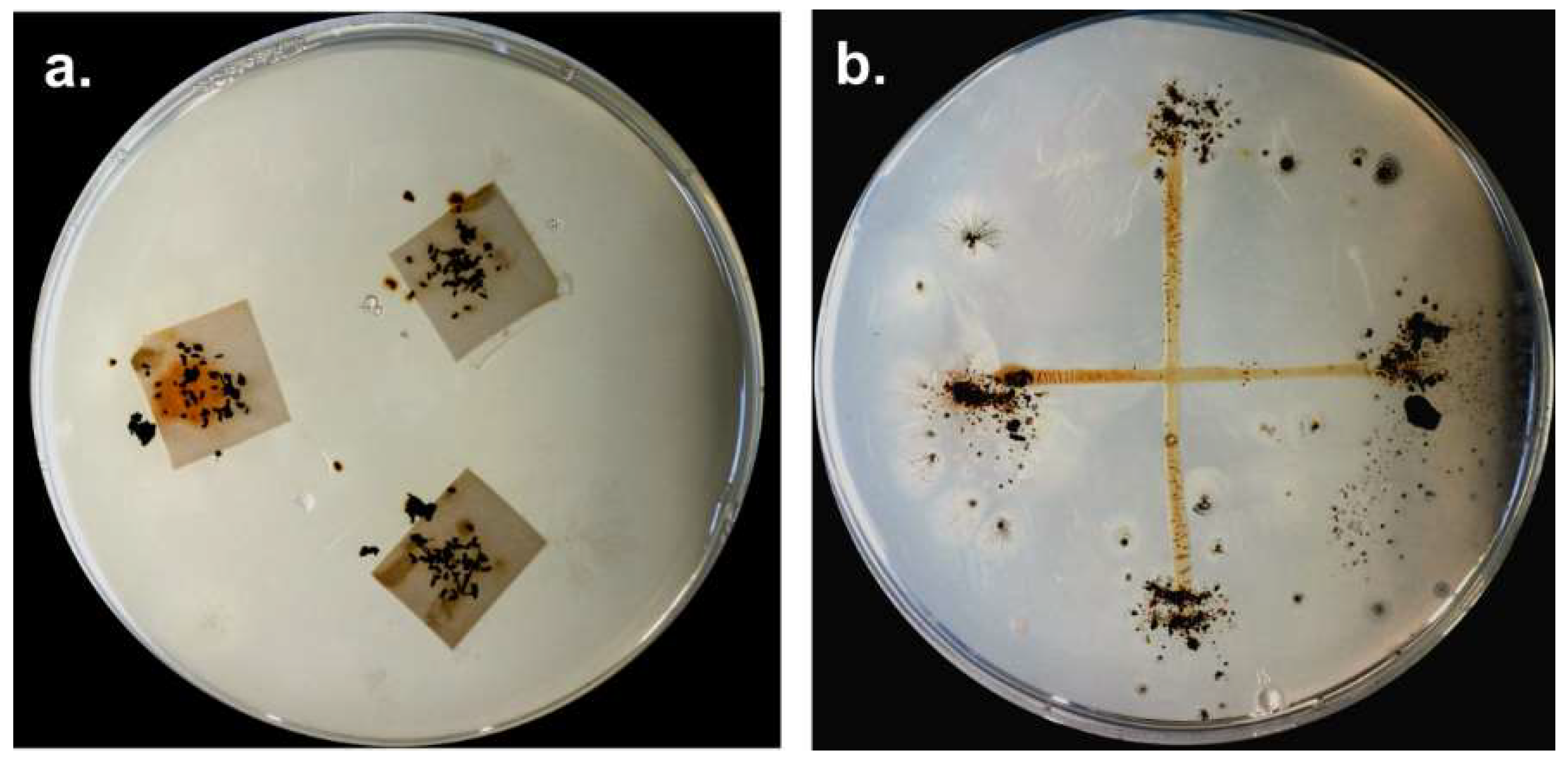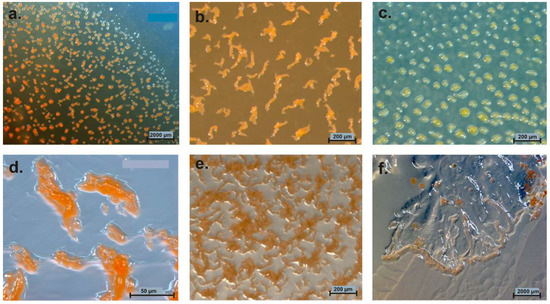 Figure 6.
Myxobacterial cultures isolated from Kiritimati sand (
a
,
d
) and German compost (
b
–
f
) modified from Mohr et al. [
9
]. (
a
)
Corallococcus
(
Myxococcus
)
macrosporus
, (
b
)
Corallococcus
sp., (
c
)
Myxococcus
sp. (
d
)
Archangium gephyra
, (
e
)
Corallococcus
sp., (
f
)
Polyangium fumosum.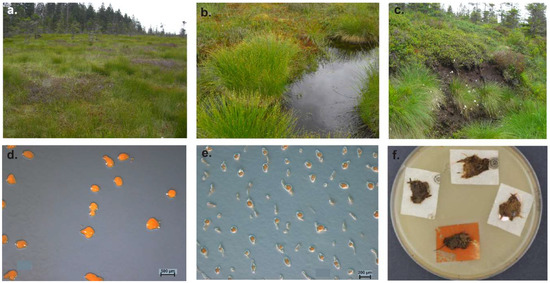 Figure 7.
(
a
) Brockenfeld high moor; (
b
) fen Am Sandbeek; (
c
) Brockenfeld high moor scarp. Isolated
Corallococcus
sp. strains from moors (
d
) strain B19, (
e
) strain B2t-1. (
f
)
Sorangium cellulosum
(orange) on a raw culture plate (Stan 21 with filter) inoculated with soil material from moor. Pictures are from Mohr et al. (2017) and modified [
2
].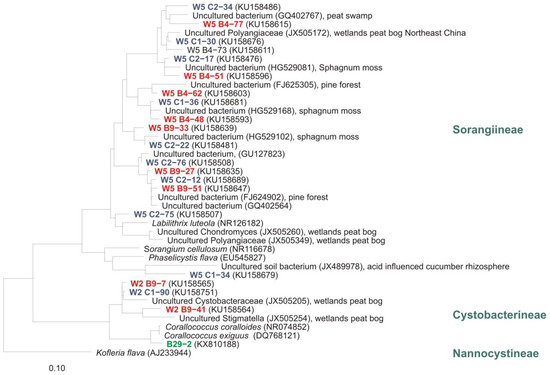 Figure 8.
Part of a distance tree showing some myxobacterial type strains, some representative clone sequences and one representative culture sequence from our study [
2
] as well as sequences from uncultivated myxobacteria from other studies. Red: clones from Brockenfeld high moor; blue: clones from fen Am Sandbeek; green: representative culture from Brockenfeld high moor. Accession numbers are given in brackets. Origin of sequences from uncultured myxobacteria are mentioned. Bar, 0.1 substitutions per nucleotide position.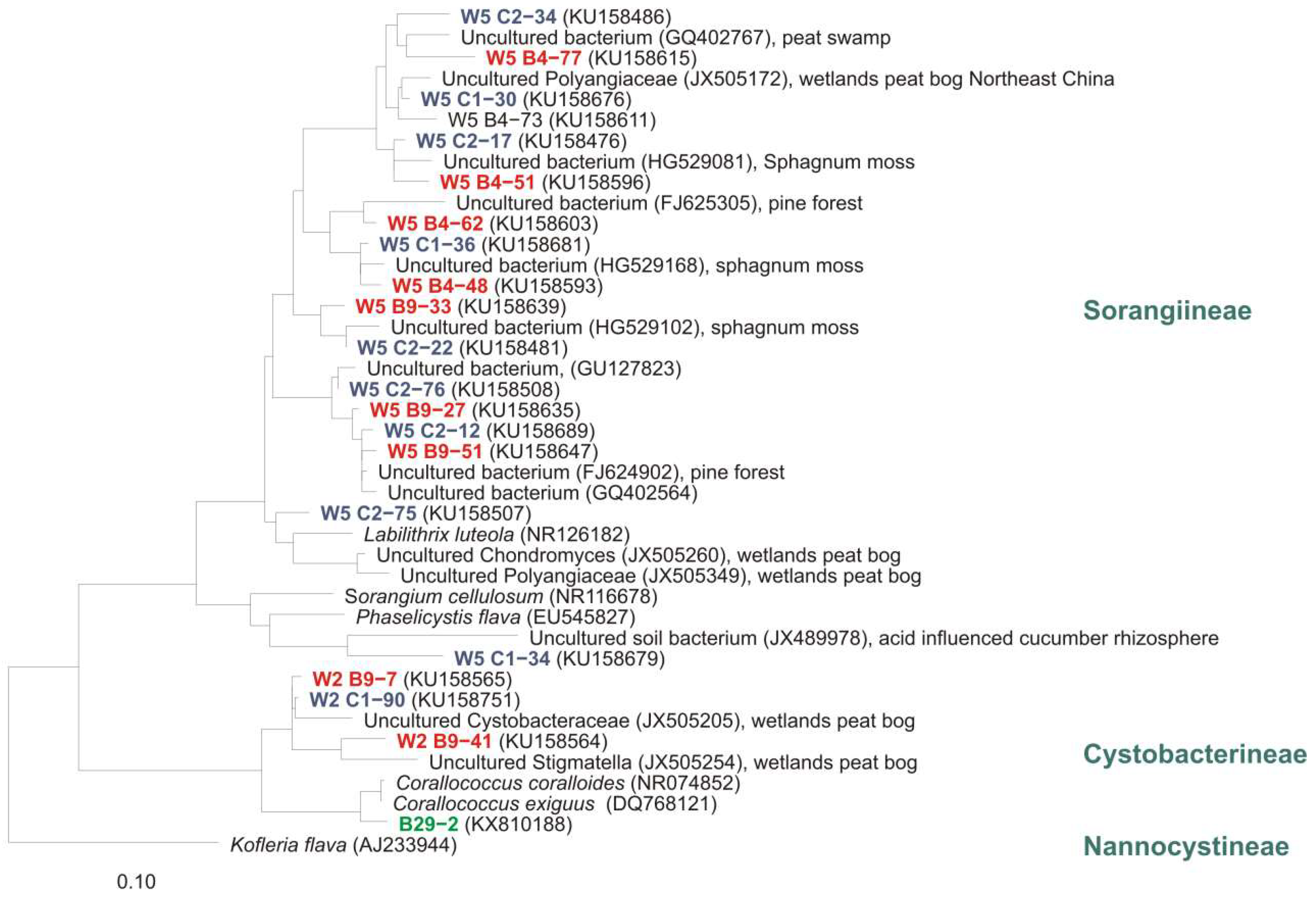 Figure 9.
Marine myxobacterial type strains on agar plates. (
a
)
Haliangium tepidum
(DSM 14436T) on VY/2SWS, (
b
)
Enhygromyxa salina
(DSM 15217T) on VY/4SWS, (
c
)
Pseudenhygromyxa salsuginis
(DSM 21377T) on 1102, (
d
)
Plesiocystis pacifica
(DSM 14875T) on VY/2SWS.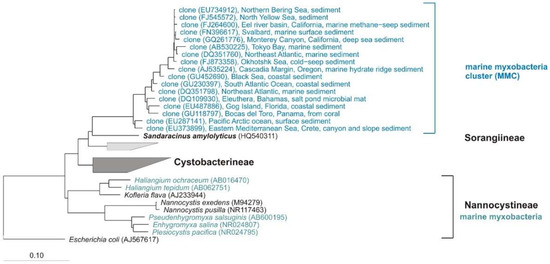 Figure 10.
Neighbour joining tree of myxobacterial type strains (16S rRNA-genes), some representative clones from the MMC-cluster (blue) and the next cultivated relative
Sandaracinus amylolyticus
. Genera isolated from marine environment are in green blue. Suborders of the order Myxococcales, origin of clones, and accession numbers are shown. Bar, 0.1 substitutions per nucleotide position.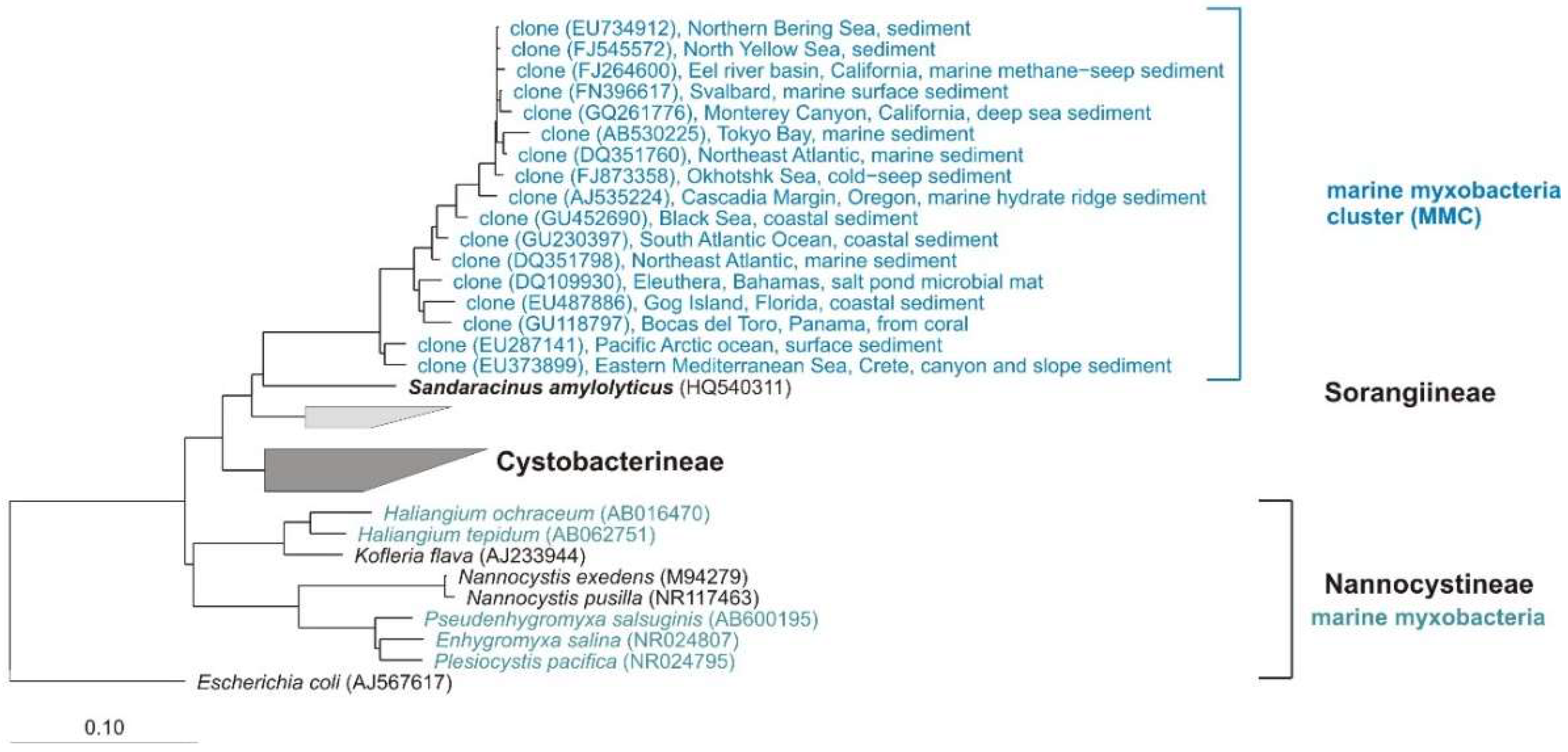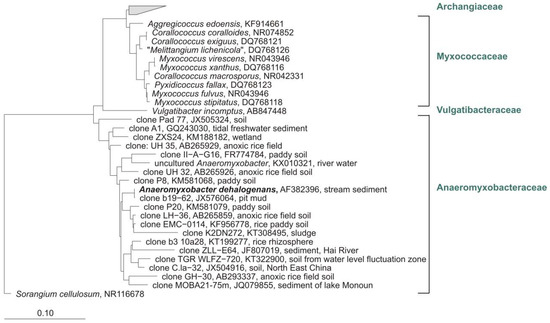 Figure 11.
Neighbour joining tree of some myxobacterial type strains (16S rRNA-genes) and some representative clones. All clones show highest relationship to the next cultivated relative
A. dehalogenans
. All families of the Cystobacterineae suborder, origin of samples, and accession numbers of clones/cultures are shown. Bar, 0.1 substitutions per nucleotide position.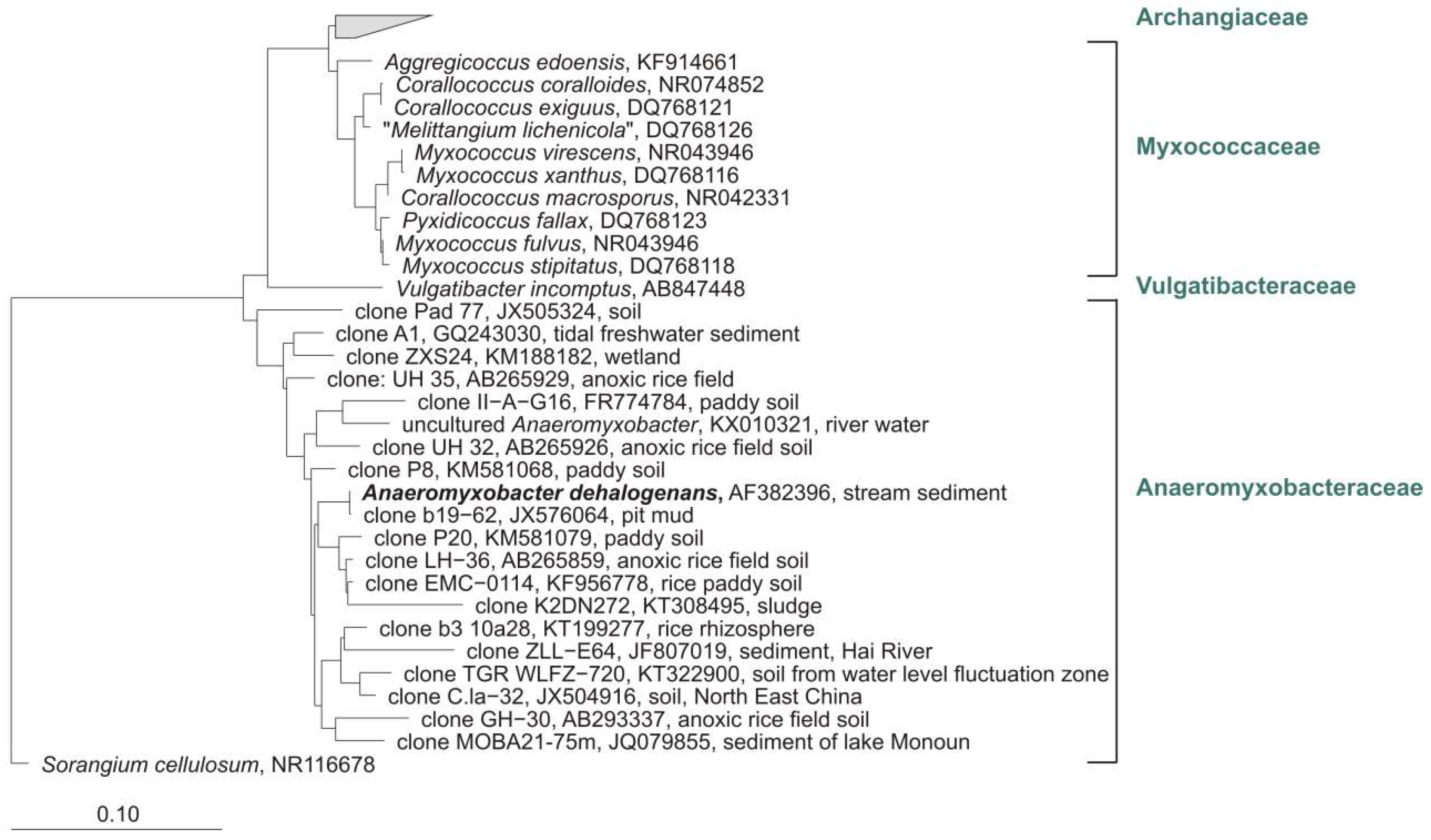 Figure 12.
Moderately thermophilic strains of
Sorangium
on VY/2 agar. (
a
) GT47 and (
b
) GT 41, isolated by Dr. K. Gerth.


Figure 13.
Neighbour joining tree of some myxobacterial type strains (16S rRNA-genes) and cultures (in bold) from hot springs (AB246767-AB246770, AB246772) [
117
] and alkaline hot spring, all from Japan. Suborders of the order Myxococcales, origin of samples, and accession numbers are shown. Bar, 0.1 substitutions per nucleotide position.


© 2018 by the author. Licensee MDPI, Basel, Switzerland. This article is an open access article distributed under the terms and conditions of the Creative Commons Attribution (CC BY) license (http://creativecommons.org/licenses/by/4.0/).