The Interface Microstructure and Shear Strength of Sn2.5Ag0.7Cu0.1RExNi/Cu Solder Joints under Thermal-Cycle Loading
1
School of Materials Science and Engineering, Henan University of Science and Technology, Henan Province Key Laboratory of Nonferrous Metal Material Science and Processing Technology, Luoyang 471023, China
2
Institute of China Shipbuilding 725 Industry, Luoyang 471023, China
*
Author to whom correspondence should be addressed.
Received: 4 April 2019 / Revised: 27 April 2019 / Accepted: 30 April 2019 / Published: 5 May 2019
Abstract
The interface microstructure and shear strength of Sn2.5Ag0.7Cu0.1RExNi/Cu solder joints under thermal-cycle loading were investigated with scanning electron microscope (SEM), energy dispersive spectroscopy (EDS), X-ray diffraction (XRD) and physical and chemical tests. The results show that an intermetallic compound (IMC) layer of Sn2.5Ag0.7Cu0.1RExNi/Cu solder joints evolved gradually from the scalloped into larger wavy forms with increasing number of thermal cycles. The roughness and average thickness of IMC increased with thermal-cycle loading. However, at longer thermal-cycle loading, the shear strength of the joints was reduced by about 40%. The fracture pathway of solder joints was initiated in the solder seam with ductile fracture mechanism and propagated to the solder seam/IMC layer with ductile-brittle mixed-type fracture mechanism, when the number of thermal cycles increased from 100 to 500 cycles. By adding 0.05 wt.% Ni, the growth of the joint interface IMC could be controlled, and the roughness and average thickness of the interfacial IMC layer reduced. As a result, the shear strength of joints is higher than those without Ni. When compared to joint without Ni, the roughness and average thickness of 0.05 wt.% Ni solder joint interface IMC layer reached the minimum after 500 thermal cycles. The shear strength of that joint was reduced to a minimum of 36.4% of the initial state, to a value of 18.2 MPa.
View Full-Text
►

▼

Figures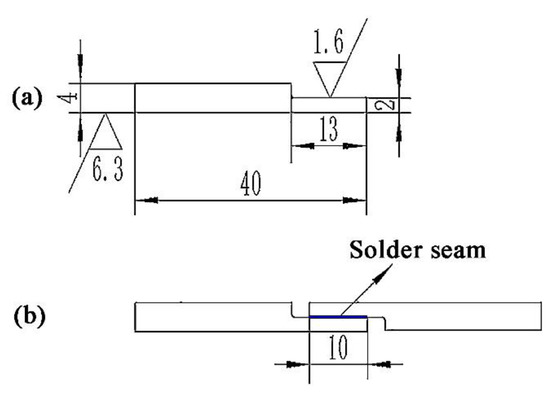 Figure 1
This is an open access article distributed under the
Creative Commons Attribution License
which permits unrestricted use, distribution, and reproduction in any medium, provided the original work is properly cited (CC BY 4.0).

Share & Cite This Article
MDPI and ACS Style
Cao, C.; Zhang, K.; Shi, B.; Wang, H.; Zhao, D.; Sun, M.; Zhang, C. The Interface Microstructure and Shear Strength of Sn2.5Ag0.7Cu0.1RExNi/Cu Solder Joints under Thermal-Cycle Loading. Metals 2019, 9, 518.
Note that from the first issue of 2016, MDPI journals use article numbers instead of page numbers. See further details here.
Related Articles
Comments
[Return to top]