The Epigenetic Landscape of Pancreatic Cancer Stem Cells
1
Department of Surgery and Cancer, Division of Cancer, Imperial College London, Imperial Centre for Translational and Experimental Medicine (ICTEM), London W12 0NN, UK
2
Department of Biochemistry, Cancer Stem Cell and Tumor Microenvironment Group, Universidad Autónoma de Madrid (UAM), 28029 Madrid, Spain
3
Biomarkers and Therapeutic Targets Group, Instituto Ramón y Cajal de Investigación Sanitaria (IRYCIS), Red de Investigación Renal (RedinRen) Instituto de Salud Carlos III (ISCIII), 28034 Madrid, Spain
4
Department of Cancer Biology, Instituto de Investigaciones Biomédicas "Alberto Sols" (IIBM), 28029 Madrid, Spain
5
Chronic Diseases and Cancer Area, Instituto Ramón y Cajal de Investigación Sanitaria (IRYCIS), 28034 Madrid, Spain
*
Author to whom correspondence should be addressed.
Received: 31 May 2018 / Revised: 8 June 2018 / Accepted: 11 June 2018 / Published: 14 June 2018
Abstract
Data now indicates that in addition to genetic alterations/mutations, human cancer cells exhibit important changes in their epigenome. In the context of this review, we define the epigenome as the chemical compounds and/or proteins that can interact with nuclear DNA to direct the specific and localized activation or silencing of genes to control the production of cellular proteins (directly or indirectly) in a given cell. Our ever-growing knowledge of how the epigenome can affect cellular processes has largely changed our view of cancer being a solely genetic disease. Nowadays, cancer is largely defined and characterized by the dynamic changes in both the genome and epigenome, which function together and contribute concomitantly to cancer initiation and progression. Since epigenetic modifications are crucial processes involved in controlling cellular identity and lineage fate, perturbations in this layer of gene regulation can contribute to the acquisition of new cellular characteristics different than those that were "initially" intended. For example, aberrant epigenetic alterations may transform normal non-cancer cells into cancer stem cells (CSCs), endowing them with the loss of differentiation and the acquisition of stem-like characteristics. In this review, we will focus our discussion on CSCs in the context of pancreatic ductal adenocarcinoma (PDAC). We will discuss how different epigenetic modifications create a landscape that can impact CSC identity and the way this small sub-population of cells contributes to tumor initiation, progression, and resistance to therapy. Moreover, we will highlight the latest discoveries in epigenetic-based therapies as a means of targeting CSCs.
View Full-Text
►

▼

Figures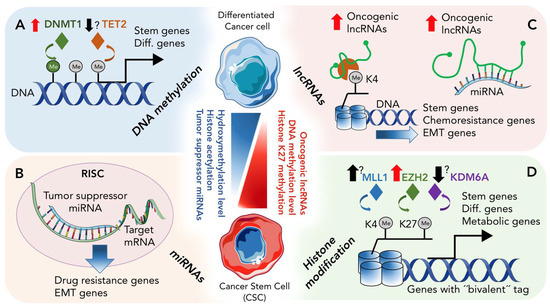 Figure 1
This is an open access article distributed under the
Creative Commons Attribution License
which permits unrestricted use, distribution, and reproduction in any medium, provided the original work is properly cited (CC BY 4.0).

Share & Cite This Article
MDPI and ACS Style
Zagorac, S.; Garcia-Bermejo, L.; Sainz, B., Jr. The Epigenetic Landscape of Pancreatic Cancer Stem Cells. Epigenomes 2018, 2, 10.
Note that from the first issue of 2016, MDPI journals use article numbers instead of page numbers. See further details here.
Comments
[Return to top]