Mining Novel Candidate Imprinted Genes Using Genome-Wide Methylation Screening and Literature Review
1
Department of Genetics and Evolutionary Biology, Institute of Biosciences, University of São Paulo,​Rua do Matão 277, 05508-090, São Paulo, SP, Brazil
2
Department of Computation, Federal University of Technology-Paraná, Avenida Alberto Carazzai, 1640, 86300-000, Cornélio Procópio, PR, Brazil
3
International Center for Research, A. C. Camargo Cancer Center, Rua Taguá, 440, 01508-010, São Paulo, SP, Brazil
4
Division of Geriatrics, University of São Paulo Medical School, Av. Dr. Arnaldo, 455, 01246-903, São Paulo, SP, Brazil
5
Brazilian Aging Brain Study Group-LIM22, Department of Pathology, University of São Paulo Medical School, Av. Dr. Arnaldo, 455, 01246-903, São Paulo, SP, Brazil
6
Department of Pathology, University of São Paulo Medical School, Av. Dr. Arnaldo, 455, 01246-903, São Paulo, SP, Brazil
7
Memory and Aging Center, Department of Neurology, University of California, 1500 Owens St. San Francisco, CA 94143, USA
8
Department of Psychiatry, LIM23, University of São Paulo Medical School, Av. Dr. Arnaldo, 455, 01246-903, São Paulo, SP, Brazil
9
School of Pharmaceutical Sciences, University of São Paulo, Av. Prof. Lineu Prestes, 580, 05508-000, São Paulo, SP, Brazil
*
Author to whom correspondence should be addressed.
†
These authors contributed equally to this work.
Academic Editor: Muller Fabbri
Received: 3 July 2017 / Revised: 5 September 2017 / Accepted: 8 September 2017 / Published: 13 September 2017
Abstract
Large-scale transcriptome and methylome data analyses obtained by high-throughput technologies have been enabling the identification of novel imprinted genes. We investigated genome-wide DNA methylation patterns in multiple human tissues, using a high-resolution microarray to uncover hemimethylated CpGs located in promoters overlapping CpG islands, aiming to identify novel candidate imprinted genes. Using our approach, we recovered ~30% of the known human imprinted genes, and a further 168 candidates were identified, 61 of which with at least three hemimethylated CpGs shared by more than two tissue types. Thirty-four of these candidate genes are members of the protocadherin cluster on 5q31.3; in mice
,
protocadherin genes have non-imprinted random monoallelic expression, which might also be the case in humans. Among the remaining 27 genes,
ZNF331
was recently validated as an imprinted gene, and six of them have been reported as candidates, supporting our prediction. Five candidates (
CCDC166
,
ARC
,
PLEC
,
TONSL
, and
VPS28
) map to 8q24.3, and might constitute a novel imprinted cluster. Additionally, we performed a comprehensive compilation of known human and mice imprinted genes from literature and databases, and a comparison among high-throughput imprinting studies in humans. The screening for hemimethylated CpGs shared by multiple human tissues, together with the extensive review, appears to be a useful approach to reveal candidate imprinted genes.
View Full-Text
►

▼

Figures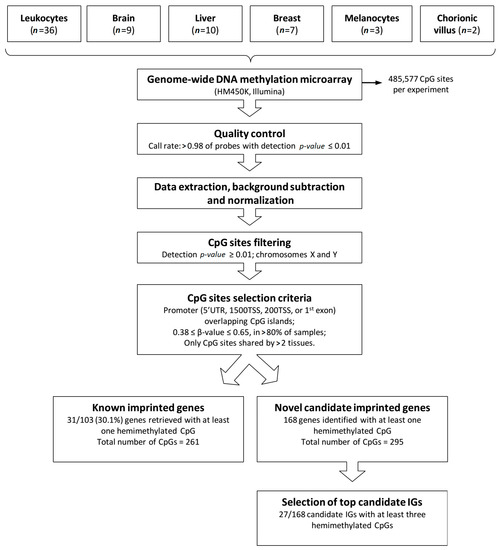 Figure 1
This is an open access article distributed under the
Creative Commons Attribution License
which permits unrestricted use, distribution, and reproduction in any medium, provided the original work is properly cited (CC BY 4.0).

Share & Cite This Article
MDPI and ACS Style
Bonaldi, A.; Kashiwabara, A.; Araújo, É.S.; Pereira, L.V.; Paschoal, A.R.; Andozia, M.B.; Villela, D.; Rivas, M.P.; Suemoto, C.K.; Pasqualucci, C.A.; Grinberg, L.T.; Brentani, H.; Maria-Engler, S.S.; Carraro, D.M.; Vianna-Morgante, A.M.; Rosenberg, C.; Vasques, L.R.; Krepischi, A. Mining Novel Candidate Imprinted Genes Using Genome-Wide Methylation Screening and Literature Review. Epigenomes 2017, 1, 13.
Note that from the first issue of 2016, MDPI journals use article numbers instead of page numbers. See further details here.
Comments
[Return to top]