Open Access This article is
freely available
re-usable
Article
Tribological Properties of High-Speed Uniform Femtosecond Laser Patterning on Stainless Steel
1
University of Modena and Reggio Emilia (UNIMORE), Amendola 2, 42122 Reggio Emilia, Italy
2
NoviNano Lab, Pasternaka 5, 79015 Lviv, Ukraine
3
Department of Photonics, Lviv Polytechnic National University, Stepana Bandery 14, 79000, Lviv, Ukraine
4
Department of Physics, Computer Science and Mathematics, University of Modena and Reggio Emilia, Giuseppe Campi 213/a, 41125 Modena, Italy
5
Centro Interdipartimentale per la Ricerca Applicata e i Servizi nella Meccanica Avanzata enella Motoristica Intermech-Mo.Re., Università di Modena e Reggio Emilia, Vignolese 905/b, 41125, Modena, Italy
6
Istituto CNR-NANO S3, Giuseppe Campi 213, 41125 Modena, Italy
*
Author to whom correspondence should be addressed.
Received: 18 July 2019 / Accepted: 17 September 2019 / Published: 24 September 2019
Abstract
:
In this work, an analysis of the tribological performance of laser-induced periodic surface structures (LIPSS) treated X5CrNi1810 stainless steel was conducted. The approach followed by authors was to generate LIPSS-patterned circular tracks, composed of radial straight grooves with uniform angular periodicity. This permitted to measure the tribological properties in a pin-on-flat configuration, keeping fixed the orientation between the grooves and the sliding direction. A Stribeck curve was measured, as well as the consequent wear. A deep analysis of the sub-surface conditions after LIPSS generation was moreover performed using Focused Ion Beam (FIB) cross-section.
Keywords:
LIPSS; laser surface texturing; tribological properties; wear; Stribeck curve
Author Contributions
Conceptualization, I.G., A.R. and L.O.; Methodology, I.G., A.R. and E.G.; Resources, S.V. and L.O.; Supervision, S.V. and L.O.; Validation, A.R.; Writing––original draft, I.G. and A.R.; Writing––review & editing, E.G., S.V. and L.O.
Conflicts of Interest
The authors declare no conflict of interest.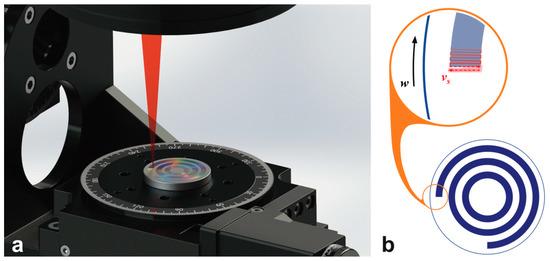 Figure 1. (a) Schematic of the laser treatment as a laser beam is scanned over a sample. (b) Details of laser patterning strategy: the laser beam is moving forth and back, while the sample is rotating by angular stage.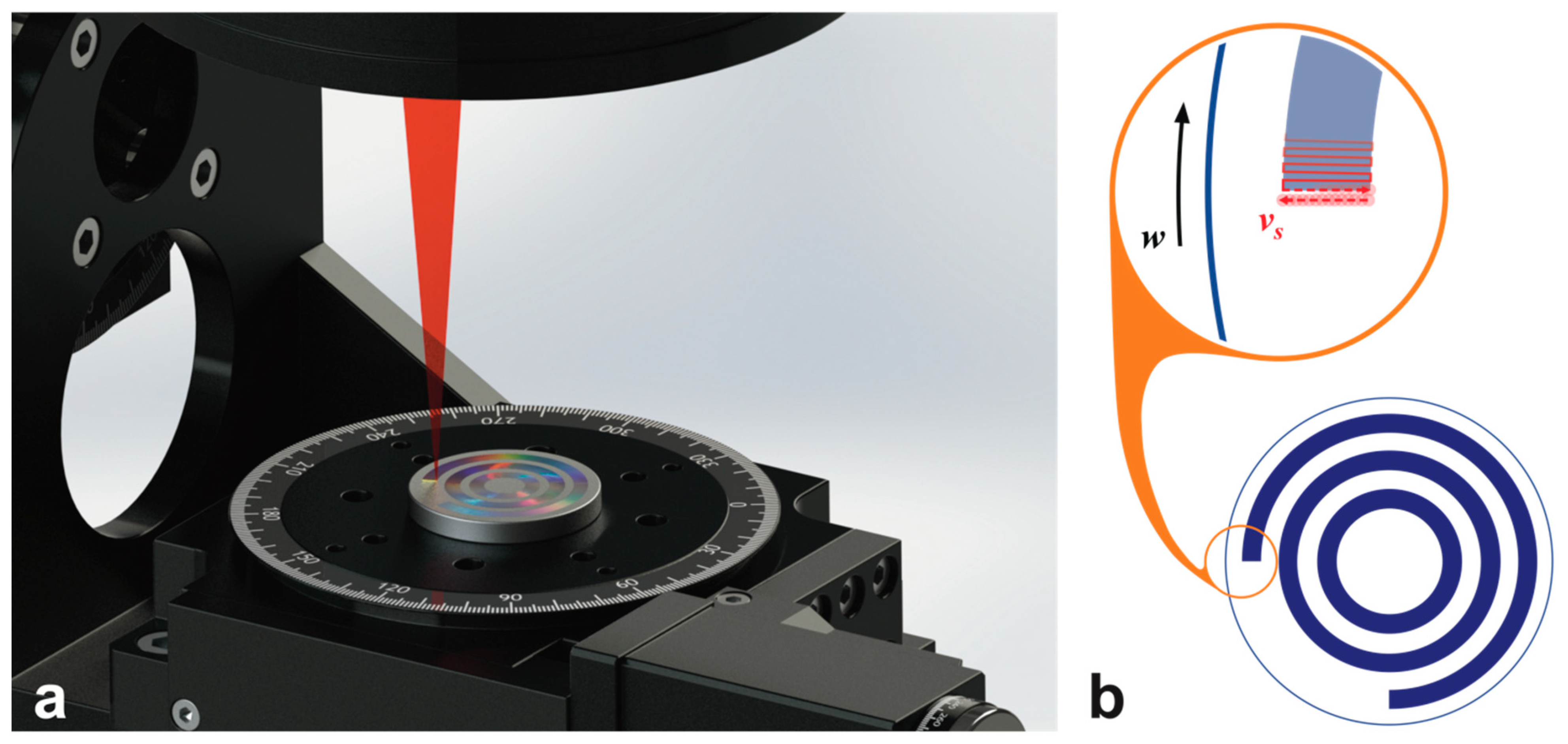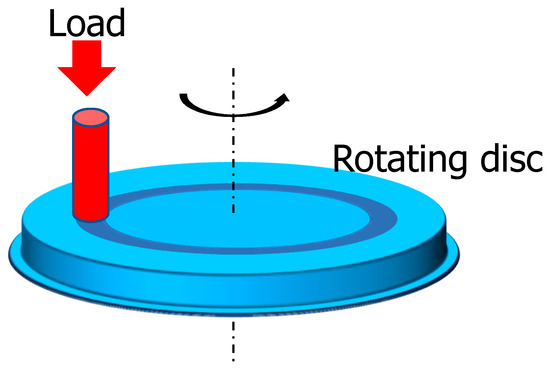 Figure 2. Scheme of the pin-on-flat tribological configuration. The flat pin is loaded on the rotating flat disc.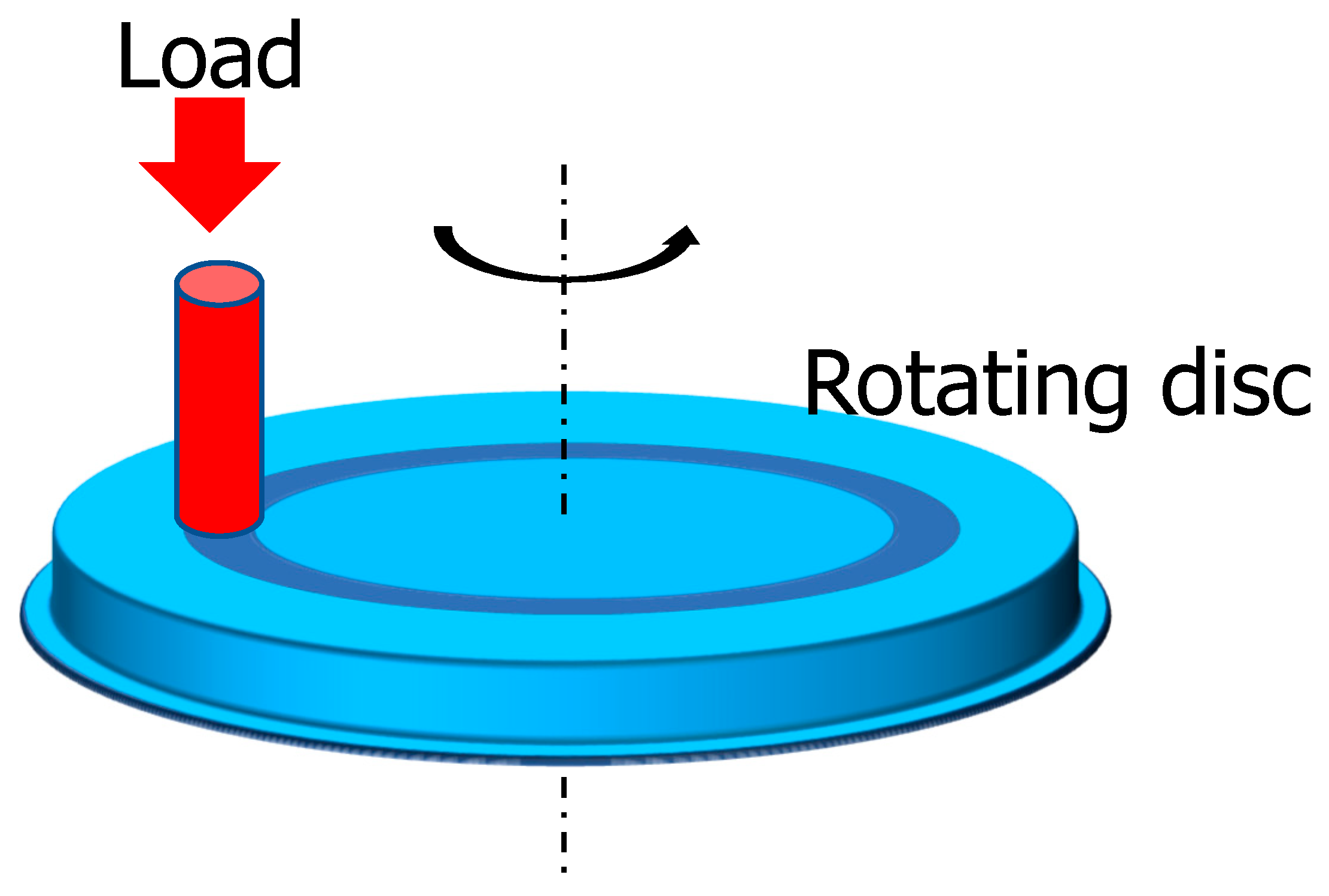 Figure 3. Line profile of one of the wear track after a tribo-test, by way of example. The red area represents the worn materials, while the green one is the pile-up.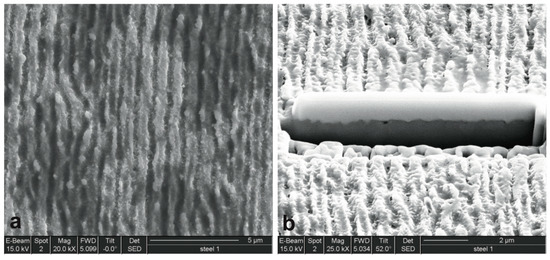 Figure 4. Top (a) and cross-section (b) view of the LIPSS (laser-induced periodic surface structures) textured surface. E-beam was 15 kV, and the magnification is 20 k.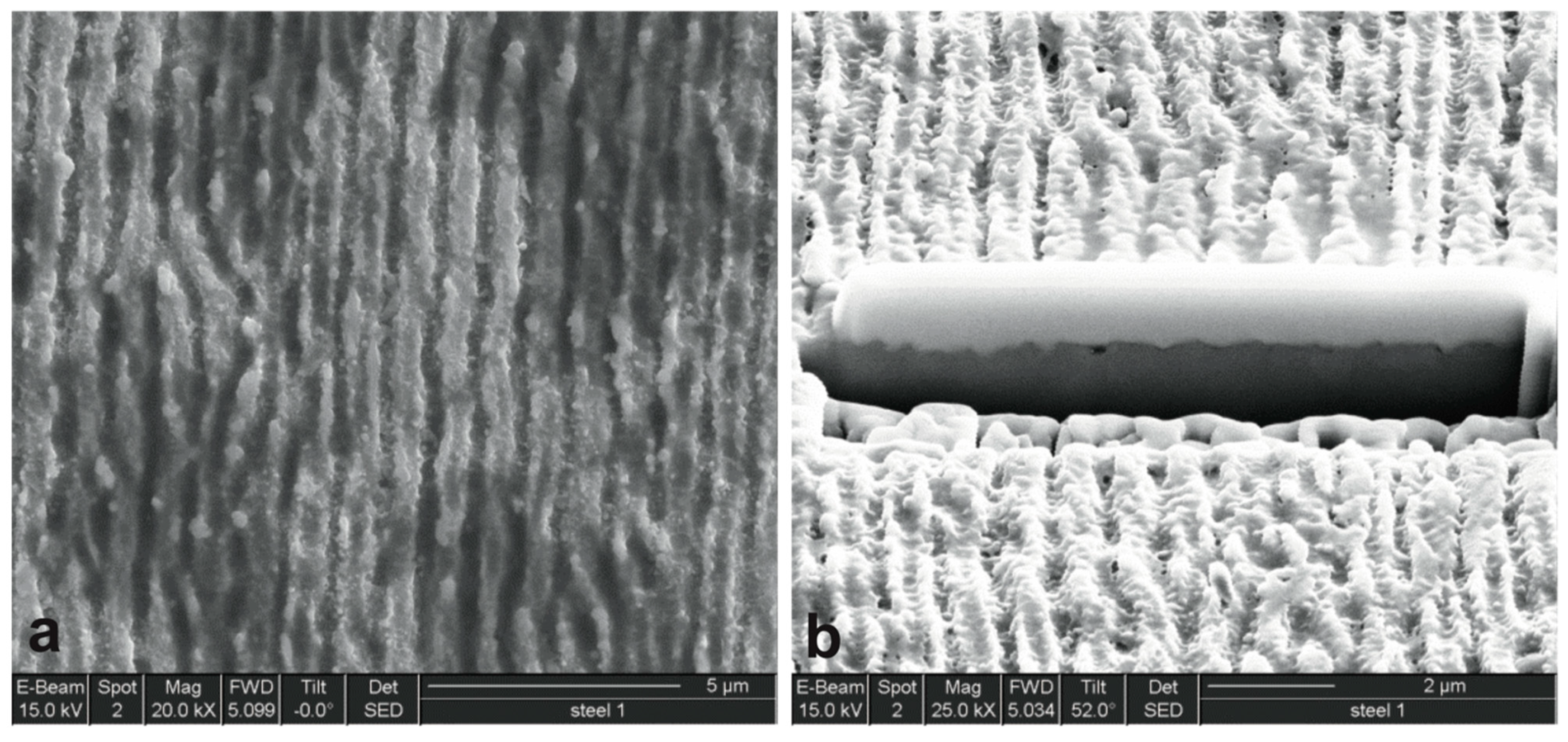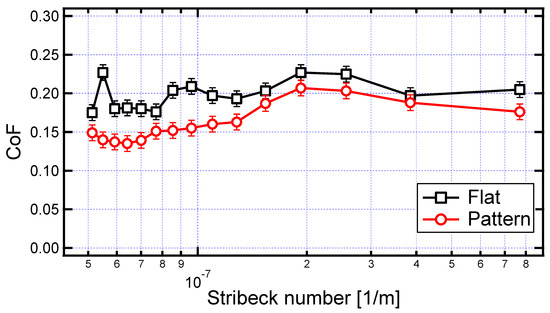 Figure 5. Stribeck curves for flat surface (open black squares) and the textured one (open red circles). Tests were performed in a box filled of oil.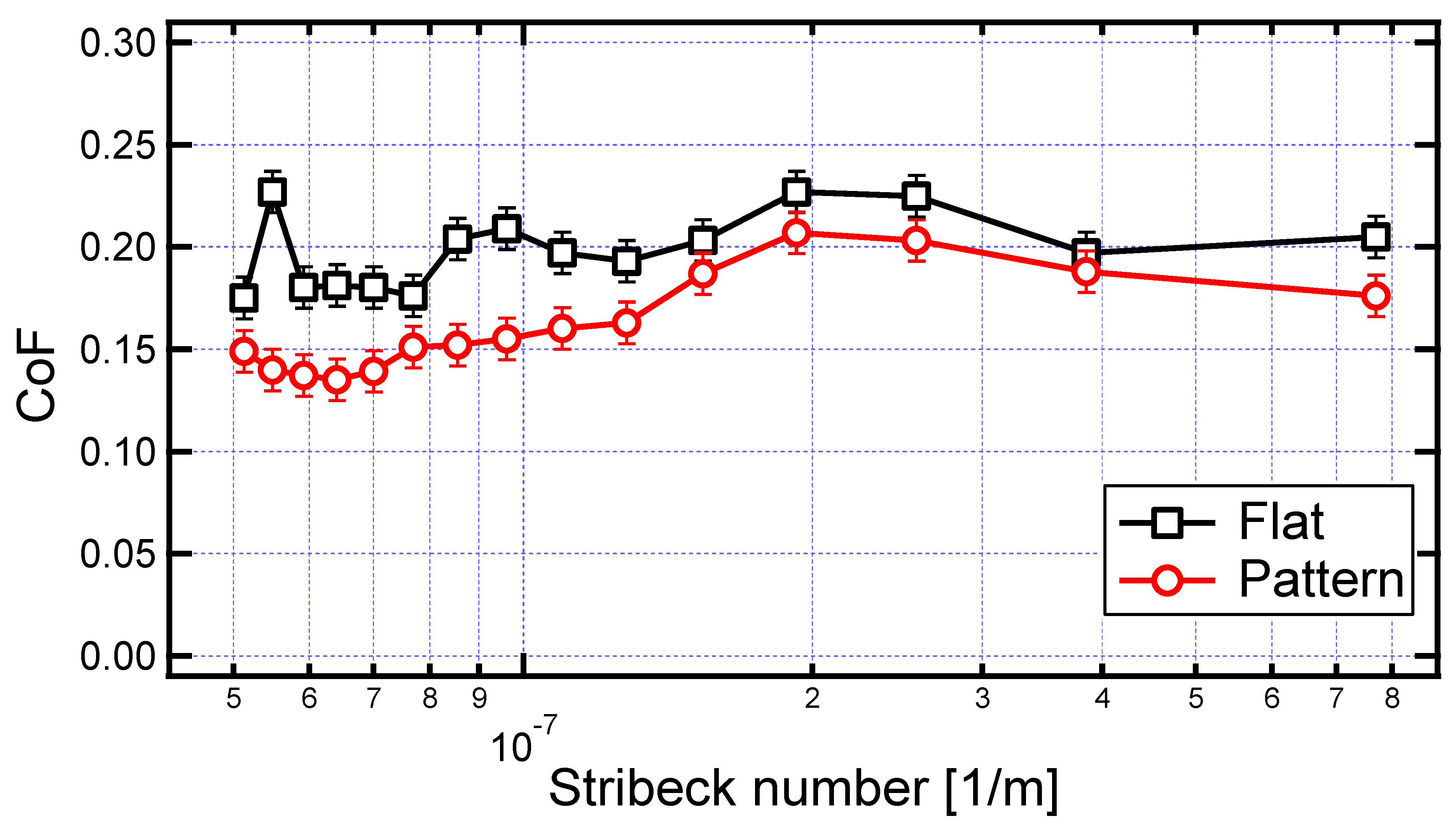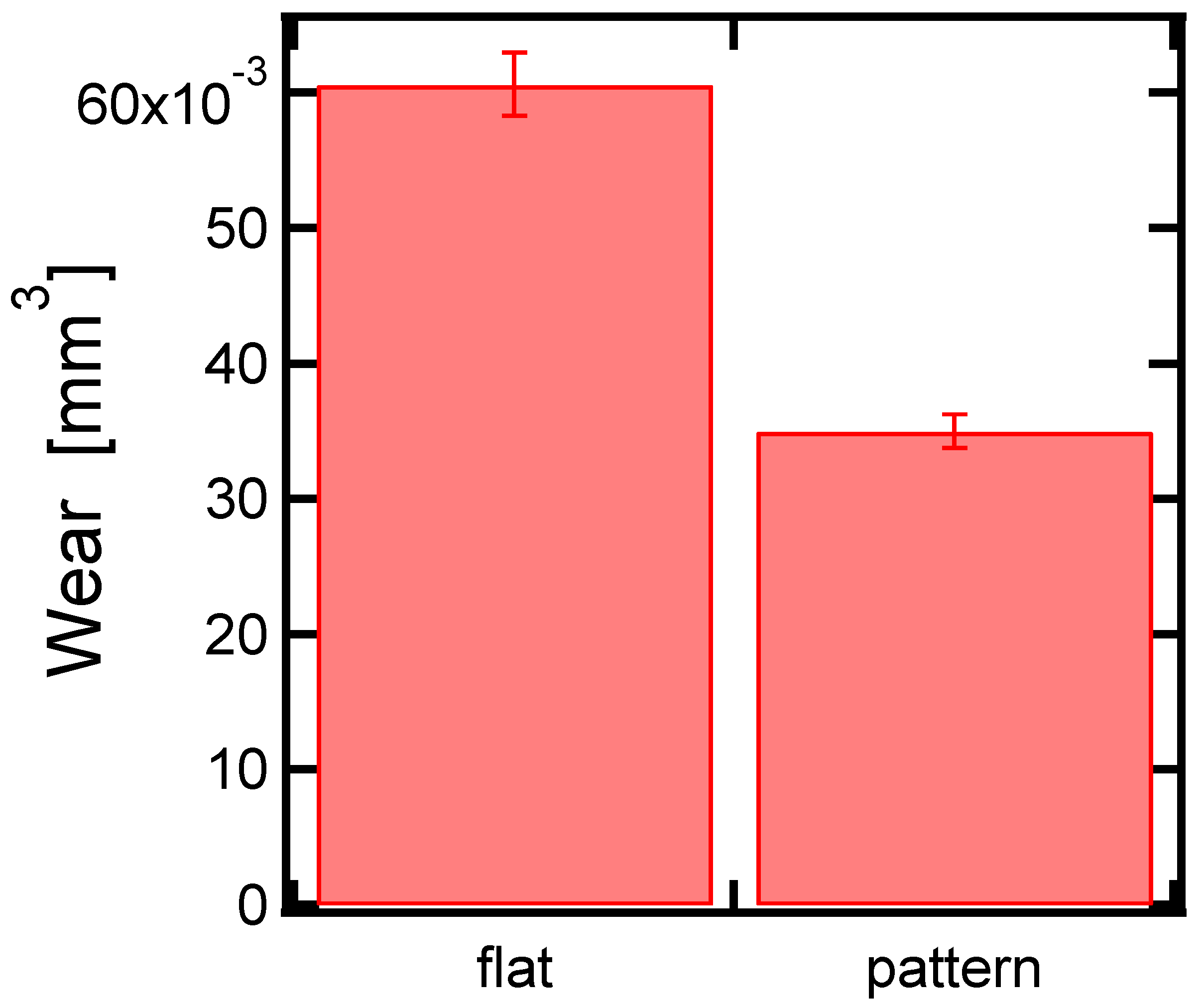 © 2019 by the authors. Licensee MDPI, Basel, Switzerland. This article is an open access article distributed under the terms and conditions of the Creative Commons Attribution (CC BY) license (http://creativecommons.org/licenses/by/4.0/).