Prebiotic Lipidic Amphiphiles and Condensing Agents on the Early Earth
Institut de Chimie et Biochimie Moléculaires et Supramoléculaires (Unité Mixte de Recherche 5246), Université de Lyon, Claude Bernard Lyon 1, 43 bvd du 11 Novembre 1918, 69622 Villeurbanne Cedex, France
*
Authors to whom correspondence should be addressed.
Academic Editors: Niles Lehman, David Deamer and Bruce Damer
Received: 10 December 2015 / Revised: 18 January 2016 / Accepted: 15 February 2016 / Published: 28 March 2016
Abstract
It is still uncertain how the first minimal cellular systems evolved to the complexity required for life to begin, but it is obvious that the role of amphiphilic compounds in the origin of life is one of huge relevance. Over the last four decades a number of studies have demonstrated how amphiphilic molecules can be synthesized under plausibly prebiotic conditions. The majority of these experiments also gave evidence for the ability of so formed amphiphiles to assemble in closed membranes of vesicles that, in principle, could have compartmented first biological processes on early Earth, including the emergence of self-replicating systems. For a competitive selection of the best performing molecular replicators to become operative, some kind of bounded units capable of harboring them are indispensable. Without the competition between dynamic populations of different compartments, life itself could not be distinguished from an otherwise disparate array or network of molecular interactions. In this review, we describe experiments that demonstrate how different prebiotically-available building blocks can become precursors of phospholipids that form vesicles. We discuss the experimental conditions that resemble plausibly those of the early Earth (or elsewhere) and consider the analytical methods that were used to characterize synthetic products. Two brief sections focus on phosphorylating agents, catalysts and coupling agents with particular attention given to their geochemical context. In
Section 5
, we describe how condensing agents such as cyanamide and urea can promote the abiotic synthesis of phospholipids. We conclude the review by reflecting on future studies of phospholipid compartments, particularly, on evolvable chemical systems that include giant vesicles composed of different lipidic amphiphiles.
View Full-Text
►

▼

Figures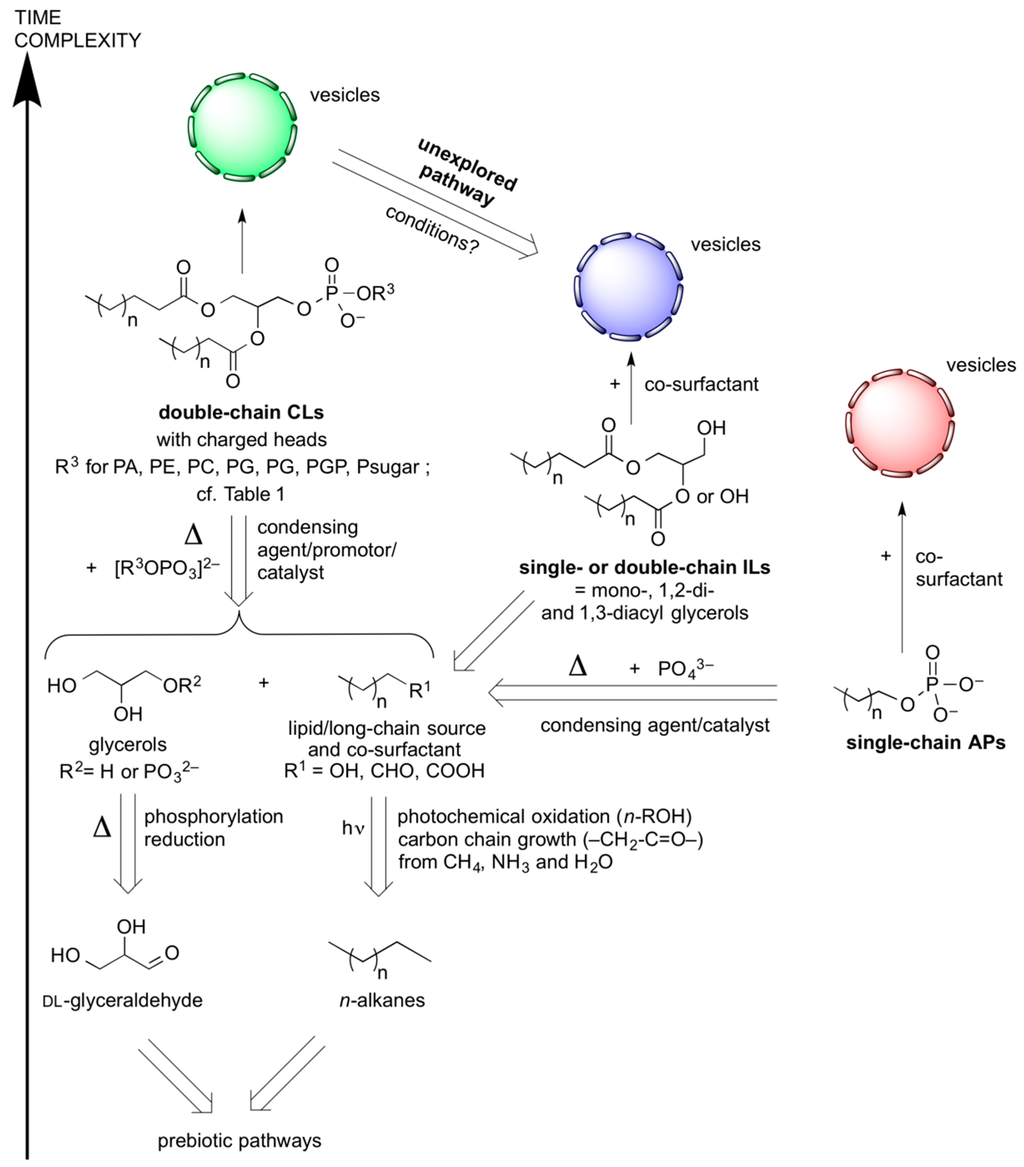 Figure 1
This is an open access article distributed under the
Creative Commons Attribution License
which permits unrestricted use, distribution, and reproduction in any medium, provided the original work is properly cited (CC BY 4.0).

Share & Cite This Article
MDPI and ACS Style
Fiore, M.; Strazewski, P. Prebiotic Lipidic Amphiphiles and Condensing Agents on the Early Earth. Life 2016, 6, 17.
Note that from the first issue of 2016, MDPI journals use article numbers instead of page numbers. See further details here.
Related Articles
Comments
[Return to top]