Petrogenesis of the Early Cretaceous Tiantangshan A-Type Granite, Cathaysia Block, SE China: Implication for the Tin Mineralization
1
Development and Research Center, China Geological Survey, Beijing 100037, China
2
Technical Guidance Center for Mineral Resources Exploration, Ministry of Natural Resources of the People's Republic of China, Beijing 100120, China
3
Yunnan Key Laboratory for Palaeobiology, Yunnan University, Kunming 650091, China
4
China Geological Survey, Beijing 100037, China
5
School of Earth Sciences and Resources, China University of Geosciences, Beijing 100083, China
6
School of Resource Environment and Earth Science, Yunnan University, Kunming 650091, China
*
Author to whom correspondence should be addressed.
Received: 14 March 2019 / Revised: 18 April 2019 / Accepted: 24 April 2019 / Published: 29 April 2019
Abstract
The newly discovered Tiantangshan tin polymetallic deposit is located in the southeast Nanling Range, Cathaysia block, Southeast China. The tin orebodies are mainly hosted in the greisen and the fractured alteration zones of the tufflava and trachydacite. However, the genetic relationship between the hidden alkali-feldspar granite and volcanic rocks and the tin mineralization remains poorly understood. This paper presents SHRIMP zircon U–Pb dating, whole-rock major and trace element analyses, as well as Nd isotopic data of the trachydacite and alkali-feldspar granite. The SHRIMP zircon U–Pb dating of the alkali-feldspar granite and trachydacite yields weight mean
206
Pb/
238
U ages of 138.4 ± 1.2, and 136.2 ± 1.2 Ma, respectively. These granitic rocks have high levels of SiO
2
(64.2–75.4 wt%, mostly > 68 wt%), alkalis (K
2
O + Na
2
O > 8.3 wt%), REE (except for Eu), HFSE (Zr + Nb + Ce + Y > 350 ppm) and Ga/Al ratios (10,000 × Ga/Al > 2.6), suggesting that they belong to the A-type granite. According to the high Y/Nb and Yb/Ta ratios, they can be further classified into A
1
subtype. Their ε
Nd
(T) range from −3.8 to −6.5. They were likely generated by the assimilation-fractional crystallization (AFC) of the coeval oceanic island basalts -like basaltic magma. This study suggests that the A
1
type granite is also a potential candidate for the exploration of tin deposits.
View Full-Text
►

▼

Figures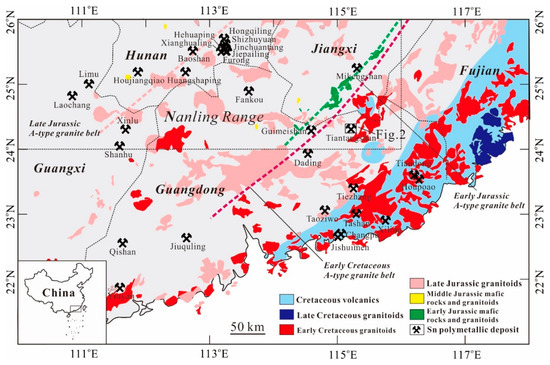 Figure 1
This is an open access article distributed under the
Creative Commons Attribution License
which permits unrestricted use, distribution, and reproduction in any medium, provided the original work is properly cited (CC BY 4.0).

Share & Cite This Article
MDPI and ACS Style
Jia, R.-Y.; Wang, G.-C.; Geng, L.; Pang, Z.-S.; Jia, H.-X.; Zhang, Z.-H.; Chen, H.; Liu, Z. Petrogenesis of the Early Cretaceous Tiantangshan A-Type Granite, Cathaysia Block, SE China: Implication for the Tin Mineralization. Minerals 2019, 9, 257.
Note that from the first issue of 2016, MDPI journals use article numbers instead of page numbers. See further details here.
Related Articles
Comments
[Return to top]