He-Ar Isotopes and Trace Gas Compositions of Fluid Inclusions in Massive Sulphides from the Yushui Copper-Polymetallic Deposit, South China: Metallogenic Implications
1
South China Sea Institute of Planning and Environmental Research, State Oceanic Administration, Guangzhou 510300, China
2
School of Marine Sciences, Sun Yat-sen University, Guangzhou 510006, China
3
Guangdong Provincial Key Laboratory of Marine Resources and Coastal Engineering, Guangzhou 510006, China
4
School of Earth Sciences and Engineering, Sun Yat-sen University, Guangzhou 510275, China
5
Southern Marine Science and Engineering Guangdong Laboratory (Zhuhai), Zhuhai 519000, China
6
Fourth Institute of Oceanography, Ministry of Natural Resources, Beihai 536000, China
*
Author to whom correspondence should be addressed.
†
These authors contributed equally to this work.
Received: 29 March 2019 / Revised: 23 April 2019 / Accepted: 24 April 2019 / Published: 29 April 2019
Abstract
The Yushui ore deposit, located in the middle section of the Yong'an-Meixian Hercynian depression, is a medium-sized Cu-polymetallic massive sulphide deposit in Eastern Guangdong Province, South China. This deposit is characterized by unusually high copper grade (up to 50–60 wt. % Cu). Other metallic elements, such as lead, zinc and silver, are also economically important in the Yushui ore bodies. The aim of this study was to apply N
2
–Ar–He systematics, together with organic gases (light-hydrocarbon tracers), to constrain the origin and evolution of ore-forming fluids. The helium-argon isotopes and trace gas compositions of fluid inclusions trapped within metal sulphide minerals were measured for a number of bonanza ores from the Yushui deposit. The noble gas concentrations in the studied samples vary over one to two orders of magnitude (
4
He: 2.27–160.00 × 10
−5
cm
3
STP g
−1
;
3
He: 0.53–34.88 × 10
−12
cm
3
STP g
−1
;
40
Ar: 6.28–37.82 × 10
−7
cm
3
STP g
−1
;
36
Ar: 1.25–10.40 × 10
−9
cm
3
STP g
−1
). Our data show a narrow range of
3
He/
4
He ratios from 0.006 to 0.056 R
a
(~0.026 R
a
on average, n = 8), which are considerably lower than the modern atmospheric end-member value; whereas the
40
Ar/
36
Ar ratios (ranging from 333.76 to 501.68, with an average of 397.53) are significantly greater than that of air-saturated water. Most of the bornite samples have somewhat higher
3
He/
4
He ratios of trapped fluids when compared to chalcopyrite. Overall, these He-Ar results are well within the range of crustal reservoir, thus implying a predominantly crustal source (originated from Caledonian basement) for ore-forming solutions, with little contribution from mantle-derived fluids. Analysis of the N
2
–Ar–He composition in Cu-rich sulphides indicates that the Yushui ore-forming fluids were probably derived from formation water (or basinal hot brines). Moreover, organic gas species identified in sulphide-hosted fluid inclusions are mainly composed of C
1
–C
4
alkanes, while the concentrations of unsaturated olefins and aromatic hydrocarbons are very low. In particular, most chalcopyrite samples with relatively low
3
He
/4
He ratios (0.006–0.016 R
a
) and
40
Ar*/
4
He values (0.0002–0.0012) are generally characterized by very high CO
2
/CH
4
ratios (~60–102). All these suggest that main-stage Cu-Ag metallogenic processes might have not been affected by high-temperature magmatic activities or superimposed by strong metamorphic overprinting, although some chalcopyrite-rich ores appear to be influenced by later stage hydrothermal processes. In summary, neither magmatic input nor convecting seawater has played an important role in the formation of Yushui copper-polymetallic deposit. The massive sulphide ore bodies were products of water–rock interaction between metal-bearing basinal brines and the host sedimentary strata.
View Full-Text
►

▼

Figures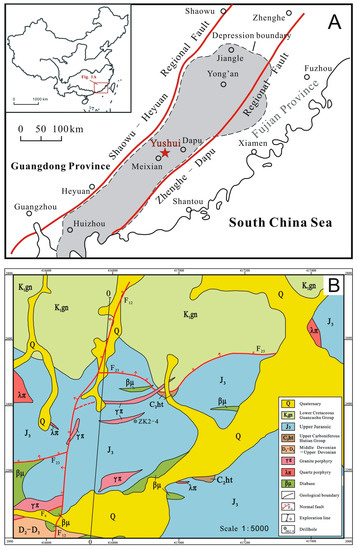 Figure 1
This is an open access article distributed under the
Creative Commons Attribution License
which permits unrestricted use, distribution, and reproduction in any medium, provided the original work is properly cited (CC BY 4.0).

Share & Cite This Article
MDPI and ACS Style
Huang, Y.; Wu, Z.; Sun, X.; Wang, Y.; Shi, G.; Zhai, W.; Guan, Y. He-Ar Isotopes and Trace Gas Compositions of Fluid Inclusions in Massive Sulphides from the Yushui Copper-Polymetallic Deposit, South China: Metallogenic Implications. Minerals 2019, 9, 258.
Note that from the first issue of 2016, MDPI journals use article numbers instead of page numbers. See further details here.
Related Articles
Comments
[Return to top]