First Detection of Methane within Chromitites of an Archean-Paleoproterozoic Greenstone Belt in Brazil
1
Programa de Pós-Graduação em Geociências (PPGGEO), Universidade Federal do Rio Grande do Sul (UFRGS), Av. Bento Gonçalves, 9500, Porto Alegre, RS 91501-970, Brazil
2
Exploration, Petrobras S.A., Av. República do Chile, 330, Rio de Janeiro, RJ 20031-170, Brazil
3
Department Angewandte Geowissenshaften und Geophysik, Montanuniversität Leoben, Peter Tunner Str. 5, A-8700 Leoben, Austria
4
Istituto Nazionale di Geofisica e Vulcanologia, Sezione Roma 2, via V. Murata 605, 00143 Roma, Italy
*
Author to whom correspondence should be addressed.
Received: 5 April 2019 / Revised: 24 April 2019 / Accepted: 26 April 2019 / Published: 29 April 2019
Abstract
Abiotic methane is widely documented in seeps, springs and aquifers associated with mafic-ultramafic rocks in Phanerozoic ophiolites, peridotite massifs and intrusions worldwide. Chromitites in ophiolites, in particular, have been interpreted as the rocks potentially generating methane though CO
2
hydrogenation. Here, we document, for the first time, the presence of methane within chromitites in South America. We analyzed, through milling and gas extraction, the content of gas occluded in Cedrolina chromitite samples, belonging to the Pilar de Goiás greenstone belt in Brazil. The chromitites display significant gas concentrations up to 0.31 µg CH
4
/g
rock
and 2800 ppmv of hydrogen, while the host talc schist is devoid of gas. Stable C isotope composition of methane (δ
13
C from −30 to −39.2‰) and the absence of organic-matter rich metasediments in the region suggest an abiotic origin. Hydrogen and methane concentrations appear related to high-Cr chromite modal content and to the presence of Ni-sulfides/alloys, which are potential catalysts of CO
2
hydrogenation at temperatures above 200 °C. Accessory ruthenium-bearing minerals occurring in the chromitites could also act as catalysts, even at lower temperatures. Geothermometry of chlorite found in the chromitites constrains serpentinization at ~250 °C, during lower greenschist facies retrometamorphism. Hydrogen could be autochthonous, and thus formed under similar temperature, which we hypothesize represents the upper limit for abiotic methane generation in the area (250 °C). The Cedrolina chromitites are the first example of CH
4
occurrence in ultramafic rocks related to an Archean-Paleoproterozoic greenstone belt. This may imply that serpentinized Cr-rich chromitites could have been sources of methane for the early Earth's atmosphere.
View Full-Text
►

▼

Figures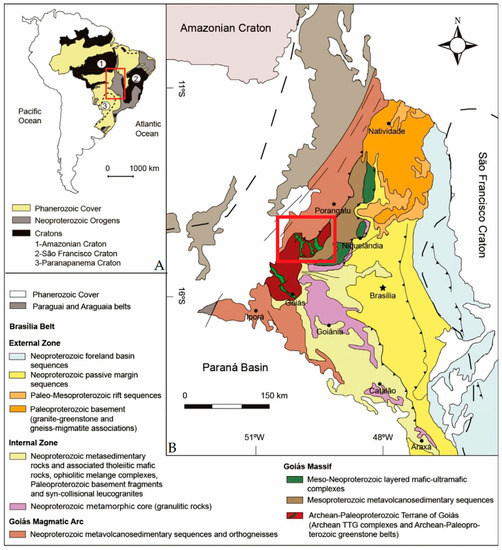 Figure 1
This is an open access article distributed under the
Creative Commons Attribution License
which permits unrestricted use, distribution, and reproduction in any medium, provided the original work is properly cited (CC BY 4.0).

Share & Cite This Article
MDPI and ACS Style
Portella, Y.M.; Zaccarini, F.; Etiope, G. First Detection of Methane within Chromitites of an Archean-Paleoproterozoic Greenstone Belt in Brazil. Minerals 2019, 9, 256.
Note that from the first issue of 2016, MDPI journals use article numbers instead of page numbers. See further details here.
Related Articles
Comments
[Return to top]