Spatial and Temporal Controls on the Distribution of Indium in Xenothermal Vein-Deposits: The Huari Huari District, Potosí, Bolivia
1
Geological Engineering Program, Faculty of Sciences and Engineering, Pontifical Catholic University of Peru (PUCP), Av. Universitaria 180, San Miguel, Lima 15088, Peru
2
Departament de Mineralogia, Petrologia i Geologia Aplicada, Universitat de Barcelona (UB), C/ Martí i Franquès s/n, 08028 Barcelona, Spain
3
Facultad de Ciencias Geológicas, Universidad Mayor San Andrés, Av. Villazón Nº 1995, Plaza del Bicentenario–Zona Central, La Paz Bolivia, Bolivia
4
Department of Earth Sciences, University of Geneva, Rue des Maraîchers 13, 1205 Geneva, Switzerland
5
Instituto de Geología, Universidad Nacional Autónoma de México, Ciudad Universitaria, Coyoacán, CDMX 04510, Mexico
6
Departament d'Enginyeria Minera, Industrial i TIC, Universitat Politècnica de Catalunya, Av. de les Bases de Manresa 61-73, 08242 Manresa, Barcelona, Spain
7
Colegio de Geólogos de Bolivia, Edificio Señor de la Exaltación Nro. 4683, Av. Hernando Siles entre calles 1 y 2, Zona de Obrajes, Casilla 8941, La Paz, Bolivia
*
Author to whom correspondence should be addressed.
†
Current address: Eloro Resources Ltd. Av. La Floresta 497, Of. 101, San Borja, Lima, Perú.
Received: 22 April 2019 / Revised: 14 May 2019 / Accepted: 14 May 2019 / Published: 17 May 2019
Abstract
The Huari Huari deposit, Potosí Department in SW Bolivia, hosts polymetallic stratiform and vein mineralization of Miocene age with significant concentrations of the critical metal indium (In). Vein mineralization records document early crystallization of quartz and cassiterite followed by prominent associations of sulfides and sulfosalts. The earliest sulfide was arsenopyrite, followed by pyrrhotite, and progressively giving way to pyrite as the main iron sulfide, whereas Cu–Ag–Pb sulfosalts constitute late hypogene associations. Sphalerite is the chief ore mineral, and its crystallization is extended during most of the mineralization lifespan as evidenced by its initial cocrystallization with pyrrhotine, then with pyrite, and finally with Ag–Pb sulfosalts. The composition of sphalerite varies from early to late generations with a continuous decrease in FeS that attests to a decrease in temperature, which is constrained to vary from ~450 to <200 °C, and/or an increase in
f
(S
2
), both congruent with the described paragenetic sequence. Indium concentrated mostly in the structure of Fe-rich sphalerite (up to 3.49 wt. %) and stannite (up to 2.64 wt. %) as limited solid solutions with roquesite in the (Zn,Fe)S–Cu
2
FeSnS
4
–CuInS
2
pseudoternary system. In sphalerite, In shows a strong positive correlation with Cu at Cu/In = 1, suggesting its incorporation via a (Cu
+
+ In
3+
) ↔ 2Zn
2+
coupled substitution, and it does not correlate with Fe. In stannite, In shows a moderate, negative correlation with Cu and Sn, and an In
3+
↔ (Cu
+
+ ½ Sn
4+
) coupled substitution is suggested. Coexisting sphalerite and stannite yielded the highest In concentrations and crystallized at temperatures between 350 and 250 °C. Copper activity probably played a major role in the accumulation of In in the structure of sphalerite since In-bearing sphalerite coexisted with the deposition of stannite, shows high concentrations of Cu (up to 0.13 atoms per formula unit (a.p.f.u.)) in its structure, and hosts exsolutions of stannite and chalcopyrite. Distribution on the district scale of In suggests an input of hydrothermal fluids richer in Cu in the central position of the mineralizing system, represented by the Antón Bravo vein.
View Full-Text
►

▼

Figures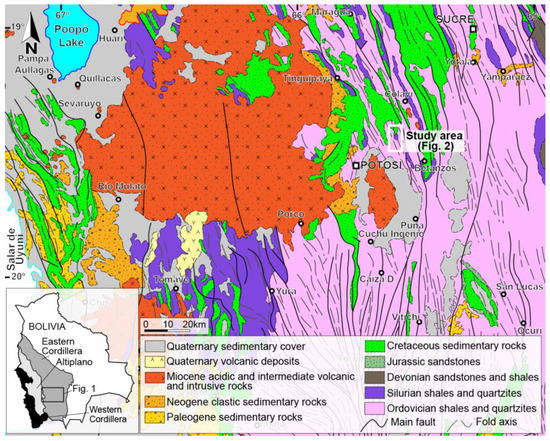 Figure 1
This is an open access article distributed under the
Creative Commons Attribution License
which permits unrestricted use, distribution, and reproduction in any medium, provided the original work is properly cited (CC BY 4.0).

Share & Cite This Article
MDPI and ACS Style
Torró, L.; Melgarejo, J.C.; Gemmrich, L.; Mollinedo, D.; Cazorla, M.; Martínez, Á.; Pujol-Solà, N.; Farré-de-Pablo, J.; Camprubí, A.; Artiaga, D.; Torres, B.; Alfonso, P.; Arce, O. Spatial and Temporal Controls on the Distribution of Indium in Xenothermal Vein-Deposits: The Huari Huari District, Potosí, Bolivia. Minerals 2019, 9, 304.
Note that from the first issue of 2016, MDPI journals use article numbers instead of page numbers. See further details here.
Related Articles
Comments
[Return to top]