Giant Fluorite Mineralization in Central Mexico by Means of Exceptionally Low Salinity Fluids: An Unusual Style among MVT Deposits
1
Centro de Geociencias, Universidad Nacional Autónoma de México, Blvd. Juriquilla 3001, Juriquilla 76230, Querétaro, Mexico
2
Instituto de Geología, Universidad Nacional Autónoma de México. Ciudad Universitaria, Coyoacán, CDMX 04510, Mexico
3
Posgrado en Ciencias de la Tierra, Universidad Nacional Autónoma de México, Blvd. Juriquilla 3001, Juriquilla 76230, Querétaro, Mexico
4
Geología Minería y Consultoría, Cipreses 1904, Jurica 76230, Querétaro, Mexico
5
Unidad Académica de Ciencias de la Tierra, Universidad Autónoma de Guerrero, Ex Hacienda de San Juan Bautista, Taxco el Viejo 40323, Guerrero, Mexico
6
Laboratorio Nacional de Geoquímica y Mineralogía (LANGEM), Ciudad Universitaria, Coyoacán, CDMX 04510, Mexico
*
Author to whom correspondence should be addressed.
Received: 27 November 2018 / Revised: 22 December 2018 / Accepted: 26 December 2018 / Published: 11 January 2019
Abstract
The origin of the mineralization at the world-class Las Cuevas (the largest single fluorite deposit in the world) has been historically disputed, essentially between skarn-related and Mississippi Valley Type (MVT) models. A systematic study of fluid inclusions in these deposits revealed that they were formed by low temperature (49 to 177 °C) and low salinity (0 to 1.9 wt % NaCl equiv) fluids. The obtained δ
13
C (between −2.39 and 0.20‰ VPDB) and δ
18
O (between −14.03 and −7.37‰ VPDB) data from local host limestones agreed with regionally representative values in the literature. The obtained δ
13
C (between −15.60 and −12.99‰ VPDB) and δ
18
O (between −5.56 and −1.84‰ VPDB) data from hydrothermal calcite associated with fluorite mineralization indicated that the isotopic composition of hydrothermal fluids initially reflected buffering by the host rocks, and then recorded the interaction between meteoric water and basinal brines. It is likely that such processes occurred with concurrent maturation of organic matter, and that the obtained compositions may also have recorded a thermal effect on the local limestones. Halogen geochemical studies in inclusion fluids showed a distribution that suggests that solutes in mineralizing fluids were due to scavenging of Na
+
and Cl
−
through water–rock interaction or halite dissolution, and that secondary sources would have been the evaporation or infiltration of seawater. The basinal brines with which the formation of these deposits was associated were massively diluted by deeply evolved meteoric water, thus making a significant fluorine input by basinal brines unlikely. Fluorine would have been provided by local groundwater through its interaction with Oligocene topaz rhyolites and other F-rich volcanic and hypabyssal rocks. Such a possibility is supported by present-day groundwater, which presents a regional endemic case of fluorosis. The precipitation of fluorite is possible at low temperatures (at which the solubility of this mineral is very low) by means of chemical reactions and physical interactions among very diluted F-poor basinal brines, F-rich groundwater, and host carbonate rocks. The latter systematically experienced hydrothermal karstification, which would have provided Ca
2+
for reaction with F
−
and resulted in the precipitation of fluorite. This scenario stands for a depositional model that recalls those proposed for MVT and associated industrial mineral deposits, but is distinct from common models with regard to the primal source for fluorine and the extremely low salinities of inclusion fluids.
View Full-Text
►

▼

Figures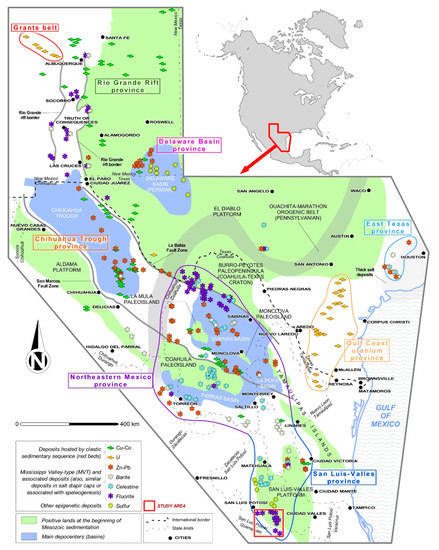 Figure 1
This is an open access article distributed under the
Creative Commons Attribution License
which permits unrestricted use, distribution, and reproduction in any medium, provided the original work is properly cited (CC BY 4.0).

Share & Cite This Article
MDPI and ACS Style
González-Partida, E.; Camprubí, A.; Carrillo-Chávez, A.; Díaz-Carreño, E.H.; González-Ruiz, L.E.; Farfán-Panamá, J.L.; Cienfuegos-Alvarado, E.; Morales-Puente, P.; Vázquez-Ramírez, J.T. Giant Fluorite Mineralization in Central Mexico by Means of Exceptionally Low Salinity Fluids: An Unusual Style among MVT Deposits. Minerals 2019, 9, 35.
Note that from the first issue of 2016, MDPI journals use article numbers instead of page numbers. See further details here.
Related Articles
Comments
[Return to top]