Comparing Schwertmannite and Hydrobasaluminite Dissolution in Ammonium Oxalate (pH 3.0): Implications for Metal Speciation Studies by Sequential Extraction
1
Area of Geochemistry and Sustainable Mining, Department of Geological Resources Research, Spanish Geological Survey (IGME), Calera 1, 28760 Tres Cantos, Madrid, Spain
2
Laboratory of Geochemistry, Department of Scientific Infrastructure and Services, Spanish Geological Survey (IGME), Calera 1, 28760 Tres Cantos, Madrid, Spain
*
Author to whom correspondence should be addressed.
Received: 20 November 2018 / Revised: 4 January 2019 / Accepted: 15 January 2019 / Published: 17 January 2019
Abstract
The "poorly crystalline iron oxy-hydroxides" are one of the most reactive and environmentally important fractions in soils and sediments due to the association of many toxic elements associated with these minerals. The metal content of this fraction in sequential extraction procedures is usually evaluated by dissolution in ammonium oxalate ([NH
4
]
2
C
2
O
4
·H
2
O) at pH 3.0 and 25 °C. Such chemical treatment, however, may also dissolve other mineral phases of comparable reactivity, which can lead to wrong interpretations of mineral carriers for specific metals. In this study, we compare the dissolution kinetics of schwertmannite and hydrobasaluminite, two minerals of comparable crystallinity and reactivity that play a major role in the mobility of many trace metals in waters and sediments affected by acid mine drainage (AMD). We first synthesized these two minerals in the laboratory by partial neutralization of two different metal-rich mine waters, and then we applied the standard protocol of ammonium oxalate dissolution to different specimens; the solutions were periodically sampled at intervals of 2, 5, 10, 15, 30 and 60 min to compare (i) the kinetics of mineral dissolution, and (ii) the metals released during dissolution of these two minerals. The results indicate a very similar kinetics of mineral dissolution, though hydrobasaluminite exhibited a faster rate. Some toxic elements such as As, Cr or V were clearly bonded to schwertmannite, while many others such as Cu, Zn, Si, Co, Ni and Y were clearly linked to hydrobasaluminite. These results suggest that studies linking the mobility of many elements with the Fe cycle in AMD-affected soils and sediments could be inaccurate, since these elements could actually be associated with Al minerals of poor crystallinity. The step of ammonium oxalate dissolution in sequential extraction studies should be best described with a more general term such as "low-crystallinity oxy-hydroxides".
View Full-Text
►

▼

Figures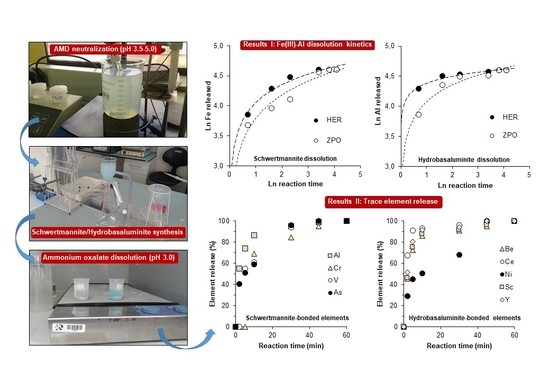 Graphical abstract
This is an open access article distributed under the
Creative Commons Attribution License
which permits unrestricted use, distribution, and reproduction in any medium, provided the original work is properly cited (CC BY 4.0).

Share & Cite This Article
MDPI and ACS Style
Sánchez-España, J.; Reyes, J. Comparing Schwertmannite and Hydrobasaluminite Dissolution in Ammonium Oxalate (pH 3.0): Implications for Metal Speciation Studies by Sequential Extraction. Minerals 2019, 9, 57.
Note that from the first issue of 2016, MDPI journals use article numbers instead of page numbers. See further details here.
Related Articles
Comments
[Return to top]