Spectrophotometric Detection of Glyphosate in Water by Complex Formation between Bis 5-Phenyldipyrrinate of Nickel (II) and Glyphosate
1
Centro de Química, ICUAP, Benemérita Universidad Autónoma de Puebla, 14 Sur y Av. San Claudio, Col. San Manuel, Puebla 72570, Mexico
2
Dipartimento di Chimica, Università Degli Studi di Firenze, Via della Lastruccia 3, 50019 Sesto Fiorentino (Fi), Italy
3
Departamento de Ingeniería Celular y Biocatálisis, Instituto de Biotecnología Universidad Nacional Autónoma de México, Av. Universidad 2001 Chamilpa, Cuernavaca 62210, Morelos, Mexico
4
Department of Biotechnology, Chemistry, and Pharmacy, University of Siena, Via A. Moro 2, 53100 Siena, Italy
5
Facultad de Ciencias Químicas, Benemérita Universidad Autónoma de Puebla, 14 Sur y Av. San Claudio, Col. San Manuel, Puebla 72570, Mexico
*
Author to whom correspondence should be addressed.
Received: 26 February 2019 / Revised: 2 April 2019 / Accepted: 3 April 2019 / Published: 6 April 2019
Abstract
A spectrophotometric method for the determination of glyphosate based on the monitoring of a complex formation between bis 5-phenyldipyrrinate of nickel (II) and the herbicide was developed. The method showed a short response time (10 s), high selectivity (very low interference from other pesticides and salts), and high sensitivity (LOD 2.07 × 10
−7
mol/L, LOQ 9.87 × 10
−7
mol/L, and a K
d
from 1.75 × 10
−6
to 6.95 × 10
−6
mol/L). The Job plot showed that complex formation occurs with a 1:1 stoichiometry. The method was successfully applied in potable, urban, groundwater, and residual-treated water samples, showing high precision (0.34–2.9%) and accuracy (87.20–119.04%). The structure of the complex was elucidated through theoretical studies demonstrating that the nickel in the bis 5-phenyldipyrrinate forms a distorted octahedral molecular geometry by expanding its coordination number through one bond with the nitrogen and another with the oxygen of the glyphosate' carboxyl group, at distances between 1.89–2.08 Å.
View Full-Text
►

▼

Figures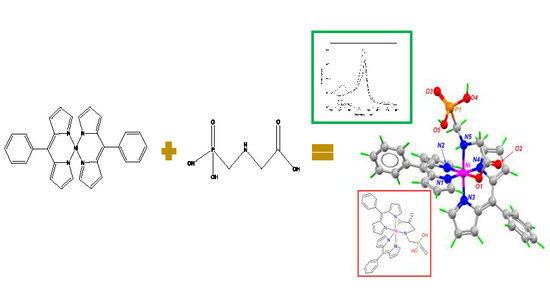 Graphical abstract
This is an open access article distributed under the
Creative Commons Attribution License
which permits unrestricted use, distribution, and reproduction in any medium, provided the original work is properly cited (CC BY 4.0).

Share & Cite This Article
MDPI and ACS Style
Romero-Natale, A.; Palchetti, I.; Avelar, M.; González-Vergara, E.; Garate-Morales, J.L.; Torres, E. Spectrophotometric Detection of Glyphosate in Water by Complex Formation between Bis 5-Phenyldipyrrinate of Nickel (II) and Glyphosate. Water 2019, 11, 719.
Note that from the first issue of 2016, MDPI journals use article numbers instead of page numbers. See further details here.
Related Articles
Comments
[Return to top]