Fine-Scale Columnar and Surface NOx Concentrations over South Korea: Comparison of Surface Monitors, TROPOMI, CMAQ and CAPSS Inventory
1
Air Resources Laboratory, National Oceanic and Atmospheric Administration, College Park, MD 20740, USA
2
Cooperative Institute for Satellite Earth System Studies, University of Maryland, College Park, MD 20740, USA
3
Department of Environmental and Safety Engineering, Ajou University, Suwon 16499, Korea
4
Department of Atmospheric Science, Kongju National University, Gongju 32588, Korea
5
Georgia Environmental Protection Division, Atlanta, GA 30354, USA
*
Authors to whom correspondence should be addressed.
Received: 14 November 2019 / Revised: 7 January 2020 / Accepted: 9 January 2020 / Published: 15 January 2020
Fine-scale nitrogen oxide (NOx) concentrations over South Korea are examined using surface observations, satellite data and high-resolution model simulations based on the latest emission inventory. While accurate information on NOx emissions in South Korea is crucial to understanding regional air quality in the region, consensus on the validation of NOx emissions is lacking. We investigate the spatial and temporal variation in fine-scale NOx emission sources over South Korea. Surface observations and newly available fine-scale satellite data (TROPOspheric Monitoring Instrument; TROPOMI; 3.5 × 7 km2) are compared with the community multiscale air quality (CMAQ) model based on the clean air policy support system (CAPSS) 2016 emission inventory. The results show that the TROPOMI NO2 column densities agree well with the CMAQ simulations based on CAPSS emissions (e.g., R = 0.96 for June 2018). The surface observations, satellite data and model are consistent in terms of their spatial distribution, the overestimation over the Seoul Metropolitan Area and major point sources; however, the model tends to underestimate the surface concentrations during the cold season.
4. Conclusions
Over South Korea, NOx emission sources were examined using fine-scale satellite products, surface observations and a fine-scale modeling system with the latest emission inventory information. Here are the findings of this study:
(1)

The current South Korean emission inventory, CAPSS 2016, represents the geographical distributions of the NOx emission sources over the country well. It shows good agreement (e.g., R = 0.96 for June 2018) with the TROPOMI NO2 column density distribution;

(2)

The model biases compared with the satellite and surface observations are generally consistent in their spatial patterns, showing overestimations over the SMA and major point sources and underestimations in other locations;

(3)

The modeled column densities overestimate all year, whereas the modeled surface concentrations mostly underestimate, especially during the cold season;

(4)

The diurnal variation agrees better in urban monitoring sites than in roadside monitoring sites. Prominent underestimations of daytime concentrations at roadside monitors are observed;

(5)

The modeled NO2:NOx ratio is higher than that of observations in all cases, and the largest differences are observed at roadside sites.
From these findings, we conclude that most power plants and industrial facilities were well detected by TROPOMI, implying that it can play a critical role in monitoring emission sources in urban areas. We also confirm that the spatial distribution of TROPOMI is consistent with the surface observations, suggesting that the newly available TROPOMI data can be a useful tool for monitoring fine-scale emission sources. TROPOMI has excellent spatial resolution, and it resolves and detects signals from known point sources in South Korea. We also find that the model usually overestimates both columnar and surface NO2 concentrations over the SMA and major point sources, especially during the warm season. One notable exception is the underestimation for cement industries, implying that further investigations are required for emissions from those facilities.
While the interpretation of the model comparison is used to evaluate emission inventories, the comparisons shown in this study suggest a complicated interpretation to decide if the CAPSS 2016 NOx emission inventory is accurately estimated. Using such a simple comparison, both NO and NO2 concentrations are widely underestimated in CAPSS 2016. However, the model overestimates compared with the surface observations in a large number of sites. The key point is that those sites are near the core of strong NOx emission sources, at the center of the SMA and in major industrial point sources. Hence, this mixed result from the NOx concentration comparison fails to provide clear evidence of a NOx emission underestimation or overestimation. It might thus be a premature conclusion to directly link the overestimation of the concentration to the overestimation of emissions, and uncertainty due to the model's limitations should be considered when interpreting the results of our study.
Supplementary Materials
The following are available online at
https://www.mdpi.com/2073-4433/11/1/101/s1
. Figure S1: Model performance evaluations for PM
2.5
, O
3
and NO
2
concentration over South Korea. Black circles indicate surface observations, and blue lines indicate modeled concentrations; Figure S2: NO
2
column density distributions of TROPOMI, CMAQ and model biases (CMAQ-TROPOMI); Figure S3: Comparisons of surface and columnar NO
2
concentration during May-December 2018; Figure S4: Comparison of modeled and observed surface NO
2
concentration during January to March, April to June, July to September, and October to December, 2018; Figure S5:Comparison of modeled and observed surface NO concentration during January to March, April to June, July to September, and October to December, 2018; Figure S6: Zoom-in of major points sources in
Figure 7
. Numbers indices point source IDs used in
Figure 7
; Figure S7: Seasonal variation of NO concentrations from AirKorea surface monitoring sites and CMAQ simulations; Figure S8: Diurnal variations of NO concentrations over urban, roadside and rural sites.
Author Contributions
Conceptualization, H.C.K.; methodology, H.C.K., S.K., and B.-U.K.; formal analysis, H.C.K.; writing—original draft preparation, H.C.K.; writing—review and editing, S.-H.L., B.-U.K. and P.L.; visualization, H.C.K.; funding acquisition, S.K. All authors have read and agreed to the published version of the manuscript.
Acknowledgments
The study was supported by the National Strategic Project-Fine Particle of the National Research Foundation of Korea (NRF) funded by the Ministry of Science and ICT (MSIT), the Ministry of Environment (ME) and the Ministry of Health and Welfare (MOHW) (2017M3D8A1092015), in South Korea.
Conflicts of Interest
The authors declare no conflict of interest.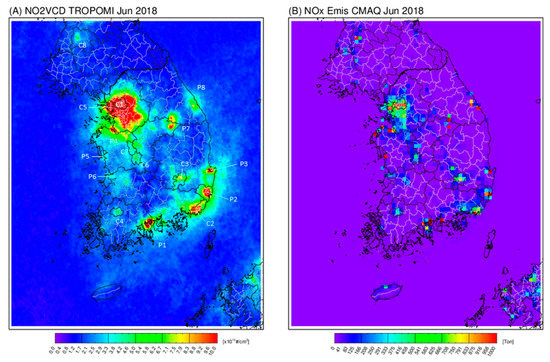 Figure 1. Spatial distribution of (A) NO2 vertical column densities from TROPOMI and (B) NOx emissions from CAPSS 2016 during June 2018. TROPOMI level 2 pixels are oversampled onto a 3-km grid using the conservative spatial regridding method and CAPSS NOx emissions are gridded onto a 9-km domain grid.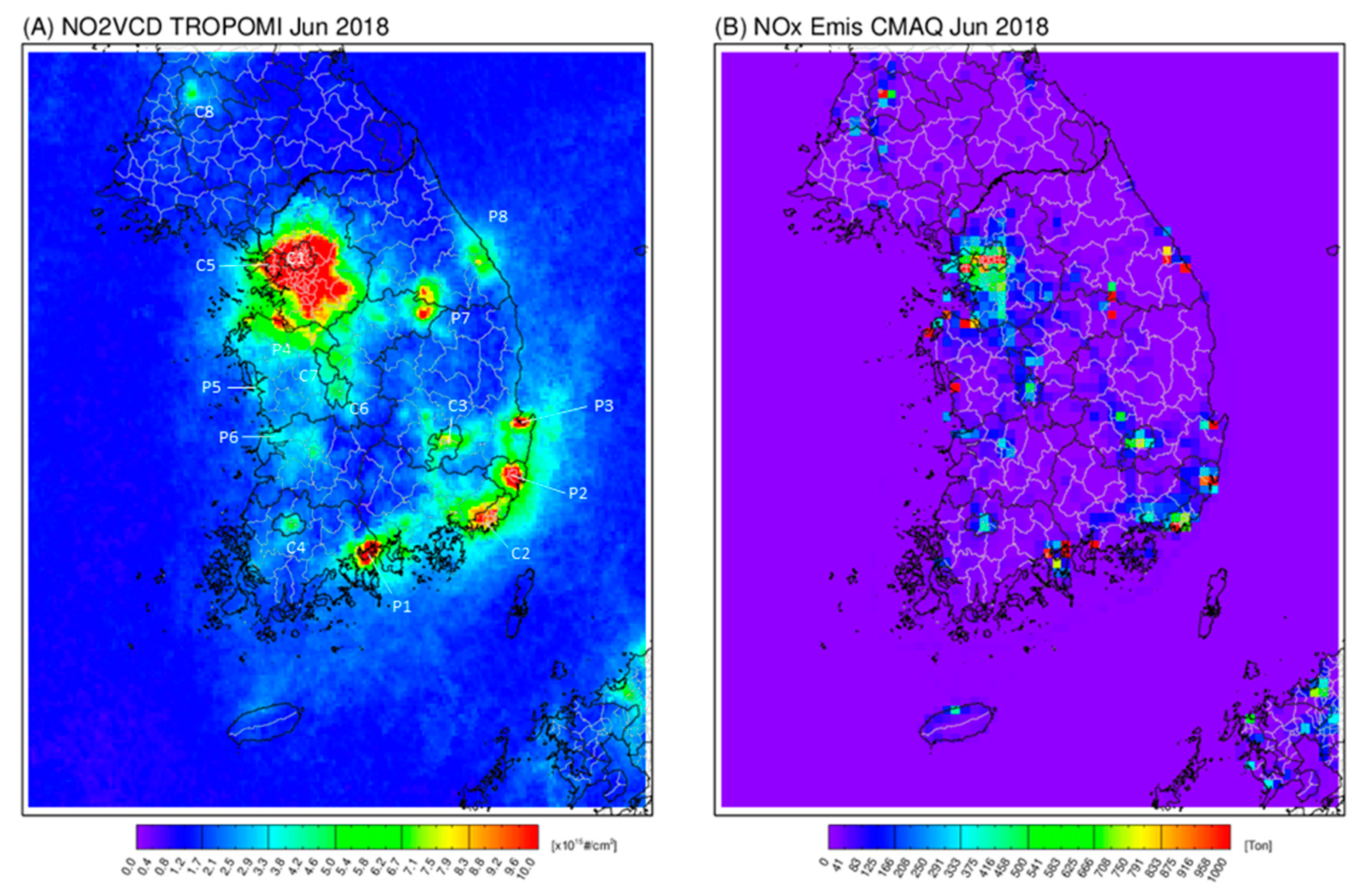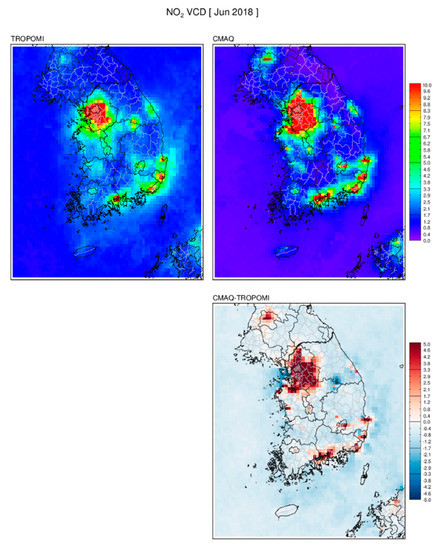 Figure 2. NO2 vertical column densities from TROPOMI (upper left) and CMAQ (upper right) and their differences (i.e., CMAQ–TROPOMI) (bottom) during June 2018.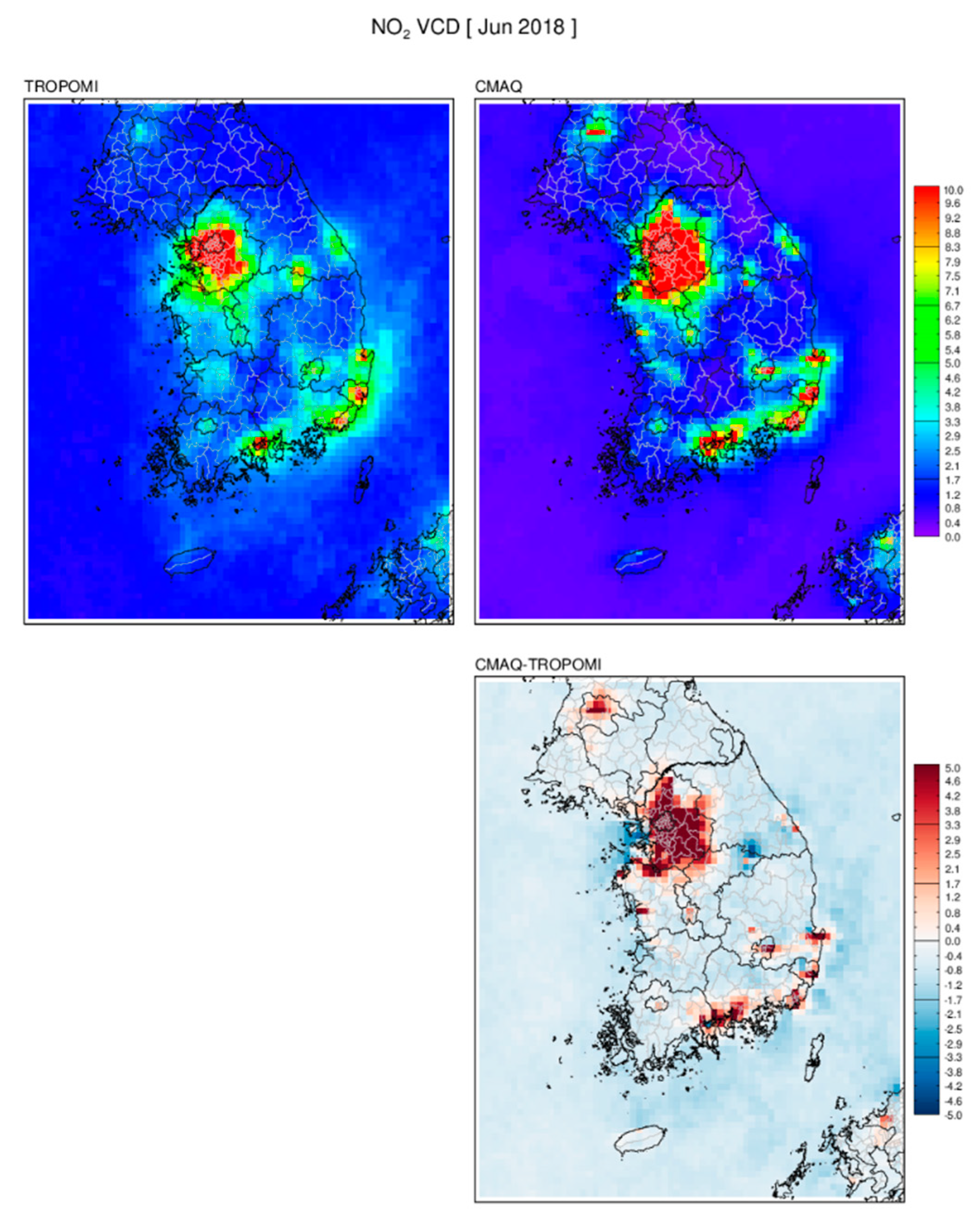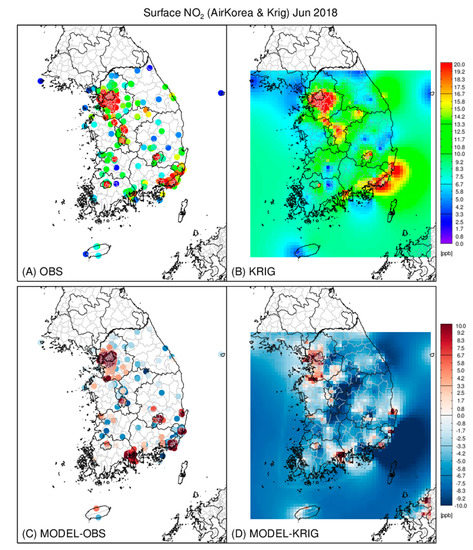 Figure 3. Comparison of the modeled and observed surface NO2 concentrations. Monthly averages of (A) surface observations, (B) interpolated concentration using Krig, (C) model biases (CMAQ-OBS) and (D) differences between model and Kriged concentrations (CMAQ–Krig) during June 2018.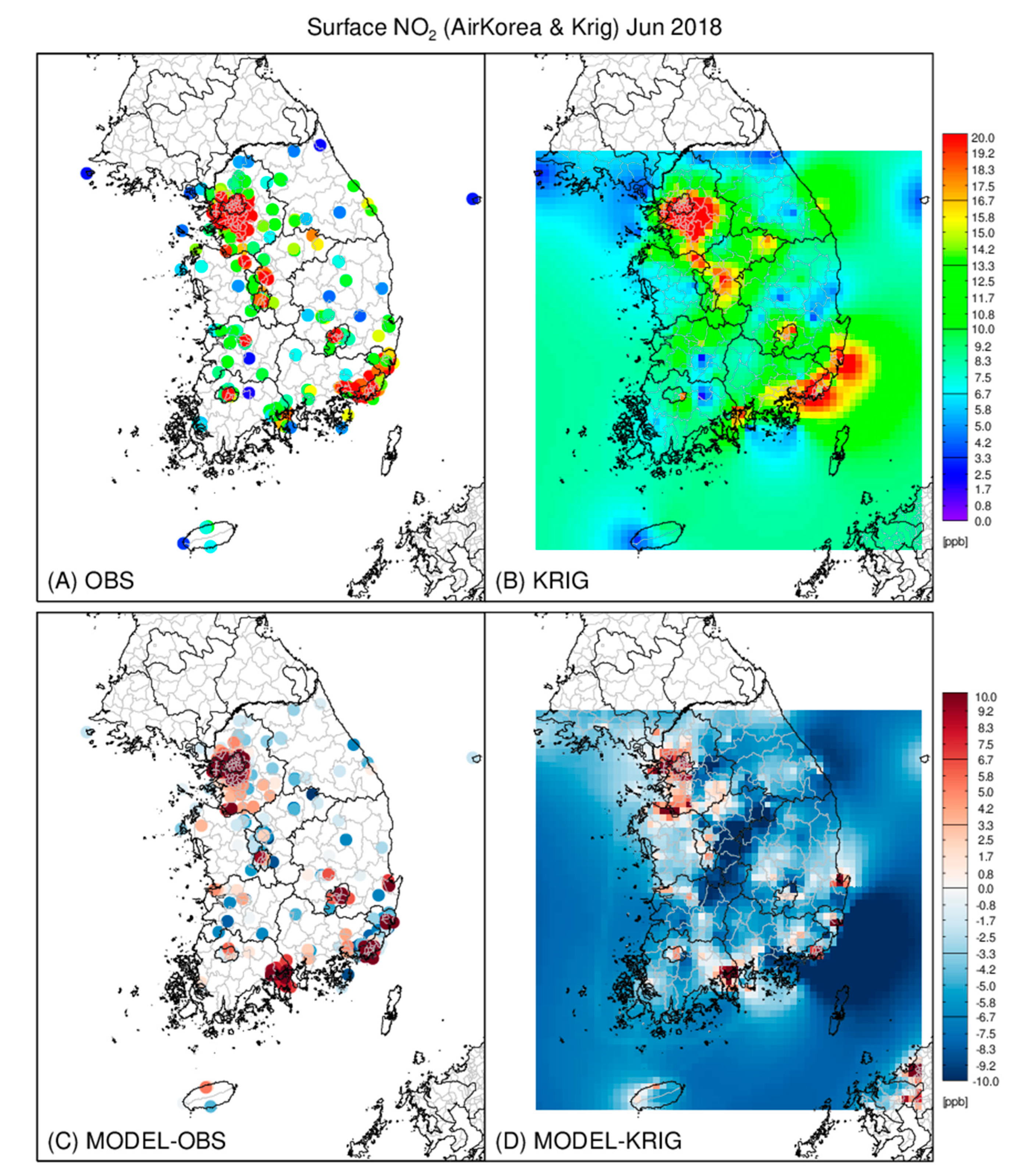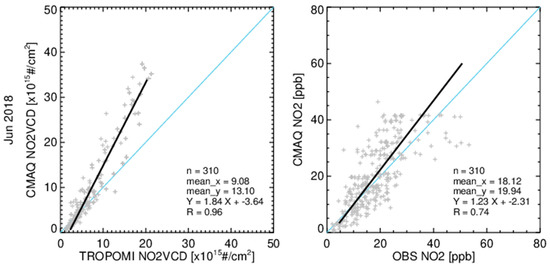 Figure 4.
Comparisons of the surface and columnar NO
2
concentrations. Scatterplots between the surface observations and CMAQ model (left) and column densities from TROPOMI and CMAQ (right) during June 2018 are shown. For a fair comparison, TROPOMI and CMAQ NO
2
column density pixels collocated with the surface monitoring sites are selected. Comparisons for other months are available in
Figure S3
.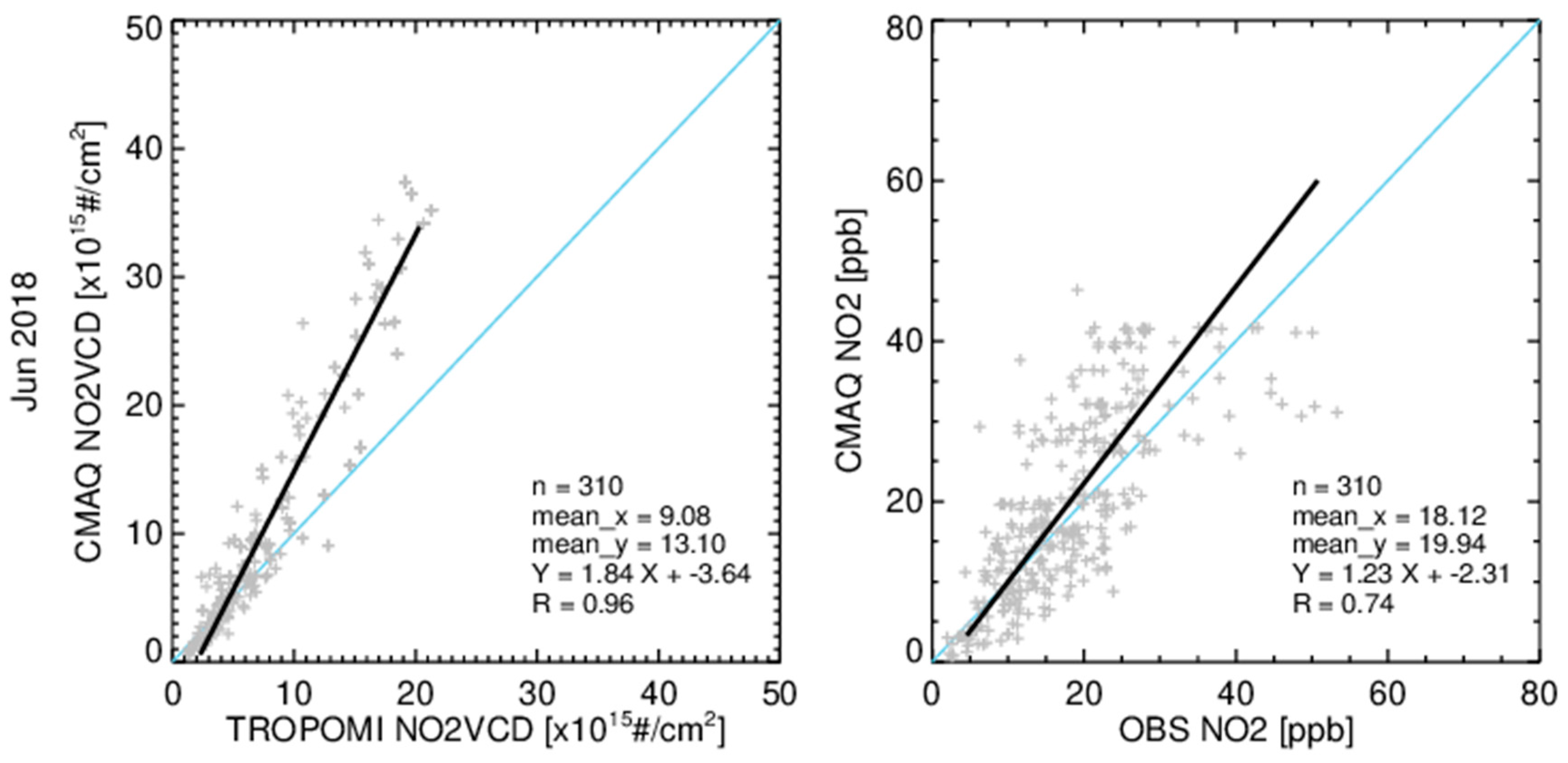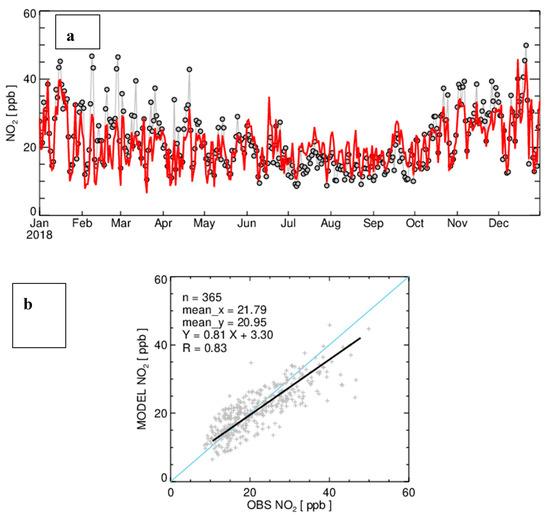 Figure 5. Seasonal variation in NO2 concentration from the surface observations and corresponding CMAQ simulations. Daily mean NO2 concentrations over 305 sites are presented. (a). surface observation; (b). corresponding CMAQ simulation.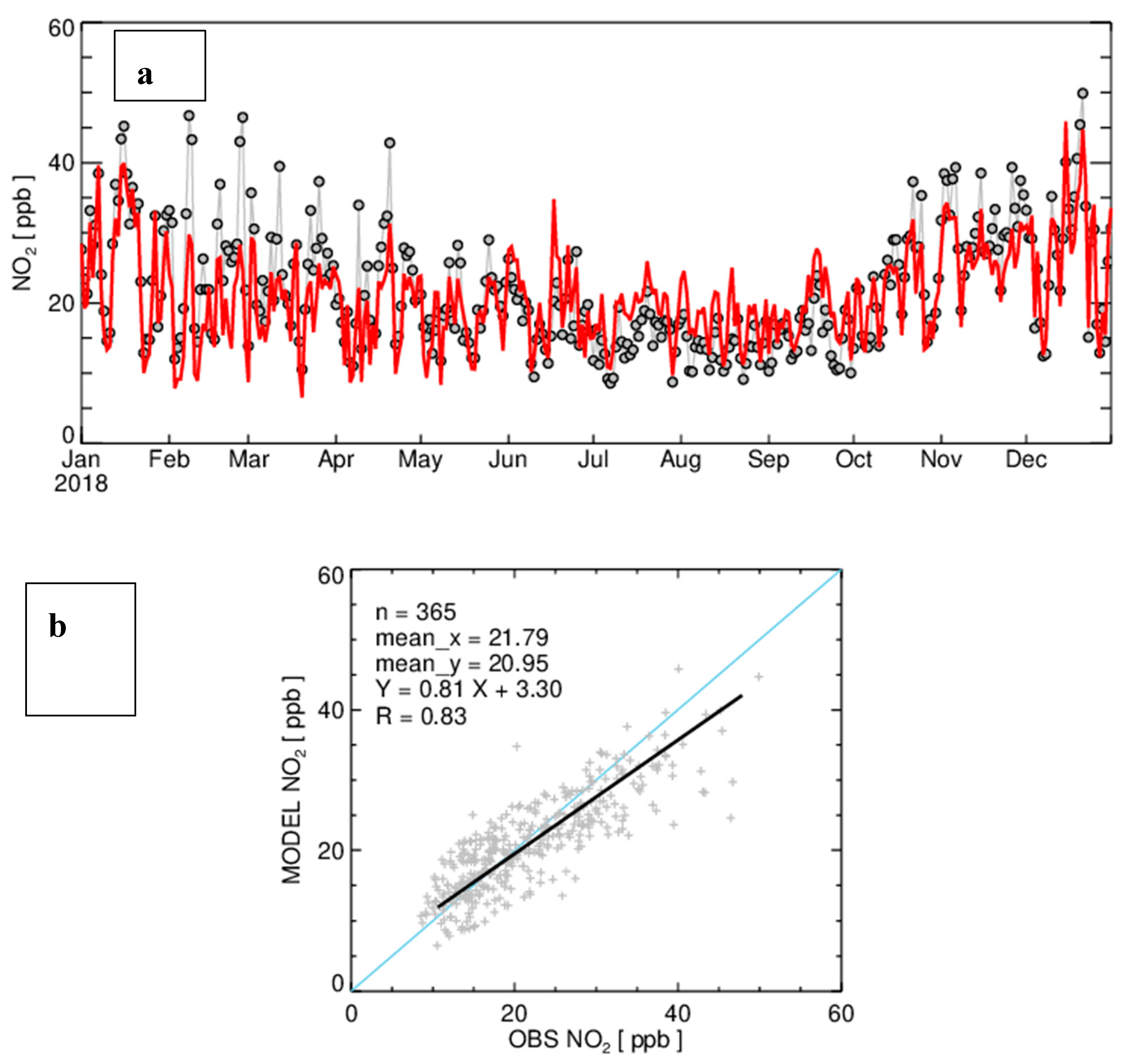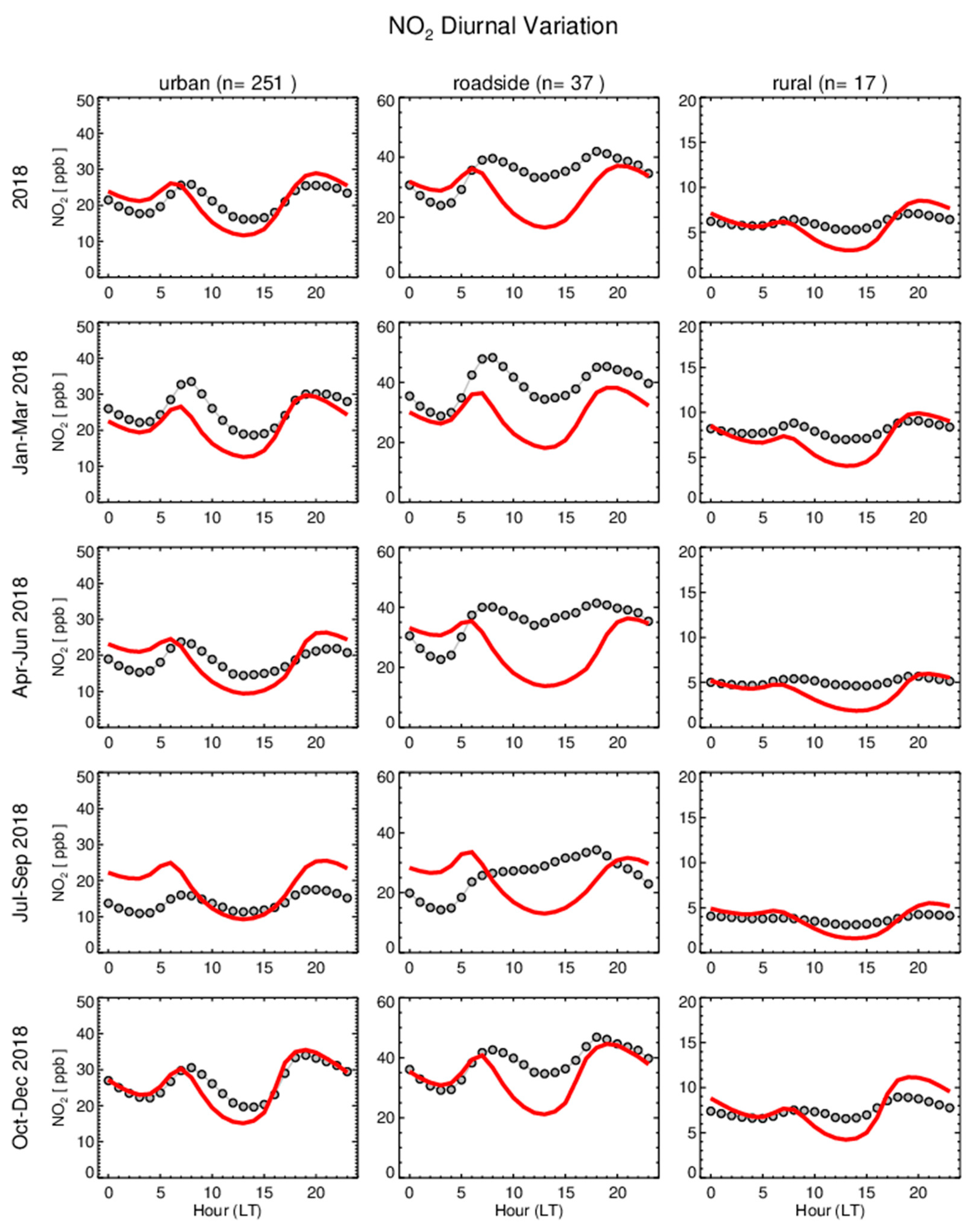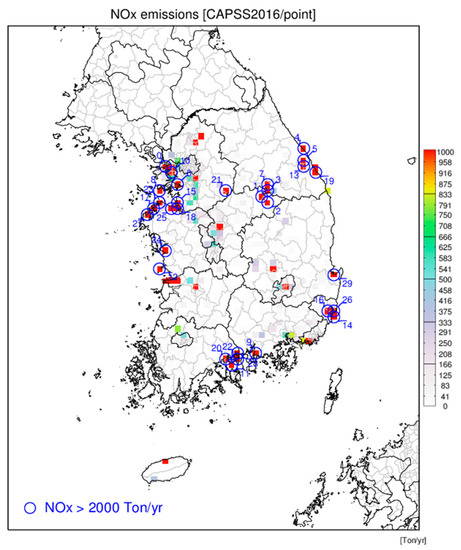 Figure 7.
Spatial distribution of NO
x
emissions from point sources in CAPSS 2016. Point source NOx emissions in each 9-km modeling cell are summed and grid cells with more than 2000 ton/year are marked with a blue circle. The numbers shown next to each circle are the IDs (in
Figure 8
), which are sorted by the order of the model biases. Zoom-in plots for congested areas (e.g., Chungnam, Kwangyang and Pohang) are available in the
Supplementary Information
.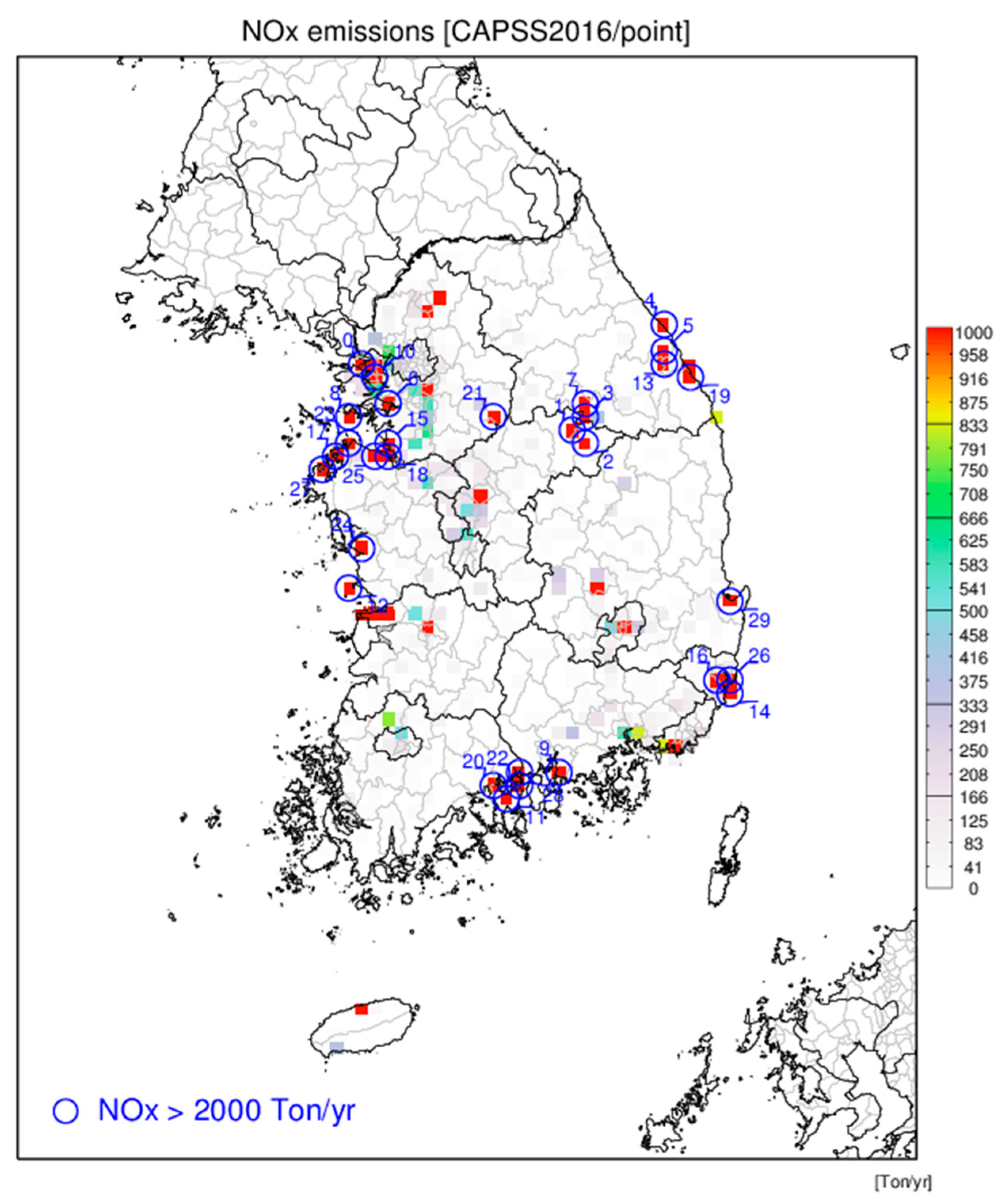 Figure 8. Comparison of TROPOMI and CMAQ NO2 vertical column densities over major point source emission locations. NO2 column densities from CMAQ and TROPOMI (lower) and biases (i.e., CMAQ-TROPOMI) (upper), sorted by bias size, are shown. Point source indices on the x-axis indicate the cells with point sources more than 2,000 ton/year NOx emissions.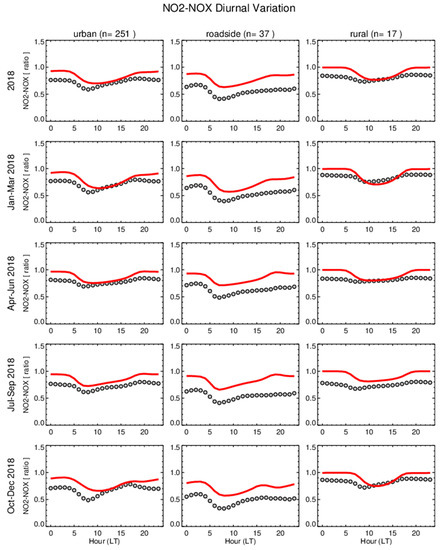 Figure 9. Diurnal variation in the NO2:NOx concentration ratios from the observations (circles) and model (red) at urban, roadside and rural monitoring sites during 2018.

Table 1. Model option configurations for the Weather Research and Forecasting (WRF) and community multiscale air quality (CMAQ) simulations.
Model
Configuration
Reference
WRF v3.3
Initial field
Microphysics
Cumulus scheme
LSM scheme
PBL scheme
FNL [52]
WSM3 [53]
Kain-Fritsch [54]
NOAH [55]
YSU [56]
CMAQ v4.7.1
Chemical mechanism
Chemical solver
Aerosol module
Advection scheme
Horizontal diffusion
Vertical diffusion
Cloud scheme
SAPRC99 [49]
EBI [57]
AERO5 [58]
YAMO [59]
Multiscale [60]
Eddy [60]
RADM [61]

Table 2. Amount of nitrogen oxide (NOx) emissions from the major source classification codes in CAPSS 2007, 2010, 2013 and 2016.
Source Classification Code
CAPSS
2007
2010
2013
2016
Combustion in energy industries
156,304
153,441
177,219
145,445
Nonindustrial combustion plants
82,396
96,480
88,769
85,824
Combustion in manufacturing industries
155,053
164,942
178,034
175,332
Production processes
48,725
49,022
55,151
55,932
Road transport
495,084
382,226
335,721
452,995
Other mobile sources and machinery
237,101
208,878
246,027
309,986
Waste treatment and disposal
13,097
6,062
9,529
13,570
Other sources and sinks
163
158
165
167
Combustion total
393,753
414,863
444,022
406,601
Mobile total
732,185
591,104
581,748
762,981
Total
1,187,923
1,061,210
1,090,614
1,239,251

© 2020 by the authors. Licensee MDPI, Basel, Switzerland. This article is an open access article distributed under the terms and conditions of the Creative Commons Attribution (CC BY) license (http://creativecommons.org/licenses/by/4.0/).