Composition of Clean Marine Air and Biogenic Influences on VOCs during the MUMBA Campaign
1
Centre for Atmospheric Chemistry, University of Wollongong, Northfields Avenue, Wollongong, NSW 2522, Australia
2
Climate Science Centre, CSIRO Oceans and Atmosphere, Aspendale, VIC 3195, Australia
3
Atmospheric Chemistry Observations & Modeling Laboratory, National Center for Atmospheric Chemistry, Boulder, CO 80305, USA
4
ANSTO Institute for Environmental Research, Lucas Heights, NSW 2234, Australia
*
Author to whom correspondence should be addressed.
Received: 17 June 2019 / Revised: 4 July 2019 / Accepted: 6 July 2019 / Published: 10 July 2019
Abstract
Volatile organic compounds (VOCs) are important precursors to the formation of ozone and fine particulate matter, the two pollutants of most concern in Sydney, Australia. Despite this importance, there are very few published measurements of ambient VOC concentrations in Australia. In this paper, we present mole fractions of several important VOCs measured during the campaign known as MUMBA (Measurements of Urban, Marine and Biogenic Air) in the Australian city of Wollongong (34°S). We particularly focus on measurements made during periods when clean marine air impacted the measurement site and on VOCs of biogenic origin. Typical unpolluted marine air mole fractions during austral summer 2012-2013 at latitude 34°S were established for CO
2
(391.0 ± 0.6 ppm), CH
4
(1760.1 ± 0.4 ppb), N
2
O (325.04 ± 0.08 ppb), CO (52.4 ± 1.7 ppb), O
3
(20.5 ± 1.1 ppb), acetaldehyde (190 ± 40 ppt), acetone (260 ± 30 ppt), dimethyl sulphide (50 ± 10 ppt), benzene (20 ± 10 ppt), toluene (30 ± 20 ppt), C
8
H
10
aromatics (23 ± 6 ppt) and C
9
H
12
aromatics (36 ± 7 ppt). The MUMBA site was frequently influenced by VOCs of biogenic origin from a nearby strip of forested parkland to the east due to the dominant north-easterly afternoon sea breeze. VOCs from the more distant densely forested escarpment to the west also impacted the site, especially during two days of extreme heat and strong westerly winds. The relative amounts of different biogenic VOCs observed for these two biomes differed, with much larger increases of isoprene than of monoterpenes or methanol during the hot westerly winds from the escarpment than with cooler winds from the east. However, whether this was due to different vegetation types or was solely the result of the extreme temperatures is not entirely clear. We conclude that the clean marine air and biogenic signatures measured during the MUMBA campaign provide useful information about the typical abundance of several key VOCs and can be used to constrain chemical transport model simulations of the atmosphere in this poorly sampled region of the world.
View Full-Text
►

▼

Figures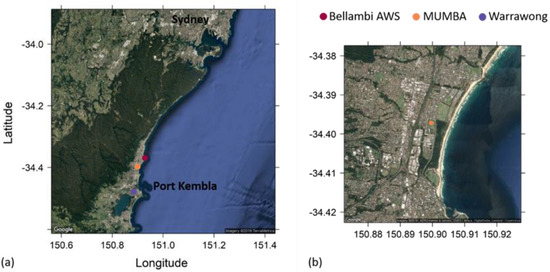 Figure 1
This is an open access article distributed under the
Creative Commons Attribution License
which permits unrestricted use, distribution, and reproduction in any medium, provided the original work is properly cited (CC BY 4.0).

Share & Cite This Article
MDPI and ACS Style
Guérette, É.-A.; Paton-Walsh, C.; Galbally, I.; Molloy, S.; Lawson, S.; Kubistin, D.; Buchholz, R.; Griffith, D.W.; Langenfelds, R.L.; Krummel, P.B.; Loh, Z.; Chambers, S.; Griffiths, A.; Keywood, M.; Selleck, P.; Dominick, D.; Humphries, R.; Wilson, S.R. Composition of Clean Marine Air and Biogenic Influences on VOCs during the MUMBA Campaign. Atmosphere 2019, 10, 383.
Note that from the first issue of 2016, MDPI journals use article numbers instead of page numbers. See further details here.
Related Articles
Comments
[Return to top]