Roadside Moss Turfs in South East Australia Capture More Particulate Matter Along an Urban Gradient than a Common Native Tree Species
1
School of Earth, Atmospheric and Life Sciences (SEALS), University of Wollongong, Wollongong, NSW 2522, Australia
2
Centre for Sustainable Ecosystem Solutions, University of Wollongong, Wollongong, NSW 2522, Australia
3
Laboratory of Basic Research in Horticulture, Faculty of Horticulture, Biotechnology and Landscape Architecture, Warsaw University of Life Sciences—SGGW, Warsaw 02-787, Poland
4
Centre for Atmospheric Chemistry, University of Wollongong, Wollongong, NSW 2522, Australia
*
Author to whom correspondence should be addressed.
Received: 28 February 2019 / Revised: 18 April 2019 / Accepted: 19 April 2019 / Published: 24 April 2019
Abstract
Urbanisation largely consists of removing native vegetation. Plants that remain interact with air quality in complex ways. Pollutants can be detrimental to plant growth; plants sometimes reduce air quality, yet some species also improve it through phytoremediation. A common pollutant of concern to human health in urban areas is particulate matter (PM), small particles of solid or liquid. Our study compared roadside moss turfs with leaves of a common Australian tree species,
Pittosporum undulatum
, in their ability to capture PM along an urban gradient. We sampled nine sites, three in each of three levels of urbanisation: low, medium, and high according to road type (freeway, suburban road, quiet peri-urban road). In addition, we deployed a PM monitor over a two-week period in one site of each urban level to provide concentrations of PM
2.5
. We used chlorophyll fluorescence (F
v
/F
m
; maximum quantum yield of photosystem II) as a measure of plant stress. We extracted PM in three size fractions using a filtration and washing technique with water and chloroform. Site averages for moss turfs were between 5.60 and 33.00 mg per g dry weight for total PM compared to between 2.15 and 10.24 mg per g dry weight for the tree leaves. We found that moss was more sensitive to increasing urbanisation, both in terms of trapping proportionately more PM than the leaves, and also in terms of photosynthetic stress, with moss F
v
/F
m
declining by a site average of 40% from low to high urban "class" (0.76 to 0.45). Our study highlights the stressors potentially limiting moss persistence in cities. It also demonstrates its ability to trap PM, a trait that could be useful in urban applications relating to urban greening or air quality.
View Full-Text
►

▼

Figures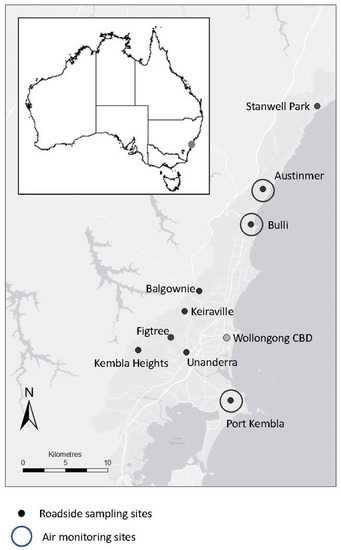 Figure 1
This is an open access article distributed under the
Creative Commons Attribution License
which permits unrestricted use, distribution, and reproduction in any medium, provided the original work is properly cited (CC BY 4.0).

Share & Cite This Article
MDPI and ACS Style
Haynes, A.; Popek, R.; Boles, M.; Paton-Walsh, C.; Robinson, S.A. Roadside Moss Turfs in South East Australia Capture More Particulate Matter Along an Urban Gradient than a Common Native Tree Species. Atmosphere 2019, 10, 224.
Note that from the first issue of 2016, MDPI journals use article numbers instead of page numbers. See further details here.
Related Articles
Comments
[Return to top]