Improvements in Forecasting Intense Rainfall: Results from the FRANC (Forecasting Rainfall Exploiting New Data Assimilation Techniques and Novel Observations of Convection) Project
1
Department of Meteorology, University of Reading, Reading RG6 6BB, UK
2
Department of Mathematics and Statistics, University of Reading, Reading RG6 6AX, UK
4
Department of Geography and Environmental Science, University of Reading, Reading RG6 6AB, UK
5
Department of Earth Sciences, Uppsala University, 752 36 Uppsala, Sweden
6
Met Office, Fitzroy Rd, Exeter EX1 3PB, UK
7
Department of Mathematics, University of Surrey, Guildford GU2 7XH, UK
*
Author to whom correspondence should be addressed.
†
Current affiliation: LMD/IPSL, Département de Géosciences, ENS, PSL Research University, Ecole Polytechnique, Université Paris Saclay, Sorbonne Universités, UPMC Univ Paris 06, CNRS, Paris, France.
Received: 11 January 2019 / Revised: 8 February 2019 / Accepted: 13 February 2019 / Published: 7 March 2019
Abstract
The FRANC project (Forecasting Rainfall exploiting new data Assimilation techniques and Novel observations of Convection) has researched improvements in numerical weather prediction of convective rainfall via the reduction of initial condition uncertainty. This article provides an overview of the project's achievements. We highlight new radar techniques: correcting for attenuation of the radar return; correction for beams that are over 90% blocked by trees or towers close to the radar; and direct assimilation of radar reflectivity and refractivity. We discuss the treatment of uncertainty in data assimilation: new methods for estimation of observation uncertainties with novel applications to Doppler radar winds, Atmospheric Motion Vectors, and satellite radiances; a new algorithm for implementation of spatially-correlated observation error statistics in operational data assimilation; and innovative treatment of moist processes in the background error covariance model. We present results indicating a link between the spatial predictability of convection and convective regimes, with potential to allow improved forecast interpretation. The research was carried out as a partnership between University researchers and the Met Office (UK). We discuss the benefits of this approach and the impact of our research, which has helped to improve operational forecasts for convective rainfall events.
View Full-Text
►

▼

Figures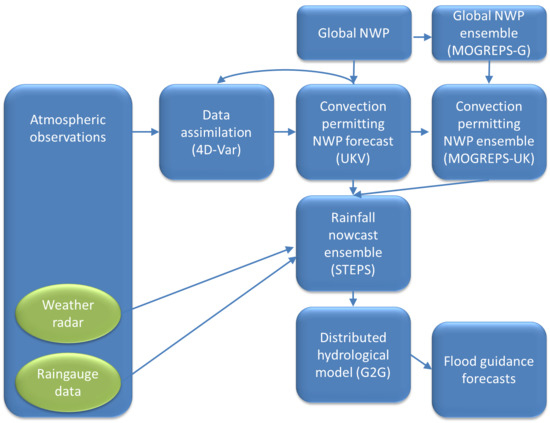 Graphical abstract
This is an open access article distributed under the
Creative Commons Attribution License
which permits unrestricted use, distribution, and reproduction in any medium, provided the original work is properly cited (CC BY 4.0).

Share & Cite This Article
MDPI and ACS Style
Dance, S.L.; Ballard, S.P.; Bannister, R.N.; Clark, P.; Cloke, H.L.; Darlington, T.; Flack, D.L.A.; Gray, S.L.; Hawkness-Smith, L.; Husnoo, N.; Illingworth, A.J.; Kelly, G.A.; Lean, H.W.; Li, D.; Nichols, N.K.; Nicol, J.C.; Oxley, A.; Plant, R.S.; Roberts, N.M.; Roulstone, I.; Simonin, D.; Thompson, R.J.; Waller, J.A. Improvements in Forecasting Intense Rainfall: Results from the FRANC (Forecasting Rainfall Exploiting New Data Assimilation Techniques and Novel Observations of Convection) Project. Atmosphere 2019, 10, 125.
Note that from the first issue of 2016, MDPI journals use article numbers instead of page numbers. See further details here.
Related Articles
Comments
[Return to top]