Open Access This article is
freely available
re-usable
Review
Effects of Radiation Therapy on Neural Stem Cells
1
Laboratory of Cell Differentiation, Institute of Molecular Genetics of the Czech Academy of Sciences, v. v. i., Vídeňská 1083, 142 20 Prague 4, Czech Republic
2
Department of Radiation Dosimentry, Nuclear Physics Institute of the Czech Academy of Sciences, v. v. i., Na Truhlářce 39/64, 180 00 Prague 8, Czech Republic
*
Author to whom correspondence should be addressed.
Received: 13 June 2019 / Accepted: 22 August 2019 / Published: 24 August 2019
Abstract
:
Brain and nervous system cancers in children represent the second most common neoplasia after leukemia. Radiotherapy plays a significant role in cancer treatment; however, the use of such therapy is not without devastating side effects. The impact of radiation-induced damage to the brain is multifactorial, but the damage to neural stem cell populations seems to play a key role. The brain contains pools of regenerative neural stem cells that reside in specialized neurogenic niches and can generate new neurons. In this review, we describe the advances in radiotherapy techniques that protect neural stem cell compartments, and subsequently limit and prevent the occurrence and development of side effects. We also summarize the current knowledge about neural stem cells and the molecular mechanisms underlying changes in neural stem cell niches after brain radiotherapy. Strategies used to minimize radiation-related damages, as well as new challenges in the treatment of brain tumors are also discussed.
Keywords:
neural stem cells; brain and nervous system cancers; neurogenic niches; radiotherapy; sparing of neurogenic regions
1. Introduction
Brain radiotherapy improves the lives of cancer patients and concurrently, advances in these techniques allow a significant increase in the proportion of patient survivors. However, the use of these therapies is not without devastating side effects that impact the patients' autonomy, as well as their social and professional life. Although the effect of radiation-induced damage to the brain is multifactorial, injury to the neural stem cell (NSC) compartments and damage to NSC populations is hypothesized to be central to the pathogenesis of radiation-induced cognitive decline. Sensitivity of NSC compartments to radiation has been extensively studied using rodent models, also permitting the study of possible links between cancer therapy and the onset of cognitive deficits.
2. Radiotherapy Techniques
2.1. Techniques for Delivering Radiation Therapy
The main aim of radiotherapy is to destroy cancer cells while causing minimal damage to the surrounding healthy tissues. Indeed, this is not always possible, and in some cases even not applicable, for example during total body or whole brain irradiation.
Radiotherapy can be divided into external and internal. In external radiotherapy, ionizing radiation is delivered to the patient's body using external beams consisting of either photons, electrons, neutrons, protons, or other ions (e.g., carbons). Internal radiotherapy can be divided into brachytherapy and nuclear medicine. In brachytherapy, small sources of ionizing radiation are delivered inside or to the proximity of the tumor [
25
], and, in the case of nuclear medicine, radiopharmaceutical agents are delivered into the patient's body using specialized molecular vehicles [
26
].
The therapeutic dose is mostly delivered to the patients in several doses (so-called fractionation). This means that the patient is not irradiated in one session, but the dose is delivered in parts. It was shown that the time needed for the repair of cancer cells is longer than in case of normal (healthy) cells. This means that by using multiple optimally spaced irradiation sessions, normal cells will have time to repair and the cancer cells will be preferentially eliminated [
27
]. Another factor that makes fractionation beneficial is the cell cycle dependency of cellular radiosensitivity. In an asynchronous cell population, cells in M phase will be more likely killed by radiation than cells in G
1
or S phase. Thus, irradiating cancer cells in more than one session increases the probability of their elimination [
28
].
In general, irradiation limited to cancer cells only is impossible. The radiation is usually directed to a restricted body volume (defined by the physician), which is selected based on the tumor histology and location. Most used for external radiotherapy are photon beams (X-rays). These X-rays are generated inside a clinical linear accelerator (LINAC). A wide X-ray beam is then extracted from the LINAC for patient irradiations. The LINACs are able to rotate around the patient and are equipped with collimators that reduce the size of the photon beam to a square region that through an additional collimation system, mostly a Multi-leaf collimator (MLC), can be adjusted to copy the treatment volume shape.
In most cases, the treatment dose is not delivered from one direction only, but sophisticated treatment planning systems are used for the calculation of the most appropriate dose distributions. The treatment plan is always constructed based on the actual patient's anatomy obtained mostly by computed tomography. Recently, a large percentage of treatment plans are prepared using the approach of intensity-modulated radiotherapy (IMRT), where the dose is delivered using non-uniform beams by the use of MLC from multiple directions. This approach enables the physician to achieve delivery of the full treatment dose only within the designated treatment volume, with maximal sparing of the healthy tissues [
29
].
2.2. Brain Radiotherapy
In case of brain tumors, the whole brain, or only parts of it, can be irradiated [
30
]. Whole brain radiation therapy (WBRT) has been routinely used since the 1960s in cases of multiple BMs [
31
,
32
]. As the incidence of BM in NSC regions was found to be low, sparing of the neurogenic compartments could help reducing the neurocognitive decline observed after WBRT [
31
]. The neurogenic niches can be spared using the above-mentioned IMRT techniques based on photons or alternatively, delivering protons using the pencil-beam scanning (PBS) mode [
33
]. In PBS, it is possible to irradiate the patient's volume using a thin pencil beam, which is redirected using magnets to smaller sub-volumes of the total volume to facilitate more conformal irradiation while sparing healthy tissues.
Although shown to prolong a patient's life, WBRT is also associated with several side effects such as hair loss, skin irritation, nausea, hearing loss, cerebral edema, radionecrosis, neurological deterioration, cognitive and endocrine dysfunctions, and dementia [
32
,
34
]. Less side effects were observed when using stereotactic radiosurgery (SR). During SR, a high dose is delivered using multiple focused beams to the brain regions where metastases are located. This can be achieved by the use of modified LINACs, i.e., use of stereotactic tubes or microMLC in order to restrict the beam size to a smaller area, multiple
6
°Co sources from several directions (Gammaknife), or robotic LINAC (Cyberknife). Stereotactic radiosurgery is in general less invasive and is mostly executed in one session due to the possibility to irradiate small tissue volumes and minimally affect the healthy tissues [
32
]. In many cases, SR can be used instead of surgery in combination with WBRT [
35
], or as an adjuvant therapeutic strategy after resection of the metastases [
8
]. In addition to these external beam techniques, radioactive sources can be implanted into the tumor cavity during surgery (intracranial brachytherapy) [
8
,
25
]. These radioactive implants can be placed into the patient permanently or temporarily. As temporary implants necessitate an additional surgery, permanent implants are more preferred [
8
].
In external radiotherapy and brachytherapy, cancer cells cannot be irradiated selectively, but always a targeted volume is irradiated, which contains healthy cells as well. However, nuclear medicine offers the possibility to treat cancer using targeted radiotherapy. During targeted radiotherapy, molecular vehicles are used to selectively deliver a radionuclide to malignant cell populations [
26
]. For example, glioblastoma multiforme cells highly express G protein-coupled receptor neurokinin 1, so a modified substance P as its ligand (
213
Bi-DOTA-Substance P, where
213
Bi is a short-range alpha particle emitter) can be used for targeting neurokinin type 1 receptor-producing cells [
36
]. The used radionuclides mostly emit electrons with a range of a few millimeters, or they can emit alpha particles with a range of only a few cell diameters [
26
]. The low range of these beta and alpha emitters, respectively, reduces irradiation of the healthy tissues and thus the unwanted side effects of radiotherapy.
2.3. Side Effects of Radiation Therapy
The unwanted side effects of radiation therapy can be divided into three categories: acute, subacute, and late [
37
]. Acute effects are mostly caused by BBB disruption leading to cerebral edema, and they may be improved using corticosteroid medications [
38
,
39
,
40
]. These effects occur during the first few weeks of radiotherapy and are characterized by drowsiness, headache, fever, nausea, and vomiting [
39
,
40
]. Subacute effects occur one to six months post-irradiation, and they include several symptoms such as headache, somnolence, weakness, anorexia, and aggravation of preexisting deficits [
39
,
40
]. Late effects are mostly irreversible, and they appear more than six months after the treatment and are associated with white matter damage caused by vascular injuries, demyelination, or radiation-induced necrosis [
39
,
40
,
41
]. These effects can be mild, such as tiredness, or significant, such as memory loss, dementia [
39
], leukoencephalopathy [
42
], and secondary-induced brain tumors (meningioma, glioma, sarcoma) [
40
]. Importantly, late effects are even more severe for pediatric patients; childhood cancer survivors are increasingly predisposed to cognitive deficits [
33
,
43
]. It was observed that long-term survivors of brain cancer irradiations in childhood suffer losses in intelligence quotient, learning disabilities, hormonal deficits, growth and psychomotor retardation [
38
]. Some of these pathological states are associated with the radiation damage to the neurogenic niche, which is involved in memory formation, spatial processing, and mood regulation [
44
].
4. Molecular Mechanism Underlying Brain Radiotherapy
5. Strategies to Minimize Radiation-Related Damages in the Neurogenic Niche
6. Concluding Remarks
Whether hippocampal neurogenesis persists throughout life in the human brain is not fully resolved. It was believed that the human hippocampus continues to generate new neurons, but a report by Sorrells et al. [
53
] concluded that neurogenesis does not continue in the human adult hippocampus, or is extremely rare. Moreover, this study also reminds us that simple translation of results from animal studies to humans may be problematic. On the contrary, persistent hippocampal neurogenesis was demonstrated in aging brains and detected in patients with mild cognitive impairments and Alzheimer's disease [
137
,
138
]. Importantly, a study by Tobin et al. [
137
] also provided evidence that the extent of neurogenesis, particularly the number of newly forming neurons, is associated with better cognitive diagnosis. Nevertheless, they also showed that the number of neuroblasts greatly varied between individuals. The evidence for adult neurogenesis in the human brain comes from studies using thymidine analogs that are incorporated into the DNA of dividing cells, and from studies that only used immunohistochemistry to detect cell proliferation markers in human postmortem brains. It should be emphasized that there are many potential technical obstacle to studying post mortem brain tissues. One of them is the post mortem brain interval which can have deleterious effect on brain antigenicity and should be taken into consideration during tissue selection for analysis. Another important limitation that applies to studies of human neurogenesis are fixation time and tissue processing, the limitation of antibodies and marker specificity and interpersonal variability of marker expression. To finally resolve if neurogenesis persists in the human adult brain will need a more complete analysis by using for example, single-cell RNA sequencing, standardization of methodologies and the creation of an open-access brain bank from a large cohort of patients [
139
,
140
].
The human brain tumors classification is currently based mainly on microscopic morphology and immunochemistry; nevertheless, many tumors are characterized by a distinct molecular signature which enables their genomic classification. For instance, medulloblastomas comprise an explicit subgroup with distinct molecular characteristics [
141
,
142
] and provide a clear example of how a detailed understanding of genomics can guide the treatment procedure. Evidence that medulloblastomas, which display active Wnt-signaling pathway, lacks the blood–brain barrier and, therefore, are highly vulnerable to chemotherapy [
143
] led to a series of studies testing reduced-intensity radiotherapy in patients with this disease subtype [
144
]. This also shows that although recent technical advances in radiotherapy allow localized and concentrated treatment, reducing of radiotherapy for some types of brain tumors is one of the main challenges [
144
,
145
].
Although it is difficult to examine adult neurogenesis in humans, postnatal neurogenesis has been well studied in rodents. Animal studies have shown that proliferative and migratory capacities of neural precursors are disrupted by irradiation, however depletion of neuroblasts provokes qNSCs to exit quiescence and activate. The mechanisms that could explain reduction of neurogenesis and the resultant negative long-term side effects of radiation therapy, is the premature exhaustion of a finite NSC pool that is a detrimental consequence of aberrant NSCs activation [
146
] together with the chronic alteration of the neurogenic microenviroment. Nevertheless, radiotherapy is still the standard treatment strategy for most human brain tumors, which by increasing the radiation dose can lead to improved tumor outcomes. This ambiguity of radiation treatment is necessary to keep in mind when treating brain tumors. Determining the subcategories of individual tumors and following the expression of biomarkers in time will help in deciding which patients will benefit from radiation treatment.
Author Contributions
A.M., J.K., and M.Z. prepared the manuscript. M.Z. and P.B. reviewed and edited manuscript. All authors discussed and reviewed the manuscript.
Funding
This work was supported by the Ministry of Education, Youth and Sports (project LO1419).
Acknowledgments
We thank Trevor Allan Epp and Šárka Takáčová for proofreading the manuscript and Ivana Dobiášovská for preparation of illustrations.
Conflicts of Interest
The authors declare no competing interests.
Figure 1.
Cell subtypes involved in progression from quiescent neural stem cells (qNSCs) to neuroblasts. Schematic representation of lineage progression. QNSCs give rise to activated neural stem cells (aNSCs), which differentiate into highly proliferative progenitor cells (NPCs) and finally to neuroblasts. Expression of key genes related to particular cell subtypes is depicted.
Ascl1
, achaete-scute family bHLH transcription factor 1;
Ccna2
, cyclin A2;
Cdk1
, cyclin dependent kinase 1;
Cdk4
, cyclin dependent kinase 4;
Cdk6
, cyclin dependent kinase 6;
Clu
, clusterin; Dcx, doublecortin;
Dlx1
, distal-less homeobox 1;
Dlx2
, distal-less homeobox 2;
Dlx6as1
, distal-less homeobox 6, opposite strand 1;
Egfr
, epidermal growth factor receptor;
Gfap
, glial fibrillary acidic protein;
Id2
, inhibitor of DNA binding 2;
Id3
, inhibitor of DNA binding 3;
Mcm2
, minichromosome maintenance complex component 2;
Mki67
, antigen identified by monoclonal antibody Ki-67;
Nes
, nestin;
NeuroD1
, neurogenic differentiation 1;
Notch2
, notch 2;
Nrxn3
, neurexin 3;
Prom1
, prominin-1;
Prox1
, prospero homeobox 1;
Psa-Ncam
, polysialylated neural cell adhesion molecule;
Rpl32
, ribosomal protein L32;
S100b
, S100 protein, beta polypeptide, neural;
Slc1a2
, solute carrier family 1 (glial high affinity glutamate transporter), member 2;
Sox2
, SRY (sex determining region Y)-box 2;
Sox9
, SRY (sex determining region Y)-box 9;
Sp8
, trans-acting transcription factor 8;
Sp9
, trans-acting transcription factor 9;
Tbr2
, eomesodermin;
Tubb3
, tubulin, beta 3 class III.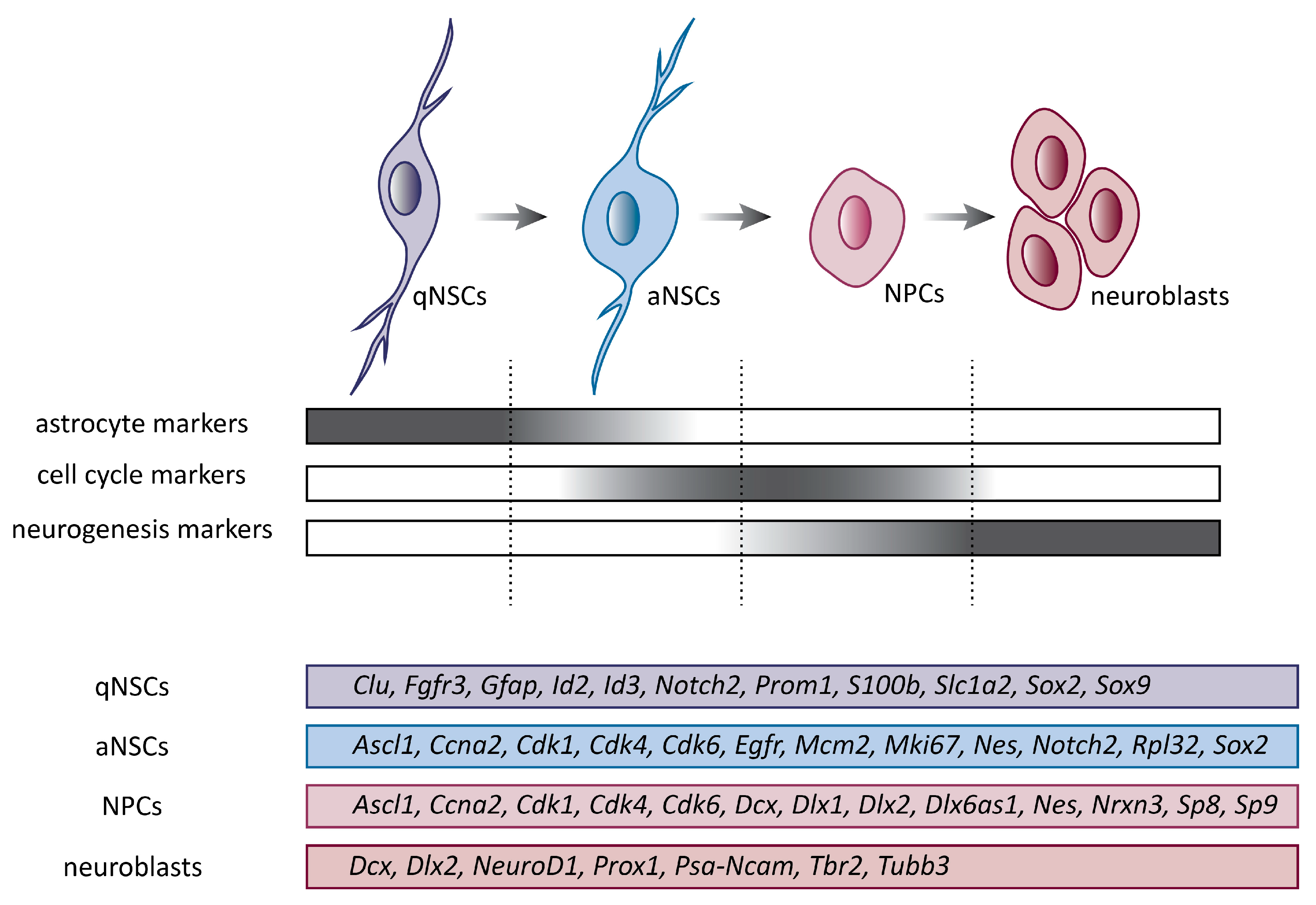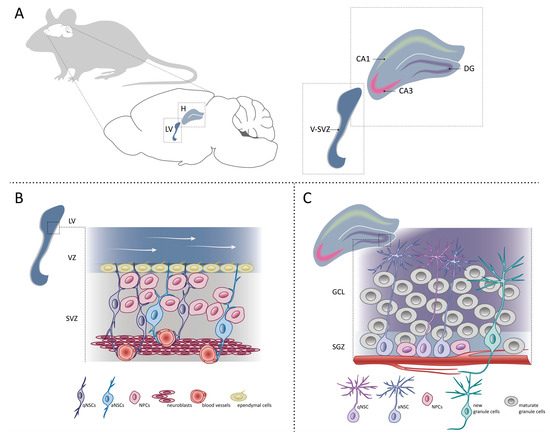 Figure 2. Neurogenesis in adult mouse brain. (A) Sagittal view of adult mouse brain focusing on two neurogenic niches where NSCs reside—the ventricular-subventricular zone (V-SVZ) of the lateral ventricle (LV) and dentate gyrus (DG) of the hippocampus (H). Cornu Ammonis 1 (CA1) and Cornu Ammonis 3 (CA3) subfields of the hippocampus are depicted. (B) Schematic representation of the organization and composition of the adult mouse V-SVZ niche. qNSCs share many characteristics with aNSCs, including contact with blood vessels. White arrows show the flow of the cerebrospinal fluid. (C) Schematic representation of the cell types present in the mouse subgranular zone (SGZ) and granule cell layer (GCL) in the dentate gyrus of the hippocampus.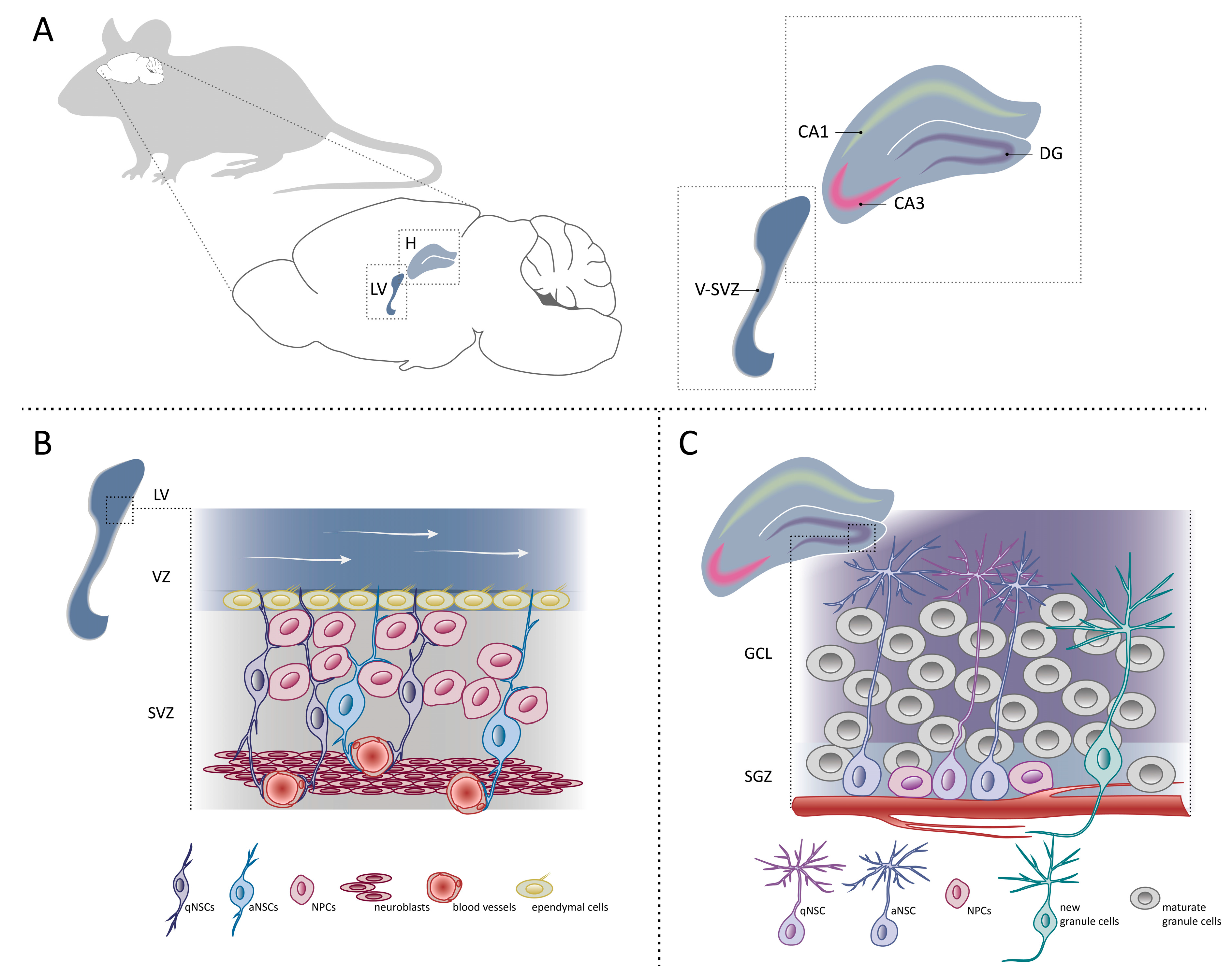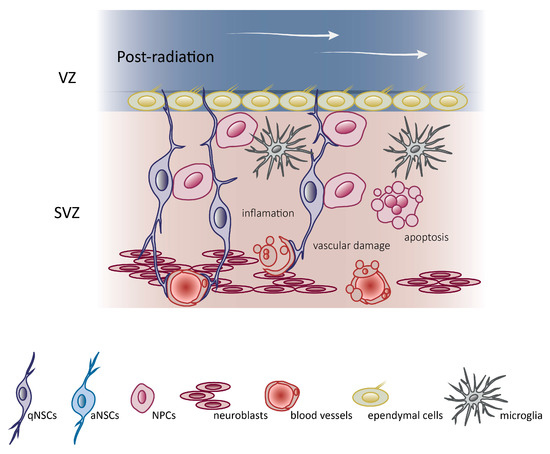 Figure 3.
Radiation disrupts the V-SVZ niche. Schematic representation of mice V-SVZ niche after radiation. Following radiation, the V-SVZ niche shows a depletion of proliferating aNSCs, NPCs, and neuroblasts, a vascular damage and an increase in the number of microglia. Compare with schematic representation of mice V-SVZ niche in a pre-radiation condition (
Figure 2
B).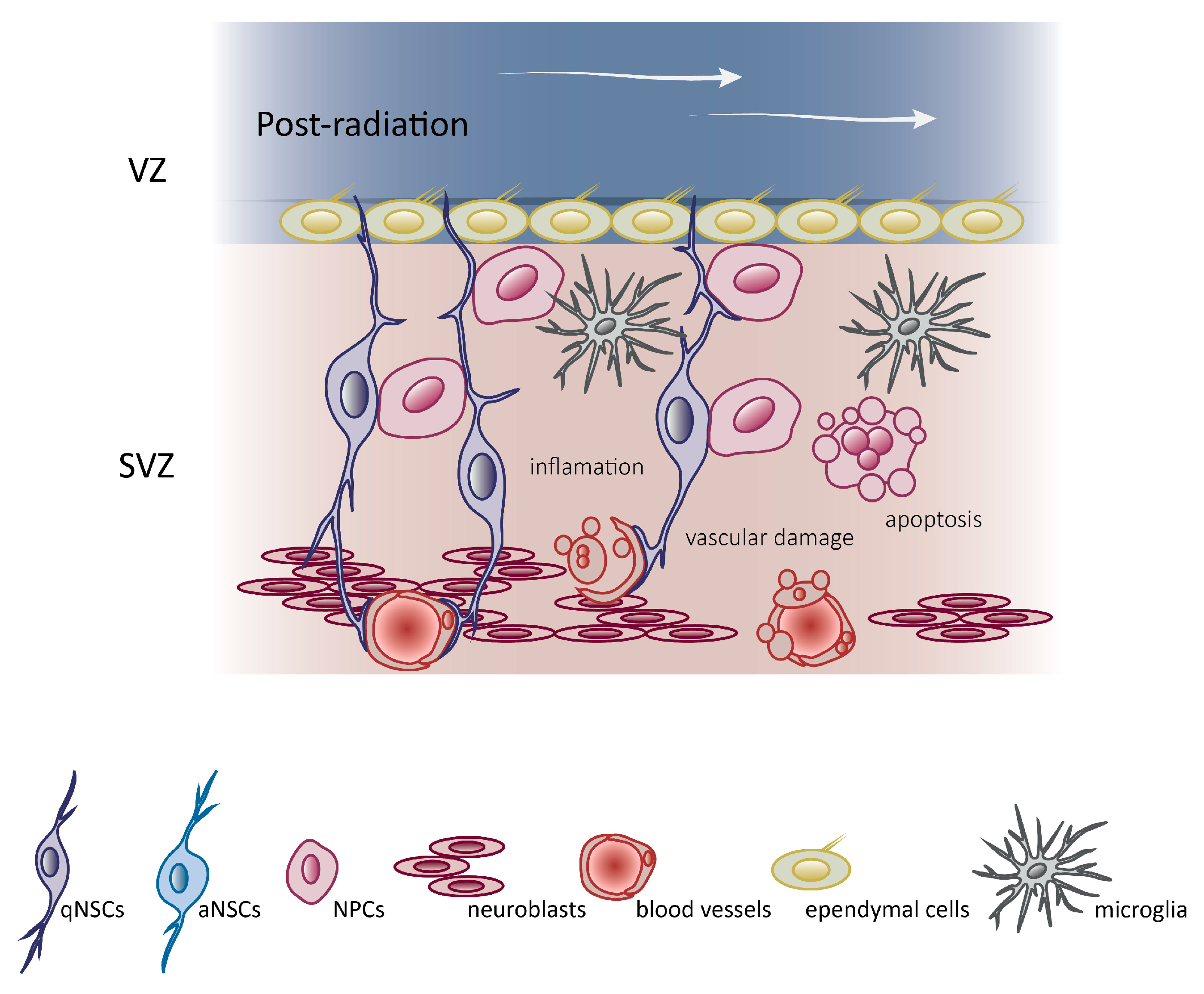 © 2019 by the authors. Licensee MDPI, Basel, Switzerland. This article is an open access article distributed under the terms and conditions of the Creative Commons Attribution (CC BY) license (http://creativecommons.org/licenses/by/4.0/).