Intranasally Administered Exosomes from Umbilical Cord Stem Cells Have Preventive Neuroprotective Effects and Contribute to Functional Recovery after Perinatal Brain Injury
1
Department of Obstetrics and Feto-Maternal Medicine, Inselspital, Bern University Hospital, University of Bern, 3010 Bern, Switzerland
2
Department for BioMedical Research (DBMR), University of Bern, 3012 Bern, Switzerland
3
Graduate School for Cellular and Biomedical Sciences, University of Bern, 3012 Bern, Switzerland
4
Neuroinfection Laboratory, Institute for Infectious Diseases, University of Bern, 3012 Bern, Switzerland
*
Author to whom correspondence should be addressed.
Received: 17 June 2019 / Revised: 2 August 2019 / Accepted: 6 August 2019 / Published: 8 August 2019
Abstract
Perinatal brain injury (PBI) in preterm birth is associated with substantial injury and dysmaturation of white and gray matter, and can lead to severe neurodevelopmental deficits. Mesenchymal stromal cells (MSC) have been suggested to have neuroprotective effects in perinatal brain injury, in part through the release of extracellular vesicles like exosomes. We aimed to evaluate the neuroprotective effects of intranasally administered MSC-derived exosomes and their potential to improve neurodevelopmental outcome after PBI. Exosomes were isolated from human Wharton's jelly MSC supernatant using ultracentrifugation. Two days old Wistar rat pups were subjected to PBI by a combination of inflammation and hypoxia-ischemia. Exosomes were intranasally administered after the induction of inflammation and prior to ischemia, which was followed by hypoxia. Infrared-labeled exosomes were intranasally administered to track their distribution with a LI-COR scanner. Acute oligodendrocyte- and neuron-specific cell death was analyzed 24 h after injury in animals with or without MSC exosome application using terminal deoxynucleotidyl transferase dUTP nick end labeling (TUNEL) assay and immunohistochemical counterstaining. Myelination, mature oligodendroglial and neuronal cell counts were assessed on postnatal day 11 using immunohistochemistry, Western blot or RT-PCR. Morris water maze assay was used to evaluate the effect of MSC exosomes on long-term neurodevelopmental outcome 4 weeks after injury. We found that intranasally administered exosomes reached the frontal part of the brain within 30 min after administration and distributed throughout the whole brain after 3 h. While PBI was not associated with oligodendrocyte-specific cell death, it induced significant neuron-specific cell death which was substantially reduced upon MSC exosome application prior to ischemia. MSC exosomes rescued normal myelination, mature oligodendroglial and neuronal cell counts which were impaired after PBI. Finally, the application of MSC exosomes significantly improved learning ability in animals with PBI. In conclusion, MSC exosomes represent a novel prevention strategy with substantial clinical potential as they can be administered intranasally, prevent gray and white matter alterations and improve long-term neurodevelopmental outcome after PBI.
View Full-Text
►

▼

Figures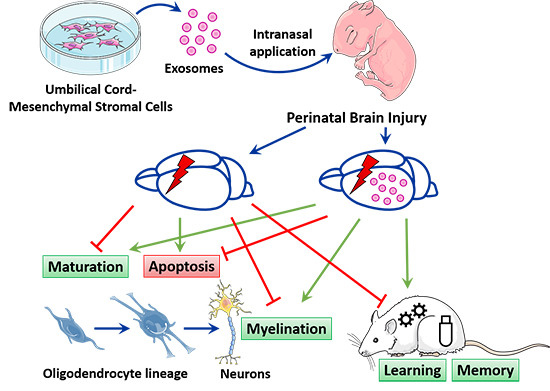 Graphical abstract
This is an open access article distributed under the
Creative Commons Attribution License
which permits unrestricted use, distribution, and reproduction in any medium, provided the original work is properly cited (CC BY 4.0).

Share & Cite This Article
MDPI and ACS Style
Thomi, G.; Joerger-Messerli, M.; Haesler, V.; Muri, L.; Surbek, D.; Schoeberlein, A. Intranasally Administered Exosomes from Umbilical Cord Stem Cells Have Preventive Neuroprotective Effects and Contribute to Functional Recovery after Perinatal Brain Injury. Cells 2019, 8, 855.
Note that from the first issue of 2016, MDPI journals use article numbers instead of page numbers. See further details here.
Related Articles
Comments
[Return to top]