Role of miRNA-Regulated Cancer Stem Cells in the Pathogenesis of Human Malignancies
1
Translational Research Institute, Academic Health System, Hamad Medical Corporation, Doha, P.O. Box 3050, Qatar
2
General Surgery Department, Hamad General Hospital, Hamad Medical Corporation, Doha, P.O. Box 3050, Qatar
3
Department of Dermatology and Venereology, Hamad Medical Corporation, Doha, P.O. Box 3050, Qatar
4
Weill Cornell Medicine, Doha, P.O. Box 24811, Qatar
5
Weill Cornell University, New York, NY 10065, USA
*
Author to whom correspondence should be addressed.
†
These authors contributed equally.
Received: 9 July 2019 / Revised: 28 July 2019 / Accepted: 31 July 2019 / Published: 5 August 2019
Abstract
Recent biomedical discoveries have revolutionized the concept and understanding of carcinogenesis, a complex and multistep phenomenon which involves accretion of genetic, epigenetic, biochemical, and histological changes, with special reference to MicroRNAs (miRNAs) and cancer stem cells (CSCs). miRNAs are small noncoding molecules known to regulate expression of more than 60% of the human genes, and their aberrant expression has been associated with the pathogenesis of human cancers and the regulation of stemness features of CSCs. CSCs are the small population of cells present in human malignancies well-known for cancer resistance, relapse, tumorigenesis, and poor clinical outcome which compels the development of novel and effective therapeutic protocols for better clinical outcome. Interestingly, the role of miRNAs in maintaining and regulating the functioning of CSCs through targeting various oncogenic signaling pathways, such as Notch, wingless (WNT)/β-Catenin, janus kinases/ signal transducer and activator of transcription (JAK/STAT), phosphatidylinositol 3-kinase/ protein kinase B (PI3/AKT), and
nuclear factor
kappa-light-chain-enhancer of activated B (NF-kB), is critical and poses a huge challenge to cancer treatment. Based on recent findings, here, we have documented the regulatory action or the underlying mechanisms of how miRNAs affect the signaling pathways attributed to stemness features of CSCs, such as self-renewal, differentiation, epithelial to mesenchymal transition (EMT), metastasis, resistance and recurrence etc., associated with the pathogenesis of various types of human malignancies including colorectal cancer, lung cancer, breast cancer, head and neck cancer, prostate cancer, liver cancer, etc. We also shed light on the fact that the targeted attenuation of deregulated functioning of miRNA related to stemness in human carcinogenesis could be a viable approach for cancer treatment.
View Full-Text
►

▼

Figures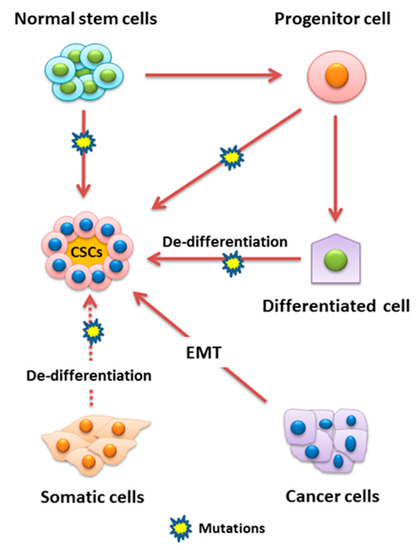 Figure 1
This is an open access article distributed under the
Creative Commons Attribution License
which permits unrestricted use, distribution, and reproduction in any medium, provided the original work is properly cited (CC BY 4.0).

Share & Cite This Article
MDPI and ACS Style
Khan, A.Q.; Ahmed, E.I.; Elareer, N.R.; Junejo, K.; Steinhoff, M.; Uddin, S. Role of miRNA-Regulated Cancer Stem Cells in the Pathogenesis of Human Malignancies. Cells 2019, 8, 840.
Note that from the first issue of 2016, MDPI journals use article numbers instead of page numbers. See further details here.
Related Articles
Comments
[Return to top]