Nucleolar Structure and Function in Trypanosomatid Protozoa
Unidad de Biomedicina, Facultad de Estudios Superiores Iztacala, Universidad Nacional Autónoma de México, Av. de los Barrios 1, Col. Los Reyes Iztacala, Tlalnepantla CP 54090, Estado de México, Mexico
*
Authors to whom correspondence should be addressed.
Received: 2 April 2019 / Revised: 26 April 2019 / Accepted: 28 April 2019 / Published: 8 May 2019
Abstract
The nucleolus is the conspicuous nuclear body where ribosomal RNA genes are transcribed by RNA polymerase I, pre-ribosomal RNA is processed, and ribosomal subunits are assembled. Other important functions have been attributed to the nucleolus over the years. Here we review the current knowledge about the structure and function of the nucleolus in the trypanosomatid parasites
Trypanosoma brucei
,
Trypanosoma cruzi
and
Leishmania
ssp., which represent one of the earliest branching lineages among the eukaryotes. These protozoan parasites present a single nucleolus that is preserved throughout the closed nuclear division, and that seems to lack fibrillar centers. Trypanosomatids possess a relatively low number of rRNA genes, which encode rRNA molecules that contain large expansion segments, including several that are trypanosomatid-specific. Notably, the large subunit rRNA (28S-type) is fragmented into two large and four small rRNA species. Hence, compared to other organisms, the rRNA primary transcript requires additional processing steps in trypanosomatids. Accordingly, this group of parasites contains the highest number ever reported of snoRNAs that participate in rRNA processing. The number of modified rRNA nucleotides in trypanosomatids is also higher than in other organisms. Regarding the structure and biogenesis of the ribosomes, recent cryo-electron microscopy analyses have revealed several trypanosomatid-specific features that are discussed here. Additional functions of the nucleolus in trypanosomatids are also reviewed.
View Full-Text
►

▼

Figures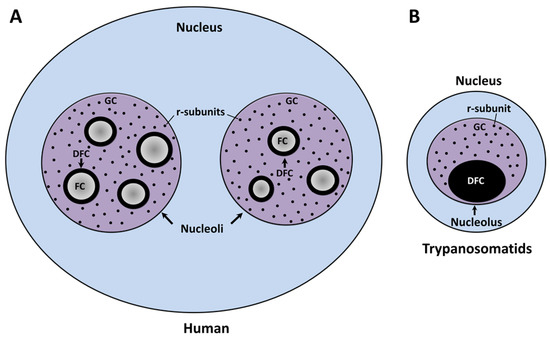 Figure 1
This is an open access article distributed under the
Creative Commons Attribution License
which permits unrestricted use, distribution, and reproduction in any medium, provided the original work is properly cited (CC BY 4.0).

Share & Cite This Article
MDPI and ACS Style
Martínez-Calvillo, S.; Florencio-Martínez, L.E.; Nepomuceno-Mejía, T. Nucleolar Structure and Function in Trypanosomatid Protozoa. Cells 2019, 8, 421.
Note that from the first issue of 2016, MDPI journals use article numbers instead of page numbers. See further details here.
Related Articles
Comments
[Return to top]