Differential Expression and Localization of Branchial AQP1 and AQP3 in Japanese Medaka (
Oryzias latipes

)

1

Department of Biological Sciences, J. William Fulbright College of Arts and Sciences, University of Arkansas, Fayetteville, AR 72701, USA

2

Department of Biology, Natural Science Faculty, University of Southern Denmark, 5230 Odense, Denmark

*

Author to whom correspondence should be addressed.

Received: 2 April 2019 / Revised: 3 May 2019 / Accepted: 6 May 2019 / Published: 8 May 2019
Abstract
Aquaporins (AQPs) facilitate transmembrane water and solute transport, and in addition to contributing to transepithelial water transport, they safeguard cell volume homeostasis. This study examined the expression and localization of AQP1 and AQP3 in the gills of Japanese medaka (
Oryzias latipes)
in response to osmotic challenges and osmoregulatory hormones, cortisol, and prolactin (PRL).
AQP3
mRNA was inversely regulated in response to salinity with high levels in ion-poor water (IPW), intermediate levels in freshwater (FW), and low levels in seawater (SW). AQP3 protein levels decreased upon SW acclimation. By comparison, AQP1 expression was unaffected by salinity. In ex vivo gill incubation experiments,
AQP3
mRNA was stimulated by PRL in a time- and dose-dependent manner but was unaffected by cortisol. In contrast,
AQP1
was unaffected by both PRL and cortisol. Confocal microscopy revealed that AQP3 was abundant in the periphery of gill filament epithelial cells and co-localized at low intensity with Na
+
,K
+
-ATPase in ionocytes. AQP1 was present at a very low intensity in most filament epithelial cells and red blood cells. No epithelial cells in the gill lamellae showed immunoreactivity to AQP3 or AQP1. We suggest that both AQPs contribute to cellular volume regulation in the gill epithelium and that AQP3 is particularly important under hypo-osmotic conditions, while expression of AQP1 is constitutive.
View Full-Text
►

▼

Figures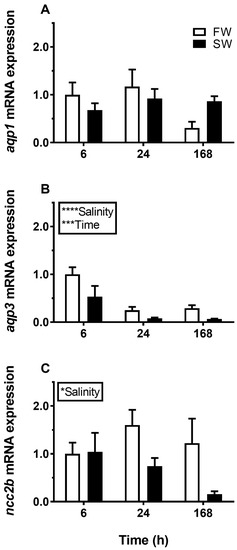 Figure 1
This is an open access article distributed under the
Creative Commons Attribution License
which permits unrestricted use, distribution, and reproduction in any medium, provided the original work is properly cited (CC BY 4.0).

Share & Cite This Article
MDPI and ACS Style
Ellis, L.V.; Bollinger, R.J.; Weber, H.M.; Madsen, S.S.; Tipsmark, C.K. Differential Expression and Localization of Branchial AQP1 and AQP3 in Japanese Medaka (Oryzias latipes). Cells 2019, 8, 422.
Note that from the first issue of 2016, MDPI journals use article numbers instead of page numbers. See further details here.
Related Articles
Comments
[Return to top]