Open Access This article is
freely available
re-usable
Review
Hippo Pathway in Mammalian Adaptive Immune System
1
Department of Molecular Enzymology, Faculty of Life Sciences, Kumamoto University, Kumamoto 860-8556, Japan
2
Center for Metabolic Regulation of Healthy Aging, Faculty of Life Sciences, Kumamoto University, Kumamoto 860-8556, Japan
3
Precursory Research for Embryonic Science and Technology (PRESTO), Japan Science and Technology Agency (JST), Kawaguchi 332-0012, Japan
*
Author to whom correspondence should be addressed.
Received: 7 April 2019 / Accepted: 28 April 2019 / Published: 30 April 2019
Abstract
:
The Hippo pathway was originally identified as an evolutionarily-conserved signaling mechanism that contributes to the control of organ size. It was then rapidly expanded as a key pathway in the regulation of tissue development, regeneration, and cancer pathogenesis. The increasing amount of evidence in recent years has also connected this pathway to the regulation of innate and adaptive immune responses. Notably, the Hippo pathway has been revealed to play a pivotal role in adaptive immune cell lineages, as represented by the patients with T- and B-cell lymphopenia exhibiting defective expressions of the pathway component. The complex regulatory mechanisms of and by the Hippo pathway have also been evident as alternative signal transductions are employed in some immune cell types. In this review article, we summarize the current understanding of the emerging roles of the Hippo pathway in adaptive immune cell development and differentiation. We also highlight the recent findings concerning the dual functions of the Hippo pathway in autoimmunity and anti-cancer immune responses and discuss the key open questions in the interplay between the Hippo pathway and the mammalian immune system.
Keywords:
Hippo pathway; innate immunity; adaptive immunity; cancer immunity; autoimmunity; YAP (yes-associated protein); TAZ (transcriptional co-activator with PDZ-binding motif); LATS (large tumor suppressor kinase); MST (mammalian STE20-like protein kinase)
Author Contributions
T.Y. and T.M. wrote and edited the manuscript.
Funding
Work in the Moroishi laboratory is supported by JST PRESTO [JPMJPR17HA], JSPS KAKENHI [JP18K19433 and JP18H02438], Mitsubishi Foundation, Naito Foundation, Nakajima Foundation, Daiichi Sankyo Foundation of Life Science, Mochida Memorial Foundation for Medical and Pharmaceutical Research, MSD Life Science Foundation Public Interest Incorporated Foundation, Astellas Foundation for Research on Metabolic Disorders, Bristol-Myers Squibb Foundation, Yasuda Medical Foundation, Shinnihon Foundation of Advanced Medical Treatment Research, Uehara Memorial Foundation, Kao Foundation for Arts and Sciences, Taiju Life Social Welfare Foundation, and Japan Foundation for Applied Enzymology (all to T.M.). T.Y. is supported by JSPS KAKENHI [JP19K15810], Astellas Foundation for Research on Metabolic Disorders, and The Nakatomi Foundation.
Acknowledgments
The authors sincerely apologize to colleagues whose work could not be cited owing to space limitations. The authors thank all the members of the Moroishi laboratory for insightful discussions and critical comments pertaining to this review article.
Conflicts of Interest
The authors declare no conflict of interest.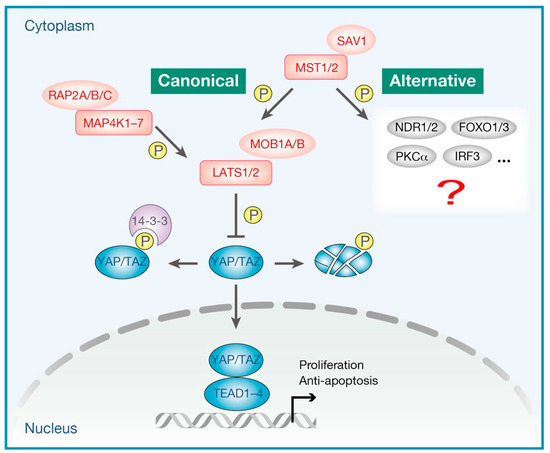 Figure 1. Canonical and alternative Hippo pathways. The heart of the Hippo pathway consists of the kinase module (indicated in red) and the transcriptional module (indicated in blue). The kinase module includes 11 kinases, namely mammalian STE20-like protein kinases (MST1/2), mitogen-activated protein kinase kinase kinase kinases (MAP4K1-7), and large tumor suppressor kinases (LATS1/2), as well as their activating adaptor proteins, salvador family WW domain-containing protein 1 (SAV1), Ras-related proteins (RAP2A/B/C), and MOB kinase activators (MOB1A/B). The transcriptional module includes the transcriptional co-activators, namely, yes-associated protein (YAP) and transcriptional co-activator with PDZ-binding motif (TAZ), and in addition, the transcription factors TEA domain family members (TEAD1–4). When the upstream signals are integrated to activate the Hippo pathway, LATS1/2 kinases phosphorylate and inhibit YAP/TAZ. Phosphorylation of YAP/TAZ promotes their proteasomal degradation or cytoplasmic retention via 14-3-3 binding. In contrast, when the kinase module is inactivated (the Hippo pathway is inactivated), hypophosphorylated YAP/TAZ translocate into the nucleus wherein they bind to TEAD1–4 and thus induce proliferative and anti-apoptotic gene transcription. In this review, we define the signaling that specifically regulates LATS1/2 kinase activity and/or YAP/TAZ transcriptional activity as the "canonical" Hippo pathway. The other signaling cascades that involve MST1/2 but do not regulate LATS1/2 kinases or YAP/TAZ are defined as the "alternative" Hippo pathway. MST1/2 have been shown to modulate a number of proteins, including nuclear Dbf2-related kinases (NDR1/2, also known as STK38/STK38L), forkhead box O (FOXO1/3), protein kinase C alpha (PKCα), and interferon regulatory factor 3 (IRF3) in the regulation of immune system.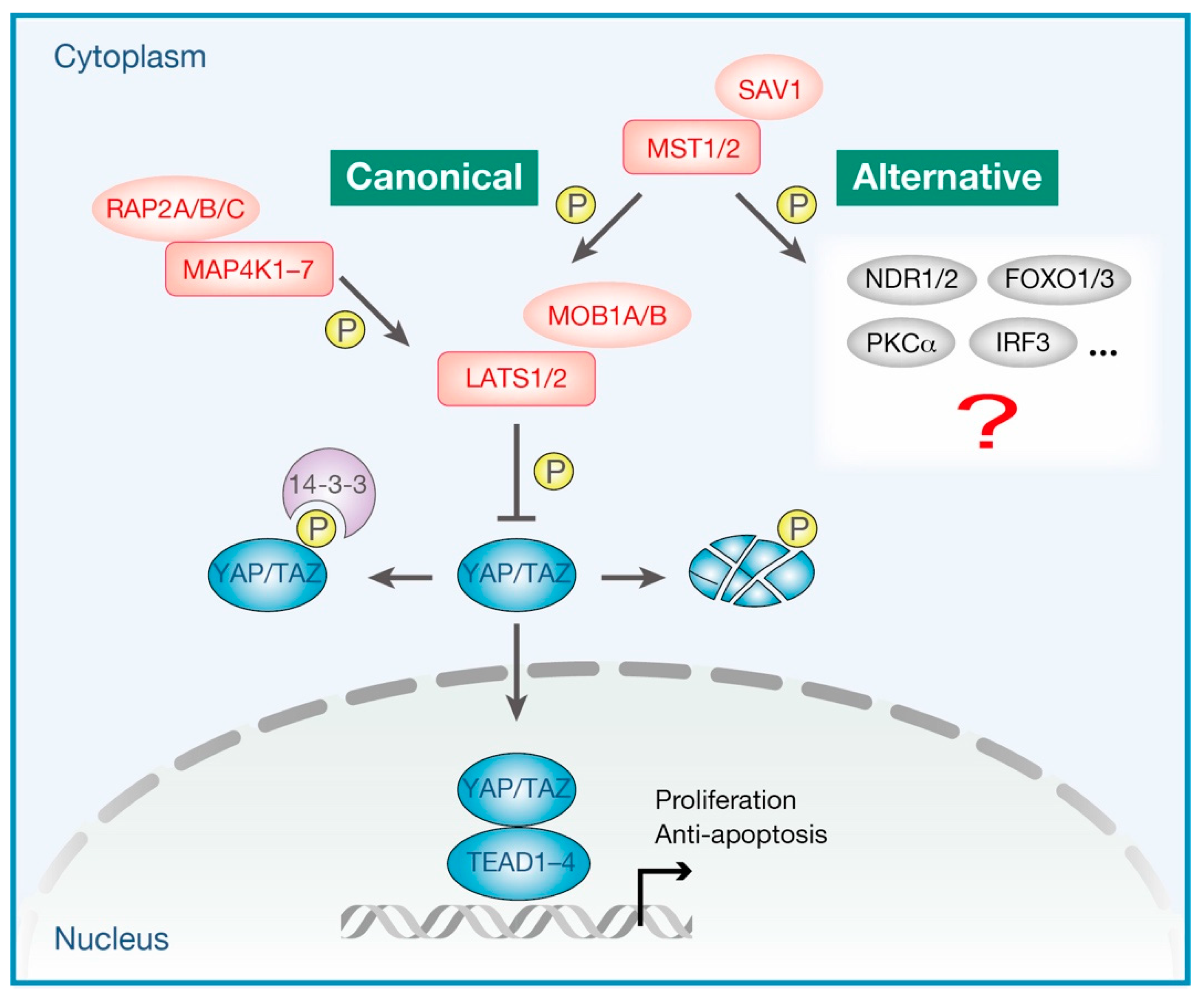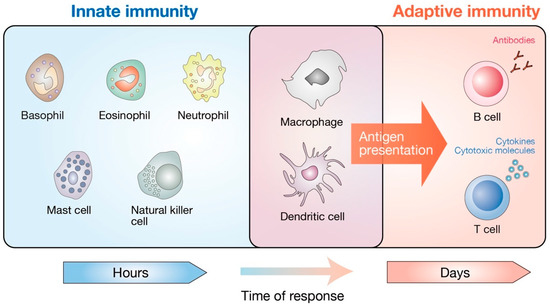 Figure 2. Cellular components of the mammalian immune system. The mammalian immune system consists of two distinct parts, innate and adaptive immunity. Basophils, eosinophils, neutrophils, mast cells, natural killer cells, macrophages, and dendritic cells mediate the innate immunity. They provide the first line of defense against bacteria, viruses, and cancer. The adaptive immune system refers to an antigen-specific defense mechanism that takes several days to develop but provides long-lasting protection. The adaptive immune system includes B cell-mediated humoral immunity and T cell-mediated cellular immunity, both of which are directed towards the specific antigens. Macrophages and dendritic cells are unique subsets that have both innate and adaptive immune cell traits. As professional antigen-presenting cells, macrophages and dendritic cells are critical in the induction of adaptive immunity by presenting the antigens to antigen-specific T and B lymphocytes.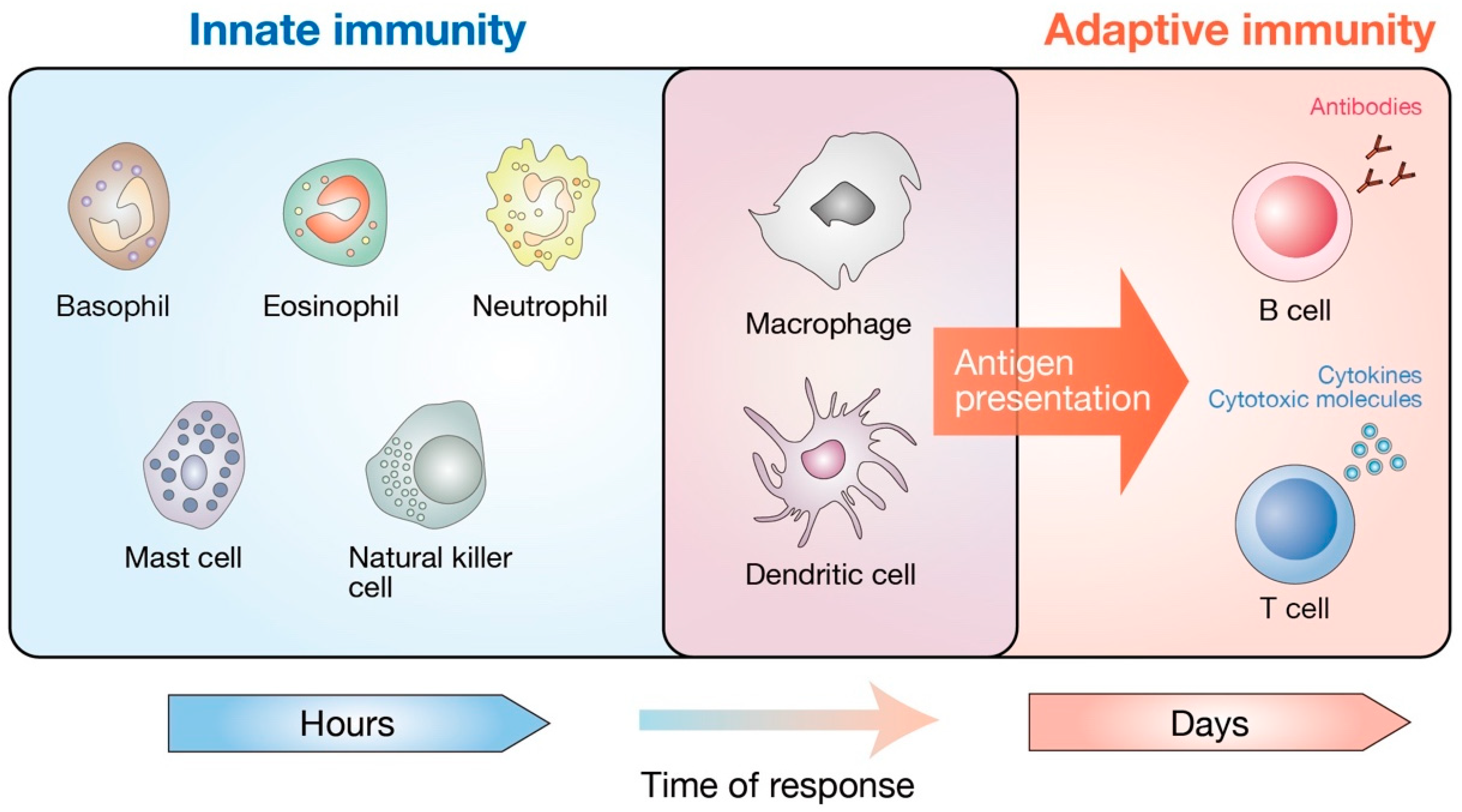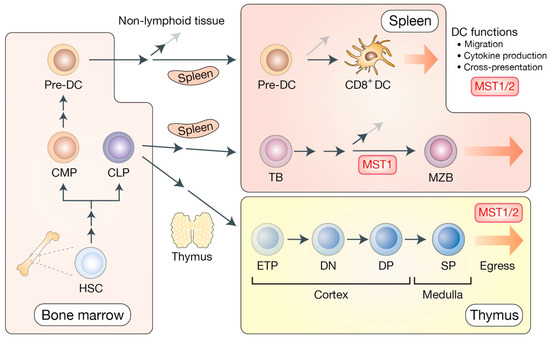 Figure 3. The Hippo pathway in the development of dendritic cells, B cells, and T cells. In bone marrow, hematopoietic stem cells (HSC) give rise to common myeloid progenitors (CMP) and common lymphoid progenitors (CLP). CMP generate pre-dendritic cells (pre-DC). Pre-DC are dendritic cell-restricted progenitors that routinely leave bone marrow for the lymphoid and non-lymphoid tissues to get differentiated into local dendritic cells. In the spleen, pre-DC further maturate into CD8+ DC that possess a higher capacity of antigen cross-presentation to T cells. CLP give rise to transitional B cells (TB) that differentiate into marginal zone B cells (MZB) in the spleen. MZB provide the first line of defense against specific pathogens by mediating rapid antibody responses. CLP in the bone marrow migrate into the thymic cortex to generate early thymic progenitors (ETP), also known as double negative 1 (DN1) thymocytes. After the DN2–4 maturation stage, they subsequently become double positive (DP) thymocytes. DP thymocytes further mature into single positive (SP) T cells that migrate into the thymic medulla and egress to the periphery. MST1/2 are shown to mediate DC functions, B cell development, and the thymic egress of mature T cells via distinct mechanisms.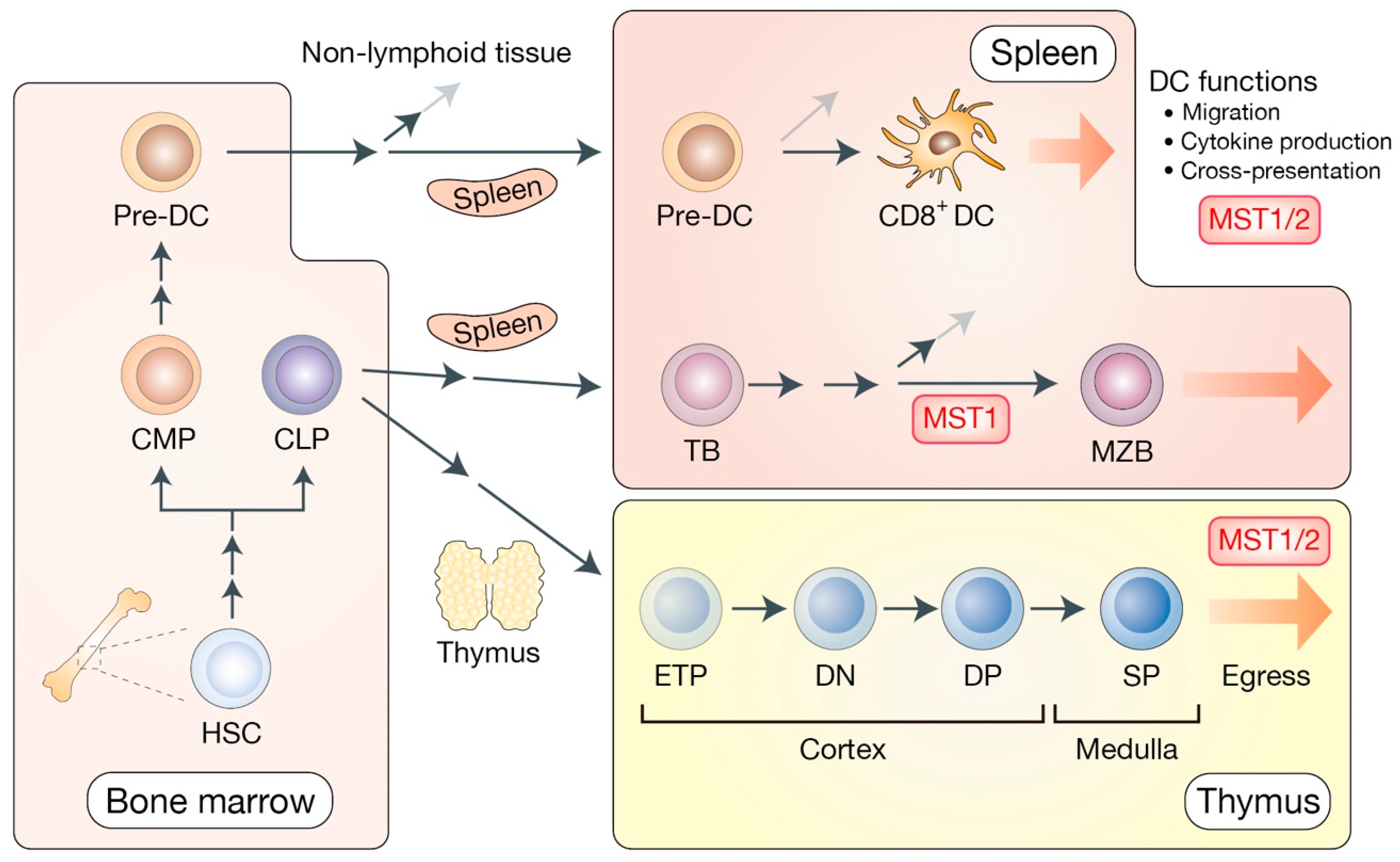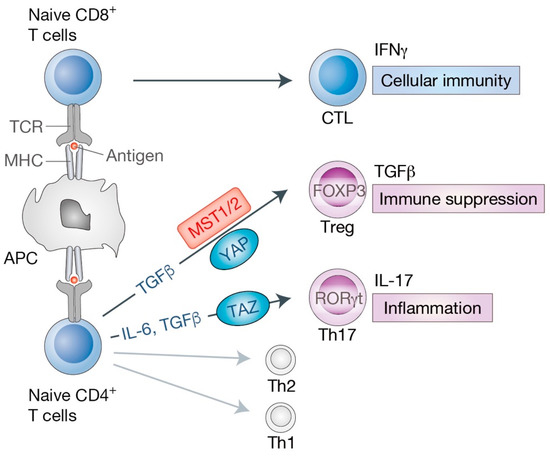 Figure 4. Roles of the Hippo pathway in effector T cell differentiation. The primary event of naive T cell activation is the interaction between T cell receptor (TCR) on T cells and an antigen loaded on antigen-presenting cells (APC). APC present antigenic peptides with major histocompatibility complex (MHC) class I (for CD8+ T cells) or class II (for CD4+ T cells) molecules. Upon activation, naive CD8+ T cells differentiate into cytotoxic T lymphocytes (CTL) that mediate cellular immunity and secrete series of cytokines such as interferon gamma (IFNγ). Naive CD4+ T cells differentiate into T helper (Th) cells, including effector T cells (Th1, Th2, Th17) and regulatory T cells (Treg). Transforming growth factor beta (TGFβ) signaling is required for Treg lineage, while interleukin 6 (IL-6) together with TGFβ cytokines are essential for Th17 differentiation. Key transcription factors have also been identified for each T cell lineage [forkhead box P3 (FOXP3) for Treg, RAR related orphan receptor gamma t (RORγt, also known as RORC) for Th17]. Treg cells produce TGFβ and suppress effector T cell activities, maintaining immune system homeostasis and self-tolerance. Th17 cells produce IL-17 cytokine and are involved in chronic and autoimmune inflammation. MST1/2 and YAP are shown to mediate Treg differentiation by diverse mechanisms. TAZ acts as a critical co-activator of RORγt for Th17 differentiation.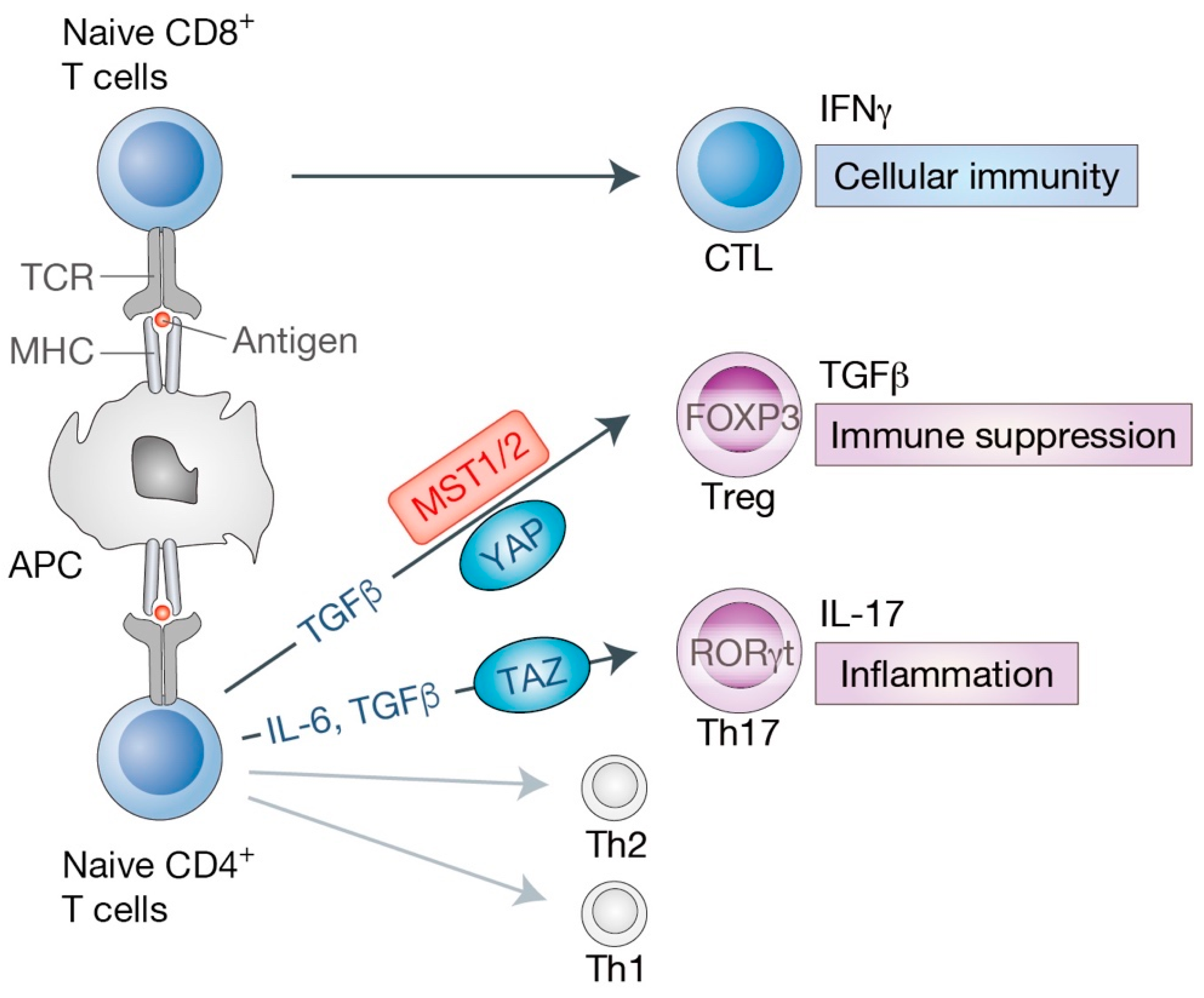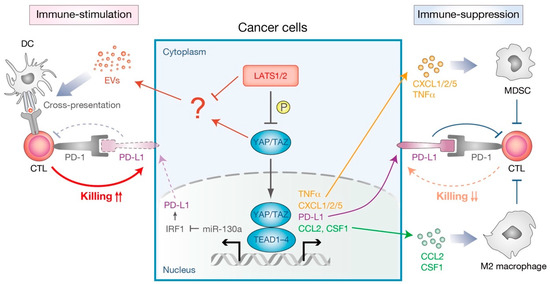 Figure 5. Dual functions of the cancer cell-intrinsic Hippo pathway in immune modulation. (Left) Immunnostimulatory effects mediated by YAP activation or LATS1/2 inactivation. In cancer cells, YAP inhibits IFNγ-inducible PD-L1 (programmed death-ligand-1, also known as CD274) expression partially through miR-130a-mediated suppression of IRF1. IRF1 up-regulates the expression of PD-L1 that binds to PD-1 (programmed cell death 1, also known as PDCD1) on T cells and provides inhibitory signals to cytotoxic T cells (CTL). Upon deletion of LATS1/2, extracellular vesicles (EVs) secreted from cancer cells trigger an anti-cancer immune response by stimulating the host nucleic-acid-sensing pathway and enhancing antigen cross-presentation. (Right) Immunosuppressive effects mediated by YAP activation. Active YAP induces the expression of PD-L1, as well as cytokines [TNFα (tumor necrosis factor alpha), CSF1 (colony stimulating factor 1)] and chemokine ligands [CXCL1 (C-X-C motif chemokine ligand 1), CXCL2, CXCL5, and CCL2 (C-C motif chemokine 2)]. Those cytokines or chemokines recruit immunosuppressive cells, such as myeloid derived suppressor cells (MDSC) and M2-type macrophages, to inhibit CTL functions.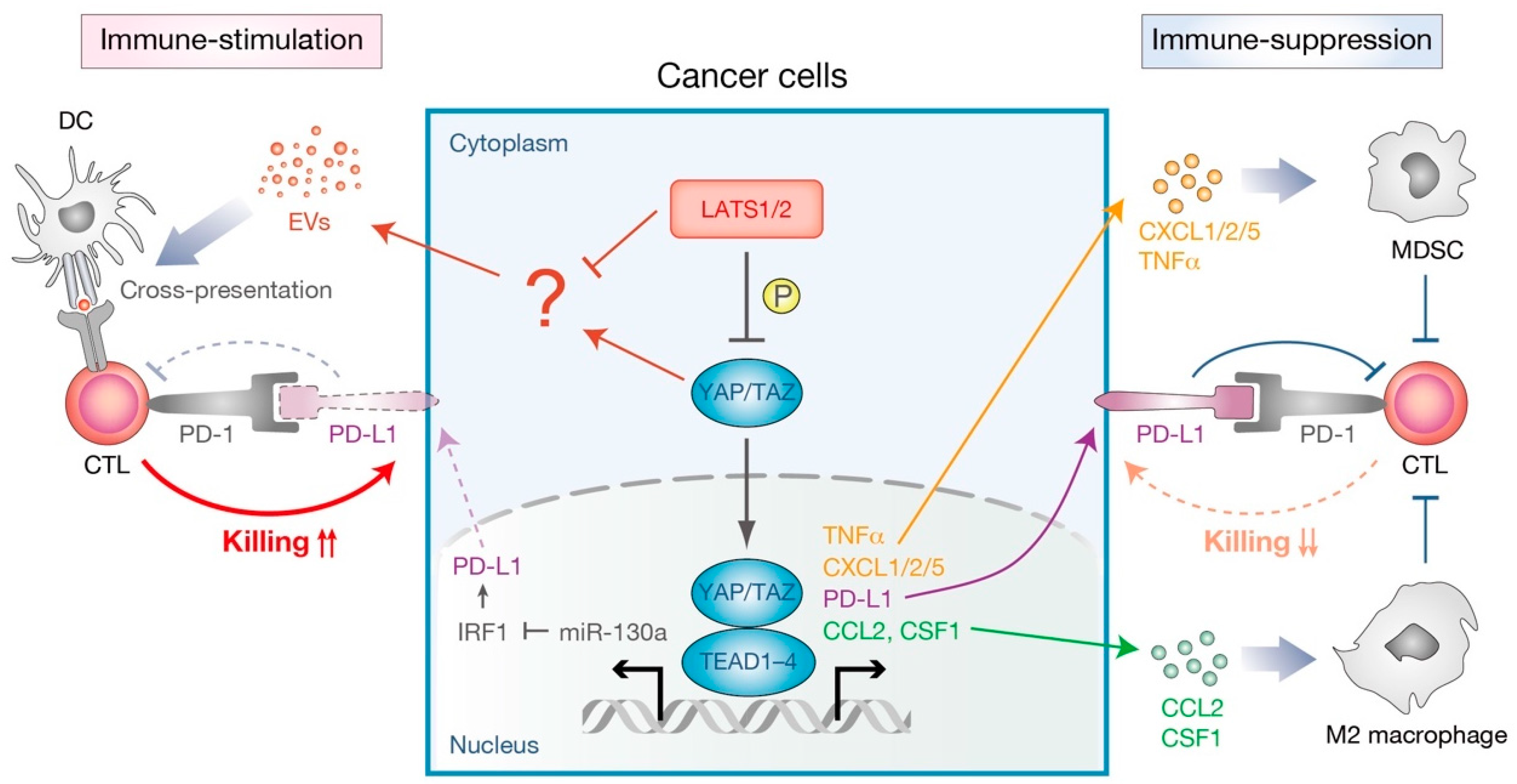 © 2019 by the authors. Licensee MDPI, Basel, Switzerland. This article is an open access article distributed under the terms and conditions of the Creative Commons Attribution (CC BY) license (http://creativecommons.org/licenses/by/4.0/).