Insights into Inflammatory Priming of Adipose-Derived Mesenchymal Stem Cells: Validation of Extracellular Vesicles-Embedded miRNA Reference Genes as A Crucial Step for Donor Selection
1
Laboratorio di Biotecnologie Applicate all'Ortopedia, IRCCS Istituto Ortopedico Galeazzi, I-20161 Milan, Italy
2
EPIGET—Epidemiology, Epigenetics and Toxicology Lab, Department of Clinical Sciences and Community Health, University of Milan, I-20122 Milan, Italy
*
Author to whom correspondence should be addressed.
Received: 29 March 2019 / Revised: 19 April 2019 / Accepted: 21 April 2019 / Published: 23 April 2019
Abstract
Mesenchymal stem cells (MSCs) are promising tools for cell-based therapies due to their homing to injury sites, where they secrete bioactive factors such as cytokines, lipids, and nucleic acids, either free or conveyed within extracellular vesicles (EVs). Depending on the local environment, MSCs' therapeutic value may be modulated, determining their fate and cell behavior. Inflammatory signals may induce critical changes on both the phenotype and secretory portfolio. Intriguingly, in animal models resembling joint diseases as osteoarthritis (OA), inflammatory priming enhanced the healing capacity of MSC-derived EVs. In this work, we selected miRNA reference genes (RGs) from the literature (let-7a-5p, miR-16-5p, miR-23a-3p, miR-26a-5p, miR-101-3p, miR-103a-3p, miR-221-3p, miR-423-5p, miR-425-5p, U6 snRNA), using EVs isolated from adipose-derived MSCs (ASCs) primed with IFNγ (iASCs). geNorm, NormFinder, BestKeeper, and ΔCt methods identified miR-26a-5p/16-5p as the most stable, while miR-103a-rp/425-5p performed poorly. Our results were validated on miRNAs involved in OA cartilage trophism. Only a proper normalization strategy reliably identified the differences between donors, a critical factor to empower the therapeutic value of future off-the-shelf MSC-EV isolates. In conclusion, the proposed pipeline increases the accuracy of MSC-EVs embedded miRNAs assessment, and help predicting donor variability for precision medicine approaches.
View Full-Text
►

▼

Figures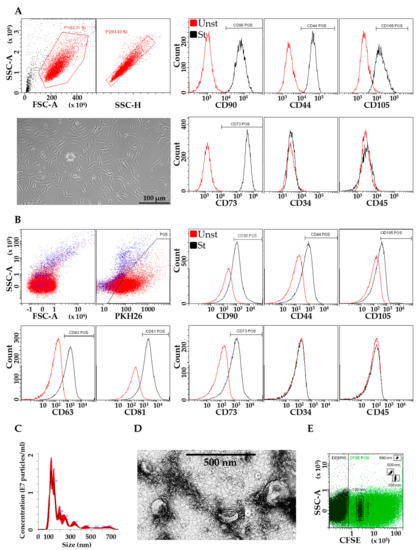 Figure 1
This is an open access article distributed under the
Creative Commons Attribution License
which permits unrestricted use, distribution, and reproduction in any medium, provided the original work is properly cited (CC BY 4.0).

Share & Cite This Article
MDPI and ACS Style
Ragni, E.; De Luca, P.; Perucca Orfei, C.; Colombini, A.; Viganò, M.; Lugano, G.; Bollati, V.; de Girolamo, L. Insights into Inflammatory Priming of Adipose-Derived Mesenchymal Stem Cells: Validation of Extracellular Vesicles-Embedded miRNA Reference Genes as A Crucial Step for Donor Selection. Cells 2019, 8, 369.
Note that from the first issue of 2016, MDPI journals use article numbers instead of page numbers. See further details here.
Related Articles
Comments
[Return to top]