Exogenous Cytokine-Free Differentiation of Human Pluripotent Stem Cells into Classical Brown Adipocytes
Department of Disease Control, Research Institute, National Center for Global Health and Medicine, Tokyo 162-8655, Japan
*
Author to whom correspondence should be addressed.
†
These authors contributed equally.
Received: 28 February 2019 / Revised: 20 April 2019 / Accepted: 22 April 2019 / Published: 24 April 2019
Abstract
We previously established a method for a directed differentiation of human pluripotent stem cells into classical brown adipocytes (BA) by forming aggregates via massive floating culture in the presence of a specific cytokine cocktail. However, use of recombinant cytokines requires significant cost. Moreover, an enforced differentiation by exogenously added cytokines may amend skewed differentiation propensity of patient's pluripotent stem cells, providing unsatisfactory disease models. Therefore, an exogenous cytokine-free method, where cytokines required for differentiation are provided in an auto/paracrine manner mimicking natural developmental process, is beneficial. Here we show that, if human pluripotent stem cells are cultured as size-controlled spheroids (100–120 µm radius, 2000–2500 cells/spheroid) in a mutually segregated manner with half-change of the medium every other day, they differentiate into classical BA via an authentic MYF5-positive myoblast route in the absence of exogenous cytokines. Differentiated BA exerted thermogenic activity in transplanted mice in response to beta-adrenergic receptor agonist stimuli. The cytokine-free differentiation method has further advantages in exploring BATokines, BA-derived physiologically active substances. Indeed, we have found that BA produces an unknown small (<1000 Da), highly hydrophilic molecule that augments insulin secretion from pancreatic beta cells. Our upgraded technique will contribute to an advancement of stem cell study for diverse purposes.
View Full-Text
►

▼

Figures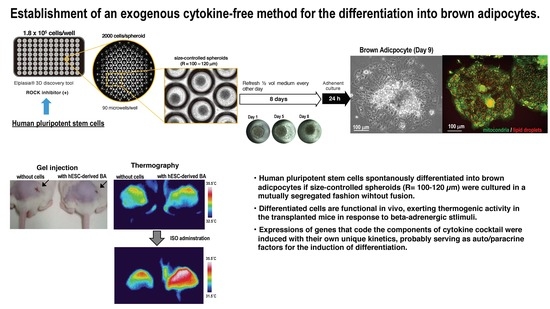 Graphical abstract
This is an open access article distributed under the
Creative Commons Attribution License
which permits unrestricted use, distribution, and reproduction in any medium, provided the original work is properly cited (CC BY 4.0).

Share & Cite This Article
MDPI and ACS Style
Oka, M.; Kobayashi, N.; Matsumura, K.; Nishio, M.; Saeki, K. Exogenous Cytokine-Free Differentiation of Human Pluripotent Stem Cells into Classical Brown Adipocytes. Cells 2019, 8, 373.
Note that from the first issue of 2016, MDPI journals use article numbers instead of page numbers. See further details here.
Related Articles
Comments
[Return to top]