ATG-18 and EPG-6 are Both Required for Autophagy but Differentially Contribute to Lifespan Control in
Caenorhabditis elegans
1
Department of Molecular Biology, Interfaculty Institute of Cell Biology, Eberhard Karls University, 72076 Tuebingen, Germany
2
International Max Planck Research School 'From Molecules to Organisms', Max Planck Institute for Developmental Biology and Eberhard Karls University, 72076 Tuebingen, Germany
*
Author to whom correspondence should be addressed.
Received: 31 January 2019 / Revised: 25 February 2019 / Accepted: 6 March 2019 / Published: 12 March 2019
Abstract
During macroautophagy, the human WIPI (WD-repeat protein interacting with phosphoinositides) proteins (WIPI1–4) function as phosphatidylinositol 3-phosphate effectors at the nascent autophagosome. Likewise, the two WIPI homologues in
Caenorhabditis elegans
, ATG-18 and EPG-6, play important roles in autophagy, whereby ATG-18 is considered to act upstream of EPG-6 at the onset of autophagy. Due to its essential role in autophagy, ATG-18 was found to be also essential for lifespan extension in
Caenorhabditis elegans
; however, this has not yet been addressed with regard to EPG-6. Here, we wished to address this point and generated mutant strains that expressed the autophagy marker GFP::LGG-1 (GFP-LC3 in mammals) and harbored functional deletions of either
atg-18
(
atg18(gk378)
),
epg-6
(
epg-6(bp242)
) or both (
atg-18(gk378);epg-6(bp242)
). Using quantitative fluorescence microscopy, Western blotting, and lifespan assessments, we provide evidence that in the absence of either ATG-18 or EPG-6 autophagy was impaired, and while
atg-18
mutant animals showed a short-lived phenotype, lifespan was significantly increased in
epg-6
mutant animals. We speculate that the long-lived phenotype of
epg-6
mutant animals points towards an autophagy-independent function of EPG-6 in lifespan control that warrants further mechanistic investigations in future studies.
View Full-Text
►

▼

Figures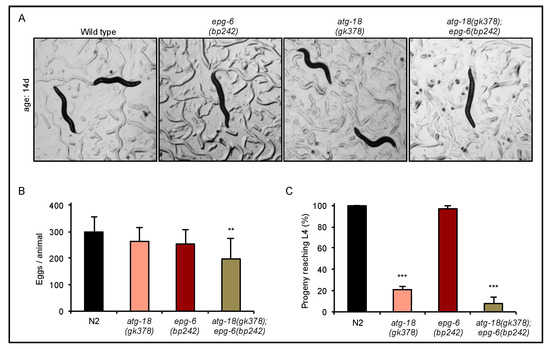 Figure 1
This is an open access article distributed under the
Creative Commons Attribution License
which permits unrestricted use, distribution, and reproduction in any medium, provided the original work is properly cited (CC BY 4.0).

Share & Cite This Article
MDPI and ACS Style
Takacs, Z.; Sporbeck, K.; Stoeckle, J.; Prado Carvajal, M.J.; Grimmel, M.; Proikas-Cezanne, T. ATG-18 and EPG-6 are Both Required for Autophagy but Differentially Contribute to Lifespan Control in Caenorhabditis elegans. Cells 2019, 8, 236.
Note that from the first issue of 2016, MDPI journals use article numbers instead of page numbers. See further details here.
Related Articles
Comments
[Return to top]