Preclinical Evaluation of [68Ga]Ga-DFO-ZEGFR:2377: A Promising Affibody-Based Probe for Noninvasive PET Imaging of EGFR Expression in Tumors
1
Department of Immunology, Genetics and Pathology, Uppsala University, SE- 751 85 Uppsala, Sweden
2
Department of Protein Science, School of Engineering Sciences in Chemistry, Biotechnology and Health, KTH Royal Institute of Technology, SE- 106 91 Stockholm, Sweden
3
Department of Medicinal Chemistry, Uppsala University, SE- 751 23 Uppsala, Sweden
4
Science for Life Laboratory, Uppsala University, SE- 750 03 Uppsala, Sweden
*
Author to whom correspondence should be addressed.
Received: 21 August 2018 / Revised: 13 September 2018 / Accepted: 15 September 2018 / Published: 18 September 2018
Abstract
Radionuclide imaging of epidermal growth factor receptor (EGFR) expression in tumors may stratify patients for EGFR-targeting therapies and predict response or resistance to certain treatments. Affibody molecules, which are nonimmunoglobulin scaffold proteins, have a high potential as probes for molecular imaging. In this study, maleimido derivative of desferrioxamine B (DFO) chelator was site-specifically coupled to the C-terminal cysteine of the anti-EGFR affibody molecule ZEGFR:2377, and the DFO-ZEGFR:2377 conjugate was labeled with the generator-produced positron-emitting radionuclide
68
Ga. Stability, specificity of binding to EGFR-expressing cells, and processing of [
68
Ga]Ga-DFO-ZEGFR:2377 by cancer cells after binding were evaluated in vitro. In vivo studies were performed in nude mice bearing human EGFR-expressing A431 epidermoid cancer xenografts. The biodistribution of [
68
Ga]Ga-DFO-ZEGFR:2377 was directly compared with the biodistribution of [
89
Zr]Zr-DFO-ZEGFR:2377. DFO-ZEGFR:2377 was efficiently (isolated yield of 73 ± 3%) and stably labeled with
68
Ga. Binding of [
68
Ga]Ga-DFO-ZEGFR:2377 to EGFR-expressing cells in vitro was receptor-specific and proportional to the EGFR expression level. In vivo saturation experiment demonstrated EGFR-specific accumulation of [
68
Ga]Ga-DFO-ZEGFR:2377 in A431 xenografts. Compared to [
89
Zr]Zr-DFO-ZEGFR:2377, [
68
Ga]Ga-DFO-ZEGFR:2377 demonstrated significantly (
p
< 0.05) higher uptake in tumors and lower uptake in spleen and bones. This resulted in significantly higher tumor-to-organ ratios for [
68
Ga]Ga-DFO-ZEGFR:2377. In conclusion, [
68
Ga]Ga-DFO-ZEGFR:2377 is a promising probe for imaging of EGFR expression.
View Full-Text
►

▼

Figures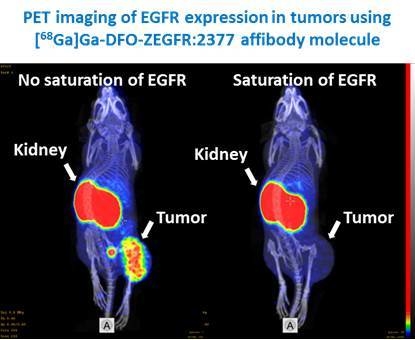 Graphical abstract
This is an open access article distributed under the
Creative Commons Attribution License
which permits unrestricted use, distribution, and reproduction in any medium, provided the original work is properly cited (CC BY 4.0).

Share & Cite This Article
MDPI and ACS Style
Oroujeni, M.; Garousi, J.; Andersson, K.G.; Löfblom, J.; Mitran, B.; Orlova, A.; Tolmachev, V. Preclinical Evaluation of [68Ga]Ga-DFO-ZEGFR:2377: A Promising Affibody-Based Probe for Noninvasive PET Imaging of EGFR Expression in Tumors. Cells 2018, 7, 141.
Note that from the first issue of 2016, MDPI journals use article numbers instead of page numbers. See further details here.
Related Articles
Comments
[Return to top]