SIRT-3 Modulation by Resveratrol Improves Mitochondrial Oxidative Phosphorylation in Diabetic Heart through Deacetylation of TFAM
1
Drug Discovery Research Center (DDRC), Translational Health Science and Technology Institute (THSTI), Faridabad 121001, India
2
Department of Pathology, All India Institute of Medical Science (AIIMS), New Delhi 110029, India
*
Author to whom correspondence should be addressed.
†
Authors contributed equally.
‡
Previous address: Department of Medicinal Chemistry and Pharmacology, CSIR-Indian Institute of Chemical Technology, Hyderabad 500007, India.
Received: 13 September 2018 / Revised: 8 October 2018 / Accepted: 10 October 2018 / Published: 28 November 2018
Abstract
Background and Purpose: Mitochondrial dysfunction remains the crucial cause for many heart diseases including diabetic cardiomyopathy (DCM). Sirtuin-3 (SIRT-3) is a protein deacetylase localized in the mitochondria and regulates mitochondrial function. Being a noteworthy mitochondrial protein deacetylase enzyme, the role of SIRT-3 in DCM is yet to be explored. Experimental Approach: Diabetes mellitus (Type-I, T1DM) was induced using streptozotocin (STZ, 50 mg/kg) in male Sprague Dawley (SD) rats. Rats with >200 mg/dL blood glucose levels were then divided randomly into two groups, DIA and DIA + RESV, where vehicle and resveratrol (25 mg/kg/day) were administered orally in both groups, respectively. Cardiac oxidative stress, fibrosis, and mitochondrial parameters were evaluated. H9c2 cells were transfected with SIRT-3 siRNA and shRNA, and ORF plasmid for silencing and overexpression, respectively. Key Results: After eight weeks, diabetic rat heart showed reduced cardiac cell size, increased oxidative stress and reduction of the activities of enzymes involved in mitochondrial oxidative phosphorylation (OXPHOS). There was reduced expression and activity of SIRT-3 and mitochondrial transcription factor (TFAM) in diabetic heart. Reduced SIRT-3 expression is also correlated with increased acetylation, decreased mitochondrial DNA (mtDNA) binding activity of TFAM, and reduced transcription of mitochondrial DNA encoded genes. Administration of resveratrol prevented the decrease in SIRT-3 and TFAM activity, which was corresponding to the reduced acetylation status of TFAM. Silencing SIRT-3 using siRNA in H9C2 cells showed increased acetylation of TFAM. Conclusion and Implications: Together our data shows that resveratrol activates SIRT-3, regulates the acetylation status of TFAM and preserves the mitochondrial function along with cellular size in diabetic rat heart.
View Full-Text
►

▼

Figures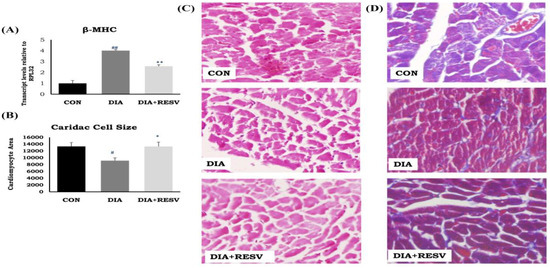 Figure 1
This is an open access article distributed under the
Creative Commons Attribution License
which permits unrestricted use, distribution, and reproduction in any medium, provided the original work is properly cited (CC BY 4.0).

Share & Cite This Article
MDPI and ACS Style
Bagul, P.K.; Katare, P.B.; Bugga, P.; Dinda, A.K.; Banerjee, S.K. SIRT-3 Modulation by Resveratrol Improves Mitochondrial Oxidative Phosphorylation in Diabetic Heart through Deacetylation of TFAM. Cells 2018, 7, 235.
Note that from the first issue of 2016, MDPI journals use article numbers instead of page numbers. See further details here.
Related Articles
Comments
[Return to top]