Open Access This article is
freely available
re-usable
Review
AAA Proteases: Guardians of Mitochondrial Function and Homeostasis
Department of Cellular Molecular Biology, Faculty of Biotechnology, University of Wroclaw, F. Joliot-Curie 14A, 50-383 Wroclaw, Poland
*
Authors to whom correspondence should be addressed.
Received: 18 September 2018 / Accepted: 9 October 2018 / Published: 11 October 2018
Abstract
:
Mitochondria are dynamic, semi-autonomous organelles that execute numerous life-sustaining tasks in eukaryotic cells. Functioning of mitochondria depends on the adequate action of versatile proteinaceous machineries. Fine-tuning of mitochondrial activity in response to cellular needs involves continuous remodeling of organellar proteome. This process not only includes modulation of various biogenetic pathways, but also the removal of superfluous proteins by adenosine triphosphate (ATP)-driven proteolytic machineries. Accordingly, all mitochondrial sub-compartments are under persistent surveillance of ATP-dependent proteases. Particularly important are highly conserved two inner mitochondrial membrane-bound metalloproteases known as
m
-AAA and
i
-AAA (ATPases associated with diverse cellular activities), whose mis-functioning may lead to impaired organellar function and consequently to development of severe diseases. Herein, we discuss the current knowledge of yeast, mammalian, and plant AAA proteases and their implications in mitochondrial function and homeostasis maintenance.
Keywords:
AAA protease; ATP-dependent proteolysis; mitochondria; inner mitochondrial membrane proteostasis;
m
-AAA protease;
i
-AAA protease; neurodegenerative diseases
1. Introduction
Mitochondria are multifunctional organelles that play a central role in a broad range of life-sustaining tasks within eukaryotic cells, including adenosine triphosphate (ATP) production, calcium storage, and cofactor-generating pathways such as iron-sulfur cluster biogenesis [
1
,
2
,
3
,
4
]. Mitochondria are also key mediators in cell proliferation, differentiation, and death signaling as well as in innate immunity [
2
,
3
,
5
,
6
]. Consequently, disturbances in mitochondrial homeostasis and activity lead to cellular pathologies that are linked with the onset of many severe diseases [
1
,
7
,
8
].
Broad arrays of mitochondrial functions are accomplished by multifaceted proteome comprised of about 1500 polypeptides that are spread between aqueous and membranous mitochondrial sub-compartments: Outer membrane (OM), intermembrane space (IMS), inner membrane (IM), and matrix [
8
,
9
]. Optimal functioning of mitochondria largely depends on accurate composition of mitochondrial proteome and its quality [
10
,
11
,
12
,
13
]. Consequently, mitochondrial protein content undergoes persistent adaptations to meet cellular needs and quality control. From this perspective, IM is particularly challenging mitochondrial sub-compartment. Up to 40% of the total mitochondrial proteome is accommodated in IM, including electron transport chain and F
1
-F
0
ATP synthase (oxidative phosphorylation (OXPHOS) system). This renders IM one of the most protein-rich membranes known [
14
]. In addition to the extremely crowded milieu, the bi-genomic nature of mitochondrial proteome challenges the biogenesis of many IM-bound protein complexes [
15
,
16
,
17
]. While the majority of the mitochondrial proteome is encoded by nuclear genome, synthesized in the cytosol and subsequently imported into the organelle, and a limited number of mitochondrial proteins (~1%, including few subunits of OXPHOS complexes) are encoded by mitochondrial genome (mtDNA) in the organellar matrix [
15
,
16
,
17
]. This imposes a need for precisely synchronized expression, sorting and folding of both nuclear and mitochondrial encoded subunits to enable their subsequent assembly into functional stoichiometric complex in IM. Additional challenges in the biogenesis of the vital IM-bound complexes include insertion of indispensable redox cofactors into their proteinaceous structure. The failure in this process abolishes further maturation of the complex and is linked to the generation of harmful reactive oxygen species (ROS) [
18
,
19
,
20
]. While mitochondria are equipped with numerous free radical-scavenging mechanisms, mitochondrial proteome is continuously exposed to the deleterious ROS molecules that arise as byproducts of OXPHOS activity [
21
]. ROS can directly damage mitochondrial proteins or introduce mutations in mitochondrial genome rising the risk of perturbations in the folding of mtDNA-encoded subunits [
22
].
The particular milieu of IM requires constant monitoring for damaged, unassembled, and superfluous proteins. The pivotal role in this process play two IM-bound ATP-dependent proteases that belong to the FtsH (Filamentous temperature sensitive H) family of peptidases:
m
-AAA (matrix) and
i
-AAA (intermembrane space) proteases (known as AAA proteases). Remarkably, the role of these ATP-fueled proteolytic machines is not limited to IM protein quality control [
10
,
23
,
24
,
25
]. This review summarizes the current state of knowledge on pleiotropic functions of AAA proteases and their implications for mitochondrial functions and homeostasis.
2. Molecular Architecture and Mode of Action of AAA Proteases
3. AAA Proteases Maintain Functional and Healthy Mitochondria
3.1. Role of AAA Proteases in Protein Mitochondrial Quality Control (PMQC)
Due to intrinsic exposure of proteome to challenging conditions, mitochondria are equipped with mitochondrial quality control system (MQC) that counteracts the potential organellar injuries. Accordingly, MQC is based on multiple independent mechanisms operating at both molecular and organellar/cellular levels [
13
,
51
]. The molecular MQC (or protein MQC (PMQC)) is composed of chaperones and proteases that jointly survey, repair, or remove damaged and superfluous mitochondrial proteins within mitochondrial sub-compartments [
52
]. Cytosolic machineries, including the ubiquitin-proteasome system (UPS), parallelly contribute to the maintenance of proteostasis in IMS and OM [
53
,
54
]. Remarkably, PMQC may also function beyond controlling mitochondrial proteome supporting cytosolic protein homeostasis as well [
55
].
The key house-keeping role of PMQC involves surveillance of the biggest mitochondrial threat, the ROS-generating OXPHOS system. The rapid removal of aberrant OXPHOS constituents impedes accumulation of aggregation-prone polypeptides that have negative impact on mitochondrial function leading to the uncontrolled formation of deleterious ROS [
13
,
30
,
32
,
56
,
57
,
58
,
59
,
60
,
61
]. AAA proteases are central for the implementation of this task. Across diverse species, both
m
-AAA and
i
-AAA proteases remove aberrant components of respiratory chain complexes or F
1
-F
0
ATP synthase at both sides of mitochondrial inner membrane [
13
,
30
,
32
,
56
,
57
,
58
,
59
,
60
,
61
]. Oxidatively damaged mitochondrial proteins arising as a result of imbalanced OXPHOS functioning can also be degraded by AAA proteases [
48
,
60
,
62
,
63
]. AAA proteases persistently monitor IM against superfluous subunits, whose accumulation may interfere with the assembly and activity of the complex and subsequently compromise mitochondrial function. In addition, it was reported that
m
-AAA protease independent of its proteolytic function is able to use the chaperone-like activity to facilitate assembly of the membrane-associated ATP synthase subunits [
32
]. AAA proteases contribute to optimal formation and maintenance of OXPHOS, but also other vital IM complexes, including mammalian mitochondrial calcium uniporter (MCU) and mitochondrial cristae organizing system (MICOS) [
10
,
23
,
25
,
44
,
64
]. Correspondingly, genetic loss of any of AAA proteases is associated with severe pleiotropic phenotypes, including defects in respiratory function and in mitochondrial morphology as well as oxidative stress [
10
,
13
,
23
,
24
,
25
,
65
,
66
]. Depending on species/tissue context, the absence of the AAA proteases-dependent surveillance may have diverse consequences, including cell death in the worst-case scenario. For instance,
m
-AAA malfunction in mammals is linked to substantial neuronal loss [
62
,
67
,
68
,
69
,
70
,
71
,
72
]. Recent studies indicated that neuronal death triggered by
m
-AAA protease deficiency is mainly a consequence of the deregulation of mitochondrial Ca
2+
homeostasis [
44
,
67
,
68
]. In mammalian neurons, Ca
2+
ions are transported into mitochondrial matrix through IM-bound MCU channels [
73
]. The activity of MCU must be tightly modulated, otherwise mitochondrial Ca
2+
overload and cell death may occur. Mammalian MCU is formed by channel-forming MCU subunits, small protein EMRE and a gatekeeper subunits MICU. The gating of MCU complex requires association between EMRE and MICU subunits [
74
,
75
,
76
]. However, unassembled EMRE subunits hijack MICU regulatory proteins from MCU resulting in the formation of constitutively open MCU complexes and subsequent Ca
2+
-induced cell death. Recent studies revealed that removal of unassembled EMRE subunits by
m
-AAA protease is necessary to prevent these catastrophic consequences [
44
,
67
].
The house-keeping function of AAA proteases is not only restricted to IM proteome. The
i
-AAA protease constitutes a key element of PMQC of IMS. IMS is a relatively small mitochondrial sub-compartment containing from 50 to 130 proteins in yeast and mammals, respectively [
77
,
78
]. Majority of IMS proteins contain conserved cysteine motifs that are necessary for their proper folding including formation of disulfide bonds [
79
]. Oxidative stress can result in failure in this process and consequently lead to accumulation of covalently-linked aggregates. Studies in yeast demonstrated that
i
-AAA protease prevents aggregation of variety of IMS-localized proteins [
80
]. Strikingly, Yme1 achieves this not only by the removal of misfolded proteins, but also by the chaperone-like activity of its AAA domain [
81
,
82
]. Amongst IMS proteins proven to be under tight Yme1-dependent surveillance are components of mitochondrial protein import machinery, namely small TIM proteins (Tim9 and Tim10). In vitro studies using solubilized Yme1 protease showed a correlation between disulfide bond disruption and increased rate of
i
-AAA-dependent degradation for both small TIM proteins [
40
].
3.2. Regulated Proteolysis: Fine-Tuning of Mitochondrial Pathways
3.3. AAA Proteases: Much More beyond the Machinesof Protein Destruction
4. AAA Proteases in the Pathogenesis of Human Diseases
Versatile activities that are executed by AAA proteases ensure optimal mitochondrial functioning. Respectively, disturbances in the performance of these ATP-dependent enzymes are associated with decline in mitochondrial health leading to development of many pathological conditions [
10
,
23
,
67
]. Studies using mouse models indicated that depletion in activities of AAA proteases might result in malfunction of critical cellular processes, including decline in activity of OXPHOS complexes, impairment in mitochondrial translation, disturbances in mitochondrial morphology, calcium deregulation as well as dysfunction of mitochondrial anterograde transport [
62
,
66
,
67
,
68
,
69
,
70
,
71
,
72
]. Mitochondrial abnormalities predominantly influence organs and tissues with the high energetic requirements contributing to onset of cardiovascular, neurodegenerative, or complex metabolic diseases such as type 2 diabetes mellitus [
10
,
23
,
67
].
Many mutations were identified in genes encoding subunits of AAA proteases that are associated with neuronal loss and diverse hereditary neurodegeneration diseases. For instance, clinical studies revealed occurrence of homozygous mutation in
YME1L
that causes defects in maturation of human
i
-AAA protease resulting in infantile-onset mitochondriopathy with optic atrophy [
113
]. Similarly, various amino acid substitutions in
m
-AAA protease subunits, AFG3L2 or paraplegin (SPG7), are associated with development of severe neurological diseases [
114
,
115
,
116
,
117
,
118
,
119
,
120
,
121
,
122
,
123
]. The absence of SPG7 subunit impairs only heteromeric
m
-AAA protease, while loss of AFG3L2 has more dramatic consequences as it disturbs both homo and heteromeric forms of
m
-AAA protease [
67
]. At least 17 amino acid substitutions in AFG3L2 have been linked to autosomal dominantly inherited juvenile-onset spinocerebellar ataxia type 28 (SCA28) [
115
,
117
,
118
,
119
,
120
,
121
]. SCA28 is associated with Purkinje cell loss and is characterized by slurred speech, lack of limb coordination and eye movement abnormalities [
123
]. On the other hand, mutations in
SPG7
are associated with autosomal recessive hereditary spastic paraplegia (HSP). This mitochondriopathy is characterized by spasticity and weakness of lower limbs. Amyotrophy, cortical and cerebellar atrophy as well as mental retardation can also occur in HSP [
122
]. Moreover, mutations in
SPG7
are also associated with defects in mtDNA maintenance triggering chronic ophthalmoplegia [
124
,
125
]. Clinical features of both SCA28 and HSP7 occur in severe, early onset spastic ataxia 5 (SPAX5) that can be initiated by recessive mutations in
AFG3L2
causing hampered interactions between AFG3L2 and SPG7 subunits [
116
]. Furthermore, single nucleotide polymorphisms in
SPG7
have been recently linked to the development of multi-system diseases such as type 2 diabetes mellitus and coronary artery disease [
126
].
5. Final Remarks
Our understanding of roles of AAA proteases in mitochondria has transformed in a recent decade. AAA proteases are no longer viewed as a simple machines of protein destruction that are exclusively required for the removal of damaged or unfolded polypeptides from mitochondria. Instead, AAA proteases can be considered guardians of mitochondrial function and homeostasis, which, in addition to proteome quality survey, specifically modulate fundamental mitochondrial processes by controlling levels of regulatory proteins and activating or inhibiting critical components of essential mitochondrial pathways (
Figure 3
).
Despite of enormous progress, there are still many questions that remain to be answered to fully appreciate significance of AAA proteases for maintenance of mitochondrial function and homeostasis. Pleiotropic phenotypes observed upon loss of either of AAA proteases suggest that only a tiny portion of the actual repertoire of mitochondrial constituents that is directly controlled by these ATP-dependent enzymes is known. Unveiling a complete catalogue of physiological substrates of AAA proteases both under basal and homeostasis-disturbing conditions is one of the main challenges for future studies. Likewise, understanding of the molecular basis behind the astonishing plasticity displayed by these enzymes awaits further survey. This certainly requires identification of regulatory mechanisms that modulate AAA proteases activity and specificity. Ultimately, this knowledge can shed light on pathogenesis of many mitochondria-related diseases and essentially contribute to development of novel therapeutic strategies.
Author Contributions
M.O. and H.J. reviewed the literature, designed the figures and co-wrote the manuscript.
Funding
This research was funded by the National Science Centre (NCN) grant number 2015/16/S/NZ3/00364.
Acknowledgments
M.O. was supported by grant from the National Science Centre 2015/16/S/NZ3/00364. This publication was supported by Wroclaw Centre of Biotechnology, the Leading National Research Centre (KNOW) for years 2014–2018.
Conflicts of Interest
The authors declare no conflict of interest.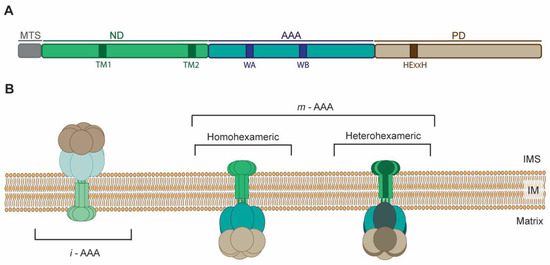 Figure 1.
Structural characteristics and organization of AAA (ATPases associated with diverse cellular activities) proteases in mitochondrial inner membrane. (
A
) Domain architecture of AAA proteases. Subunit of
m
-AAA protease is presented on the scheme. In contrast to
m
-AAA, subunit of
i
-AAA protease in the N-terminal domain (ND) contains only one transmembrane region (TM). MTS, mitochondrial targeting sequence; AAA, AAA domain; PD, proteolytic domain; WA and WB, Walker A and Walker B motifs. (
B
) Topology of oligomers of AAA proteases in the inner mitochondrial membrane. IMS, intermembrane space; IM, inner membrane.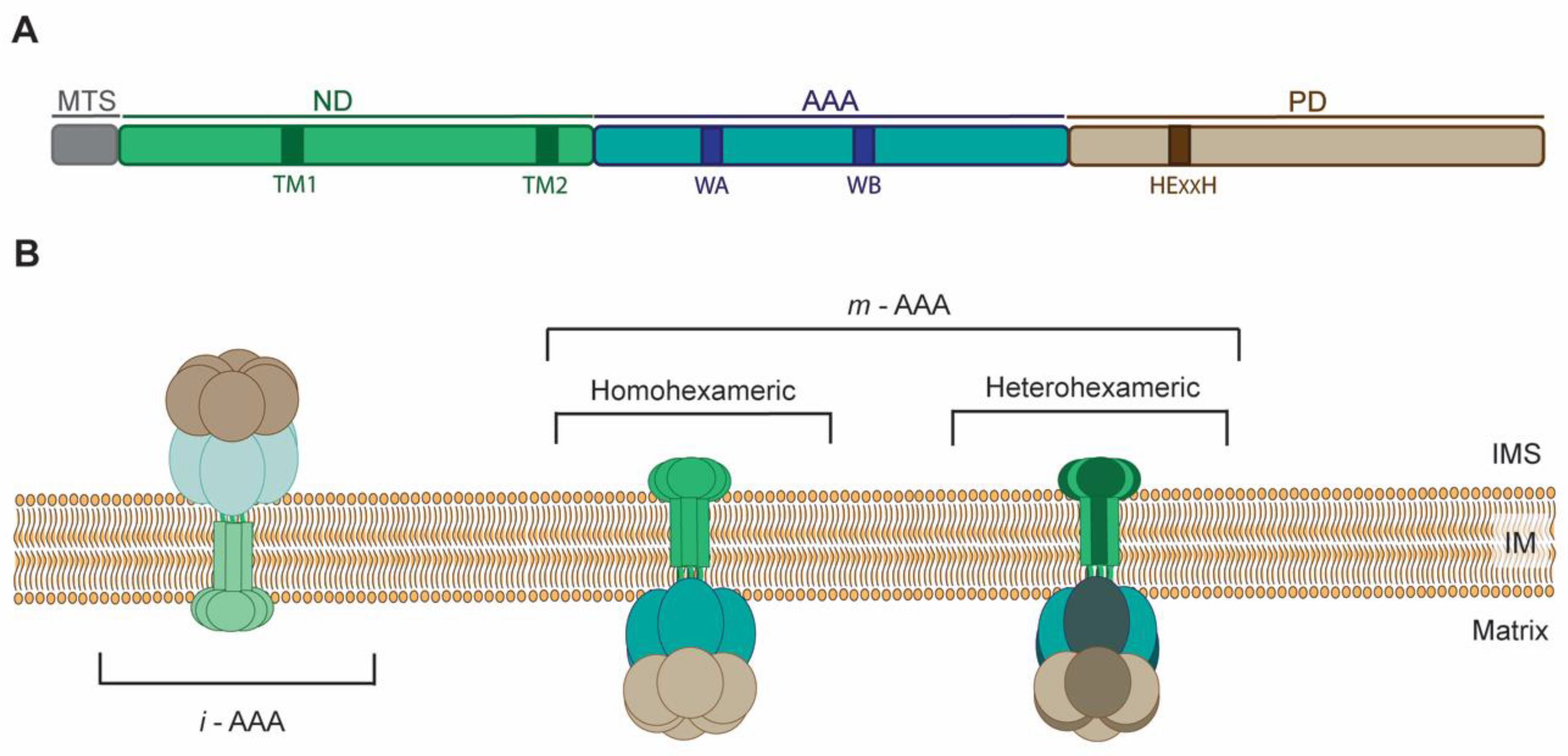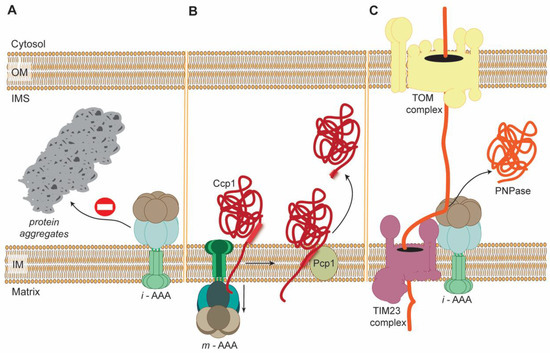 Figure 2.
Examples of actions of yeast AAA proteases that are independent of their proteolytic activity. (
A
)
i
-AAA protease prevents aggregation of misfolded intermembrane space proteins through chaperone-like activity. (
B
)
m
-AAA dislocates precursor of Ccp1 from the mitochondrial inner membrane (IM) enabling its cleavage by the rhomboid protease Pcp1. The membrane dislocation step is dependent on ATPase activity of
m
-AAA protease. (
C
)
i
-AAA protease independently of its proteolytic activity mediates import of heterologously expressed mammalian PNPase precursor into mitochondrial intermembrane space (IMS). The transfer of PNPase precursor from the cytosol into organelle is dependent on the tight cooperation between
i
-AAA protease, the main translocase of the outer membrane (OM), TOM complex, and the translocase of the inner membrane, TIM23 complex.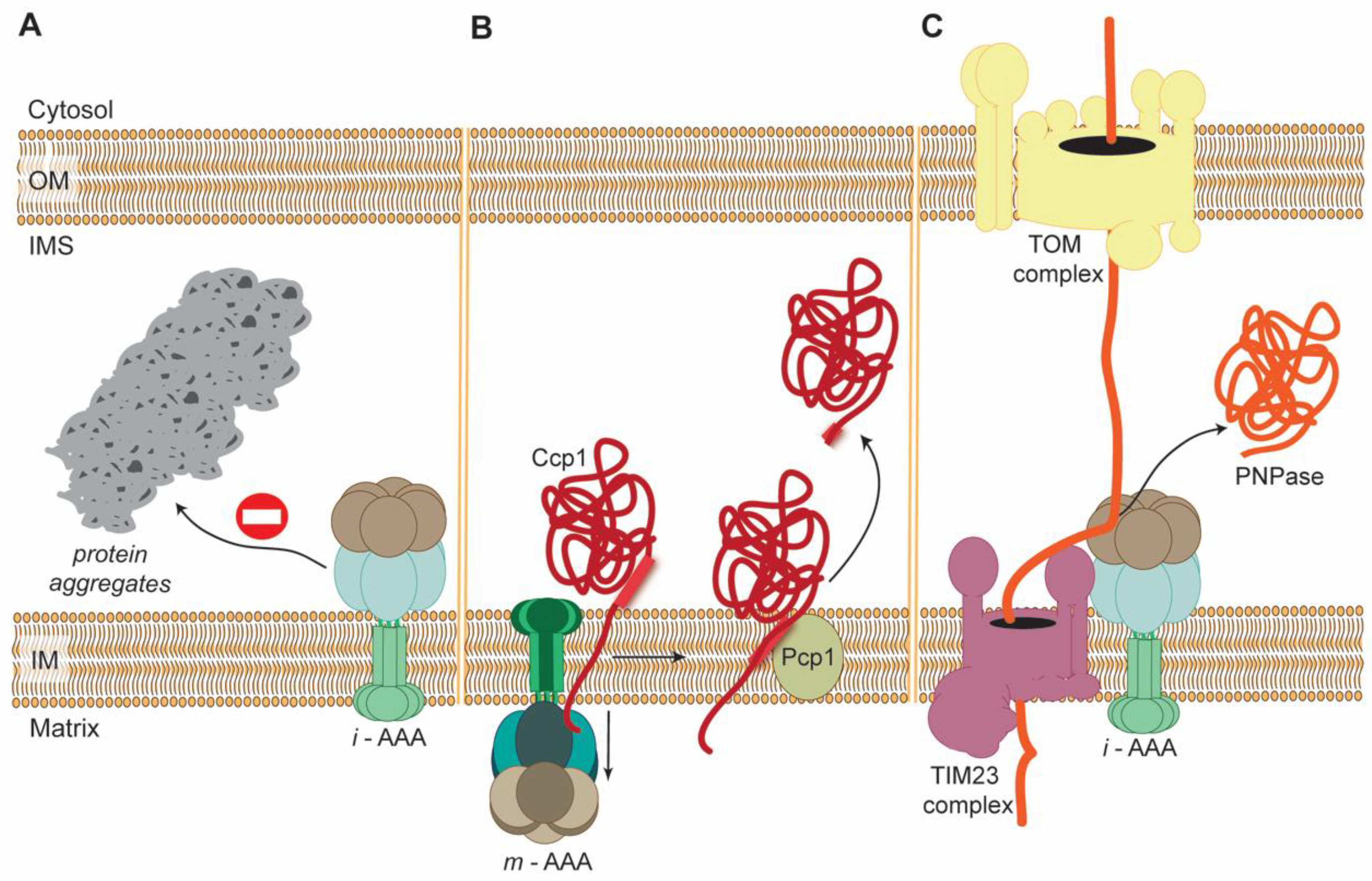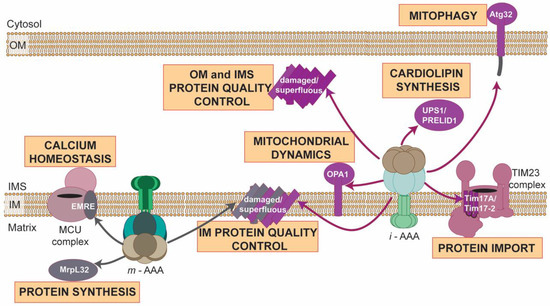 Figure 3.
Multifaced activities of AAA proteases at mitochondria. Illustration summarizes spectrum of known proteolytic substrates of either yeast, mammalian or plant
i
-AAA (violet arrows) or
m
-AAA proteases (grey arrows), whose either processing or removal by AAA proteases modulate diverse mitochondrial functions. OM, outer membrane; IMS, intermembrane space; IM, inner membrane.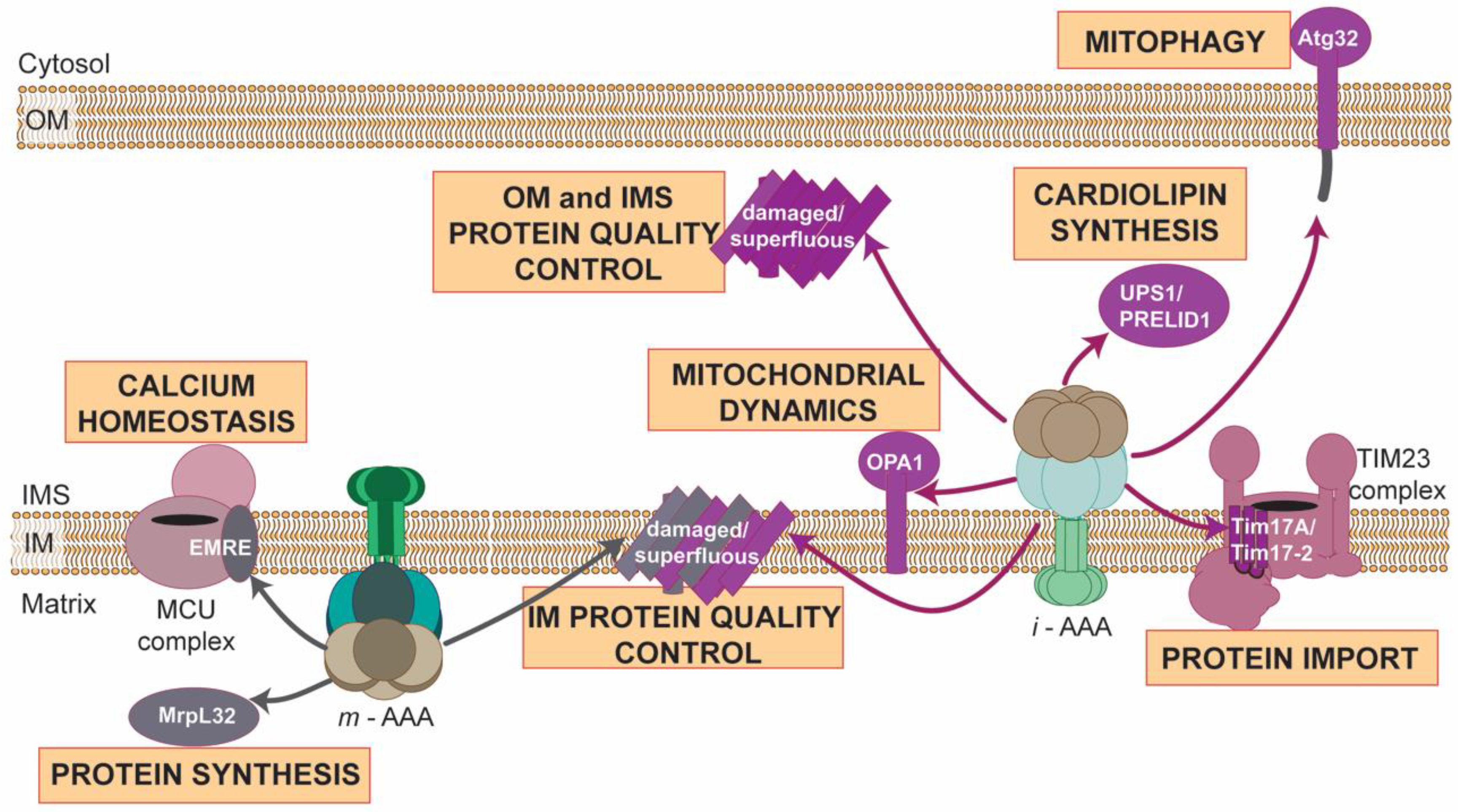 © 2018 by the authors. Licensee MDPI, Basel, Switzerland. This article is an open access article distributed under the terms and conditions of the Creative Commons Attribution (CC BY) license (http://creativecommons.org/licenses/by/4.0/).