Statistical Modeling of Phenotypic Plasticity under Abiotic Stress in
Triticum durum

L. and

Triticum aestivum

L. Genotypes

1

United States Department of Agriculture–Agricultural Research Service (USDA-ARS), Iowa Avenue, Morris, MN 56267, USA

2

Department of Agronomy and Plant Genetics, University of Minnesota, 803 Iowa Avenue, Morris, MN 56267, USA

Received: 19 July 2018 / Revised: 30 July 2018 / Accepted: 2 August 2018 / Published: 4 August 2018
Abstract
Future challenges to the role of durum and bread wheat in global food security will be shaped by their potential to produce larger yields and better nutritional quality, while increasingly adapting to multiple biotic and abiotic stresses in the view of global climate change. There is a dearth of information on comparative assessment of phenotypic plasticity in both wheat species under long-term multiple abiotic stresses. Phenotypic plasticities of two durum and bread wheat genotypes were assessed under increasing abiotic and edaphic stresses for six years. Combinations of normal and reduced length of growing season and population density, with or without rotation, generated increasing levels of competition for resources and impacted phenotypic plasticity of several plant and yield attributes, including protein and micronutrients contents. All the phenotypic plasticity (PPs) estimates, except for the C:N ratio in both genotypes and grain protein content in
T. aestivum
genotype, were impacted by abiotic stresses during the second stress phase (PS II) compared with the first (PS I); whereas, covariate effects were limited to a few PPs (e.g., biomass, population density, fertile tillers, grain yield, and grain protein content). Discrimination between factor levels decreased from abiotic phases > growth stages > stress treatments and provided selection criteria of trait combinations that can be positively resilient under abiotic stress (e.g., spike harvest and fertility indices combined with biomass and grain yield in both genotypes). Validation and confirmatory factor models and multiway cluster analyses revealed major differences in phenotypic plasticities between wheat genotypes that can be attributed to differences in ploidy level, length of domestication history, or constitutive differences in resources allocation. Discriminant analyses helped to identify genotypic differences or similarities in the level of trait decoupling in relation to the strength of their correlation and heritability estimates. This information is useful in targeted improvement of traits directly contributing to micronutrient densities, yield components, and yield. New wheat ideotype(s) can be designed for larger grain yield potential under abiotic stress by manipulating yield components that affect kernels m
−2
(e.g., number of tillers, number of florets per spikelet, and eventually spike fertility and harvest indices) without impacting nutrient densities and kernel weight, thus raising harvest index beyond its current maximum.
View Full-Text
►

▼

Figures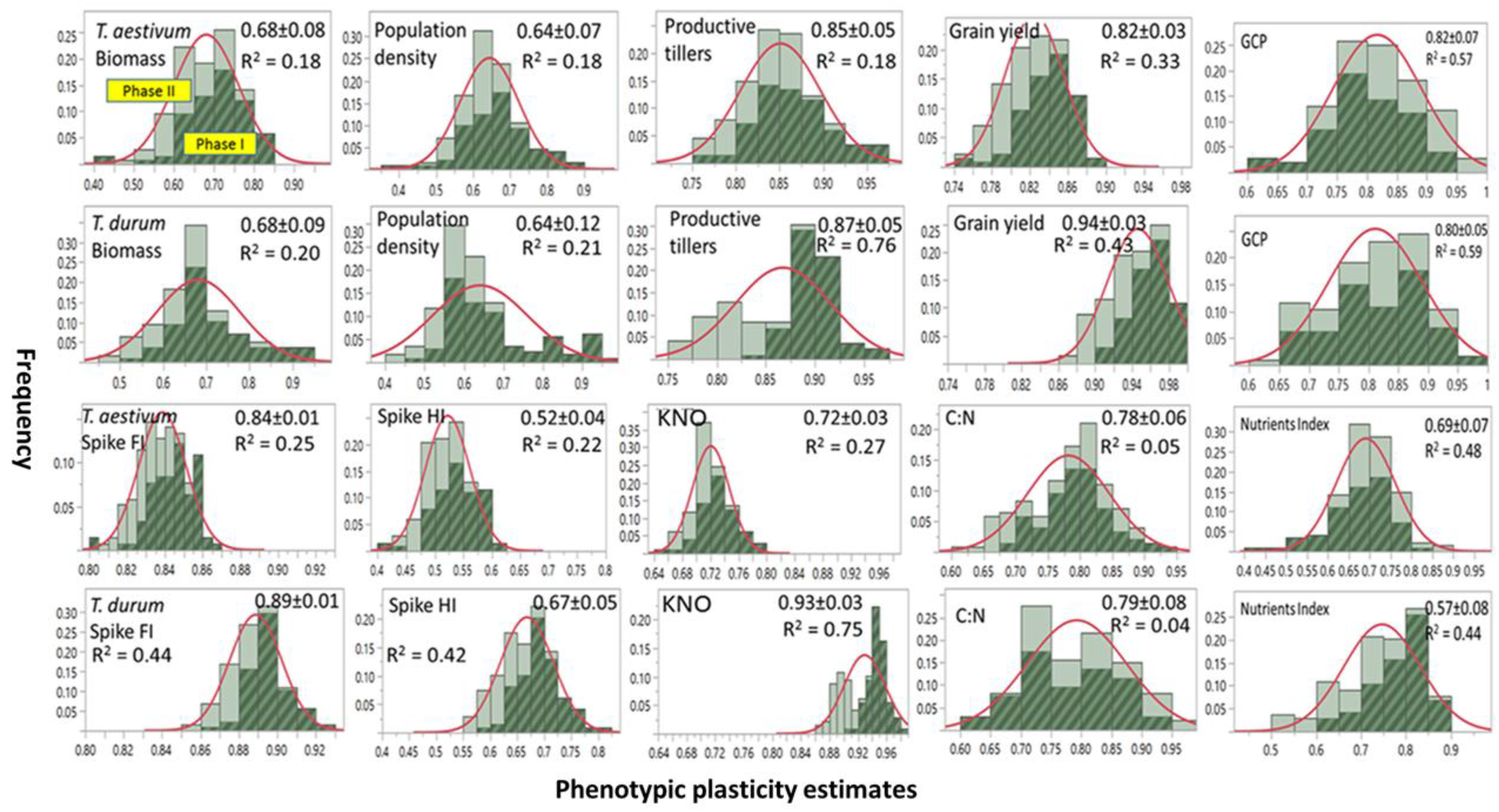 Figure 1
This is an open access article distributed under the
Creative Commons Attribution License
which permits unrestricted use, distribution, and reproduction in any medium, provided the original work is properly cited (CC BY 4.0).

Share & Cite This Article
MDPI and ACS Style
Jaradat, A.A. Statistical Modeling of Phenotypic Plasticity under Abiotic Stress in Triticum durum L. and Triticum aestivum L. Genotypes. Agronomy 2018, 8, 139.
Note that from the first issue of 2016, MDPI journals use article numbers instead of page numbers. See further details here.
Related Articles
Comments
[Return to top]