Open Access This article is
freely available
re-usable
Article
Genetically Modified M13 Bacteriophage Nanonets for Enzyme Catalysis and Recovery
1
Max Planck Institute for Intelligent Systems, Heisenbergstrasse 3, 70569 Stuttgart, Germany
2
Institute of Physical Chemistry, University of Stuttgart, Pfaffenwaldring 55, 70569 Stuttgart, Germany
3
Institute for Materials Science, University of Stuttgart, Heisenbergstrasse 3, 70569 Stuttgart, Germany
*
Author to whom correspondence should be addressed.
Received: 8 August 2019 / Accepted: 23 August 2019 / Published: 27 August 2019
Abstract
:
Enzyme-based biocatalysis exhibits multiple advantages over inorganic catalysts, including the biocompatibility and the unchallenged specificity of enzymes towards their substrate. The recovery and repeated use of enzymes is essential for any realistic application in biotechnology, but is not easily achieved with current strategies. For this purpose, enzymes are often immobilized on inorganic scaffolds, which could entail a reduction of the enzymes' activity. Here, we show that immobilization to a nano-scaled biological scaffold, a nanonetwork of end-to-end cross-linked M13 bacteriophages, ensures high enzymatic activity and at the same time allows for the simple recovery of the enzymes. The bacteriophages have been genetically engineered to express AviTags at their ends, which permit biotinylation and their specific end-to-end self-assembly while allowing space on the major coat protein for enzyme coupling. We demonstrate that the phages form nanonetwork structures and that these so-called nanonets remain highly active even after re-using the nanonets multiple times in a flow-through reactor.
Keywords:
nanonets; biocatalysis; enzyme recovery; M13 bacteriophage; AviTag; enzyme immobilization
1. Introduction
An advantage of the use of enzymes in catalysis is their unchallenged specificity when compared to inorganic or other human-made catalysts. However, the use of enzymes in catalysis is often hindered by the difficulty in recovering the enzymes after the desired reaction has taken place. Separating the catalysts from the product solution after catalysis is essential in multiple-use reactors and particularly important if the catalyst in question is precious, hard to synthesize or extract, as is the case for many enzymes. For this purpose, the enzymes can be coupled to a scaffold or surface. The growing library of immobilization templates useful for the binding of enzymes includes many inorganic carriers, cross-linked enzyme aggregates and viruses, which can simplify the handling and recovery of enzymes.
Cross-linking enzymes to form aggregates is a straightforward and economical means to obtain larger structures from enzymes [
1
,
2
,
3
,
4
,
5
,
6
,
7
]. Furthermore, cross-linked enzyme aggregates (CLEAs) can include multiple enzymes or an additional functionality such as a magnetic property [
1
,
7
]. One major advantage offered by CLEAs is the ease of the crosslinking reactions, which in some cases only require the addition of one or two crosslinkers to obtain the final aggregate [
4
]. Often glutaraldehyde is chosen as a linker for these reactions. However, care must be taken when using this crosslinking strategy, as the use of glutaraldehyde might in some cases lead to a decrease in overall activity of some enzyme varieties as Sheldon [
8
] and Lozano et al. [
4
] have previously reported. To our knowledge, there is therefore no singular CLEA platform that would work in a generally applicable manner with any enzyme.
Immobilization of an enzyme monolayer on a surface is another viable solution for recovery [
9
,
10
]. The carrier can be removed after catalysis, enabling simple separation of product solution and enzymes. While the immobilization of enzymes on inorganic surfaces is possible [
11
,
12
], it is well-known that this might lead to an activity decrease due to conformational changes or lower substrate availability [
13
]. It is therefore interesting to investigate immobilization of enzymes on proteinaceous environments, like viruses or virus-like particles (VLP), which can serve as scaffolds [
14
,
15
,
16
,
17
,
18
,
19
,
20
,
21
]. An attractive feature is that the viral coat-proteins are chemically addressable [
16
,
17
], allowing for the immobilization of enzymes on these naturally occurring protein-constructs. A randomly cross-linked virus nanonetwork (nanonet for short) has been demonstrated by Cuenca et. al. [
14
] as an enzyme scaffold using turnip mosaic viruses (TuMV) and
Candida antarctica
lipase B. The immobilization on this virus "nanonet" even led to an increase in specific enzyme activity when compared to the free enzyme, which the authors attributed to the proteinaceous environment of the virus. Nevertheless, this particular crosslinking mechanism is not specific and uses the same binding site for cross-linking and enzyme binding, which potentially reduces the available locations for catalysis.
Here, we show that nanonets can be formed using genetically modified M13 bacteriophages by linking the viruses end-to-end via an AviTag, a biotinylatable 15 amino acid (GLNDIFEAQKIEWHE) protein tag expressed as a fusion to the p3 and p7 coat proteins of the M13 bacteriophage. AviTag phages are first biotinylated by biotin ligase and the phages are subsequently cross-linked with streptavidin forming the end-to-end virus nanonets. Enzymes can be immobilized on the nanonets via the phage major coat protein p8. We show that the bacteriophage nanonets form a promising platform for heterogeneous enzyme biocatalysis. The nanonet-coupled enzymes exhibit high activity while allowing for enzyme recovery and reuse.
2. Results and Discussion
M13 bacteriophages, like other viruses, can be chemically [
22
,
23
] or genetically [
24
,
25
,
26
,
27
] addressed and modified. M13 phages are versatile, and are useful for applications including biotemplating, phage display [
28
,
29
,
30
,
31
,
32
], and even tissue regeneration, as bacteriophages are innocuous to mammalian cells [
33
]. Phages are highly stable in a wide range of pH and temperature conditions [
34
]. M13 phages are filamentous viruses, with a capsid approximately 900 nm long, and with a diameter of 6 nm. The capsid is made of five coat proteins. The main structure is formed by ~2700 copies of the major coat protein p8, which connect in a helical structure along the long axis of the virus. The coat proteins p3 and p6 form one "end" while the proteins p7 and p9 reside at the other end of the viral particle. The proteins are individually genetically modifiable and form favorable scaffolds for enzyme immobilization, as was demonstrated in our previous study of enzyme immobilization on genetically modified M13 filamentous bacteriophages [
35
]. Furthermore, an increase in enzymatic activity when coupled to a proteinaceous substrate was demonstrated in that study as well as by others [
14
,
35
,
36
]. Here, we show that a phage nanonetwork can be obtained using genetically modified M13 bacteriophages designed to specifically self-assemble end-to-end. We then demonstrate that the nanonet is an easily modifiable platform for enzyme immobilization and repeated enzyme recovery.
3. Materials and Methods
3.1. Materials
The genetic modification to obtain AviTag M13 bacteriophages is described in the
Supplementary Materials
. Bicine buffer (1 M) was purchased from Jena Bioscience, Germany. ALEXA Fluor 488 NHS Ester, Dynabeads MyOne Streptavidin C1, Gibco PBS tablets (pH 7.4), and sulfosuccinimidyl (4-iodoacetyl) aminobenzoate (Sulfo-SIAB) were purchased from Thermo Fisher Scientific, Schwerte Germany. Sodium chloride was purchased from Carl Roth, Karlsruhe, Germany. Sodium hypochlorite solution (10%) was purchased from Fluka Analytical, Munich, Germany. Magnesium acetate tetrahydrate was purchased from Santa Cruz Biotechnology. Disodium adenosine 5`-triphosphate (ATP, 99%), biotin ligase (BirA, recombinant, ≥65%), carbamide, D-biotin (≥99% lyophilized powder), bovine serum albumin (≥96%, lyophilized powder), 25% glutaraldehyde, poly(ethylene glycol) methyl ether (PEG, 5000 Da), sodium hydroxide, sodium nitroprusside dihydrate, sodium salicylate, streptavidin (recombinant, lyophilized powder), urease (from
Canavalia ensiformis
(Jack bean) Type C-3, 120 ± 10 mg of urease per 1 g powder [
35
]) were purchased from Sigma-Aldrich, Munich, Germany. All chemicals were used as purchased unless otherwise specified.
3.2. M13 Bacteriophage Biotinylation
AviTag phages were stored in 1 x TBS (50 mM Tris-Cl, pH 7.6; 150 mM NaCl) buffer at 4 °C and were used at concentrations of 1015 pfu/mL unless stated otherwise. Four microliters of 500 mM biotin, 4 µL ATP solution (100 mM ATP, 500 mM biotin, and 100 mM magnesium acetate) and 4 µL 0.5 M bicine were mixed with 100 µL of a p3p7 AviTag phage stock solution. Then, 20 µL of 2 mg/mL biotin ligase was thoroughly mixed in and the solution was allowed to react in a shaker (600 rpm) for at least 48 h at 30 °C. To recover the phages from the reaction solution, 30.5 µL of a 2.5 M sodium chloride in 20% poly (ethylene glycol) solution were added and the solution was cooled for 20 min in an ice bath followed by centrifugation at 16,200 g for 20 min at 4 °C. The supernatant was removed and the pellet containing the phages was re-suspended in 100 µL 1x PBS, pH 7.4. This PBS buffer was used in all subsequent steps.
3.3. Characterization of Biotinylation Yield of M13 Bacteriophage
Two microliters of p3p7 biotinylated M13 bacteriophages were diluted in 278 µL PBS buffer. The concentration of the M13 phage solution was determined by using 140 µL of the stock solution to measure the UV-Vis absorption at 269 nm and at 320 nm as described by Smith [
38
]. The phages of the remaining solution were immobilized on magnetic streptavidin beads (Dynabeads MyOne Streptavidin C1, Invitrogen) [
39
]. Briefly, 100 µL of MyOne C1 Dynabeads solution was placed on a small lab magnet for 2 min to concentrate the beads at the bottom of a reaction tube. The supernatant was discarded and 300 µL PBS buffer was added. This washing step was repeated three times. The Dynabeads were then pulled to the bottom of the reaction tube once more with the magnet and, after removing the supernatant, the phage solution (140 µL) was added and incubated at room temperature for at least 1 h on a shaker at 600 rpm. After immobilization, the supernatant was removed and the UV-Vis absorbance of the supernatant was measured to calculate concentration of the unbound phages.
3.4. M13 Bacteriophage Nanonet
The equivalent of two streptavidin (STV) moieties per phage was added to 100 µL of p3p7 biotinylated M13 phages as a 1 mg/mL STV solution. The resulting viscous solution was used without further purification.
3.5. Sulfo-SIAB Cross-Linked Urease Nanonet (Enzyme-Nanonets)
Ten microliters of the M13 bacteriophage nanonet was suspended in 1 mL PBS buffer and incubated on a shaker at 600 rpm with 300 µL of a sulfo-SIAB solution (3 mg/mL in PBS) for 1.5 h at room temperature. The solution was then centrifuged in a benchtop microcentrifuge at 14,000 g for 5 min. After discarding the supernatant, 500 µL of a fresh 5 mg/mL urease solution was added to the pellet. The pellet was then carefully re-suspended and incubated at room temperature in the dark for 2 h while shaking at 600 rpm. The nanonets were stored at 4 °C overnight before use.
3.6. Glutaraldehyde Cross-Linked Urease Nanonet
The crosslinking procedure has been modified based on Cuenca et al. [
14
]. In particular, 500 µL of a 5 mg/mL urease solution was incubated with 1% glutaraldehyde (GA) for 1 h. The excess glutaraldehyde was cleared with the help of a centrifugal 10 kDa MWCO filter (Merck Millipore, Darmstadt, Germany). 1 mL of 10
13
pfu/mL M13 bacteriophages solution was then added to the GA-activated urease solution and incubated overnight on a shaker at 600 rpm.
3.7. Fluorescence Imaging
For fluorescence imaging of the biotinylated bacteriophages, 10 µL of a 1013 pfu/mL solution was incubated with 10 µL 4 mM ALEXA 488 for 1 h at room temperature (stirring at 700 rpm). After incubation, 780 µL PBS buffer was added and the solution was dialyzed in PBS (Spectrum Labs, Float-A-Lyzer G2 300 kDa) with four buffer exchanges. Ten microliters of the dialyzed phage solution was incubated 2:1 with streptavidin. The phages were imaged in a Zeiss Axiovert inverted microscope with a 100× oil immersion objective on bovine serum albumin-coated glass cover slides.
3.8. Urease Activity Assays
The nanonets were centrifuged at 14,500 g for 5 min, the supernatant discarded, and 100 µL of a 500 mM urea solution (in PBS buffer at pH 7.4) was added. The reaction mixture was centrifuged for another 5 min. The supernatant was removed and 550 µL of a 5 mM solution of sodium nitroprusside, 60 mM sodium salicylate and 400 µL of a 400 mM sodium hydroxide, 10 mM sodium hypochlorite solution were added to it. The resultant mixture was incubated until no further color change could be observed (<30 min). For re-cycling the nanonets, the nanonets were pelleted and re-suspended as described above.
3.9. Syringe Filter Reactor
The enzyme-nanonets were synthesized as described and re-suspended in 1 mL PBS buffer. The dispersion was drawn into a 1 mL syringe (NORM-JECT Luer Lock, VWR, Darmstadt, Germany) and passed through a commercial 100 nm syringe filter (PES 0.1 µm Sartorius, Göttingen, Germany). To determine the enzymatic activity, 500 mM urea suspended in PBS buffer was run through the filter, 200 µL samples were collected after, respectively, 1, 2, 5, 10, 15, and 20 mL have passed the filter. The activity assay was then performed on these samples as described above. To determine how many phages passed through the filter, nanonets were placed on the filter surface and 20 mL PBS was flushed through the filter. Fractions of the solution after filtration were then collected after every 2 mL and the concentration of the remaining phages determined via UV-Vis as described above.
4. Conclusions
In summary, we have shown that genetically engineered M13 bacteriophages can be used to construct catalytically active enzyme–virus nanonets. The phages offer a proteinaceous template onto which enzymes can readily be coupled and on which enzymes retain their activity. The enzyme-decorated nanonets presented here not only outperformed analogous methods of creating viral nanonets in terms of activity but also allow for simple recovery of the enzymes after use. Enzyme recovery in biocatalysis is generally challenging, but we show that centrifugation for 5 minutes or the use of a syringe filter are sufficient methods to recover the enzyme-nanonets, and hence the enzymes. When compared to solutions with unbound enzymes, it becomes clear that the enzyme-nanonets can easily be used several times. We were able to show, that the enzyme-nanonets remained active for at least 2 months when stored at 4 °C. Using the enzyme-nanonets, we have successfully built a continuous flow-through "nanoreactor" for enzyme catalysis. The phages and the coupling scheme are versatile and so the method we demonstrate can also be expanded to be used with other enzymes. Even multiple enzymes can potentially be immobilized, which may be of interest in cascade reactions.
Supplementary Materials
The following are available online at
https://www.mdpi.com/2073-4344/9/9/723/s1
, Figure S1: UV-vis spectra and biotinylation yield, Figure S2: Macroscopic nanonet, Figure S3: Colorimetric assays and calibration curve for determination of enzyme activity, Figure S4: Urease activity assays over multiple centrifugation cycles, Figure S5: Retention of phages. Supporting Video 1.mp4, Supporting Video 2.mp4, Supporting Video 3.mp4.
Author Contributions
The manuscript was written with contributions of all authors. V.M.K. and P.F. conceptualized the study; V.M.K., J.R. and D.R. performed investigations; V.M.K. analyzed, compiled and visualized the data; V.M.K., M.A.-C. and P.F. wrote the original draft; all authors critically reviewed and edited the manuscript; J.B., D.R. and P.F. supervised the project and acquired funding. All authors have given approval to the final version of the manuscript.
Funding
This work was in part supported by the Volkswagen Stiftung under the project "Self-assembled nano-reactors via bacteriophage engineering (ROBOPHAGE)", the DFG as part of the project SPP 1726 (microswimmers, 253407113), and the Max Planck Society.
Acknowledgments
Parts of the Figures were based on molecular graphics and analyses performed with UCSF Chimera 1.13.1 [
40
], developed by the Resource for Biocomputing, Visualization, and Informatics at the University of California, San Francisco, United States.
Conflicts of Interest
The authors declare no conflict of interest.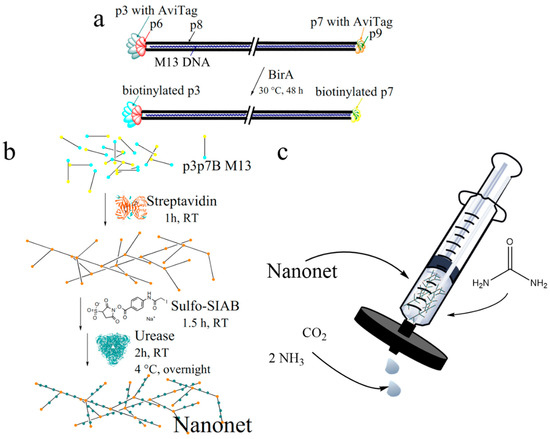 Figure 1. Illustrations of (a) fabrication of M13 bacteriophages biotinylated on the p3 and p7 coat proteins (p3p7 B phages) and (b) fabrication of urease–bacteriophage nanonet. (c) Illustration of the use of nanonet as a low cost, small flow-through reactor using a syringe filter.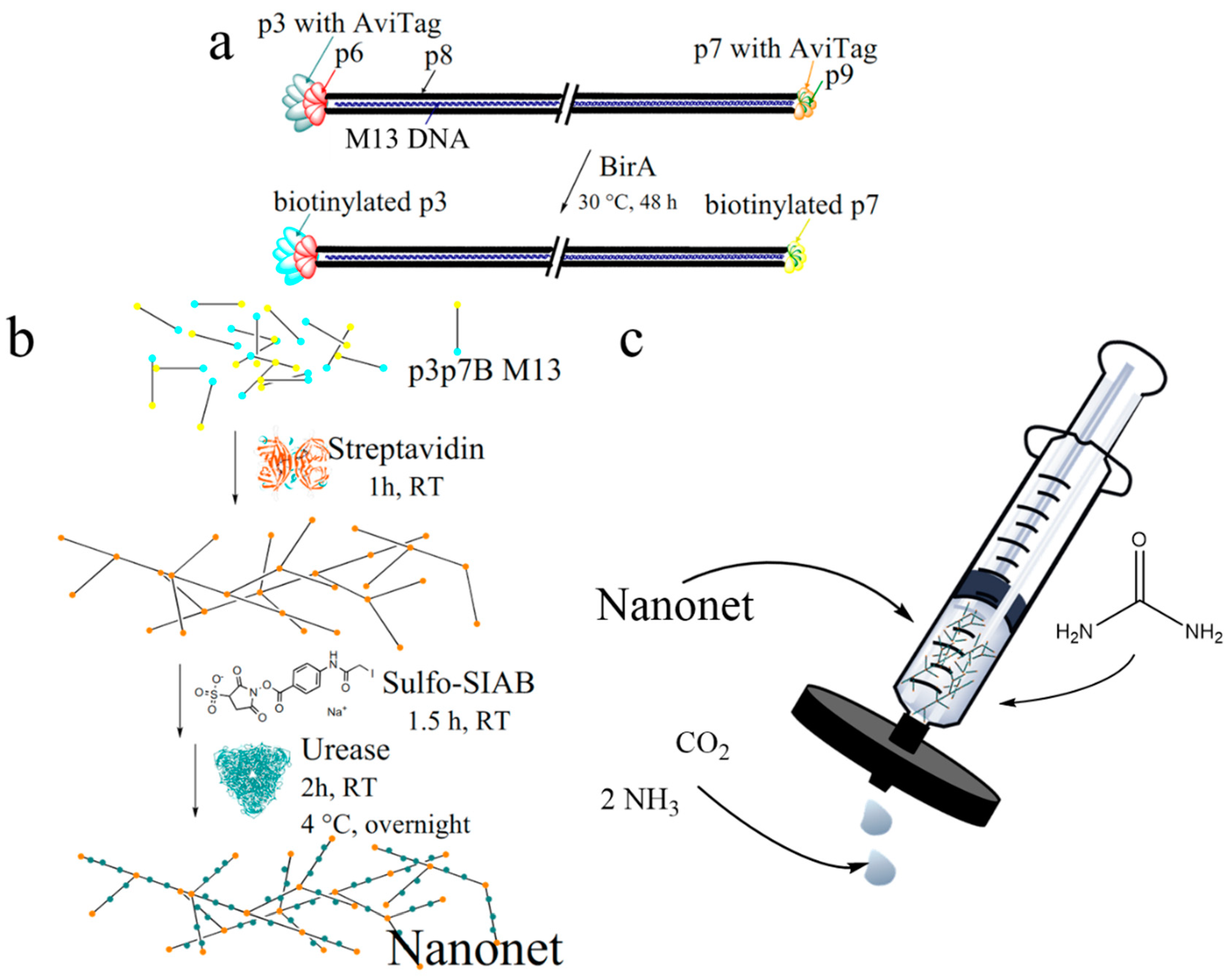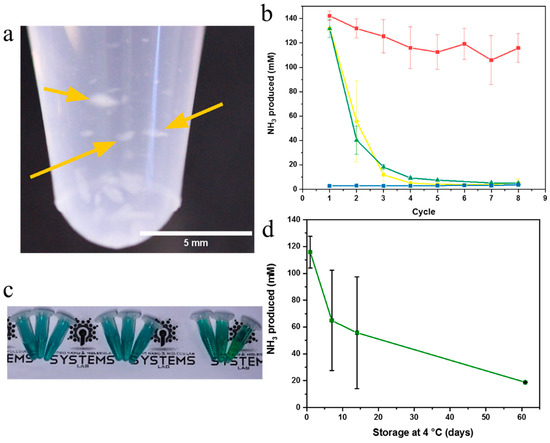 Figure 2. (a) Macroscopic urease-sulfo-SIAB-streptavidin-nanonet (enzyme-nanonets). (b) Urease activity test showing ammonia production over 5 minutes as a function of repeated recovery (via centrifugation) of free urease (yellow), enzyme-nanonets (red), as well as urease cross-linked to p3p7 AviTag phages using (i) Sulfo-SIAB (green); and (ii) glutaraldehyde (blue). (c,d) Comparison of long term stability of enzymatic activity over 2 months of storage at 4 °C for different enzyme-nanonets. Error bars for all graphs were obtained through a minimum of three repetitions.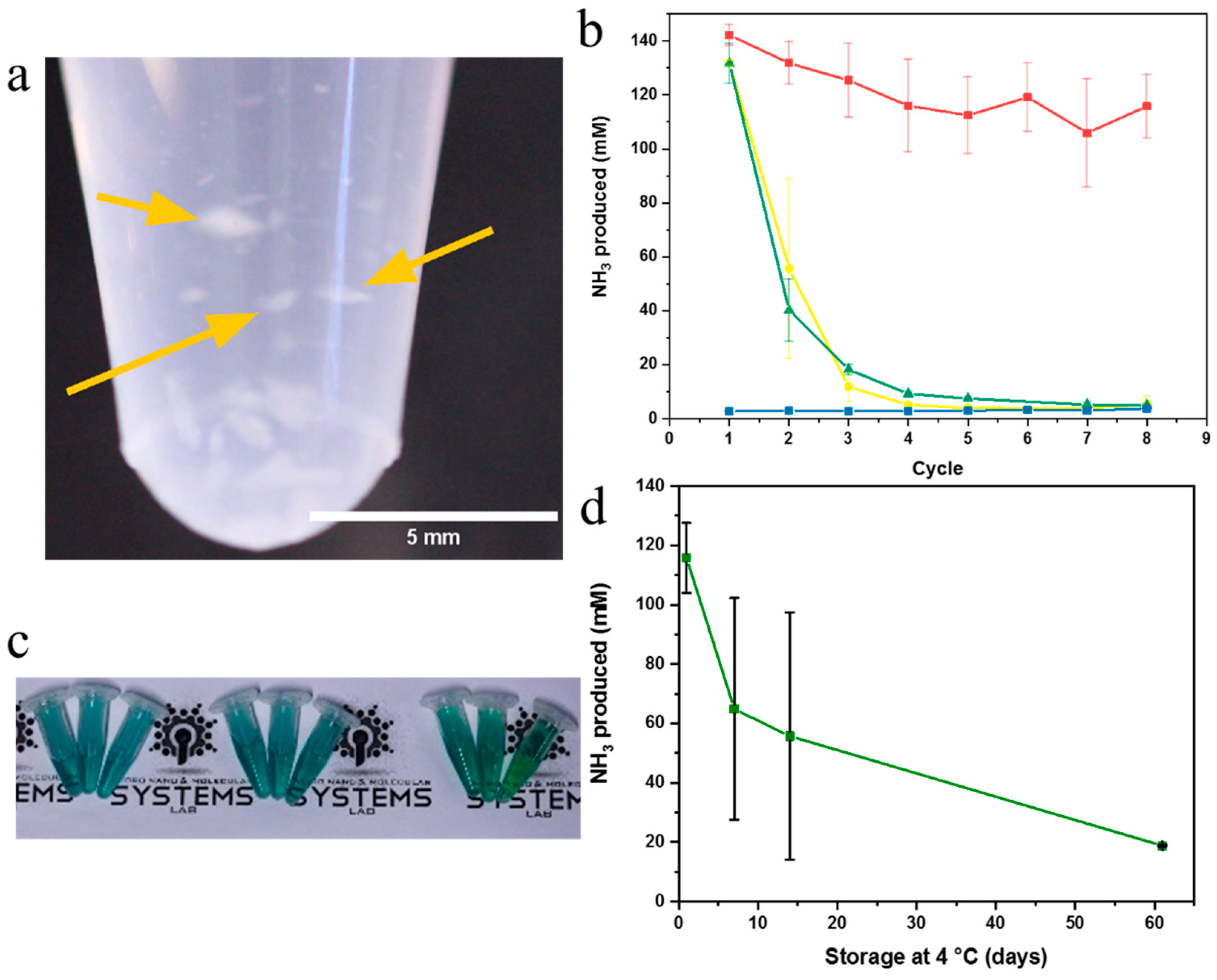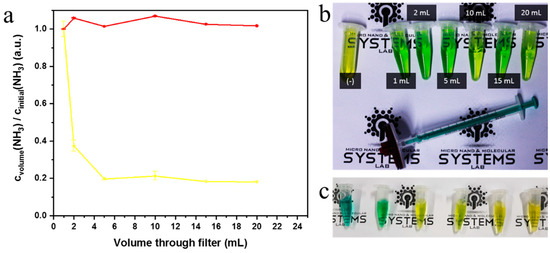 Figure 3. (a) Urease activities (normalized by initial activities) as a function of volume passed through nanonet filter for enzyme nanonets (red) and free enzyme (yellow). (b) Syringe filter setup with nanonet filter and representative samples corresponding to red line in graph (a) as well as a negative sample (-). (c) Colorimetric assay samples corresponding to yellow line in graph (a). Error bars for all graphs were obtained through a minimum of three repetitions.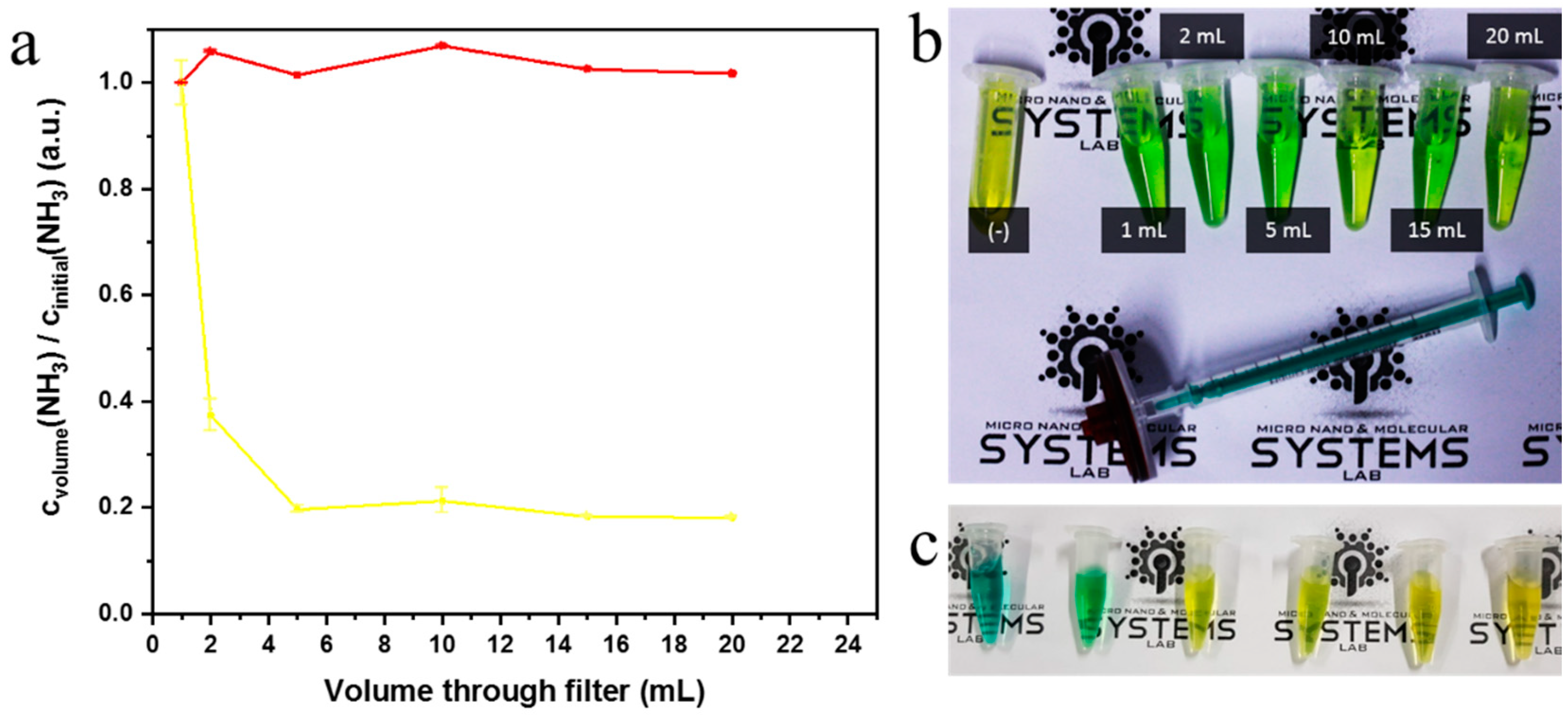 © 2019 by the authors. Licensee MDPI, Basel, Switzerland. This article is an open access article distributed under the terms and conditions of the Creative Commons Attribution (CC BY) license (http://creativecommons.org/licenses/by/4.0/).