Infrared Characterization of the Bidirectional Oxygen-Sensitive [NiFe]-Hydrogenase from
E. coli
1
Department of Physics, Experimental Molecular Biophysics, Freie Universität Berlin, 14195 Berlin, Germany
2
Department of Physics, Genetic Biophysics, Freie Universität Berlin, 14195 Berlin, Germany
*
Author to whom correspondence should be addressed.
†
These authors contributed equally.
Received: 16 October 2018 / Revised: 31 October 2018 / Accepted: 6 November 2018 / Published: 8 November 2018
[NiFe]-hydrogenases are gas-processing metalloenzymes that catalyze the conversion of dihydrogen (H
2
) to protons and electrons in a broad range of microorganisms. Within the framework of green chemistry, the molecular proceedings of biological hydrogen turnover inspired the design of novel catalytic compounds for H
2
generation. The bidirectional "O
2
-sensitive" [NiFe]-hydrogenase from
Escherichia coli
HYD-2 has recently been crystallized; however, a systematic infrared characterization in the presence of natural reactants is not available yet. In this study, we analyze HYD-2 from
E. coli
by in situ attenuated total reflection Fourier-transform infrared spectroscopy (ATR FTIR) under quantitative gas control. We provide an experimental assignment of all catalytically relevant redox intermediates alongside the O
2
- and CO-inhibited cofactor species. Furthermore, the reactivity and mutual competition between H
2
, O
2
, and CO was probed in real time, which lays the foundation for a comparison with other enzymes, e.g., "O
2
-tolerant" [NiFe]-hydrogenases. Surprisingly, only Ni-B was observed in the presence of O
2
with no indications for the "unready" Ni-A state. The presented work proves the capabilities of in situ ATR FTIR spectroscopy as an efficient and powerful technique for the analysis of biological macromolecules and enzymatic small molecule catalysis.
Author Contributions
Conceptualization, S.T.S. and M.S.; methodology, S.T.S. and M.S.; formal analysis, S.T.S.; investigation, M.S. and K.L.; resources, B.S.; supervision, S.T.S.
Funding
Basem Soboh acknowledges funding by the DFG priority program "FeS for life" (SPP-1927).
Conflicts of Interest
The authors declare no conflict of interest.
Appendix A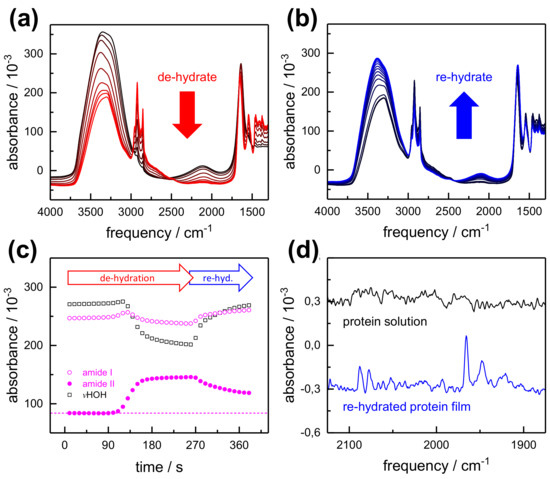 Figure A1.
Preparation of the protein film. (
a
) protein solution (1 µL) of ~200 µM HYD-2 was pipetted to the ATR crystal and carefully "de-hydrated" under dry N
2
. The spectra in the graph run from black (protein solution) to red (protein film). (
b
) Humidification of carrier N
2
induces a "re-hydration" of the protein film. This is an important prerequisite to follow the specific reactivity of HYD-2 to varying gases. The spectra in the graph run from black (dry protein film) to blue (re-hydrated film). (
c
) Due to the overlap of water and protein bands, the changes in the film are not trivial to analyze. In particular, following the amide I band (~1655 cm
−1
, open circles) and HOH bending mode intensity (~1635 cm
−1
, open squares) is not helpful. The amide II band (1540 cm
−1
, full circles) shares less overlap with liquid water and can be addressed to follow the changes in protein concentration more reliably. Upon de-hydration the band intensity increases by ~60 × 10
−3
absorbance units while the decrease upon re-hydration accounts to only ~20 × 10
−3
absorbance units. For a comparable hydration level, we observe a ~40 × 10
−1
net-increase of amide II band intensity. (
d
) In the cofactor regime, the CO/CN
−
become visible in the re-hydrated film (blue spectrum) where no such bands are observed with protein solution (black spectrum). Both spectra are baseline-corrected (see
Figure A2
). The inferior signal-to-noise level in comparison to
Figure 3
a stems from the number of averages (here: 50 interferometer scans).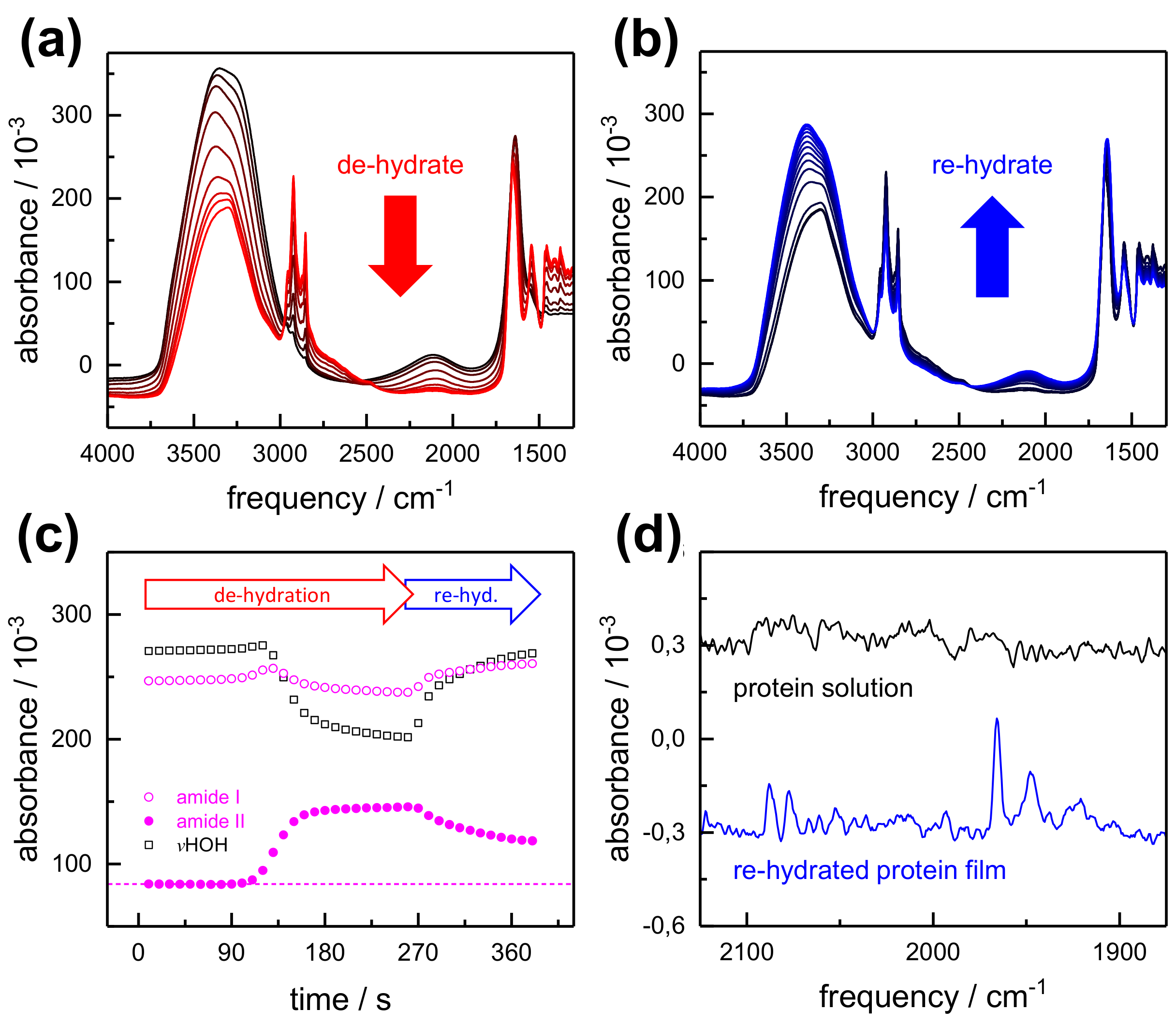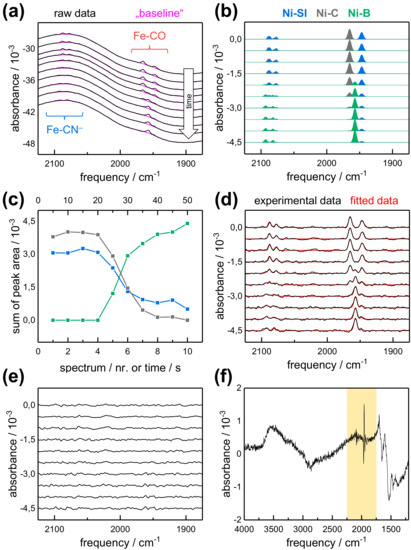 Figure A2. Baseline correction, data fitting, kinetic description, and quality assurance at the example of the formation of Ni-B in the presence of O2. All spectra are plotted from "as-isolated" (top) to "O2-inhibited" (bottom). (a) Absorbance spectra (raw data, black) were corrected for the broad contribution of liquid water by spline functions (magenta). The CO- and CN− regime is indicated. (b) The Fe(CN)2CO signature of the cofactor is described by three Gaussian fits including frequency, peak area, and peak ratio for each redox species. This data was obtained from pure spectra for Ni-SI (blue), Ni-C (black), and Ni-B (green) beforehand. (c) The "sum of peak area" (CO + CN + CN) for each species is then plotted over the number of spectra. Depending on scanner velocity (80 kHz), spectral resolution (2 cm−1), and number of averages (e.g., 25 interferometer scans), this value is converted into time. (d) Overlay of baseline-subtracted data (black) and fitted trace (envelope, red). (e) The residuals ("data − fit") do not suggest any additional species and allow estimating the signal-to-noise ratio. (f) A difference spectrum between the last and first spectrum indicates a small increase of water (OH stretching, ~3500 cm−1) that is accompanied by a decrease of protein signals (amide I, ~1655 cm−1 and amide II, ~1540 cm−1). These unspecific changes do not significantly affect the cofactor regime from 2150–1850 cm−1 (yellow mark-up).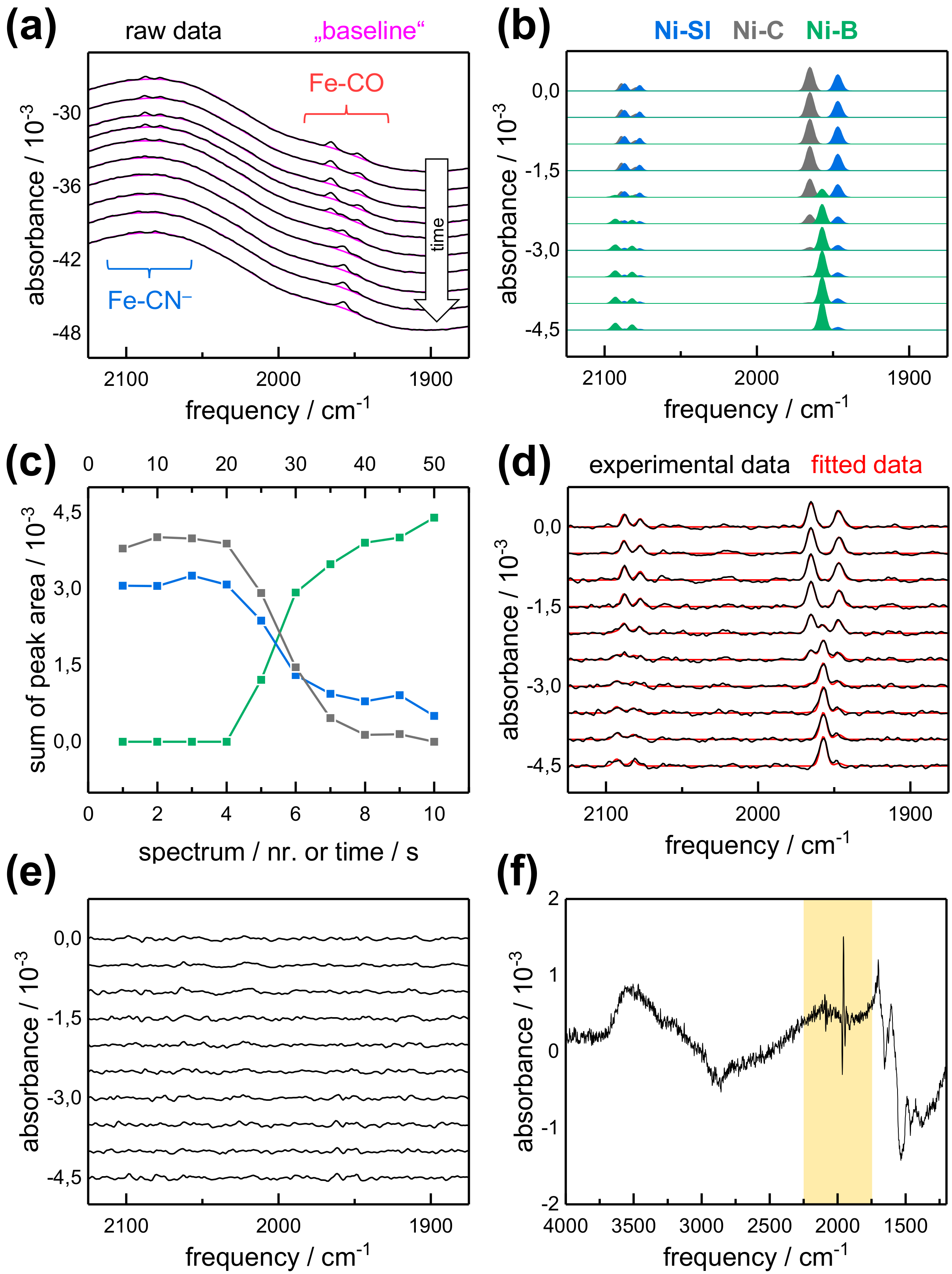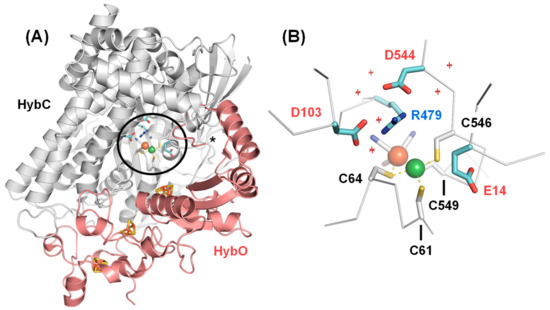 Figure 1.
Crystal structure of the [NiFe]-hydrogenase HYD-2 from
E. coli
(pdb coordinates 6EHQ) [
13
]. (
A
) Subunit HybC (light grey) binds the catalytic cofactor whereas subunit HybO (red) carries three iron–sulfur clusters. In this representation HybO is truncated by 48 amino acids (*) to reveal the view onto the active site niche (black circle); (
B
) Catalytic cofactor including amino acids of the first and second coordination sphere (cyan) that are potentially involved in proton transfer [
23
,
24
,
25
,
26
]. Non-bonded molecules (crosses, H
2
O) may be involved in proton transfer as well.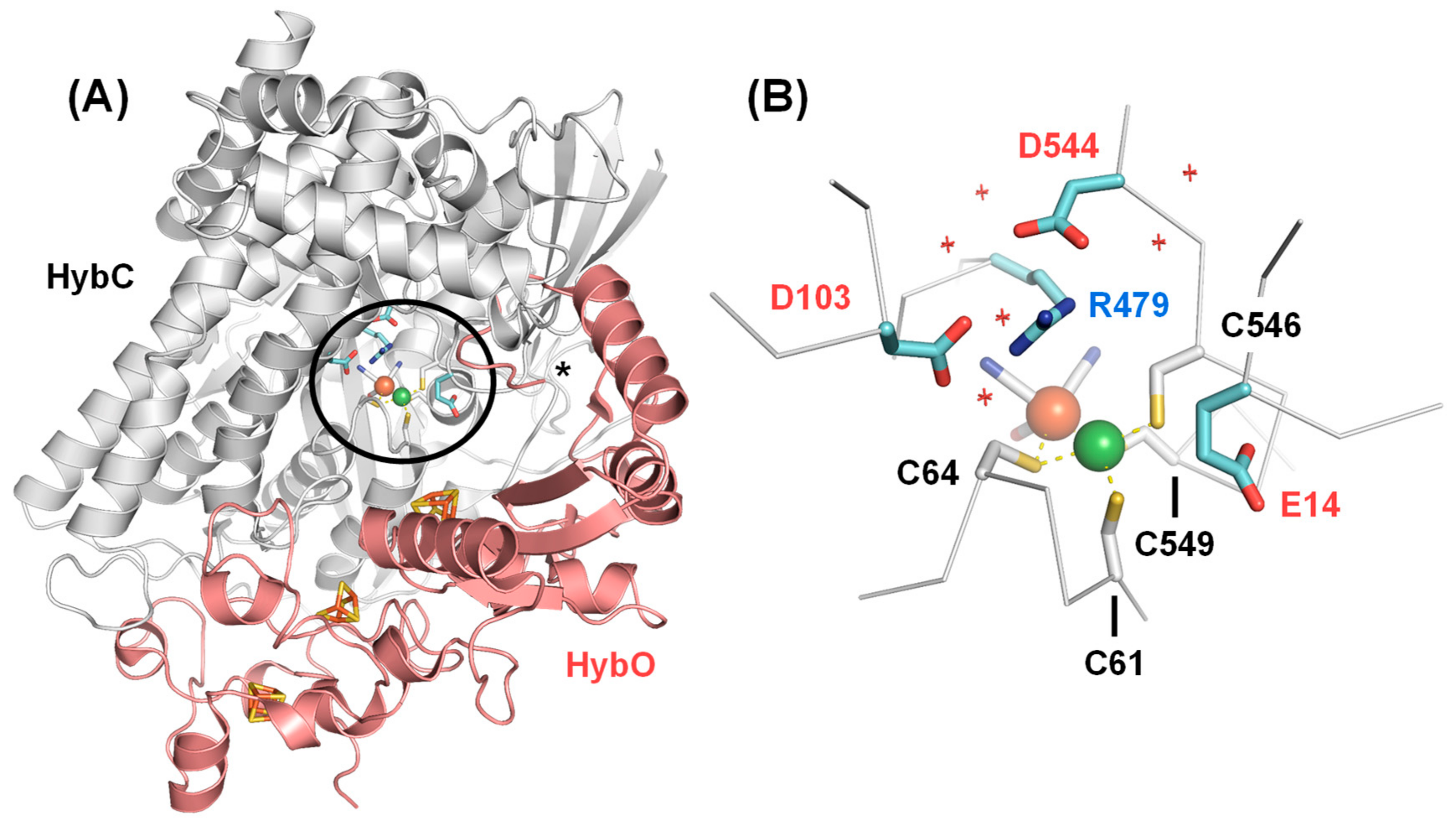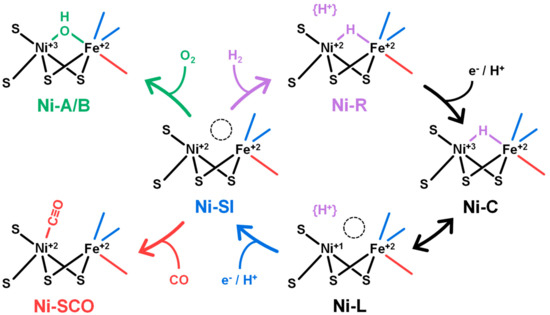 Figure 2.
Intermediates of the [NiFe] cofactor and catalytic cycle [
20
,
21
]. Based on crystallographic data the cartoon shows the bimetallic cofactor as coordinated by four cysteines. The iron ion is equipped with two CN
−
(blue) and one CO ligand (red). Catalytic intermediates Ni-SI, Ni-R, and Ni-C/Ni-L constitute for the H
2
uptake reaction. In the active-ready oxidized state Ni-SI the cofactor reacts with CO or O
2
to form the inhibited species Ni-SCO or Ni-A/B, respectively.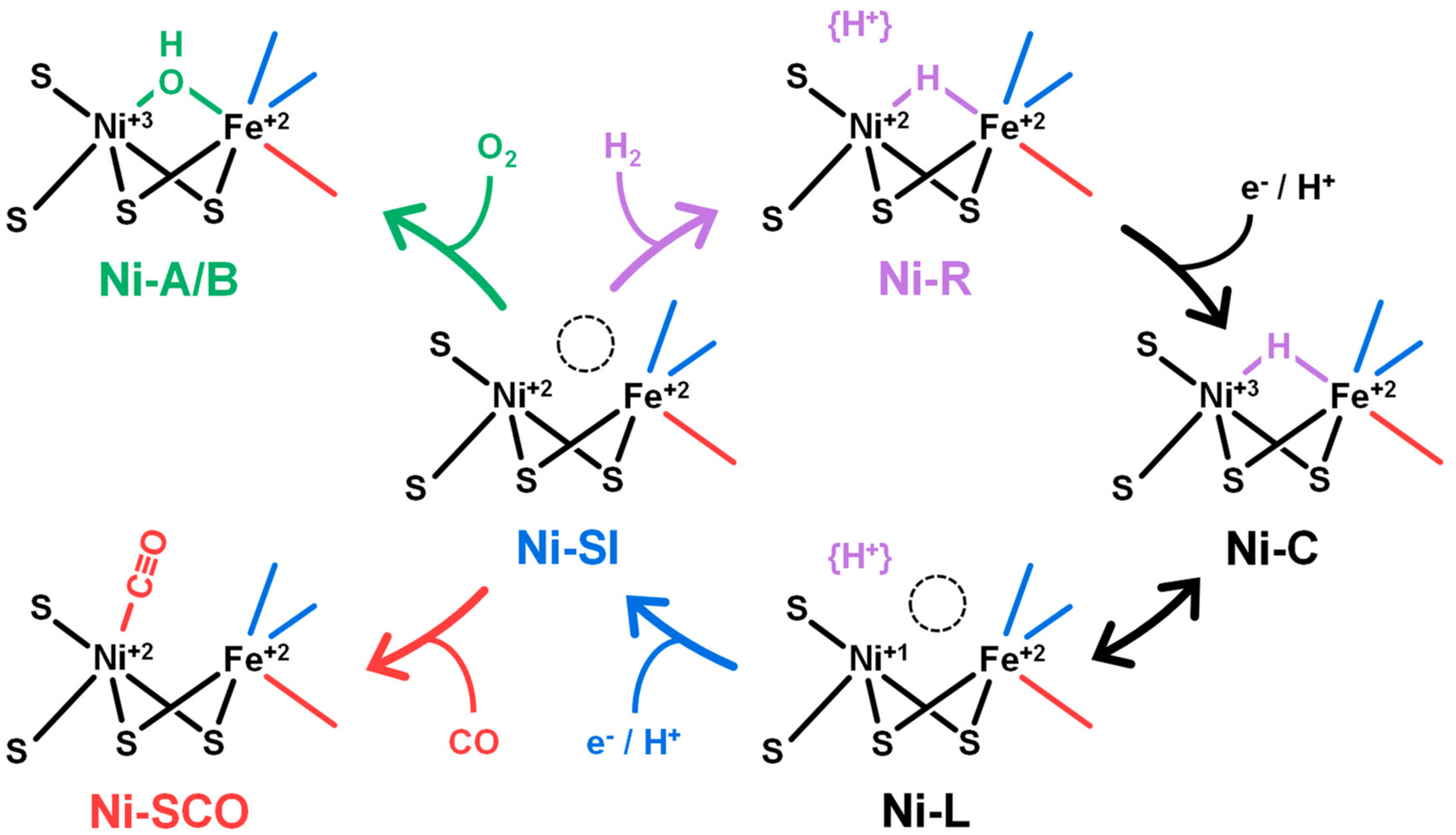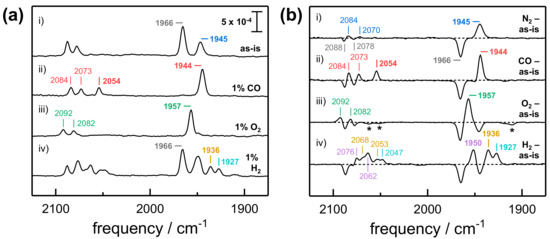 Figure 3.
HYD-2 from
E. coli
in the presence of different gases. (
a
) Absorbance spectra under (i) N
2
, (ii) CO, (iii) O
2
, and (iv) H
2
. All spectra are corrected for the broad contribution of liquid H
2
O (see
Appendix A
). (
b
) Difference spectra. (i) Upon extensive treatment with N
2
, the 1945 cm
−1
species (CO marker band for Ni-SI) was enriched over the 1966 cm
−1
species (Ni-C). (ii) The 1944 cm
−1
species was populated to 100% under CO (Ni-SCO). (iii) The reaction with O
2
lead to a pure state as well (1957 cm
−1
, CO marker band for Ni-B). (*) Note the decrease of a species at 1911, 2062, and 2052 cm
−1
. (iv) The reduced species Ni-R1–R3 (1950, 1936, 1927 cm
−1
) have been found to be enriched over Ni-C and Ni-SI in the presence of H
2
.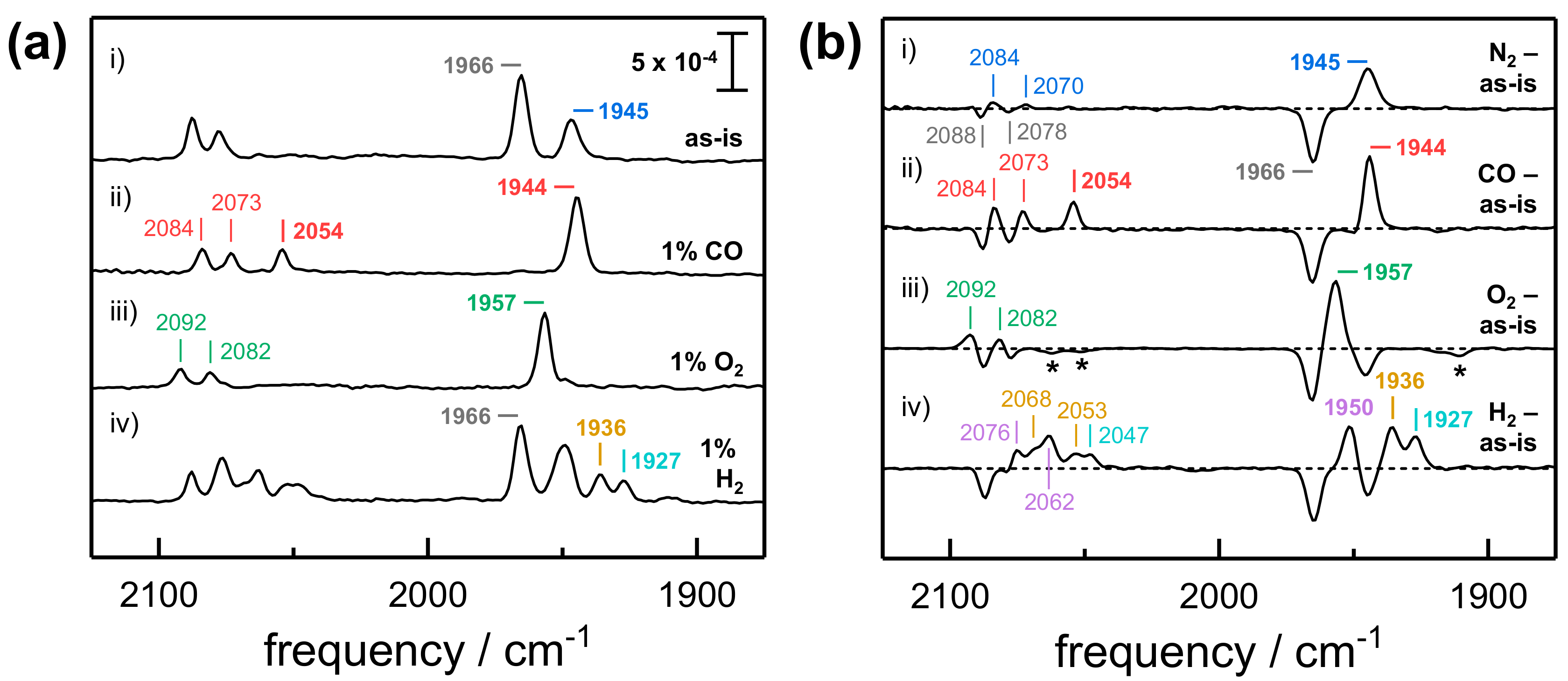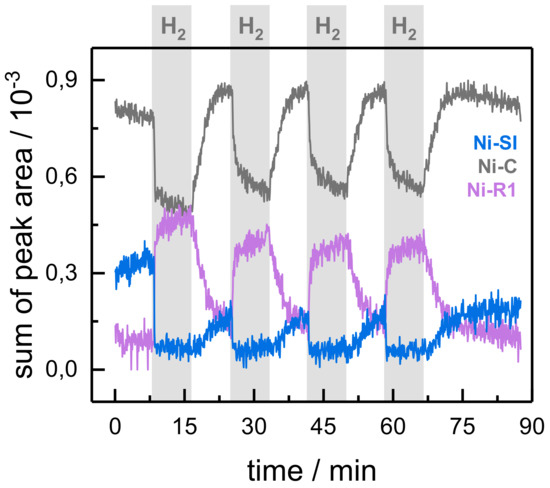 Figure 4.
Repeated N
2
/H
2
cycles on HYD-2 from
E. coli
. The sum of peak area of CO/CN
−
bands assigned to each state is plotted against time. In the presence of 1% H
2
ambient partial pressure, Ni-C and Ni-SI are diminished in favor of the "super-reduced" R-states. The one-electron reduced hydride state Ni-C (black) is the dominating species throughout the experiment. The experiment demonstrates the robust nature of the Ni-C/Ni-SI ↔ Ni-R1 conversion.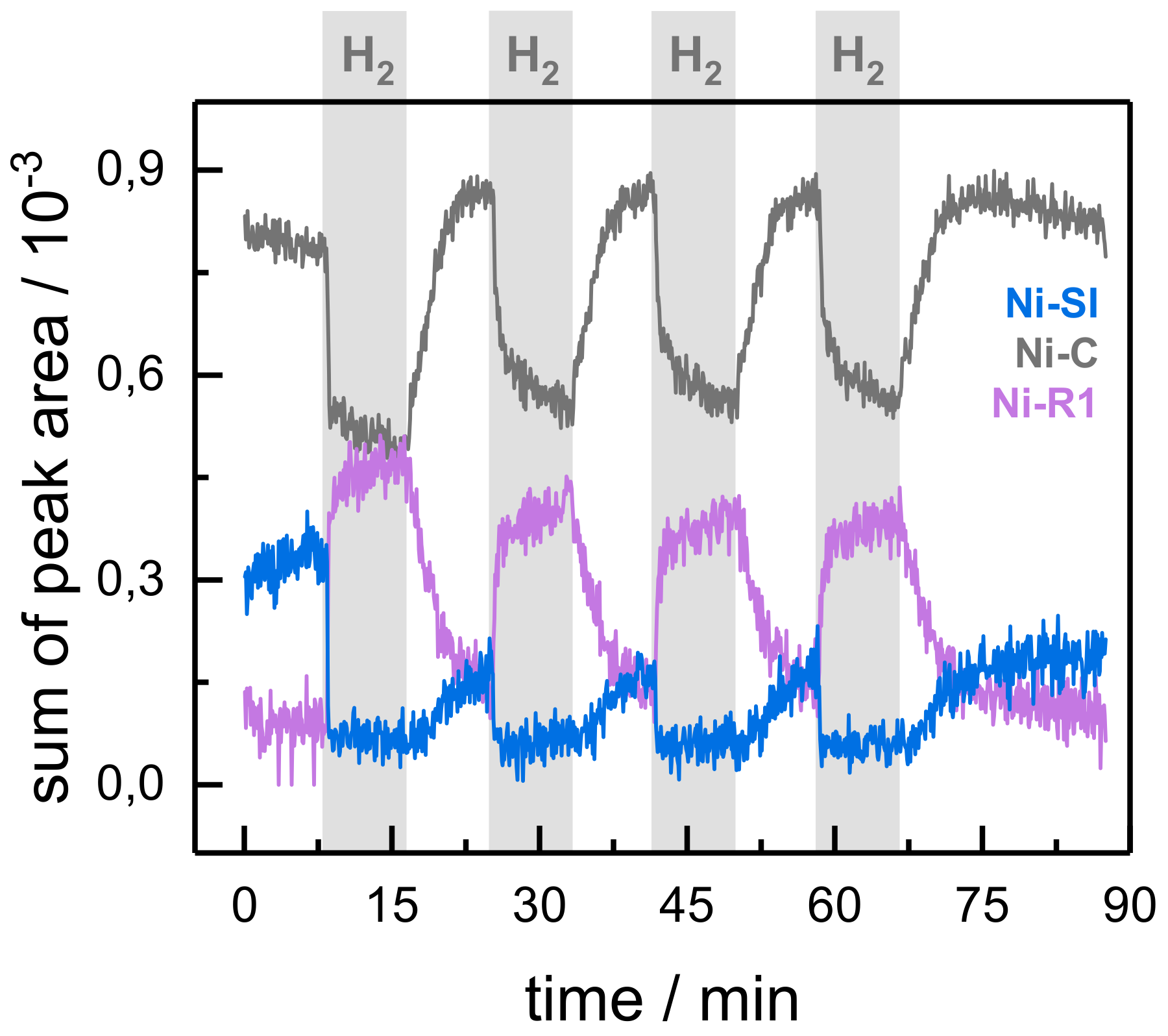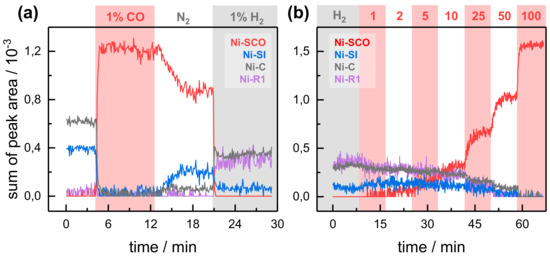 Figure 5.
Inhibition of HYD-2 from
E. coli
with CO in either N
2
or H
2
carrier gas. (
a
) With 1% CO in N
2
carrier gas HYD-2 converts into Ni-SCO immediately (red trace). The species was semi-stable in the absence of CO (100% N
2
) adopting an equilibrium with Ni-SI (blue trace). Under 1% H
2
an immediate conversion into the catalytic species Ni-C and Ni-R was observed. (
b
) In contrast, using H
2
as carrier gas it takes significantly higher concentrations of CO to convert the enzyme into Ni-SCO.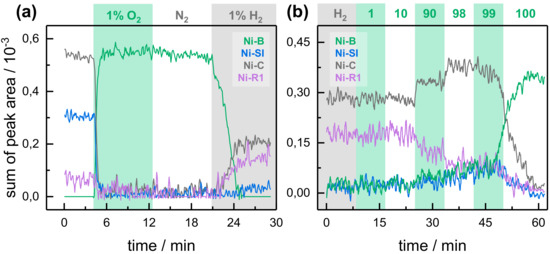 Figure 6.
Inhibition of HYD-2 from
E. coli
with O
2
in either N
2
or H
2
carrier gas. (
a
) With 1% CO in N
2
carrier gas HYD-2 converts into Ni-B immediately (green trace). Ni-B is stable under 100% N
2
and converted in the presence of 1% H
2
into reduced species Ni-C/Ni-R within minutes. (
b
) The mutual robustness of the hydride-binding species Ni-C and Ni-R shows in the right panel as well: Ni-B is enriched in the film only at 99–100% O
2
. Potentially explosive mixtures of 15–85% O
2
in H
2
were avoided.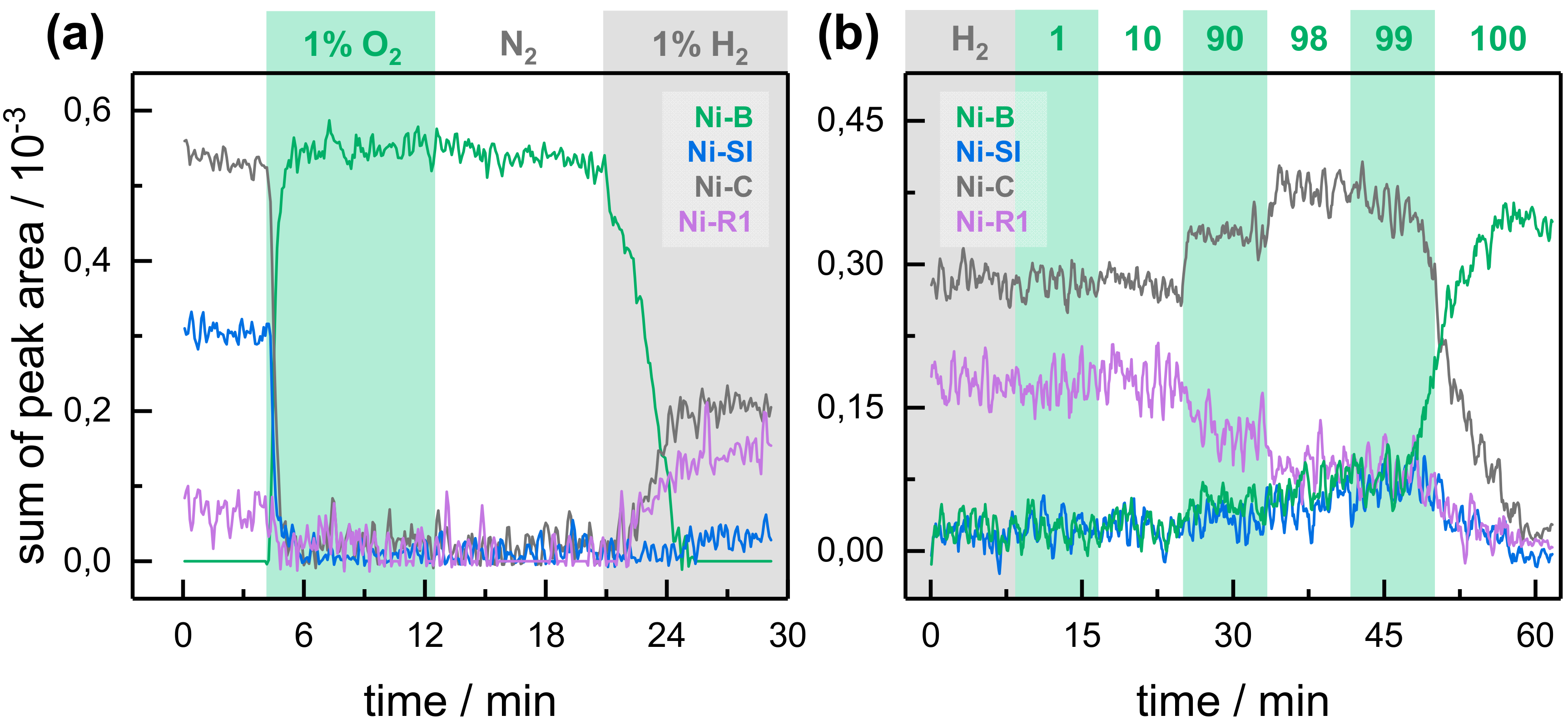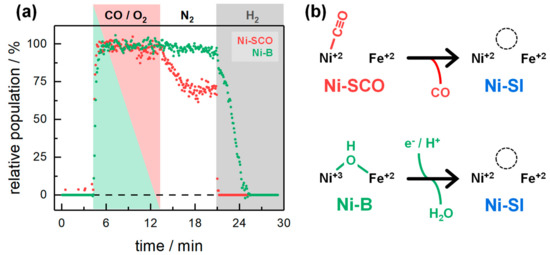 Figure 7.
(
a
) Direct comparison of the reaction with CO (Ni-SCO, red trace) and O
2
(Ni-B, green trace). Introduction of either 1% CO or O
2
to the N
2
gas stream resulted in a fast and complete conversion into Ni-SCO or Ni-B, respectively. Under 100% N
2
, the CO-inhibited state is semi-stable whereas no decrease of Ni-B was observed. Ni-SCO was immediately lost in the presence of 1% H
2
whereas the reductive activation of Ni-B took significantly longer. (
b
) While CO binds to Ni-SI with no changes in the electronic structure of the [NiFe] cofactor (top) [
41
], O
2
oxidizes the active site and forms a Ni-Fe bridging hydroxo ligand (bottom) [
44
,
45
,
46
]. Reactivation from O
2
inhibition may include proton-coupled electron transport and the release of water [
16
]. This is reflected in the pronounced difference in activation time under 1% H
2
(left panel). Note that reductive reactivation of Ni-B comprises additional species most likely. Furthermore, Ni-SI is a transient intermediate in the reaction with H
2
.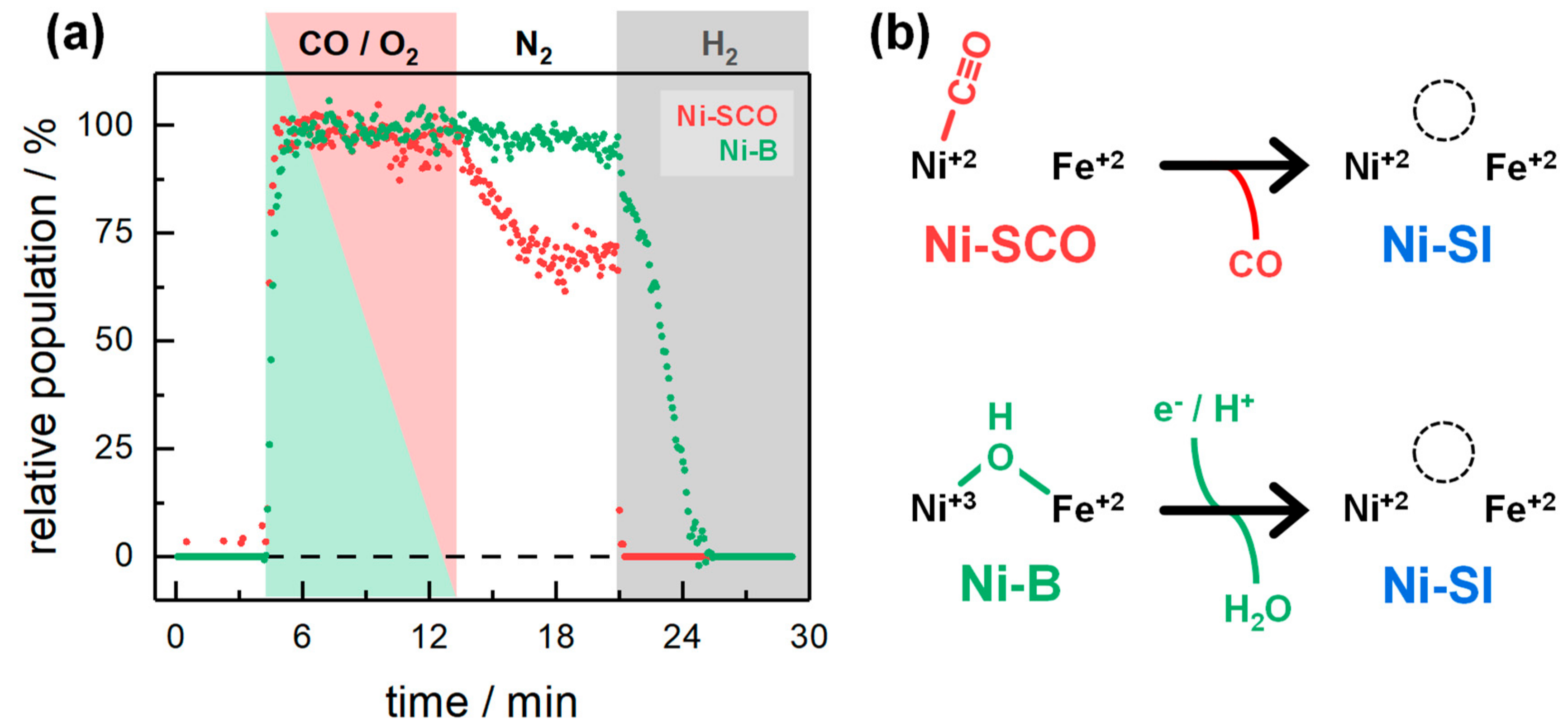 Species

v

CO

v

CN−

v

CN−
Ni-B
1957
2082
2092
Ni-SI
1945
2070
2084
Ni-SCO 1
2054/1944
2073
2084
Ni-C
1966
2078
2088
Ni-R1
1950
2062
2076
Ni-R2
1936
2053
2068
Ni-R3
1929
2047
2063
Ni-L
1911
2052
2062
1 In the presence of 13CO the Ni-CO band shifts to 2009 cm−1.

© 2018 by the authors. Licensee MDPI, Basel, Switzerland. This article is an open access article distributed under the terms and conditions of the Creative Commons Attribution (CC BY) license (http://creativecommons.org/licenses/by/4.0/).