Cancer-Associated Fibroblasts: Versatile Players in the Tumor Microenvironment
1
Division of Surgical Oncology, Department of Surgery, UT Southwestern (University of Texas Southwestern Medical Center), Dallas, TX 75390, USA
2
Department of Radiation Oncology, UT Southwestern (University of Texas Southwestern Medical Center), Dallas, TX 75390, USA
3
Harold C. Simmons Comprehensive Cancer Center, UT Southwestern (University of Texas Southwestern Medical Center), Dallas, TX 75390, USA
4
Department of Internal Medicine, UT Southwestern (University of Texas Southwestern Medical Center), Dallas, TX 75390, USA
5
Department of Pathology, Veterans Affairs North Texas Health Care System, Dallas, TX 75216, USA
6
College of Information Science & Technology, University of Nebraska at Omaha, Omaha, NE 68182, USA
7
Massachusetts General Hospital Cancer Center, Harvard Medical School, Boston, MA 02114, USA
*
Authors to whom correspondence should be addressed.
†
These authors contributed equally to this work.
Received: 22 August 2020 / Revised: 11 September 2020 / Accepted: 13 September 2020 / Published: 17 September 2020
Simple Summary
Cancer-associated fibroblasts (CAFs) are key players in the tumor microenvironment. They are responsible for potentiating growth and metastasis through versatile functions, including maintenance of the extracellular matrix, blood vessel formation, modulation of tumor metabolism, suppression of antitumor immunity, and promotion of chemotherapy resistance. As such, CAFs are associated with poor prognosis and have emerged as a focus of anticancer research. In this review, we discuss the origins of CAFs, their heterogenous subtypes and their properties. We then detail the current state of preclinical and clinical research targeting CAF activities. We believe the limited efficacy of current cancer therapeutic approaches is driven by an incomplete understanding of CAF functions and by a nonstandardized CAF classification system. Therefore, we suggest a unified CAF classification based on specific functions to develop a new class of therapies that will focus on targeting the pro-tumorigenic properties of CAFs during tumor progression.
Cancer-associated fibroblasts (CAFs) are indispensable architects of the tumor microenvironment. They perform the essential functions of extracellular matrix deposition, stromal remodeling, tumor vasculature modulation, modification of tumor metabolism, and participation in crosstalk between cancer and immune cells. In this review, we discuss our current understanding of the principal differences between normal fibroblasts and CAFs, the origin of CAFs, their functions, and ultimately, highlight the intimate connection of CAFs to virtually all of the hallmarks of cancer. We address the remarkable degree of functional diversity and phenotypic plasticity displayed by CAFs and strive to stratify CAF biology among different tumor types into practical functional groups. Finally, we summarize the status of recent and ongoing trials of CAF-directed therapies and contend that the paucity of trials resulting in Food and Drug Administration (FDA) approvals thus far is a consequence of the failure to identify targets exclusive of pro-tumorigenic CAF phenotypes that are mechanistically linked to specific CAF functions. We believe that the development of a unified CAF nomenclature, the standardization of functional assays to assess the loss-of-function of CAF properties, and the establishment of rigorous definitions of CAF subpopulations and their mechanistic functions in cancer progression will be crucial to fully realize the promise of CAF-targeted therapies.
View Full-Text
►

▼

Show Figures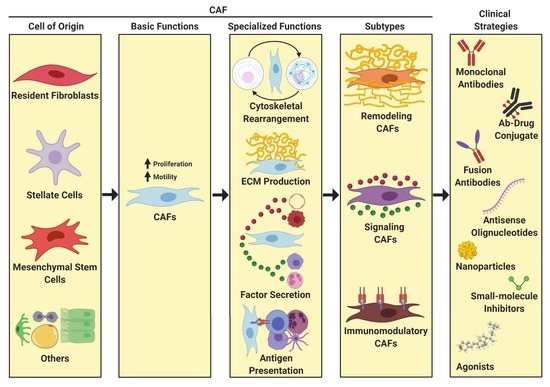 Graphical abstract
This is an open access article distributed under the
Creative Commons Attribution License
which permits unrestricted use, distribution, and reproduction in any medium, provided the original work is properly cited

MDPI and ACS Style
Ganguly, D.; Chandra, R.; Karalis, J.; Teke, M.; Aguilera, T.; Maddipati, R.; Wachsmann, M.B.; Ghersi, D.; Siravegna, G.; Zeh, H.J., III; Brekken, R.; Ting, D.T.; Ligorio, M. Cancer-Associated Fibroblasts: Versatile Players in the Tumor Microenvironment. Cancers 2020, 12, 2652.
Show more citation formats
Show less citations formats
Note that from the first issue of 2016, MDPI journals use article numbers instead of page numbers. See further details
here
.