Targeting Tumor-Associated Macrophages to Increase the Efficacy of Immune Checkpoint Inhibitors: A Glimpse into Novel Therapeutic Approaches for Metastatic Melanoma
1
Department of Systems Medicine, University of Rome Tor Vergata, Via Montpellier 1, 00133 Rome, Italy
2
IDI-IRCCS, Via dei Monti di Creta 104, 00167 Rome, Italy
*
Author to whom correspondence should be addressed.
†
These authors contributed equally to this paper.
Received: 17 September 2020 / Revised: 3 November 2020 / Accepted: 13 November 2020 / Published: 17 November 2020
Simple Summary
Stimulation of the host immune responses, through the use of biotech drugs that remove a brake on the immune system (immune checkpoint inhibitors), is a current widely used strategy to treat a variety of advanced-stage tumors with impressive outcomes also in patients refractory to standard chemotherapy. However, as in the case of metastatic melanoma, many patients fail to achieve a long-lasting clinical benefit. The aim of this article is to provide an overview of the current scientific evidence concerning the role played by cells of the tumor micro-environment, and in particular tumor-associated M2 macrophages, on the innate or acquired resistance of melanoma to immune checkpoint inhibitors. A special focus will be given to potential therapeutic interventions capable of counteracting tumor ability to evade the control of the immune system in order to enhance the efficacy of immune checkpoint inhibitors.
Immune checkpoint inhibitors (ICIs) represent a promising therapeutic intervention for a variety of advanced/metastatic solid tumors, including melanoma, but in a large number of cases, patients fail to establish a sustained anti-tumor immunity and to achieve a long-lasting clinical benefit. Cells of the tumor micro-environment such as tumor-associated M2 macrophages (M2-TAMs) have been reported to limit the efficacy of immunotherapy, promoting tumor immune evasion and progression. Thus, strategies targeting M2-TAMs have been suggested to synergize with immune checkpoint blockade. This review recapitulates the molecular mechanisms by which M2-TAMs promote cancer immune evasion, with focus on the potential cross-talk between pharmacological interventions targeting M2-TAMs and ICIs for melanoma treatment.
View Full-Text
►

▼

Show Figures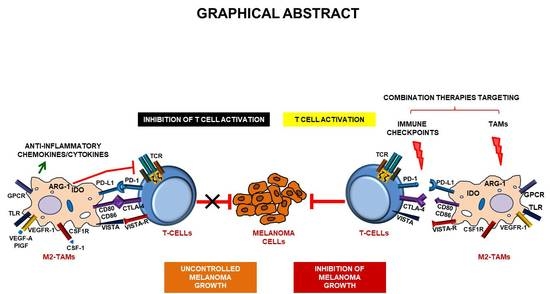 Graphical abstract
This is an open access article distributed under the
Creative Commons Attribution License
which permits unrestricted use, distribution, and reproduction in any medium, provided the original work is properly cited

MDPI and ACS Style
Ceci, C.; Atzori, M.G.; Lacal, P.M.; Graziani, G. Targeting Tumor-Associated Macrophages to Increase the Efficacy of Immune Checkpoint Inhibitors: A Glimpse into Novel Therapeutic Approaches for Metastatic Melanoma. Cancers 2020, 12, 3401.
Show more citation formats
Show less citations formats
Note that from the first issue of 2016, MDPI journals use article numbers instead of page numbers. See further details
here
.