Non-Invasive Prediction of
IDH

Mutation in Patients with Glioma WHO II/III/IV Based on F-18-FET PET-Guided In Vivo 1H-Magnetic Resonance Spectroscopy and Machine Learning

1

Department of Neurology and Wilhelm Sander-NeuroOncology Unit, Regensburg University Hospital, 93053 Regensburg, Germany

2

Institute of Functional Genomics, University of Regensburg, 93053 Regensburg, Germany

3

Department of Radiology and Division of Neuroradiology, Regensburg University Hospital, 93053 Regensburg, Germany

4

Department of Nuclear Medicine, Regensburg University Hospital, 93053 Regensburg, Germany

5

Department of Neurosurgery, Regensburg University Hospital, 93053 Regensburg, Germany

6

Department of Neuropathology, Regensburg University Hospital, 93053 Regensburg, Germany

7

Department of Neurology, Saint John of God Hospital Linz, 4021 Linz, Austria

*

Author to whom correspondence should be addressed.

†

Shared first authorship.

‡

Shared last authorship.

Received: 14 October 2020 / Revised: 8 November 2020 / Accepted: 13 November 2020 / Published: 17 November 2020
Simple Summary
Approximately 75–80% of according to the classification of world health organization (WHO) grade II and III gliomas are characterized by a mutation of the isocitrate dehydrogenase (IDH) enzymes, which are very important in glioma cell metabolism. Patients with IDH mutated glioma have a significantly better prognosis than patients with IDH wildtype status, typically seen in glioblastoma WHO grade IV. Here we used a prospective O-(2-18F-fluoroethyl)-L-tyrosine (18F-FET) positron emission tomography guided single-voxel 1H-magnetic resonance spectroscopy approach to predict the IDH status before surgery. Finally, 34 patients were included in this neuroimaging study, of whom eight had additionally tissue analysis. Using a machine learning technique, we predicted IDH status with an accuracy of 88.2%, a sensitivity of 95.5% and a specificity of 75.0%. It was newly recognized, that two metabolites (myo-inositol and glycine) have a particularly important role in the determination of the IDH status.
Isocitrate dehydrogenase
(
IDH)-1
mutation is an important prognostic factor and a potential therapeutic target in glioma. Immunohistological and molecular diagnosis of
IDH
mutation status is invasive. To avoid tumor biopsy, dedicated spectroscopic techniques have been proposed to detect D-2-hydroxyglutarate (2-HG), the main metabolite of
IDH
, directly in vivo. However, these methods are technically challenging and not broadly available. Therefore, we explored the use of machine learning for the non-invasive, inexpensive and fast diagnosis of
IDH
status in standard
1
H-magnetic resonance spectroscopy (
1
H-MRS). To this end, 30 of 34 consecutive patients with known or suspected glioma WHO grade II-IV were subjected to metabolic positron emission tomography (PET) imaging with O-(2-
18
F-fluoroethyl)-L-tyrosine (
18
F-FET) for optimized voxel placement in
1
H-MRS. Routine
1
H-magnetic resonance (
1
H-MR) spectra of tumor and contralateral healthy brain regions were acquired on a 3 Tesla magnetic resonance (3T-MR) scanner, prior to surgical tumor resection and molecular analysis of
IDH
status. Since 2-HG spectral signals were too overlapped for reliable discrimination of
IDH
mutated (
IDHmut
) and
IDH
wild-type (
IDHwt
) glioma, we used a nested cross-validation approach, whereby we trained a linear support vector machine (SVM) on the complete spectral information of the
1
H-MRS data to predict
IDH
status. Using this approach, we predicted
IDH
status with an accuracy of 88.2%, a sensitivity of 95.5% (95% CI, 77.2–99.9%) and a specificity of 75.0% (95% CI, 42.9–94.5%), respectively. The area under the curve (AUC) amounted to 0.83. Subsequent ex vivo
1
H-nuclear magnetic resonance (
1
H-NMR) measurements performed on metabolite extracts of resected tumor material (eight specimens) revealed myo-inositol (M-ins) and glycine (Gly) to be the major discriminators of
IDH
status. We conclude that our approach allows a reliable, non-invasive, fast and cost-effective prediction of
IDH
status in a standard clinical setting.
View Full-Text
►

▼

Show Figures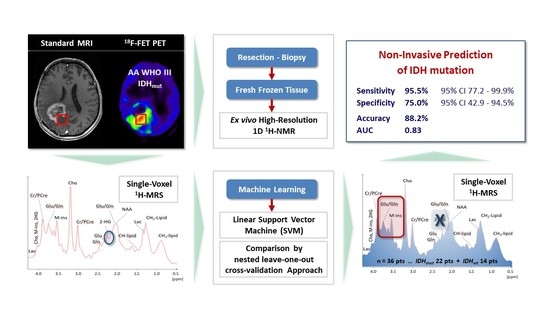 Graphical abstract
This is an open access article distributed under the
Creative Commons Attribution License
which permits unrestricted use, distribution, and reproduction in any medium, provided the original work is properly cited

MDPI and ACS Style
Bumes, E.; Wirtz, F.-P.; Fellner, C.; Grosse, J.; Hellwig, D.; Oefner, P.J.; Häckl, M.; Linker, R.; Proescholdt, M.; Schmidt, N.O.; Riemenschneider, M.J.; Samol, C.; Rosengarth, K.; Wendl, C.; Hau, P.; Gronwald, W.; Hutterer, M. Non-Invasive Prediction of IDH Mutation in Patients with Glioma WHO II/III/IV Based on F-18-FET PET-Guided In Vivo 1H-Magnetic Resonance Spectroscopy and Machine Learning. Cancers 2020, 12, 3406.
Show more citation formats
Show less citations formats
Note that from the first issue of 2016, MDPI journals use article numbers instead of page numbers. See further details
here
.