Immune Checkpoint Inhibitors in Hepatocellular Carcinoma: Current Status and Novel Perspectives
1
Medical Oncology Unit, Ospedale del Mare, 80147 Napoli, Italy
2
Division of Medical Oncology, Department of Precision Medicine, School of Medicine, University of Study of Campania "L. Vanvitelli", 80131 Napoli, Italy
3
Department of Clinical Medicine and Surgery, University of Naples "Federico II", 80131 Naples, Italy
4
Surgical Unit, Ospedale del Mare, 80147 Napoli, Italy
5
Gastroenterology Unit, Ospedale del Mare, 80147 Napoli, Italy
*
Author to whom correspondence should be addressed.
Received: 23 September 2020 / Revised: 13 October 2020 / Accepted: 15 October 2020 / Published: 18 October 2020
Simple Summary
Immune checkpoint inhibitors represent a promising treatment choice in many kind of tumours, including hepatocellular carcinoma (HCC). In this review, we provide an overview of the role of these new agents in the management of HCC according to the Barcelona staging system, alongside with a critical evaluation of the current status and future directions. Several clinical trials are focusing on the use of immunotherapy in HCC, alone or in combinations with antiangiogenetic agents as well as local treatment. However, the majority of those trials are still ongoing and, until now, only a few combinations were approved in the clinical practice from the regulatory authorities. Additionally, decisions about the choice of the right sequence of treatments in HCC patients in the light of the "continuum of care" principles, is still hard. In fact, it requires careful consideration in a multidisciplinary context in order to ensure a tailored treatment for each patient.
Immune checkpoint inhibitors (ICIs) represent a promising treatment for many kinds of cancers, including hepatocellular carcinoma (HCC). The rationale for using ICIs in HCC is based on the immunogenic background of hepatitis and cirrhosis and on the observation of high programmed death-ligand 1 (PD-L1) expression and tumor-infiltrating lymphocytes in this cancer. Promising data from phase I/II studies in advanced HCC, showing durable objective response rates (~20% in first- and second-line settings) and good safety profile, have led to phase III studies with ICIs as single agents or in combination therapy, both in first and second line setting. While the activity of immunotherapy agents as single agents seems to be limited to an "ill-defined" small subset of patients, the combination of the anti PD-L1 atezolizumab and anti-vascular endothelial growth factor bevacizumab revealed a benefit in the outcomes when compared to sorafenib in the first line. In addition, the activity and efficacy of the combinations between anti-PD-1/anti-PD-L1 antibody and other ICIs, tyrosine kinase inhibitors, or surgical and locoregional therapies, has also been investigated in clinical trials. In this review, we provide an overview of the role of ICIs in the management of HCC with a critical evaluation of the current status and future directions.
View Full-Text
►

▼

Show Figures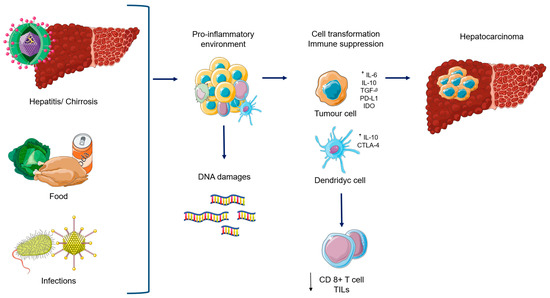 Figure 1
This is an open access article distributed under the
Creative Commons Attribution License
which permits unrestricted use, distribution, and reproduction in any medium, provided the original work is properly cited

MDPI and ACS Style
Federico, P.; Petrillo, A.; Giordano, P.; Bosso, D.; Fabbrocini, A.; Ottaviano, M.; Rosanova, M.; Silvestri, A.; Tufo, A.; Cozzolino, A.; Daniele, B. Immune Checkpoint Inhibitors in Hepatocellular Carcinoma: Current Status and Novel Perspectives. Cancers 2020, 12, 3025.
Show more citation formats
Show less citations formats
Note that from the first issue of 2016, MDPI journals use article numbers instead of page numbers. See further details
here
.