Translational Considerations to Improve Response and Overcome Therapy Resistance in Immunotherapy for Hepatocellular Carcinoma
1
Laboratory of Human Carcinogenesis, Liver Carcinogenesis Section, Center for Cancer Research, National Cancer Institute, National Institutes of Health, Bethesda, MD 20892, USA
2
Department of Medicine I, Lichtenberg Research Group for Molecular Hepatocarcinogenesis, University Medical Center, 55131 Mainz, Germany
3
Lichtenberg Research Group for Molecular Hepatocarcinogenesis, Department of Medicine I, University Medical Center Schleswig Holstein, 23538 Luebeck, Germany
4
Department of Medicine I, University Medical Center, 55131 Mainz, Germany
*
Authors to whom correspondence should be addressed.
†
These authors contributed equally to this work.
Received: 4 August 2020 / Revised: 26 August 2020 / Accepted: 31 August 2020 / Published: 3 September 2020
Simple Summary
Immunotherapeutic approaches became a promising treatment option and an intensive field of research in liver cancer. Despite promising results in preclinical studies, only moderate response rates have been reported in phase III clinical trials and predictive biomarkers are still missing. Therefore, translational considerations are important to overcome resistance to immunotherapy. This article reviews potential predictors for response to immunotherapy in hepatocellular carcinoma (HCC) as well as potential mechanisms for therapy resistance. Further, we will discuss translational considerations to overcome therapy resistance in HCC and improve overall response rates.
Over the last decade, progress in systemic therapies significantly improved the outcome of primary liver cancer. More recently, precision oncological and immunotherapeutic approaches became the focus of intense scientific and clinical research. Herein, preclinical studies showed promising results with high response rates and improvement of overall survival. However, results of phase III clinical trials revealed that only a subfraction of hepatocellular carcinoma (HCC) patients respond to therapy and display only moderate objective response rates. Further, predictive molecular characteristics are largely missing. In consequence, suitable trial design has emerged as a crucial factor for the success of a novel compound. In addition, increasing knowledge from translational studies indicate the importance of targeting the tumor immune environment to overcome resistance to immunotherapy. Thus, combination of different immunotherapies with other treatment modalities including antibodies, tyrosine kinase inhibitors, or local therapies is highly promising. However, the mechanisms of failure to respond to immunotherapy in liver cancer are still not fully understood and the modulation of the immune system and cellular tumor composition is particularly relevant in this context. Altogether, it is increasingly clear that tailoring of immunotherapy and individualized approaches are required to improve efficacy and patient outcome in liver cancer. This review provides an overview of the current knowledge as well as translational considerations to overcome therapy resistance in immunotherapy of primary liver cancer.
View Full-Text
►

▼

Show Figures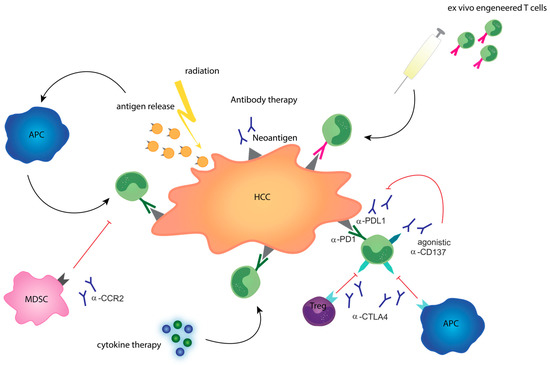 Figure 1
This is an open access article distributed under the
Creative Commons Attribution License
which permits unrestricted use, distribution, and reproduction in any medium, provided the original work is properly cited

MDPI and ACS Style
Heinrich, S.; Castven, D.; Galle, P.R.; Marquardt, J.U. Translational Considerations to Improve Response and Overcome Therapy Resistance in Immunotherapy for Hepatocellular Carcinoma. Cancers 2020, 12, 2495.
Show more citation formats
Show less citations formats
Note that from the first issue of 2016, MDPI journals use article numbers instead of page numbers. See further details
here
.