The Diagnostic and Prognostic Value of a Liquid Biopsy for Esophageal Cancer: A Systematic Review and Meta-Analysis
1
Department of Digestive Surgery, Breast and Thyroid Surgery, Kagoshima University Graduate School of Medical and Dental Sciences, Kagoshima 890-8520, Japan
2
Department of Onco-biological Surgery, Kagoshima University Graduate School of Medical and Dental Sciences, Kagoshima 890-8520, Japan
3
Department of Surgery, Jiaikai Imamura General Hospital, Kagoshima 890-0064, Japan
4
Department of Surgery, Gyokushoukai Kajiki Onsen Hospital, Aira 899-5241, Japan
*
Author to whom correspondence should be addressed.
Received: 9 September 2020 / Revised: 15 October 2020 / Accepted: 18 October 2020 / Published: 21 October 2020
Simple Summary
The "liquid biopsy" is a novel concept for detecting circulating biomarkers in the peripheral blood of patients with various cancers, including esophageal cancer. There are two main methods to identify circulating cancer related biomarkers such as morphological techniques or molecular biological techniques. There are some differences in the sensitivity and specificity for detecting circulating tumor cells (CTCs) or circulating markers between each method. Although it is still challenging to determine strong candidates for early diagnosis and predicting prognosis in patients with esophageal cancer, our meta-analysis might be a milestone for the future development of liquid biopsies in use with esophageal cancer.
Esophageal cancer is among the most aggressive diseases, and circulating tumor cells (CTCs) have been recognized as novel biomarkers for various cancers over the past two decades, including esophageal cancer. CTCs might provide crucial clinical information for predicting cancer prognosis, monitoring therapeutic responses or recurrences, or elucidating the mechanism of metastasis. The isolation of CTCs is among the applications of a "liquid biopsy". There are various technologies for liquid biopsies, and they are classified into two main methods: cytometric or non-cytometric techniques. Here, we review a total of 57 eligible articles to summarize various technologies for the use of a liquid biopsy in esophageal cancer and perform a meta-analysis to assess the clinical utility of liquid biopsies as a prognostic and diagnostic biomarker technique. For prognostic evaluation, the pooled hazard ratio in the cytometric assay is relatively higher than that of the non-cytometric assay. On the other hand, a combination of multiple molecules, using a non-cytometric assay, might be a favorable biomarker technique for the early diagnosis of esophageal cancer. Although determining strong evidence for a biomarker by using a liquid biopsy is still challenging, our meta-analysis might be a milestone for the future development of liquid biopsies in use with esophageal cancer.
View Full-Text
►

▼

Show Figures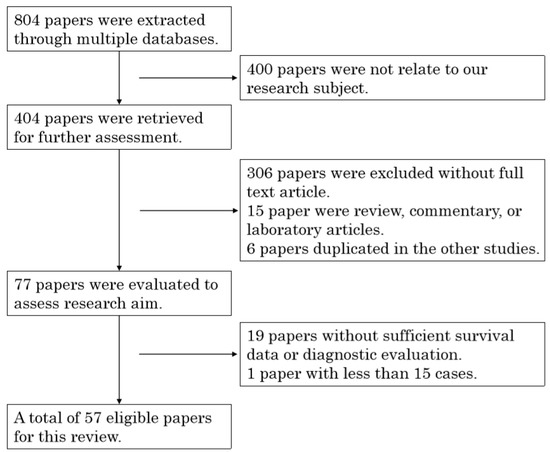 Figure 1
This is an open access article distributed under the
Creative Commons Attribution License
which permits unrestricted use, distribution, and reproduction in any medium, provided the original work is properly cited

MDPI and ACS Style
Matsushita, D.; Arigami, T.; Okubo, K.; Sasaki, K.; Noda, M.; Kita, Y.; Mori, S.; Uenosono, Y.; Ohtsuka, T.; Natsugoe, S. The Diagnostic and Prognostic Value of a Liquid Biopsy for Esophageal Cancer: A Systematic Review and Meta-Analysis. Cancers 2020, 12, 3070.
Show more citation formats
Show less citations formats
Note that from the first issue of 2016, MDPI journals use article numbers instead of page numbers. See further details
here
.