Blocking Y-Box Binding Protein-1 through Simultaneous Targeting of PI3K and MAPK in Triple Negative Breast Cancers
1
Division of Radiobiology and Molecular Environmental Research, Department of Radiation Oncology, University of Tuebingen, 72076 Tuebingen, Germany
2
Department of Radiation Oncology, University of Tuebingen, 72076 Tuebingen, Germany
3
German Cancer Consortium (DKTK), Partner Site Tuebingen and German Cancer Research Center (DKFZ), Im Neuenheimer Feld 280, 69120 Heidelberg, Germany
4
Department of Human Oncology, University of Wisconsin, Madison, WI 53705, USA
5
Department of Dermatology, University of Tuebingen, 72076 Tuebingen, Germany
6
Natural and Medical Sciences Institute, University of Tuebingen, 72770 Reutlingen, Germany
7
Pharmaceutical Biotechnology, University of Tuebingen, 72076 Tuebingen, Germany
8
Department of Women's Health, University of Tuebingen, 72076 Tuebingen, Germany
*
Author to whom correspondence should be addressed.
†
Current institution: Department of Cancer Biology, University of Texas MD Anderson Cancer Center, Houston, TX 77030, USA.
‡
Current institution: Division of Cell Biology, The Netherlands Cancer Institute, 1066 CX Amsterdam, The Netherlands.
Received: 8 September 2020 / Accepted: 25 September 2020 / Published: 29 September 2020
Simple Summary
Triple-negative breast cancer (TNBC) is associated with the high rates of relapse and metastasis and poor survival. YB-1 is overexpressed in TNBC tumor tissues. In the present study, we demonstrated that S102 phosphorylation of YB-1 in TNBC cell lines depend on the mutation status of the components of the MAPK/ERK and PI3K/Akt pathways. Simultaneous targeting of MEK and PI3K was found to be the most effective approach to block YB-1 phosphorylation and to inhibit YB-1 dependent cell proliferation. YBX1 knockout was sufficient to block TNBC tumor growth.
The multifunctional protein Y-box binding protein-1 (YB-1) regulates all the so far described cancer hallmarks including cell proliferation and survival. The MAPK/ERK and PI3K/Akt pathways are also the major pathways involved in cell growth, proliferation, and survival, and are the frequently hyperactivated pathways in human cancers. A gain of function mutation in
KRAS
mainly leads to the constitutive activation of the MAPK pathway, while the activation of the PI3K/Akt pathway occurs either through the loss of PTEN or a gain of function mutation of the catalytic subunit alpha of PI3K (
PIK3CA
). In this study, we investigated the underlying signaling pathway involved in YB-1 phosphorylation at serine 102 (S102) in
KRAS(G13D)
-mutated triple-negative breast cancer (TNBC) MDA-MB-231 cells versus
PIK3CA(H1047R)
/
PTEN(E307K)
mutated TNBC MDA-MB-453 cells. Our data demonstrate that S102 phosphorylation of YB-1 in
KRAS
-mutated cells is mainly dependent on the MAPK/ERK pathway, while in
PIK3CA
/
PTEN
-mutated cells, YB-1 S102 phosphorylation is entirely dependent on the PI3K/Akt pathway. Independent of the individual dominant pathway regulating YB-1 phosphorylation, dual targeting of MEK and PI3K efficiently inhibited YB-1 phosphorylation and blocked cell proliferation. This represents functional crosstalk between the two pathways. Our data obtained from the experiments, applying pharmacological inhibitors and genetic approaches, shows that YB-1 is a key player in cell proliferation, clonogenic activity, and tumor growth of TNBC cells through the MAPK and PI3K pathways. Therefore, dual inhibition of these two pathways or single targeting of YB-1 may be an effective strategy to treat TNBC.
View Full-Text
►

▼

Show Figures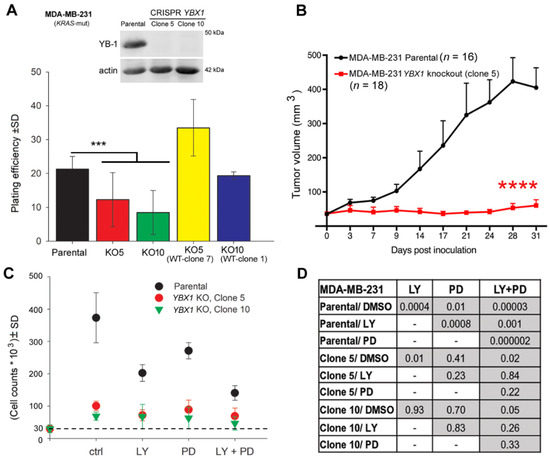 Figure 1
This is an open access article distributed under the
Creative Commons Attribution License
which permits unrestricted use, distribution, and reproduction in any medium, provided the original work is properly cited

MDPI and ACS Style
Tiwari, A.; Iida, M.; Kosnopfel, C.; Abbariki, M.; Menegakis, A.; Fehrenbacher, B.; Maier, J.; Schaller, M.; Brucker, S.Y.; Wheeler, D.L.; Harari, P.M.; Rothbauer, U.; Schittek, B.; Zips, D.; Toulany, M. Blocking Y-Box Binding Protein-1 through Simultaneous Targeting of PI3K and MAPK in Triple Negative Breast Cancers. Cancers 2020, 12, 2795.
Show more citation formats
Show less citations formats
Note that from the first issue of 2016, MDPI journals use article numbers instead of page numbers. See further details
here
.