Critical Role for Cold Shock Protein YB-1 in Cytokinesis
1
Department of Pathology, University of Otago, 9016 Dunedin, New Zealand
2
Maurice Wilkins Centre for Biodiscovery, University of Otago, 9016 Dunedin, New Zealand
3
Centre for Protein Research, Department of Biochemistry, University of Otago, 9054 Dunedin, New Zealand
4
Children's Medical Research Institute, University of Sydney, Westmead, NSW 2145, Australia
5
Department of Biomolecular Modelling and Design, Bioinformatics Institute (A*STAR), 30 Biopolis Street, 07-01 Matrix, Singapore 138671, Singapore
6
School of Biological Sciences, Nanyang Technological University, 60 Nanyang Drive, Singapore 637551, Singapore
7
Department of Biological Sciences, National University of Singapore, 16 Science Drive 4, Singapore 117543, Singapore
8
Malaghan Institute of Medical Research, 6242 Wellington, New Zealand
*
Author to whom correspondence should be addressed.
Received: 10 July 2020
/
Revised: 21 August 2020
/
Accepted: 27 August 2020
/
Published: 1 September 2020
Simple Summary
Y-box-binding protein-1, YB-1, plays an important role in regulating the cell cycle, although precisely how it does the is unknown. Using live cell imaging, we show that YB-1 is essential for initiating the last step of cell division (cytokinesis), required for creation of two daughter cells. Using confocal microscopy we showed that YB-1 regulates the spatial distribution of key proteins essential for cytokinesis to occur and that this required YB-1 to be phosphorylated on several residues. In-silico modeling demonstrated that modifications at these residues resulted in conformational changes in YB-1 protein allowing it to interact with proteins essential for cytokinesis. As many cancers have high levels YB-1 and these are associated with poor prognosis, our data suggest developing small molecule inhibitors to block YB-1 phosphorylation could be a novel approach to cancer therapy.
High levels of the cold shock protein Y-box-binding protein-1, YB-1, are tightly correlated with increased cell proliferation and progression. However, the precise mechanism by which YB-1 regulates proliferation is unknown. Here, we found that YB-1 depletion in several cancer cell lines and in immortalized fibroblasts resulted in cytokinesis failure and consequent multinucleation. Rescue experiments indicated that YB-1 was required for completion of cytokinesis. Using confocal imaging we found that YB-1 was essential for orchestrating the spatio-temporal distribution of the microtubules, β-actin and the chromosome passenger complex (CPC) to define the cleavage plane. We show that phosphorylation at six serine residues was essential for cytokinesis, of which novel sites were identified using mass spectrometry. Using atomistic modelling we show how phosphorylation at multiple sites alters YB-1 conformation, allowing it to interact with protein partners. Our results establish phosphorylated YB-1 as a critical regulator of cytokinesis, defining precisely how YB-1 regulates cell division.
View Full-Text
►

▼

Show Figures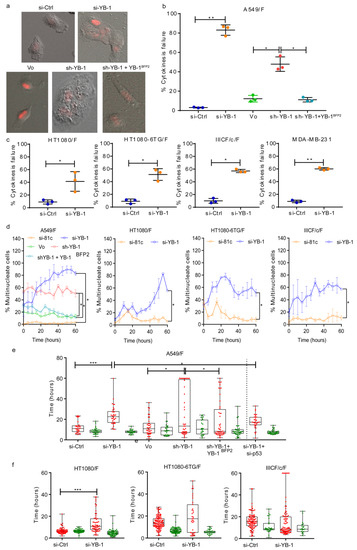 Figure 1
This is an open access article distributed under the
Creative Commons Attribution License
which permits unrestricted use, distribution, and reproduction in any medium, provided the original work is properly cited

MDPI and ACS Style
Mehta, S.; Algie, M.; Al-Jabry, T.; McKinney, C.; Kannan, S.; Verma, C.S.; Ma, W.; Zhang, J.; Bartolec, T.K.; Masamsetti, V.P.; Parker, K.; Henderson, L.; Gould, M.L.; Bhatia, P.; Harfoot, R.; Chircop, M.; Kleffmann, T.; Cohen, S.B.; Woolley, A.G.; Cesare, A.J.; Braithwaite, A. Critical Role for Cold Shock Protein YB-1 in Cytokinesis. Cancers 2020, 12, 2473. https://doi.org/10.3390/cancers12092473
AMA Style
Mehta S, Algie M, Al-Jabry T, McKinney C, Kannan S, Verma CS, Ma W, Zhang J, Bartolec TK, Masamsetti VP, Parker K, Henderson L, Gould ML, Bhatia P, Harfoot R, Chircop M, Kleffmann T, Cohen SB, Woolley AG, Cesare AJ, Braithwaite A. Critical Role for Cold Shock Protein YB-1 in Cytokinesis. Cancers. 2020; 12(9):2473. https://doi.org/10.3390/cancers12092473
Chicago/Turabian Style
Mehta, Sunali, Michael Algie, Tariq Al-Jabry, Cushla McKinney, Srinivasaraghavan Kannan, Chandra S. Verma, Weini Ma, Jessie Zhang, Tara K. Bartolec, V. P. Masamsetti, Kim Parker, Luke Henderson, Maree L. Gould, Puja Bhatia, Rhodri Harfoot, Megan Chircop, Torsten Kleffmann, Scott B. Cohen, Adele G. Woolley, Anthony J. Cesare, and Antony Braithwaite. 2020. "Critical Role for Cold Shock Protein YB-1 in Cytokinesis" Cancers 12, no. 9: 2473. https://doi.org/10.3390/cancers12092473
Note that from the first issue of 2016, MDPI journals use article numbers instead of page numbers. See further details
here
.