A Basic Study of Photodynamic Therapy with Glucose-Conjugated Chlorin e6 Using Mammary Carcinoma Xenografts
1
Joint Department of Veterinary Clinical Medicine, Faculty of Agriculture, Tottori University, Tottori 680-8553, Japan
2
Department of Applied Chemistry, Graduate School of Engineering, Osaka Prefecture University, 1-1 Gakuen-cho, Naka-ku, Sakai, Osaka 599-8531, Japan
3
KYOUSEI Science Center for Life and Nature, Nara Women's University, Kitauoyahigashi-machi, Nara 630-8506, Japan
4
Department of Gastroenterology and Metabolism, Nagoya City University Graduate School of Medical Sciences, 1 Kawasumi, Mizuho-cho, Mizuho-ku, Nagoya 467-8601, Japan
*
Author to whom correspondence should be addressed.
Received: 7 March 2019 / Revised: 2 May 2019 / Accepted: 6 May 2019 / Published: 8 May 2019
Abstract
By using the Warburg effect—a phenomenon where tumors consume higher glucose levels than normal cells—on cancer cells to enhance the effect of photodynamic therapy (PDT), we developed a new photosensitizer, glucose-conjugated chlorin e6 (G-Ce6). We analyzed the efficacy of PDT with G-Ce6 against canine mammary carcinoma (CMC) in vitro and in vivo. The pharmacokinetics of G-Ce6 at 2, 5, and 20 mg/kg was examined in normal dogs, whereas its intracellular localization, concentration, and photodynamic effects were investigated in vitro using CMC cells (SNP cells). G-Ce6 (10 mg/kg) was administered in vivo at 5 min or 3 h before laser irradiation to SNP tumor-bearing murine models. The in vitro study revealed that G-Ce6 was mainly localized to the lysosomes. Cell viability decreased in a G-Ce6 concentration- and light intensity-dependent manner in the PDT group. Cell death induced by PDT with G-Ce6 was not inhibited by an apoptosis inhibitor. In the in vivo study, 5-min-interval PDT exhibited greater effects than 3-h-interval PDT. The mean maximum blood concentration and half-life of G-Ce6 (2 mg/kg) were 15.19 ± 4.44 μg/mL and 3.02 ± 0.58 h, respectively. Thus, 5-min-interval PDT with G-Ce6 was considered effective against CMC.
View Full-Text
►

▼

Figures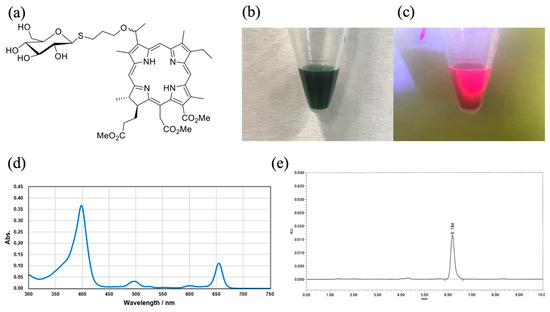 Figure 1
This is an open access article distributed under the
Creative Commons Attribution License
which permits unrestricted use, distribution, and reproduction in any medium, provided the original work is properly cited (CC BY 4.0).

Share & Cite This Article
MDPI and ACS Style
Osaki, T.; Hibino, S.; Yokoe, I.; Yamaguchi, H.; Nomoto, A.; Yano, S.; Mikata, Y.; Tanaka, M.; Kataoka, H.; Okamoto, Y. A Basic Study of Photodynamic Therapy with Glucose-Conjugated Chlorin e6 Using Mammary Carcinoma Xenografts. Cancers 2019, 11, 636.
Note that from the first issue of 2016, MDPI journals use article numbers instead of page numbers. See further details here.
Related Articles
Comments
[Return to top]