Efficacy of 5-Aminolevulinic Acid in Photodynamic Detection and Photodynamic Therapy in Veterinary Medicine
1
Joint Department of Veterinary Clinical Medicine, Faculty of Agriculture, Tottori University, 4-101 Koyama-Minami, Tottori 680-8553, Japan
2
SBI Pharmaceuticals Co., Ltd., Tokyo 106-6020, Japan
3
Department of Bio- and Material Photonics, Chitose Institute of Science and Technology, Chitose 066-0012, Japan
*
Author to whom correspondence should be addressed.
Received: 20 March 2019 / Revised: 3 April 2019 / Accepted: 5 April 2019 / Published: 7 April 2019
Abstract
5-Aminolevulinic acid (5-ALA), a commonly used photosensitizer in photodynamic detection (PDD) and therapy (PDT), is converted in situ to the established photosensitizer protoporphyrin IX (PpIX) via the heme biosynthetic pathway. To extend 5-ALA-PDT application, we evaluated the PpIX fluorescence induced by exogenous 5-ALA in various veterinary tumors and treated canine and feline tumors. 5-ALA-PDD sensitivity and specificity in the whole sample group for dogs and cats combined were 89.5 and 50%, respectively. Notably, some small tumors disappeared upon 5-ALA-PDT. Although single PDT application was not curative, repeated PDT+/−chemotherapy achieved long-term tumor control. We analyzed the relationship between intracellular PpIX concentration and 5-ALA-PDT in vitro cytotoxicity using various primary tumor cells and determined the correlation between intracellular PpIX concentration and 5-ALA transporter and metabolic enzyme mRNA expression levels. 5-ALA-PDT cytotoxicity in vitro correlated with intracellular PpIX concentration in carcinomas. Ferrochelatase mRNA expression levels strongly negatively correlated with PpIX accumulation, representing the first report of a correlation between mRNA expression related to PpIX accumulation and PpIX concentration in canine tumor cells. Our findings suggested that the results of 5-ALA-PDD might be predictive for 5-ALA-PDT therapeutic effects for carcinomas, with 5-ALA-PDT plus chemotherapy potentially increasing the probability of tumor control in veterinary medicine.
View Full-Text
►

▼

Figures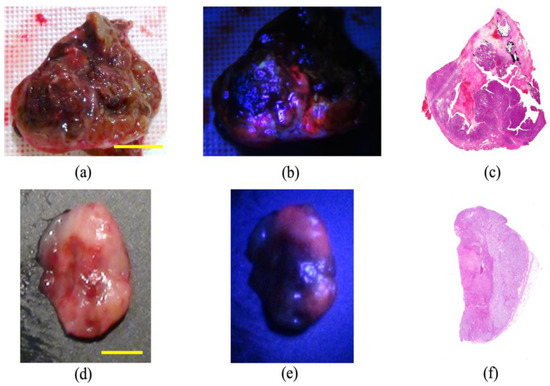 Figure 1
This is an open access article distributed under the
Creative Commons Attribution License
which permits unrestricted use, distribution, and reproduction in any medium, provided the original work is properly cited (CC BY 4.0).

Share & Cite This Article
MDPI and ACS Style
Osaki, T.; Yokoe, I.; Sunden, Y.; Ota, U.; Ichikawa, T.; Imazato, H.; Ishii, T.; Takahashi, K.; Ishizuka, M.; Tanaka, T.; Li, L.; Yamashita, M.; Murahata, Y.; Tsuka, T.; Azuma, K.; Ito, N.; Imagawa, T.; Okamoto, Y. Efficacy of 5-Aminolevulinic Acid in Photodynamic Detection and Photodynamic Therapy in Veterinary Medicine. Cancers 2019, 11, 495.
Note that from the first issue of 2016, MDPI journals use article numbers instead of page numbers. See further details here.
Related Articles
Comments
[Return to top]