(−)-Oleocanthal Prevents Breast Cancer Locoregional Recurrence After Primary Tumor Surgical Excision and Neoadjuvant Targeted Therapy in Orthotopic Nude Mouse Models
1
School of Basic Pharmaceutical and Toxicological Sciences, College of Pharmacy, University of Louisiana at Monroe, 1800 Bienville Drive, Monroe, LA 71201, USA
2
Department of Clinical Pharmacy, Faculty of Pharmacy, Jordan University of Science and Technology, Irbid 22110, Jordan
*
Author to whom correspondence should be addressed.
Received: 19 March 2019 / Revised: 1 May 2019 / Accepted: 6 May 2019 / Published: 8 May 2019
Abstract
Breast cancer (BC) recurrence represents a challenge for survivors who have had their primary tumors surgically excised, and/or have completed radiation, neoadjuvant, or adjuvant therapeutic regimens. Current BC treatments mostly lack the ability to reduce the risk of disease recurrence. About 70% of BC patients will subsequently suffer disease relapse, manifesting as local, regional, or distant tumor recurrence, which clearly underscores the urgent need to discover novel recurrence inhibitors. (−)-Oleocanthal (OC) is a natural phenolic, found so far exclusively in extra-virgin olive oil (EVOO). OC exerts documented bioactivities against diverse cancer types, inflammation, and neurodegenerative diseases. Herein we report the novel activity of daily oral treatment with OC (10 mg/kg) in preventing BC locoregional recurrence in a nude mouse xenograft model generated by orthotopic inoculation with BT-474 cells as a luminal type B model. We further report inhibition of tumor recurrence by OC after completion of a lapatinib neoadjuvant regimen. However, in a recurrence model of triple-negative breast cancer (TNBC), OC treatment (10 mg/kg) did not effectively prevent tumor recurrence, but rather, was seen to significantly reduce the growth of recurrent tumors as compared to vehicle control-treated animals. Inhibition of tumor recurrence was associated with significant serum level reductions of the human BC recurrence marker CA 15-3 at the study end in animals treated with OC. OC treatment upregulated the expression of the epithelial marker E-cadherin and downregulated the levels of the mesenchymal marker vimentin in recurrent tumors vs. untreated control animals. OC treatment also reduced the activation of MET and HER2 receptors, as indicated by reduced phosphorylation levels of these proteins in recurrent tumors vs. controls. Collectively, the results of our studies provide the first evidence for suppression of BC tumor recurrence by oral OC treatment in an animal model for such recurrence, and furthermore, highlight favorable prospects for this natural product to emerge as a first-in-class BC recurrence inhibitor.
View Full-Text
►

▼

Figures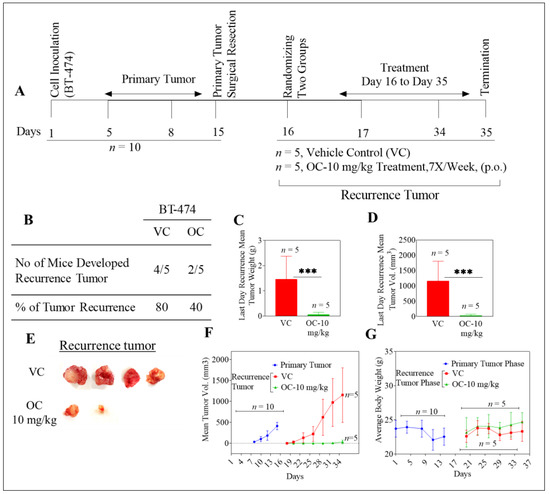 Figure 1
This is an open access article distributed under the
Creative Commons Attribution License
which permits unrestricted use, distribution, and reproduction in any medium, provided the original work is properly cited (CC BY 4.0).

Share & Cite This Article
MDPI and ACS Style
Siddique, A.B.; Ayoub, N.M.; Tajmim, A.; Meyer, S.A.; Hill, R.A.; El Sayed, K.A. (−)-Oleocanthal Prevents Breast Cancer Locoregional Recurrence After Primary Tumor Surgical Excision and Neoadjuvant Targeted Therapy in Orthotopic Nude Mouse Models. Cancers 2019, 11, 637.
Note that from the first issue of 2016, MDPI journals use article numbers instead of page numbers. See further details here.
Related Articles
Comments
[Return to top]