The Stem Cell Phenotype of Aggressive Breast Cancer Cells
1
Department of Biochemistry, West Virginia University, Morgantown, WV 26506, USA
2
West Virginia University Cancer Institute, West Virginia University, Morgantown, WV 26506, USA
3
Department of Surgery, West Virginia University, Morgantown, WV 26506, USA
4
Department of Internal Medicine, West Virginia University, Morgantown, WV 26506, USA
5
Department of Pathology, Anatomy and Laboratory Medicine, West Virginia University School of Medicine, Morgantown, WV 26506, USA
6
Department of Biostatistics, School of Public Health, West Virginia University, Morgantown, WV 26506, USA
7
Department of Biology, Shepherd University, Shepherdstown, WV 25443, USA
*
Author to whom correspondence should be addressed.
†
These authors contributed equally to this work.
Received: 23 January 2019 / Revised: 25 February 2019 / Accepted: 4 March 2019 / Published: 8 March 2019
Abstract
Aggressive cancer cells are characterized by their capacity to proliferate indefinitely and to propagate a heterogeneous tumor comprised of subpopulations with varying degrees of metastatic propensity and drug resistance properties. Particularly daunting is the challenge we face in the field of oncology of effectively targeting heterogeneous tumor cells expressing a variety of markers, especially those associated with a stem cell phenotype. This dilemma is especially relevant in breast cancer, where therapy is based on traditional classification schemes, including histological criteria, differentiation status, and classical receptor markers. However, not all patients respond in a similar manner to standard-of-care therapy, thereby necessitating the need to identify and evaluate novel biomarkers associated with the difficult-to-target stem cell phenotype and drug resistance. Findings related to the convergence of embryonic and tumorigenic signaling pathways have identified the embryonic morphogen Nodal as a promising new oncofetal target that is reactivated only in aggressive cancers, but not in normal tissues. The work presented in this paper confirms previous studies demonstrating the importance of Nodal as a cancer stem cell molecule associated with aggressive breast cancer, and advances the field by providing new findings showing that Nodal is not targeted by standard-of-care therapy in breast cancer patients. Most noteworthy is the linkage found between Nodal expression and the drug resistance marker ATP-binding cassette member 1 (ABCA1), which may provide new insights into developing combinatorial approaches to overcome drug resistance and disease recurrence.
View Full-Text
►

▼

Figures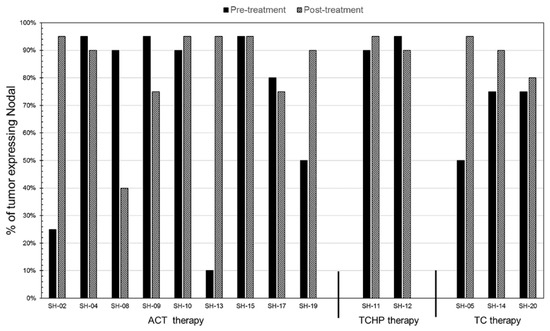 Figure 1
This is an open access article distributed under the
Creative Commons Attribution License
which permits unrestricted use, distribution, and reproduction in any medium, provided the original work is properly cited (CC BY 4.0).

Share & Cite This Article
MDPI and ACS Style
Margaryan, N.V.; Hazard-Jenkins, H.; Salkeni, M.A.; Smolkin, M.B.; Coad, J.A.; Wen, S.; Seftor, E.A.; Seftor, R.E.B.; Hendrix, M.J.C. The Stem Cell Phenotype of Aggressive Breast Cancer Cells. Cancers 2019, 11, 340.
Note that from the first issue of 2016, MDPI journals use article numbers instead of page numbers. See further details here.
Related Articles
Comments
[Return to top]