The Presence of Concomitant Mutations Affects the Activity of EGFR Tyrosine Kinase Inhibitors in EGFR-Mutant Non-Small Cell Lung Cancer (NSCLC) Patients
1
Cell Biology and Biotherapy Unit, Istituto Nazionale Tumori-IRCCS-Fondazione G. Pascale, 80131 Naples, Italy
2
Clinical Trials Unit, Istituto Nazionale Tumori-IRCCS-Fondazione G. Pascale, 80131 Naples, Italy
3
Medical Oncology, National Cancer Research Center "Giovanni Paolo II", 70126 Bari, Italy
4
Istituto Scientifico per lo Studio e la Cura dei Tumori (IRST), 47014 Meldola (FC), Italy
5
Medical Oncology, Campus Bio-Medico University of Rome, 00128 Rome, Italy
6
Medical Oncology, "G. Rummo" Hospital, 82100 Benevento, Italy
7
Medical Oncology, AUSL-IRCCS di Reggio Emilia, 42123 Reggio Emilia, Italy
8
Medical Oncology, "S. Vincenzo" Hospital, 98039 Taormina (ME), Italy
9
Medical Oncology, Thoraco-Pulmonary Department, Istituto Nazionale Tumori-IRCCS-Fondazione G. Pascale, 80131 Naples, Italy
10
Department of Medical Oncology, Santa Maria della Misericordia Hospital, 06129 Perugia, Italy
11
Thoracic Surgery, Thoraco-Pulmonary Department, Istituto Nazionale Tumori-IRCCS-Fondazione G. Pascale, 80131 Naples, Italy
12
Surgical Pathology Unit, Istituto Nazionale Tumori-IRCCS-Fondazione G. Pascale, 80131 Naples, Italy
*
Author to whom correspondence should be addressed.
†
These authors equally contributed to the paper.
‡
Thoracic Service, Department of Surgery, Memorial Sloan-Kettering Cancer Center, 1275 York Avenue, New York, NY 10065, USA.
Received: 12 February 2019 / Revised: 28 February 2019 / Accepted: 5 March 2019 / Published: 10 March 2019
Abstract
Recent findings suggest that a fraction of EGFR-mutant non-small-cell lung cancers (NSCLC) carry additional driver mutations that could potentially affect the activity of EGFR tyrosine kinase inhibitors (TKIs). We investigated the role of concomitant KRAS, NRAS, BRAF, PIK3CA, MET and ERBB2 mutations (other mutations) on the outcome of 133 EGFR mutant patients, who received first-line therapy with EGFR TKIs between June 2008 and December 2014. Analysis of genomic DNA by Next Generation Sequencing (NGS) revealed the presence of hotspot mutations in genes other than the EGFR, including KRAS, NRAS, BRAF, ERBB2, PIK3CA, or MET, in 29/133 cases (21.8%). A p.T790M mutation was found in 9/133 tumour samples (6.8%). The progression free survival (PFS) of patients without other mutations was 11.3 months vs. 7 months in patients with other mutations (log-rank test univariate:
p
= 0.047). In a multivariate Cox regression model including the presence of other mutations, age, performance status, smoking status, and the presence of p.T790M mutations, the presence of other mutations was the only factor significantly associated with PFS (Hazard Ratio 1.63, 95% CI 1.04–2.58;
p
= 0.035). In contrast, no correlation was found between TP53 mutations and patients' outcome. These data suggest that a subgroup of EGFR mutant tumours have concomitant driver mutations that might affect the activity of first-line EGFR TKIs.
View Full-Text
►

▼

Figures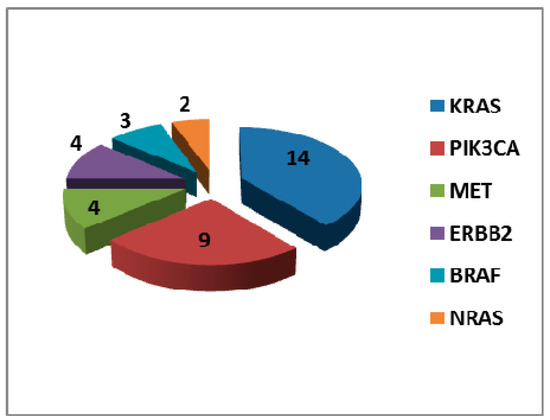 Figure 1
This is an open access article distributed under the
Creative Commons Attribution License
which permits unrestricted use, distribution, and reproduction in any medium, provided the original work is properly cited (CC BY 4.0).

Share & Cite This Article
MDPI and ACS Style
Rachiglio, A.M.; Fenizia, F.; Piccirillo, M.C.; Galetta, D.; Crinò, L.; Vincenzi, B.; Barletta, E.; Pinto, C.; Ferraù, F.; Lambiase, M.; Montanino, A.; Roma, C.; Ludovini, V.; Montagna, E.S.; De Luca, A.; Rocco, G.; Botti, G.; Perrone, F.; Morabito, A.; Normanno, N. The Presence of Concomitant Mutations Affects the Activity of EGFR Tyrosine Kinase Inhibitors in EGFR-Mutant Non-Small Cell Lung Cancer (NSCLC) Patients. Cancers 2019, 11, 341.
Note that from the first issue of 2016, MDPI journals use article numbers instead of page numbers. See further details here.
Related Articles
Comments
[Return to top]