Epstein–Barr Virus Gene BARF1 Expression is Regulated by the Epithelial Differentiation Factor ΔNp63α in Undifferentiated Nasopharyngeal Carcinoma
1
Department of Pathology, VU University Medical Center, 1081 HV Amsterdam, The Netherlands
2
McArdle Laboratory for cancer research, Department of Oncology, University of Wisconsin School of Medicine and Public Health, Madison, WI 53705-2275, USA
*
Author to whom correspondence should be addressed.
Received: 7 February 2018 / Revised: 9 March 2018 / Accepted: 15 March 2018 / Published: 17 March 2018
Abstract
Epstein–Barr Virus (EBV) BamHI-A rightward frame 1 (BARF1) protein is considered a viral oncogene in epithelial cells and has immune-modulating properties. During viral lytic replication BARF1 is expressed as an early gene, regulated by the immediate early EBV protein R. However, in viral latency BARF1 is exclusively expressed in epithelial tumors such as nasopharyngeal (NPC) and gastric carcinoma (GC) but not in lymphomas, indicating that activation of the BARF1 promoter is cell type specific. Undifferentiated NPC is characterized by high expression of ΔNp63 isoforms of the epithelial differentiation marker p63, a member of the p53 family of transcription factors. Transcription factor binding site analysis indicated potential p53 family binding sites within the BARF1 promoter region. This study investigated ability of various p53 family members to transactivate the BARF1 promoter. Using BARF1 promoter luciferase reporter constructs we demonstrate that only p63 isoform ΔNp63α is capable of transactivating the BARF1 promoter, but not the TAp63 isoforms, p53 or p73. Direct promoter binding of ΔNp63α was confirmed by Chromatin Immune Precipitation (ChIP) analysis. Deletion mutants of the BARF1 promoter revealed multiple ΔNp63 response elements to be responsible for BARF1 promoter transactivation. However, ΔNp63α alone was not sufficient to induce BARF1 in tumor cells harboring full EBV genomes, indicating that additional cofactors might be required for full BARF1 regulation. In conclusion, in EBV positive NPC and GC, BARF1 expression might be induced by the epithelial differentiation marker ΔNp63α, explaining BARF1 expression in the absence of lytic reactivation.
View Full-Text
►

▼

Figures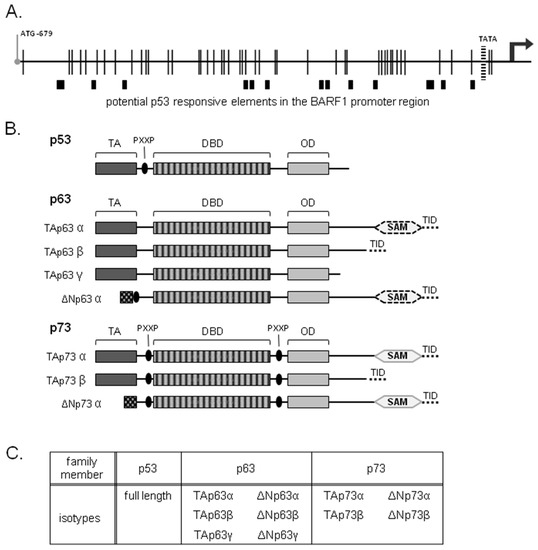 Figure 1
This is an open access article distributed under the
Creative Commons Attribution License
which permits unrestricted use, distribution, and reproduction in any medium, provided the original work is properly cited (CC BY 4.0).

Share & Cite This Article
MDPI and ACS Style
Hoebe, E.; Wille, C.; Hagemeier, S.; Kenney, S.; Greijer, A.; Middeldorp, J. Epstein–Barr Virus Gene BARF1 Expression is Regulated by the Epithelial Differentiation Factor ΔNp63α in Undifferentiated Nasopharyngeal Carcinoma. Cancers 2018, 10, 76.
Note that from the first issue of 2016, MDPI journals use article numbers instead of page numbers. See further details here.
Related Articles
Comments
[Return to top]