New Interactors of the Truncated EBNA-LP Protein Identified by Mass Spectrometry in P3HR1 Burkitt's Lymphoma Cells
1
UMR 8126 CNRS, Univ. Paris-Sud, Université Paris-Saclay, Institut Gustave Roussy, F-94805 Villejuif, France
2
Proteomic Platform, Institut Gustave Roussy, Villejuif F-94805, France
3
Laboratoire de Génétique Oncologique, Ecole Pratique des Hautes Etudes, F-75014 Paris, France
4
UMR 1186 Inserm, Univ. Paris-Sud, EPHE, Université Paris-Saclay, Institut Gustave Roussy, F-94805 Villejuif, France
*
Author to whom correspondence should be addressed.
Received: 16 November 2017 / Revised: 21 December 2017 / Accepted: 21 December 2017 / Published: 5 January 2018
Abstract
The Epstein-Barr virus nuclear antigen leader protein (EBNA-LP) acts as a co-activator of EBNA-2, a transcriptional activator essential for Epstein-Barr virus (EBV)-induced B-cell transformation. Burkitt's lymphoma (BL) cells harboring a mutant EBV strain that lacks both the EBNA-2 gene and 3′ exons of EBNA-LP express Y1Y2-truncated isoforms of EBNA-LP (tEBNA-LP) and better resist apoptosis than if infected with the wild-type virus. In such BL cells, tEBNA-LP interacts with the protein phosphatase 2A (PP2A) catalytic subunit (PP2A C), and this interaction likely plays a role in resistance to apoptosis. Here, 28 cellular and four viral proteins have been identified by mass spectrometry as further possible interactors of tEBNA-LP. Three interactions were confirmed by immunoprecipitation and Western blotting, namely with the A structural subunit of PP2A (PP2A A), the structure-specific recognition protein 1 (SSRP1, a component of the facilitate chromatin transcription (FACT) complex), and a new form of the transcription factor EC (TFEC). Thus, tEBNA-LP appears to be involved not only in cell resistance to apoptosis through its interaction with two PP2A subunits, but also in other processes where its ability to co-activate transcriptional regulators could be important.
View Full-Text
►

▼

Figures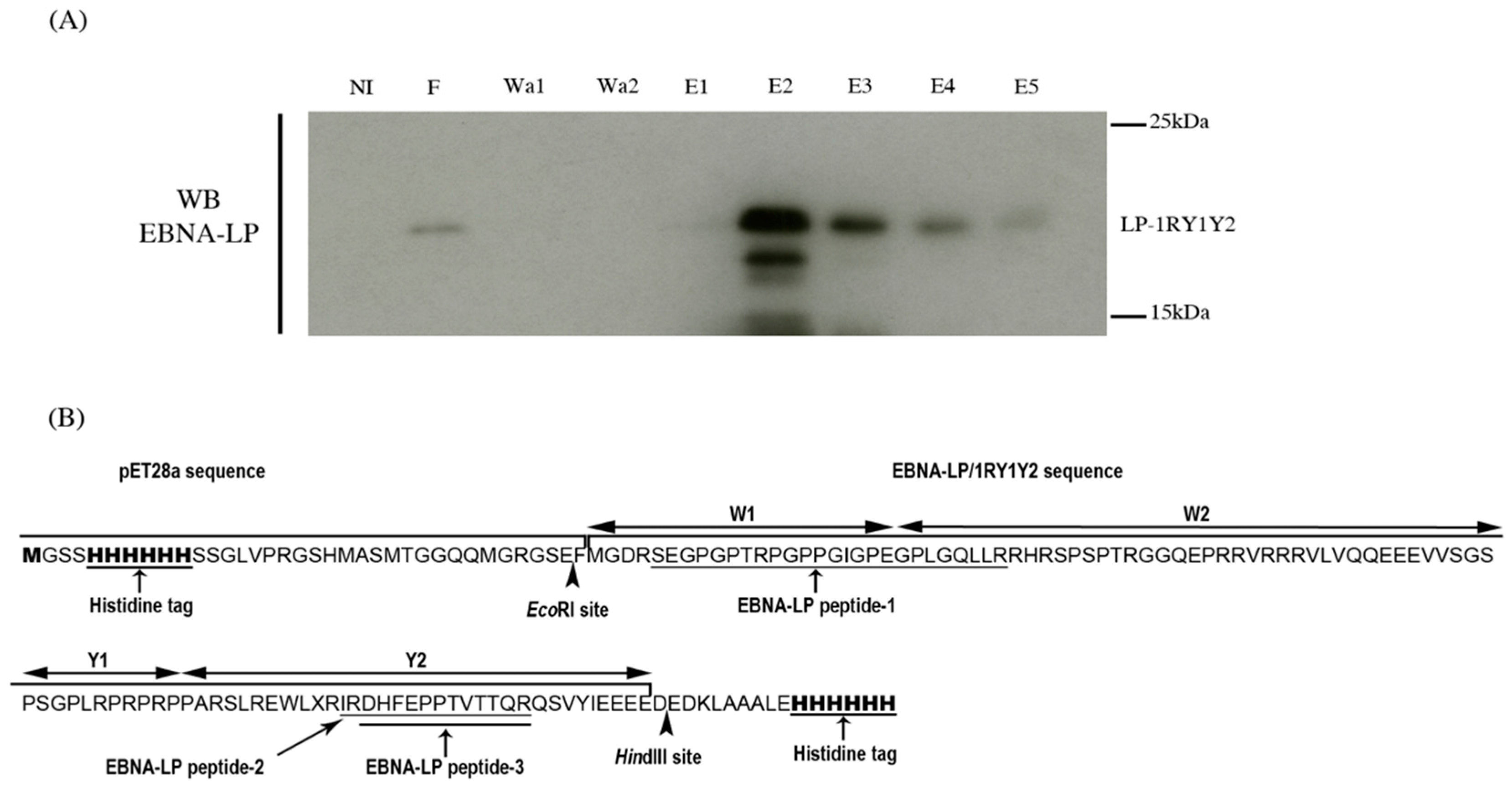 Figure 1
This is an open access article distributed under the
Creative Commons Attribution License
which permits unrestricted use, distribution, and reproduction in any medium, provided the original work is properly cited (CC BY 4.0).

Share & Cite This Article
MDPI and ACS Style
Chelouah, S.; Cochet, E.; Couvé, S.; Balkaran, S.; Robert, A.; May, E.; Ogryzko, V.; Wiels, J. New Interactors of the Truncated EBNA-LP Protein Identified by Mass Spectrometry in P3HR1 Burkitt's Lymphoma Cells. Cancers 2018, 10, 12.
Note that from the first issue of 2016, MDPI journals use article numbers instead of page numbers. See further details here.
Related Articles
Comments
[Return to top]