Open Access This article is
freely available
re-usable
Article
Detection of Particulate Matter of Size 2.5 μm with a Surface-Acoustic-Wave Sensor Combined with a Cyclone Separator
1
Institute of NanoEngineering and MicroSystems, National Tsing Hua University, Hsinchu 30013, Taiwan
2
Institute of Environmental Engineering, National Chiao Tung University, Hsinchu 30013, Taiwan
3
Department of Power Mechanical Engineering, National Tsing Hua University, Hsinchu 30013, Taiwan
*
Author to whom correspondence should be addressed.
Received: 26 June 2018 / Accepted: 9 August 2018 / Published: 12 August 2018
Abstract
:
A device to monitor particulate matter of size 2.5 μm (PM2.5) that has been designed and developed includes a surface-acoustic-wave sensor operating in a shear horizontal mode (SH-SAW) combined with a cyclone separator. In our tests, aerosols generated as incense smoke were first separated and sampled inside a designed cyclone separator; the sampled PM2.5 was then introduced into the sensing area of an SH-SAW sensor for detection. The use of microcentrifuge tubes as a cyclone separator effectively decreases the size and power consumption of the device; the SAW sensor in a well design and operating at 122 MHz was fabricated with MEMS techniques. After an explanation of the design of the cyclone separator, a simulation of the efficiency and the SAW sensor detection are discussed. A microcentrifuge tube (volume 0.2 mL, inlet and outlet diameters 0.5 mm) as a separator has separation cutoff diameters 50% (
d
50
) at 2.5 μm; the required rate of volumetric flow at the inlet is 0.125 LPM, according to simulation with computational fluid dynamics (CFD) software; the surface-acoustic-wave (SAW) sensor exhibits sensitivity approximately 9 Hz/ng; an experiment for PM2.5 detection conducted with the combined device shows a strong positive linear correlation with a commercial aerosol monitor. The limit of detection (LOD) is 11 μg/m
3
with sample time 160 s and total detection duration about 5 min.
Keywords:
cyclone separator; surface-acoustic-wave sensor; environmental sensing; PM2.5
Author Contributions
Conceptualization—F-Y.K.; Formal analysis—F-Y.K. and Y.C.L.; Methodology—Y.C.L.; Project administration and revised the manuscript—L-Y.K, and D-J.Y.; Supervision—C-J.T. and D-J.Y.
Funding
The funding was supported by Minister of Science and Technology (MOST), Taiwan. (MOST 105-2221-E-007-062-MY3)
Acknowledgments
The authors also thank the Center for Nanotech, Material Science and Microsystems at National Tsing Hua University for research and facility support.
Conflicts of Interest
The authors declare no conflict of interest.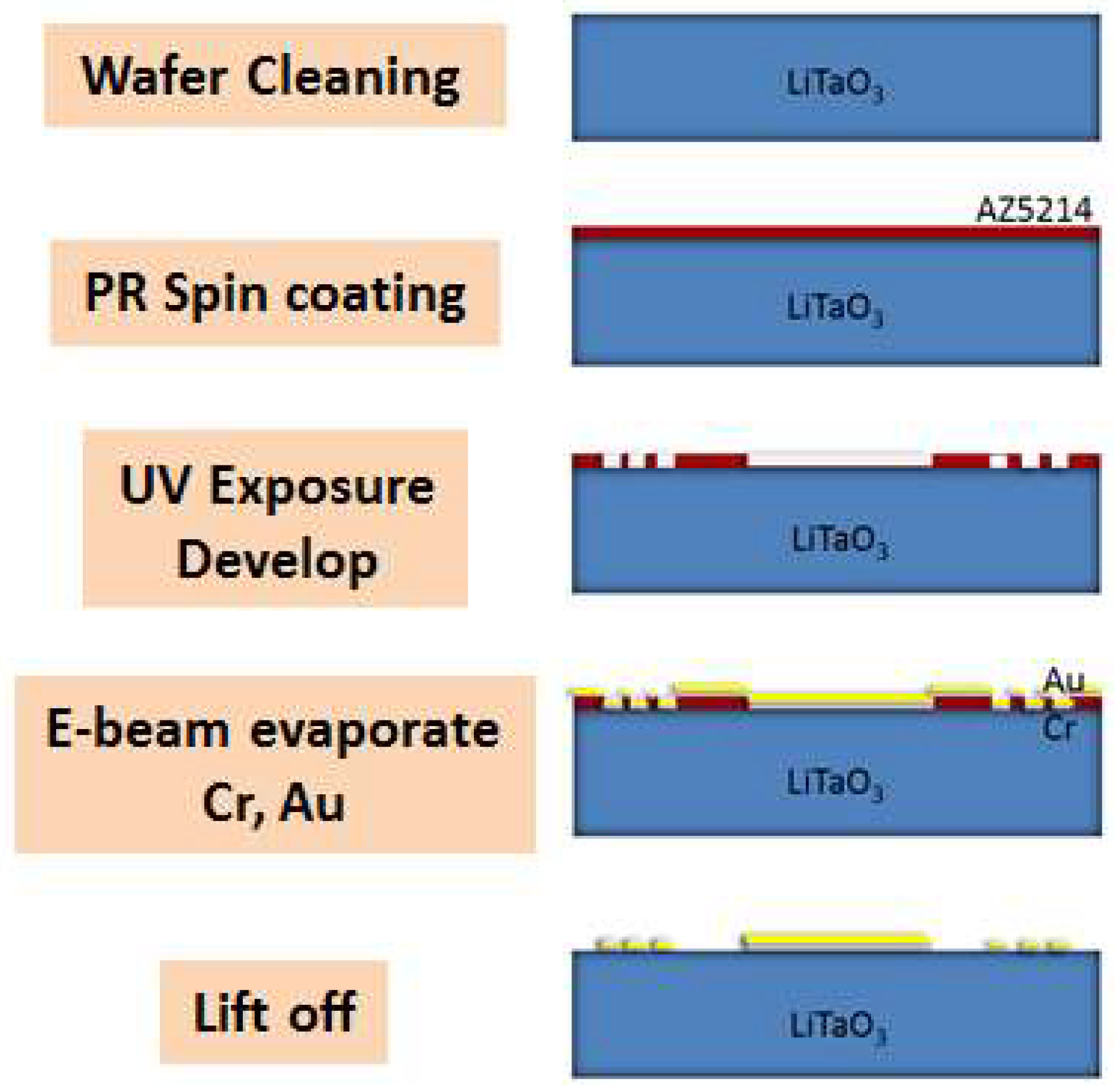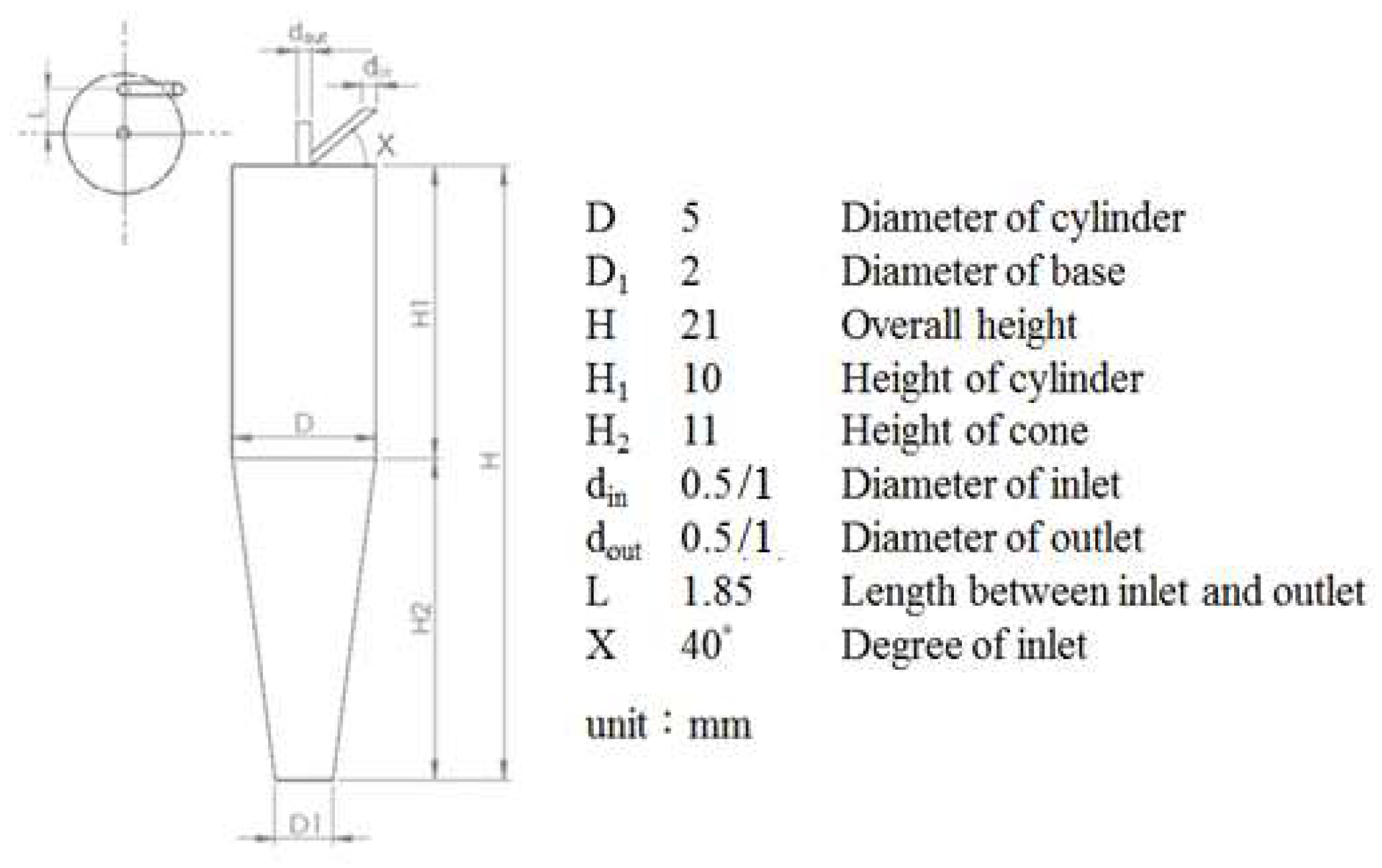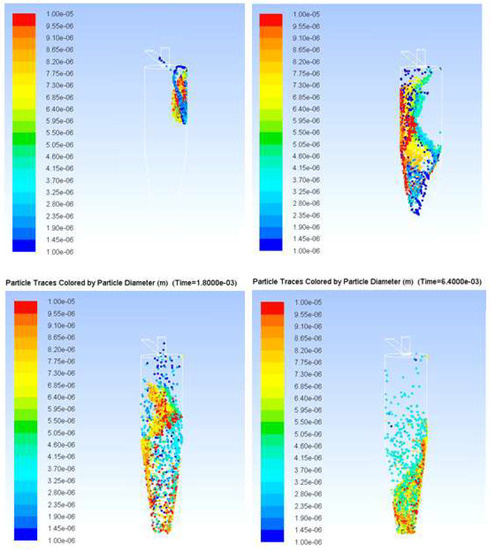 Figure 3. Particle traces colored according to the diameter at varied flow times. The simulation photos have shown the different size particle in the cyclone.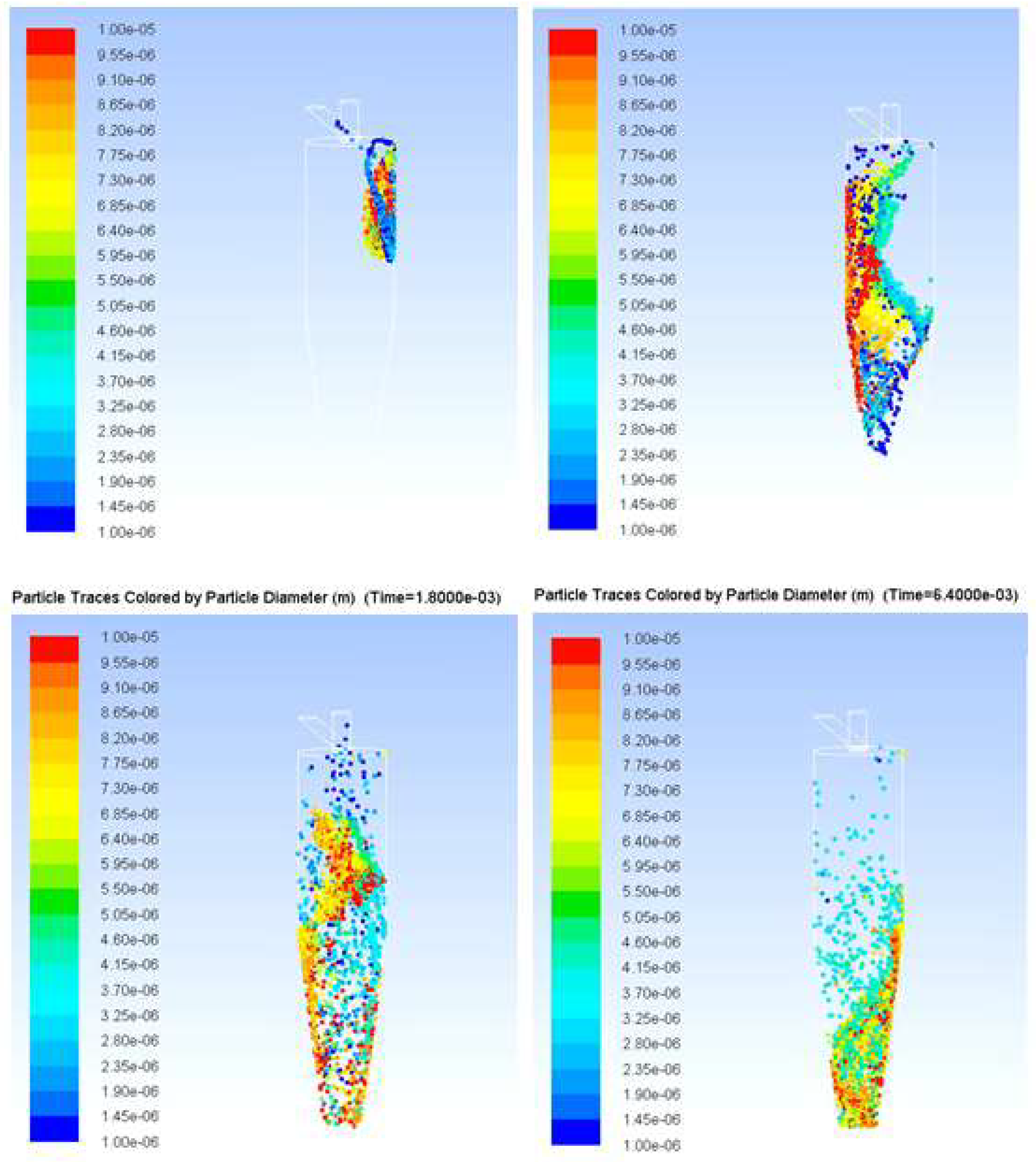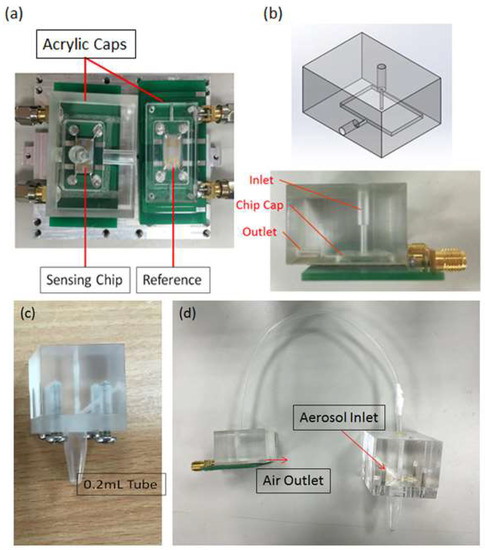 Figure 4. (a) Two-port SH-SAW sensors. (b) Sensing chip cap. (c) Assembled cyclone separator using a microcentrifuge tube (0.2 mL) and channels made of acrylic. (d) PM2.5 detection device with a SH-SAW sensor combined with a cyclone separator.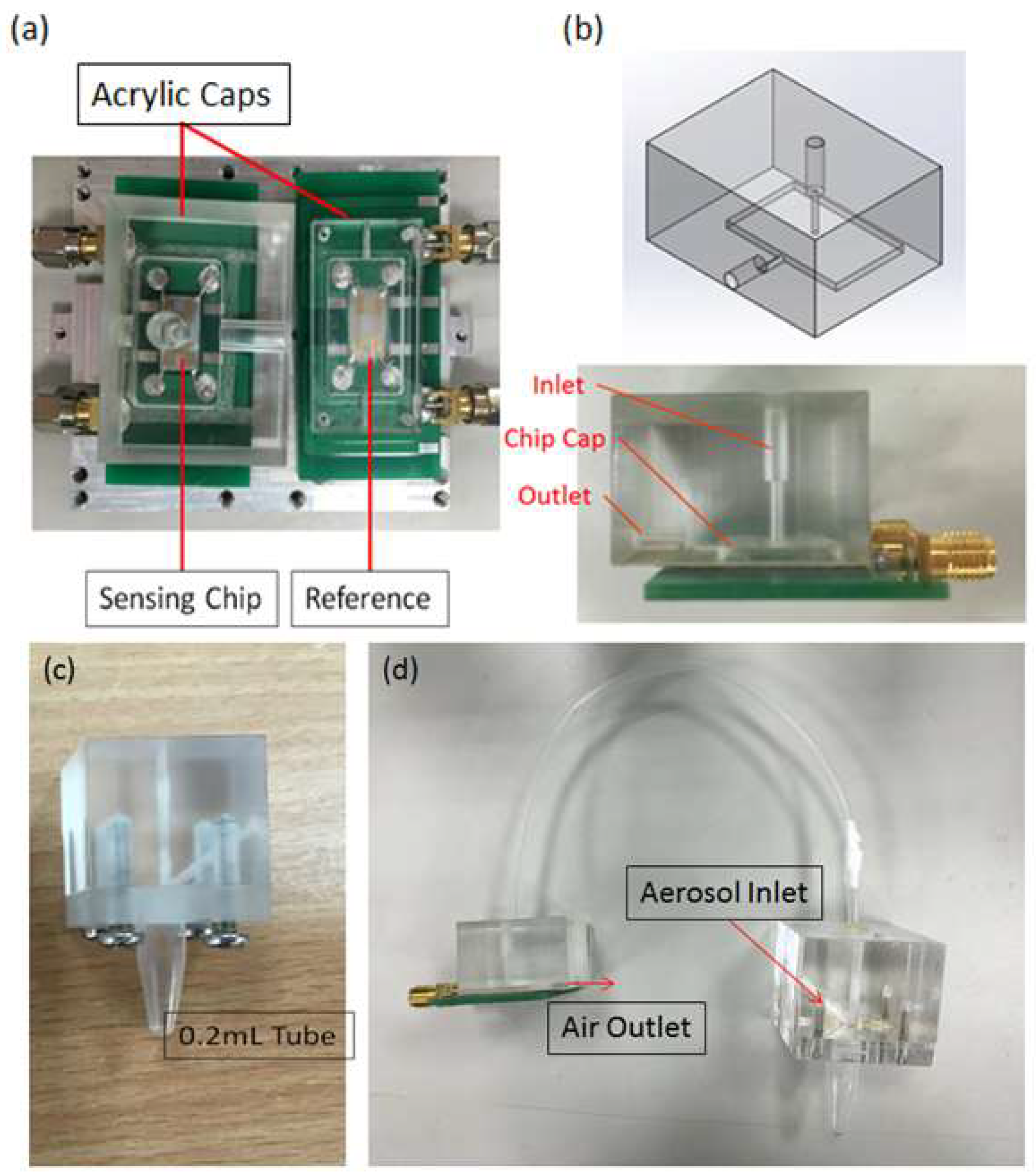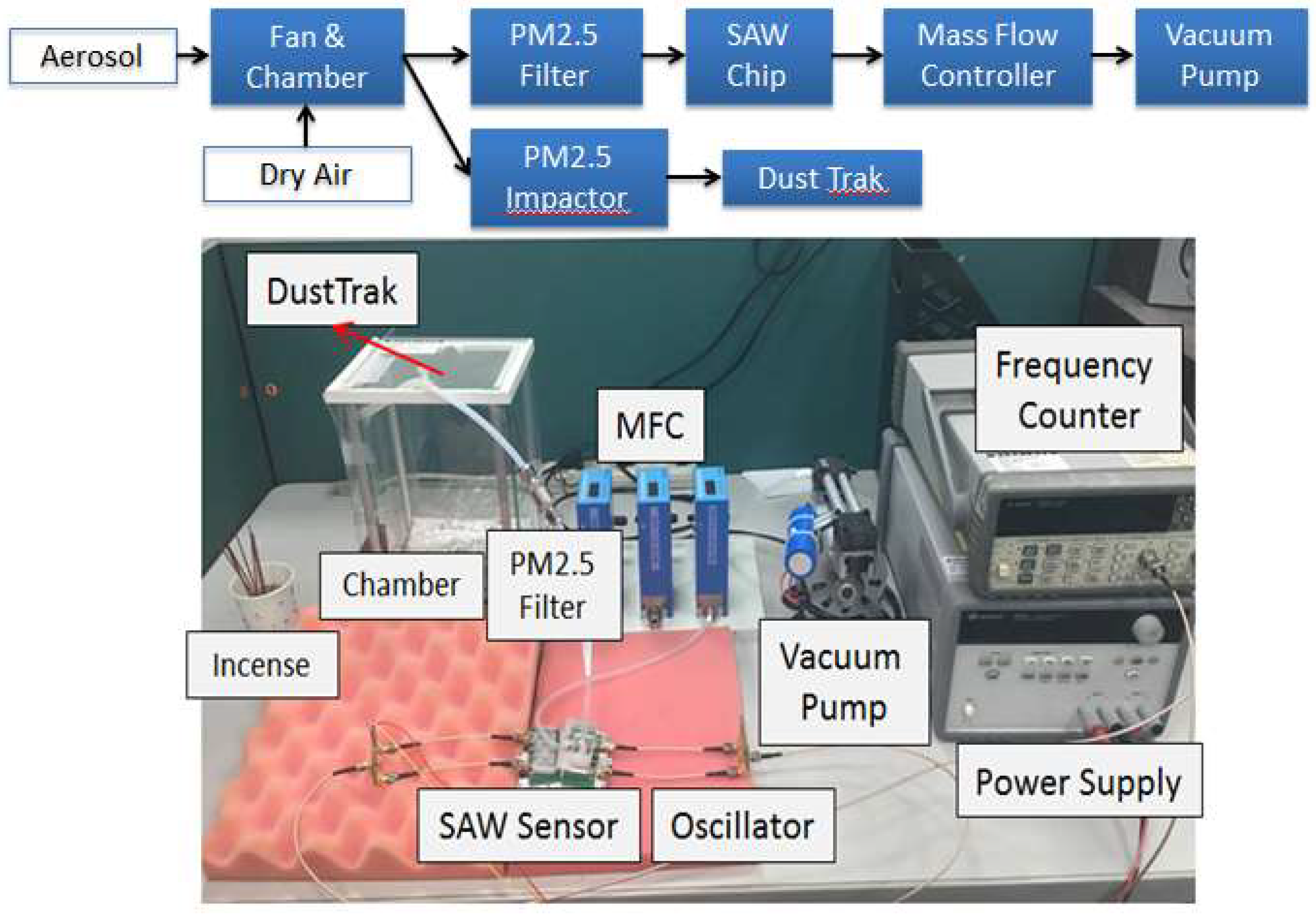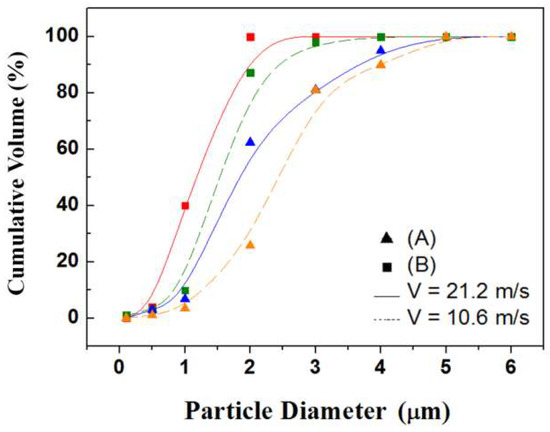 Figure 6. Comparison of separation efficiency of the tube (0.2 mL). The results indicate that design (B) generally had a separation efficiency better than that of design (A).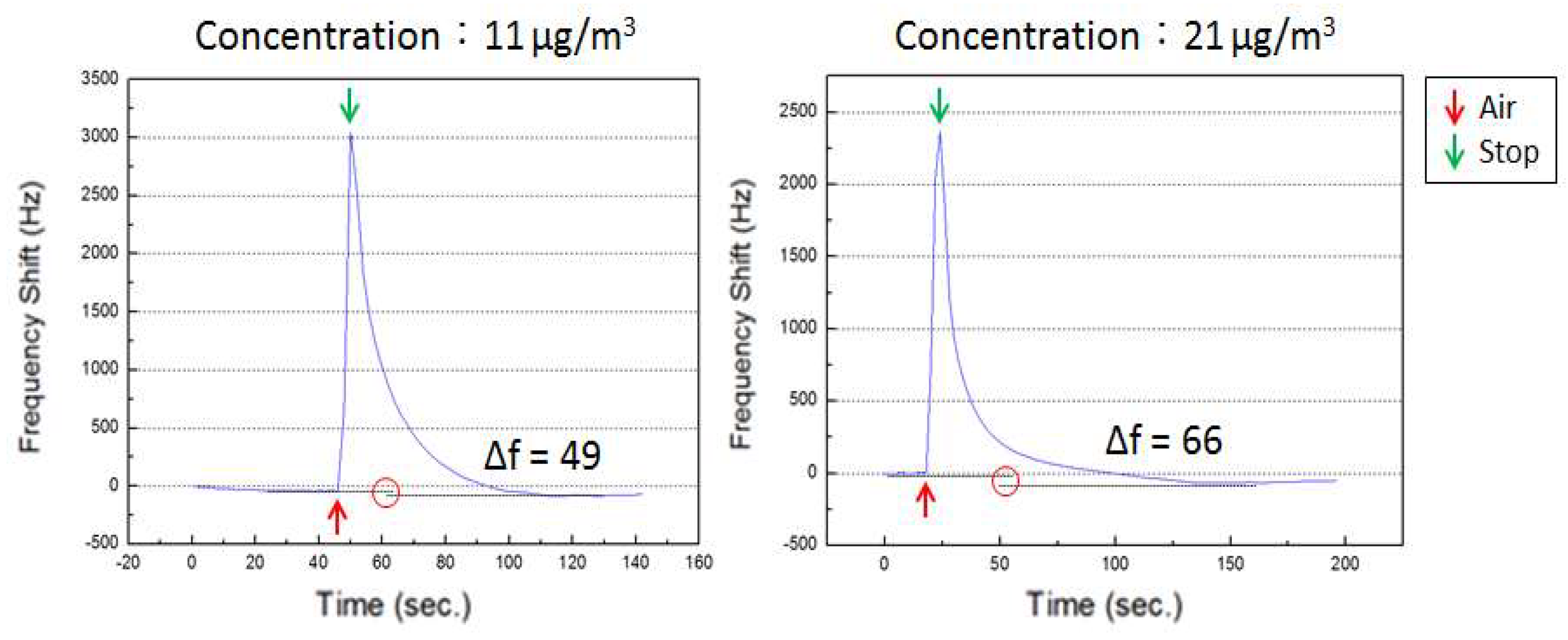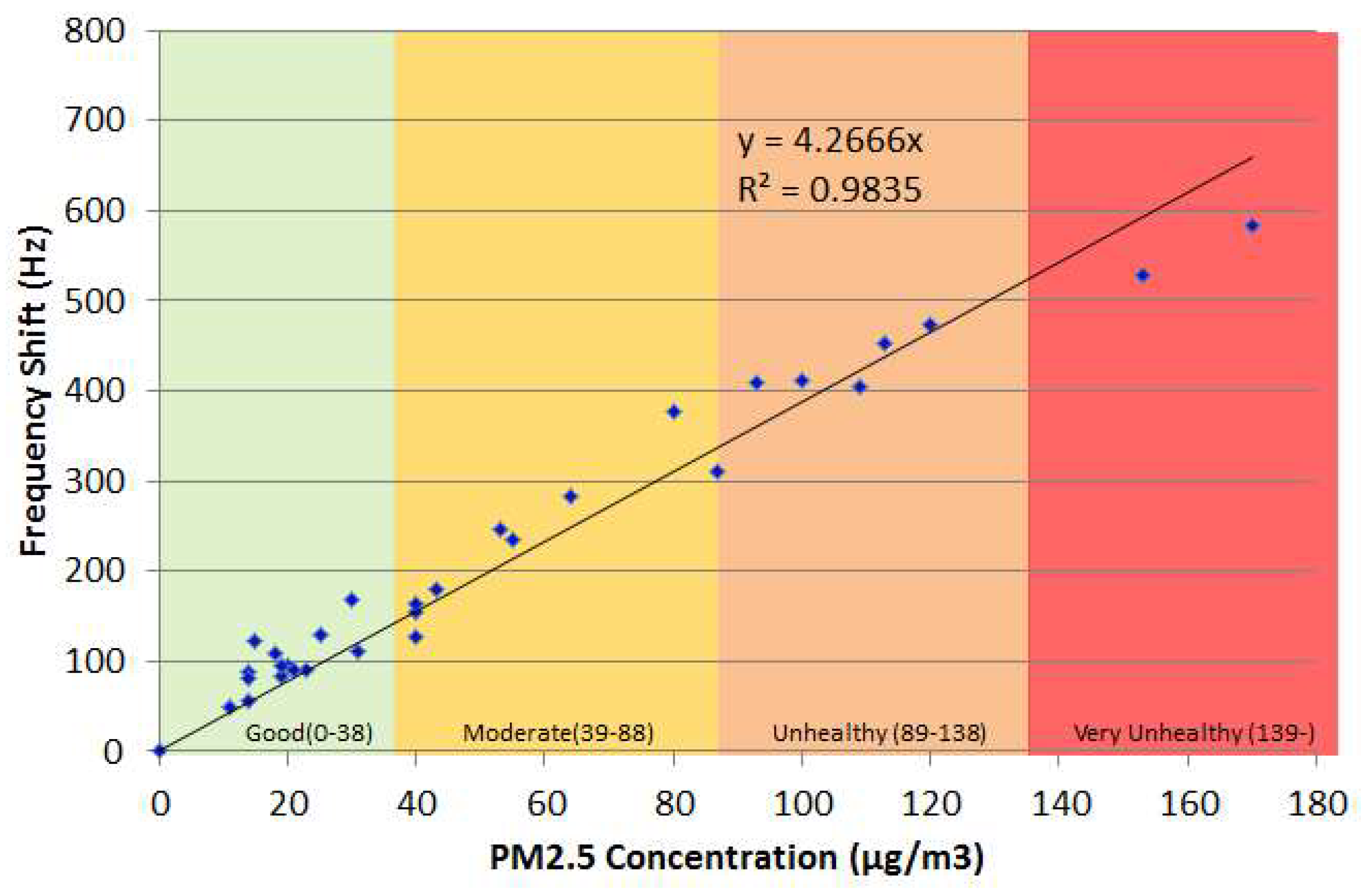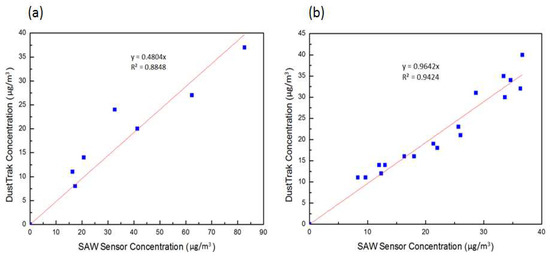 Figure 9. (a) Aerosol test of an SH-SAW sensor with no PM2.5 separator. (b) Aerosol test of SH-SAW sensor with a cyclone separator (0.2 mL).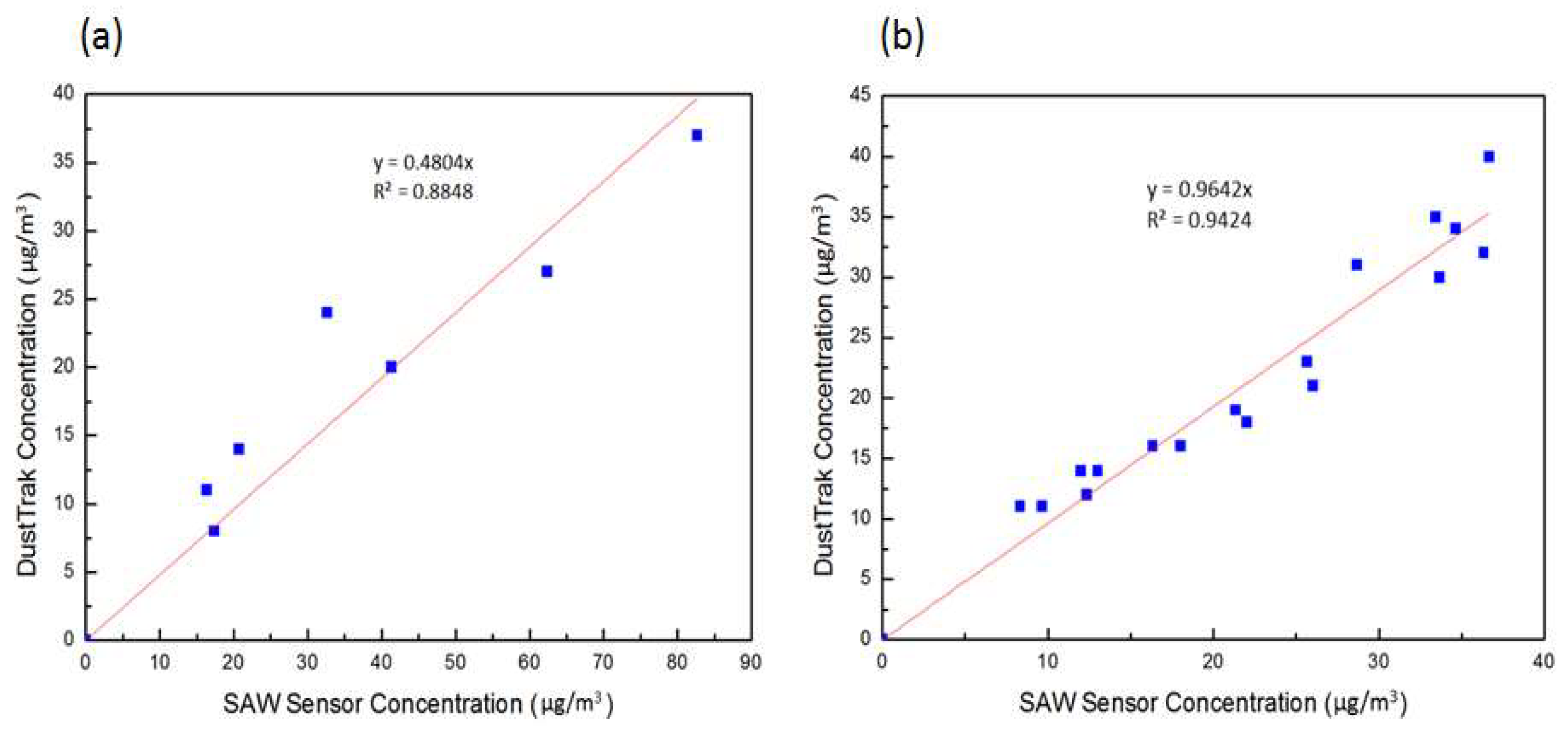 Principle
Instrument
Resolution
(m/m3)
Advantages
Volume/Mass
Price (NTD)
Optical
TSI DustTrak 8532
1
Real-time measurement (1 s); Portable
6 × 16 × 10cm3/1 kg

$

300,000
Beta Attenuation
Met-One BAM 1020
0.1
Continuous data; Error-handling software
31 × 43 × 40cm3/24.5 kg

$

580,000
Oscillating Microbalance
Thermo RP 1400
0.1
Simple design principle
28 × 22 × 43cm3/20 kg

$

550,000
Spectrometer
GRIMM 180
0.1
31 size channels
27 × 36 × 48cm3/18 kg

$

850,000
Cyclone Size

d

in/

d

out/mm
Operating Flow Rate/LPM

d

50/µm
Sample Time/s
Without Cyclone
-
3
-
10
0.2 mL
0.5/0.5
0.125
2.5
160

© 2018 by the authors. Licensee MDPI, Basel, Switzerland. This article is an open access article distributed under the terms and conditions of the Creative Commons Attribution (CC BY) license (http://creativecommons.org/licenses/by/4.0/).