Methods of Micropatterning and Manipulation of Cells for Biomedical Applications
1
CIC, Instituto Politécnico Nacional (IPN), Av. Juan de Dios Bátiz S/N, Nueva Industrial Vallejo, 07738 Mexico City, Mexico
2
CONACYT-CNMN, Instituto Politécnico Nacional (IPN), Av. Luis Enrique Erro s/n, Nueva Industrial Vallejo, 07738 Mexico City, Mexico
3
ENCB, Instituto Politécnico Nacional (IPN), Av. Wilfrido Massieu, Unidad Adolfo López Mateos, 07738 Mexico City, Mexico
4
ITAV-CNRS, Université de Toulouse, CNRS, Toulouse, France
5
LAAS-CNRS, Université de Toulouse, CNRS, Toulouse, France
*
Authors to whom correspondence should be addressed.
Received: 7 November 2017 / Revised: 27 November 2017 / Accepted: 28 November 2017 / Published: 29 November 2017
Micropatterning and manipulation of mammalian and bacterial cells are important in biomedical studies to perform in vitro assays and to evaluate biochemical processes accurately, establishing the basis for implementing biomedical microelectromechanical systems (bioMEMS), point-of-care (POC) devices, or organs-on-chips (OOC), which impact on neurological, oncological, dermatologic, or tissue engineering issues as part of personalized medicine. Cell patterning represents a crucial step in fundamental and applied biological studies in vitro, hence today there are a myriad of materials and techniques that allow one to immobilize and manipulate cells, imitating the 3D in vivo milieu. This review focuses on current physical cell patterning, plus chemical and a combination of them both that utilizes different materials and cutting-edge micro-nanofabrication methodologies.
Acknowledgments
We want to acknowledge FONCYCYT of CONACYT (Mexico), the Ministry of Foreign Affairs of France the Université Paris 13, through the financial support of the collaborative ECOS-NORD project named Nano-palpation for diagnosis, No. 263337 (Mexico) and M15P02 (France). AMR would like to thank the financial support of SIP-IPN through the project No. 20170067. GKGQ thanks to CONACYT for the Catedra program and to the CNMN-IPN for the support of developing her research activities. SPC is supported by a PhD fellowship from CONACYT (No. 288029).
Conflicts of Interest
The authors declare no conflict of interest.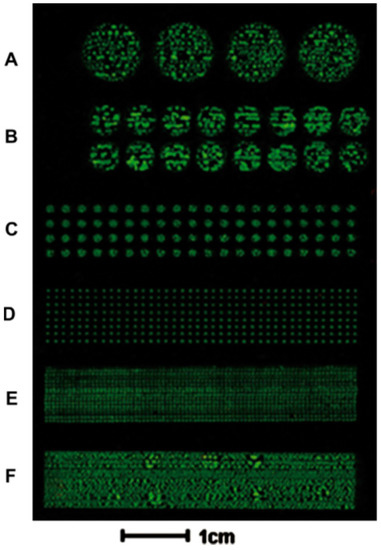 Figure 1.
Microscope glass slide where a bacterial array was printed, showing different dot sizes in the letters
A
to
F
. Reproduced with permission from [
24
].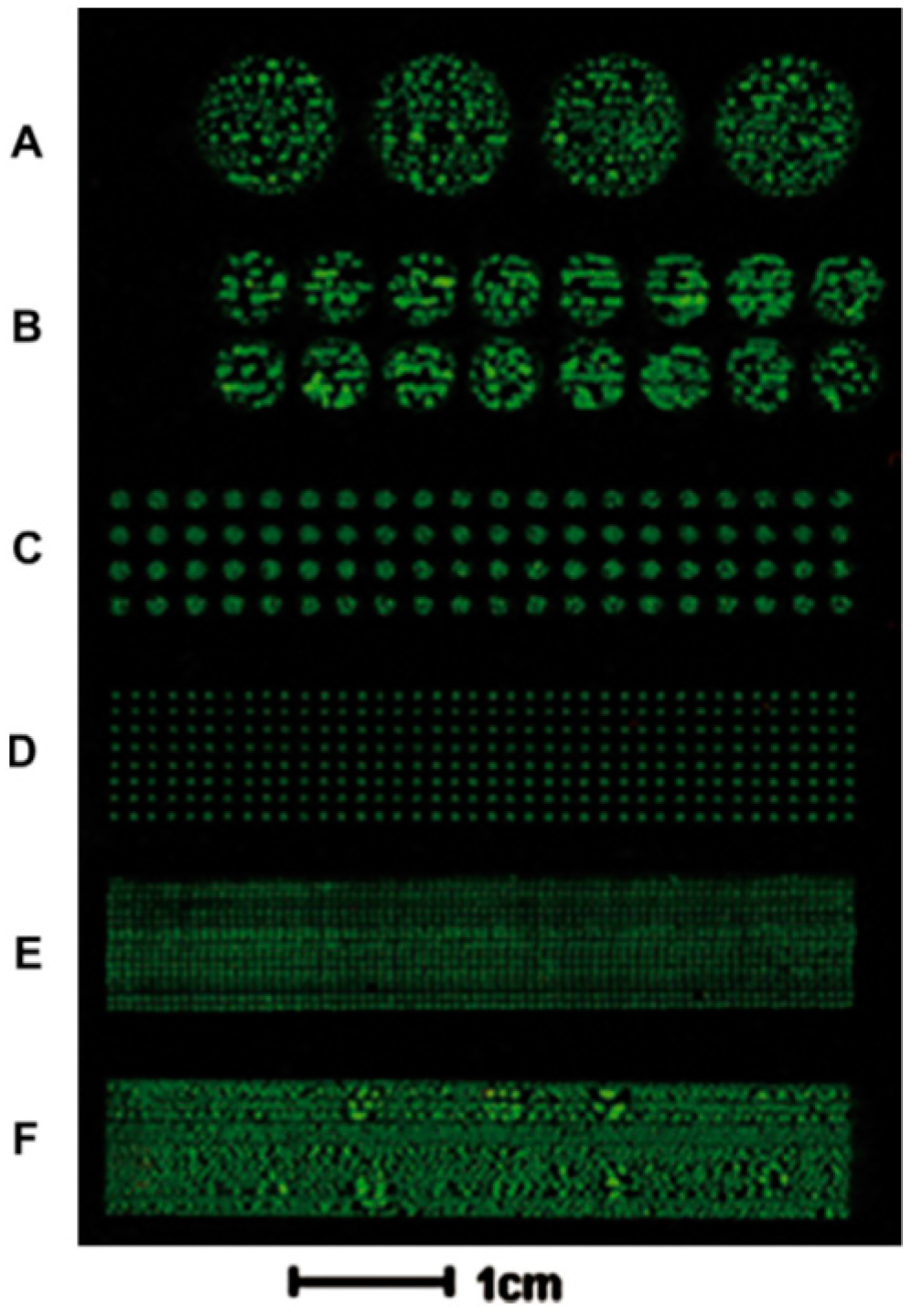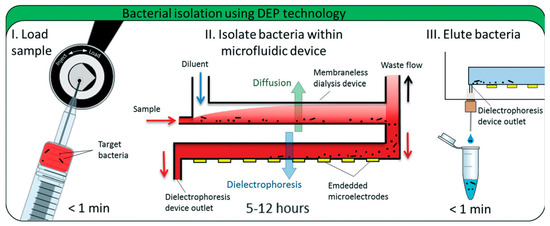 Figure 2.
A microfluidic device to detect and separate pathogen bacteria from human blood. (
I
) Blood sample mixed with permeabilizing agent is loaded and injected, (
II
) The sample is pumped to the microfluidic device, (
III
) Target bacteria are eluted for further analysis. Reproduced with permission from [
41
].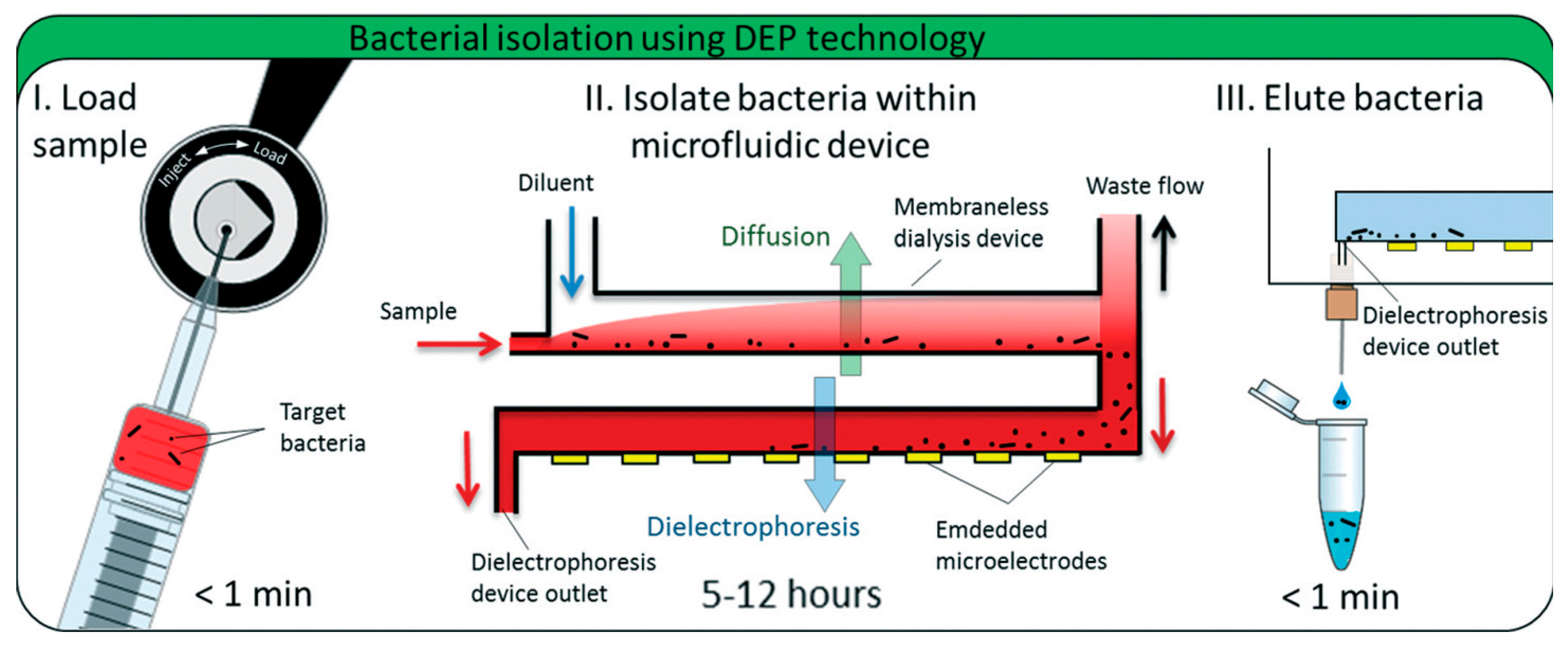 Figure 3.
Phase-microscope images of cell patterns created by magnetic forces. (
A
) Fibroblasts (FB) curve patterns; (
B
) FB parallel patterns; (
C
) FB crossing patterns. Reproduced with permission from [
42
].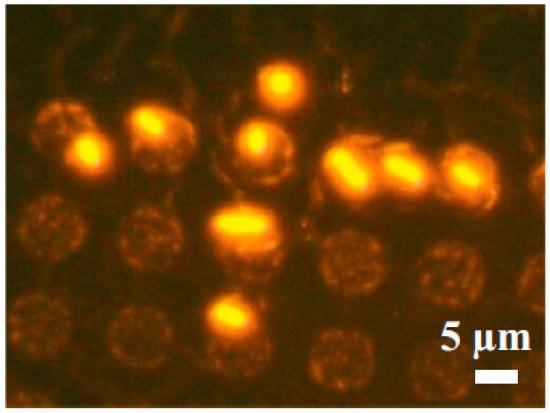 Figure 4.
E. coli
stained with ethidium bromide to observe individual cell-trapping on a micro-magnet array. Reproduced with permission from [
44
].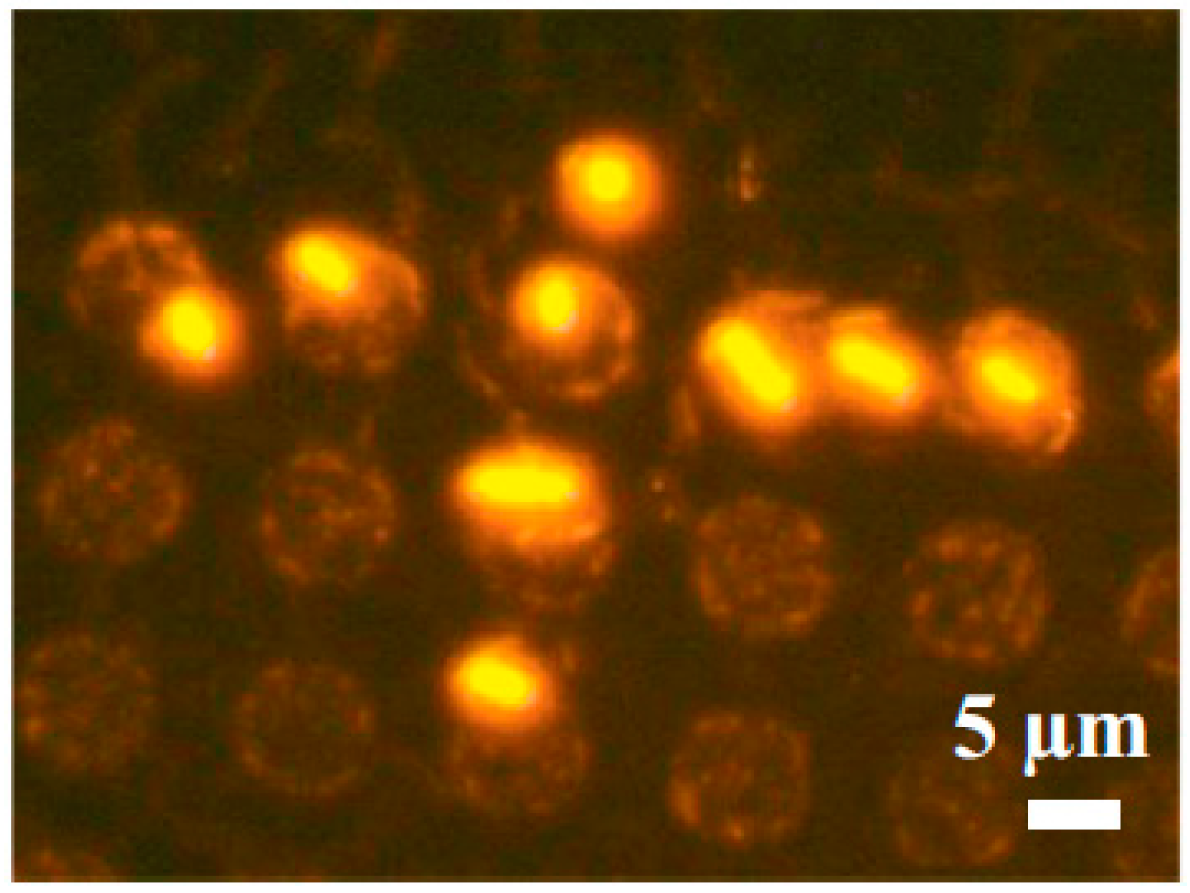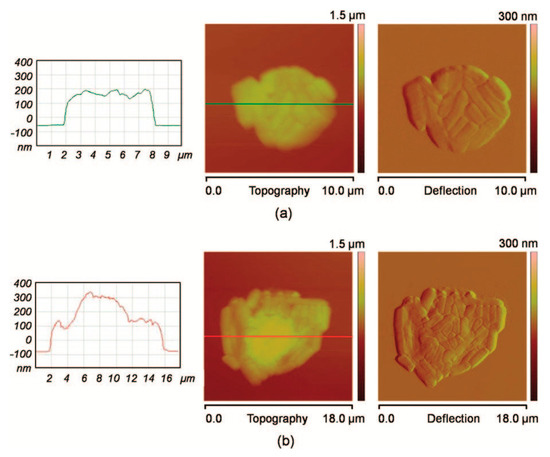 Figure 5.
E. coli
bacteria onto SiO
X
patterns, observed by atomic force microscope (AFM) in contact mode: meniscus dragging speeds of (
a
) 1 µm/s and (
b
) 0.5 µm/s. Reproduced with permission from [
54
].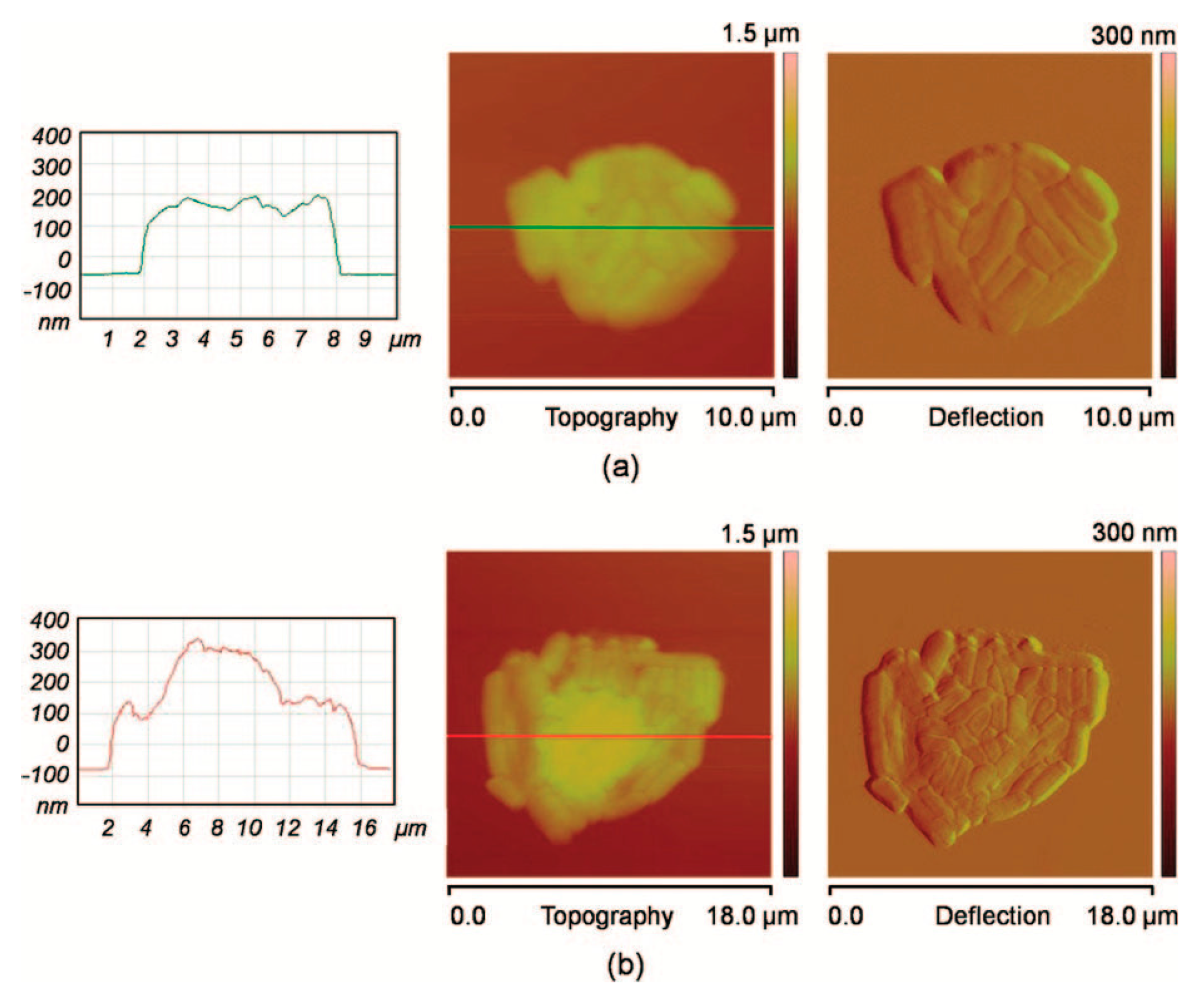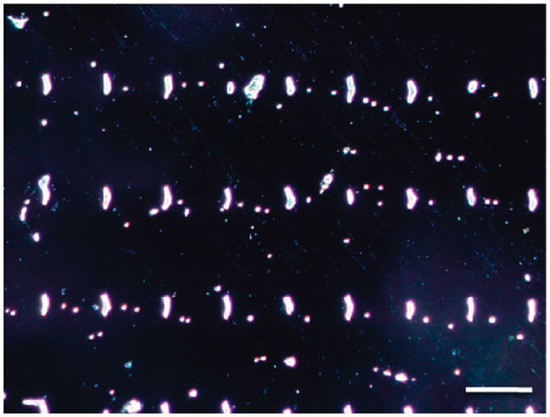 Figure 6.
Patterned bacteria onto functionalized surface with 3-aminopropyltriethoxysilane (APTES) (1100 × 1000 μm
2
dark field image with a scale bar that measures 30 μm). Reproduced with permission from [
55
].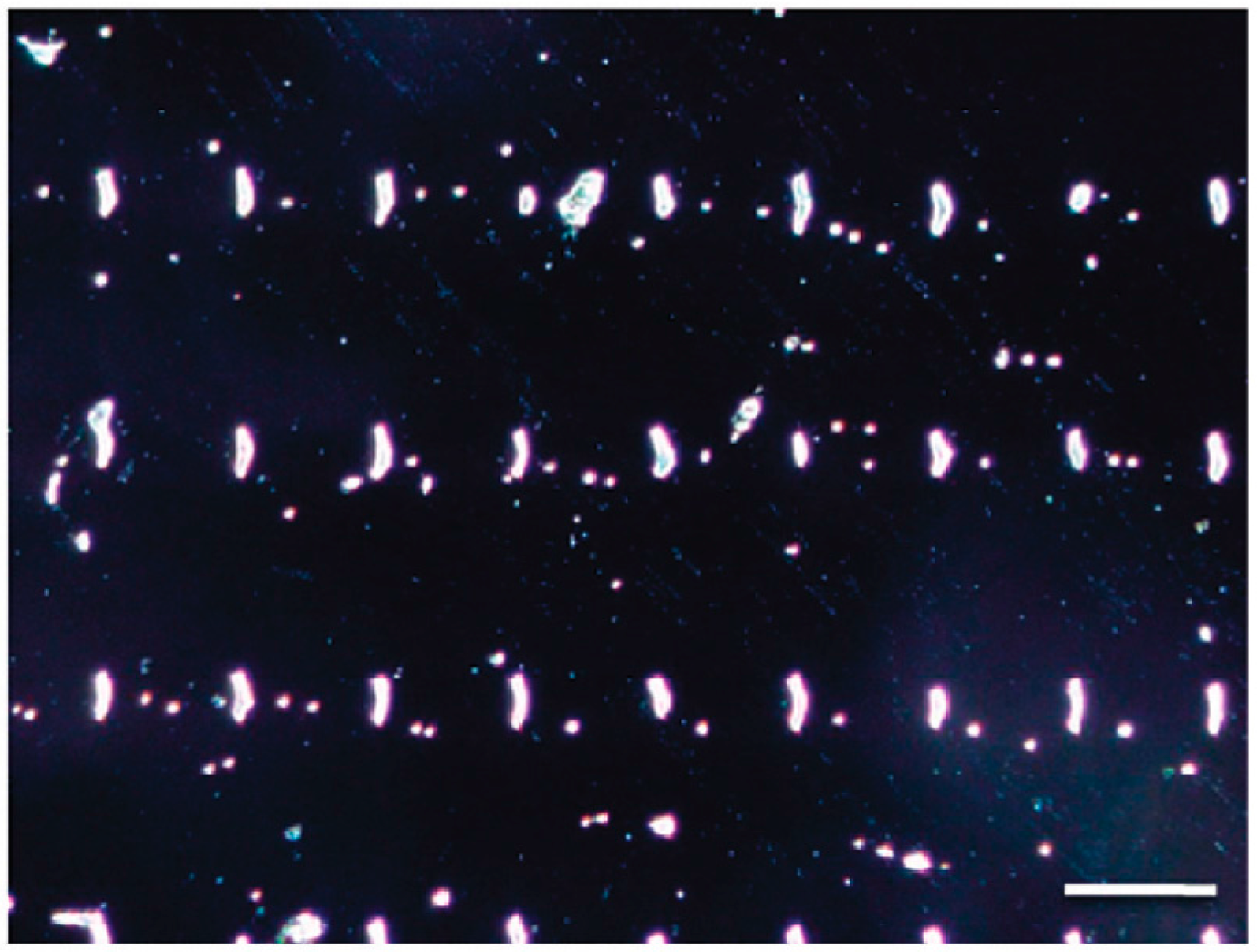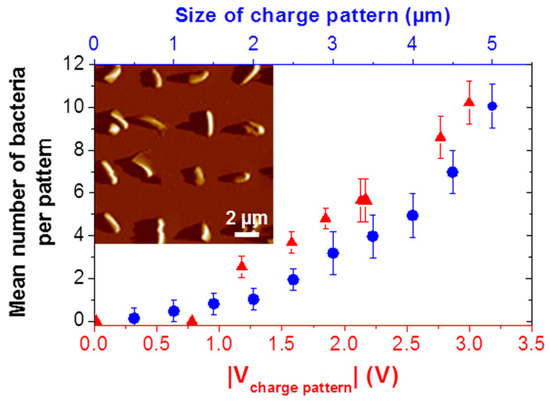 Figure 7.
AFM deflection image, in a buffer medium, of an arrays of single
Pseudomonas aeruginosa
bacteria immobilized on polyethylenimine (PEI) patterns, with the lateral size (blue disk symbols) and charge patterns (red triangle symbols). Reproduced with permission from [
56
].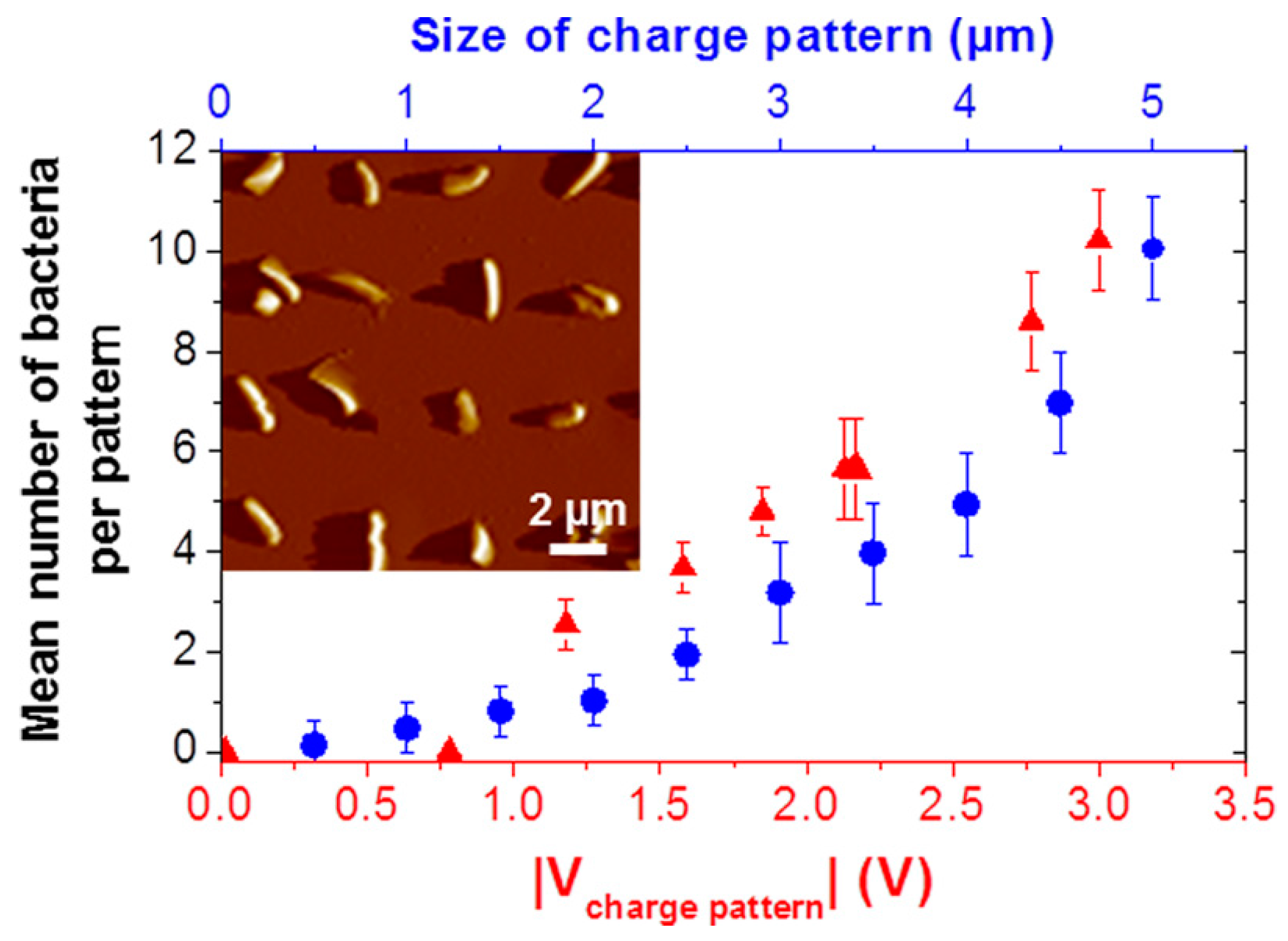 Figure 8.
AFM images of the immobilization of
Lactococcus lactis
cell in pores of polycarbonate membranes (provided by Etienne Dague).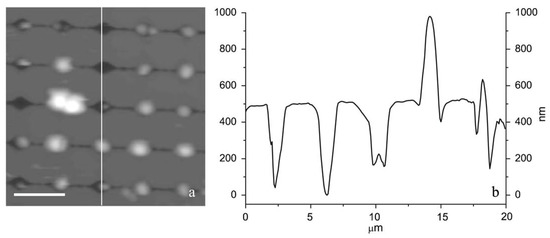 Figure 9.
AFM image of
S. aureus
cells trapped in holes elaborated by contact mask photolithography and their variation in height measured by AFM. Reproduced with permission from [
78
].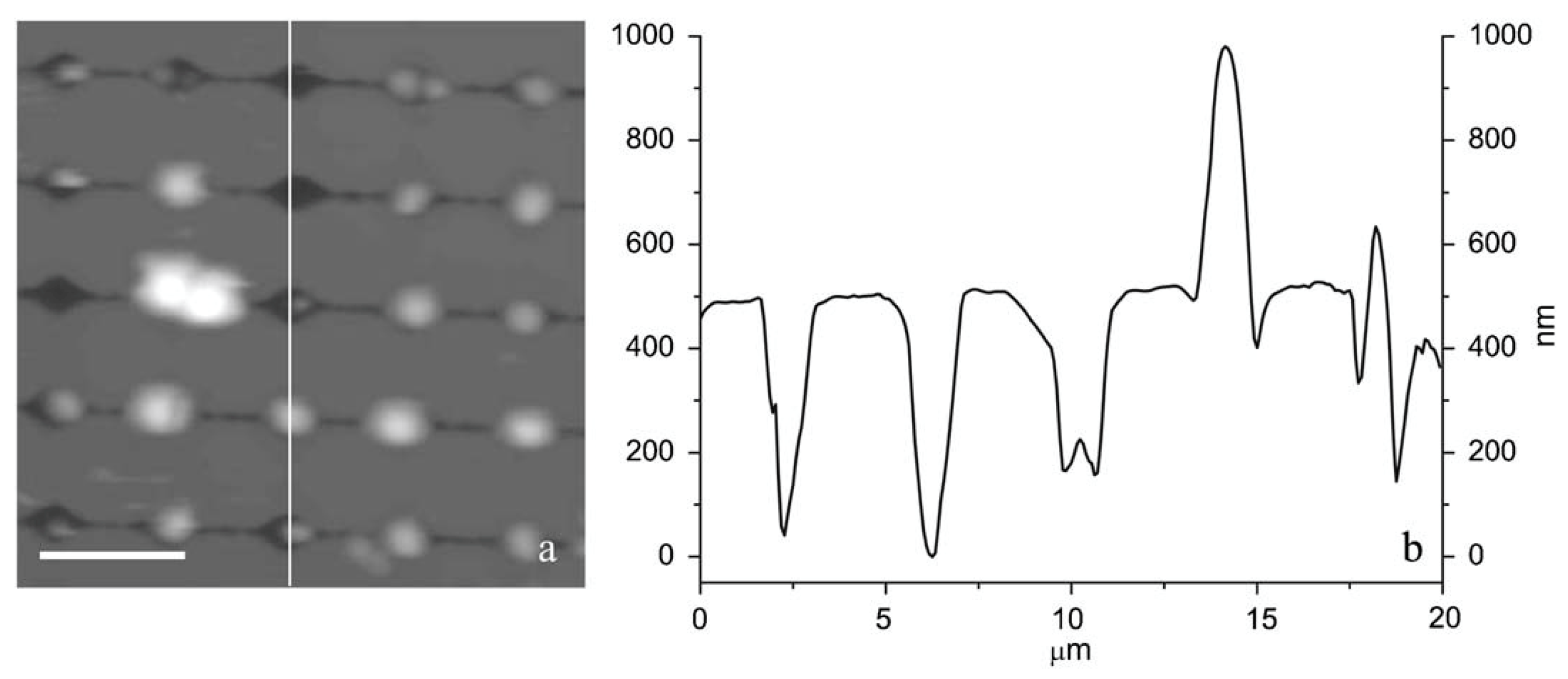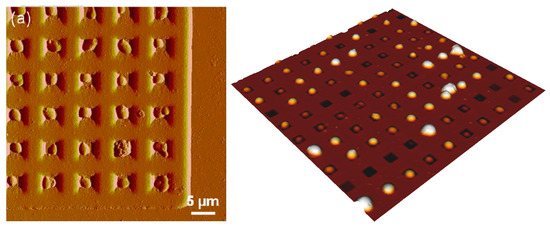 Figure 10.
AFM images of
S. cerevisiae
yeast trapped in polydimethylsiloxane (PDMS) patterns functionalized by Concanavalin A (on the left) reproduced with permission from [
79
] and AFM 3D height image of
C. albicans
cell array trapped in microwells made of PDMS stamps (on the right). Reproduced with permission from [
15
].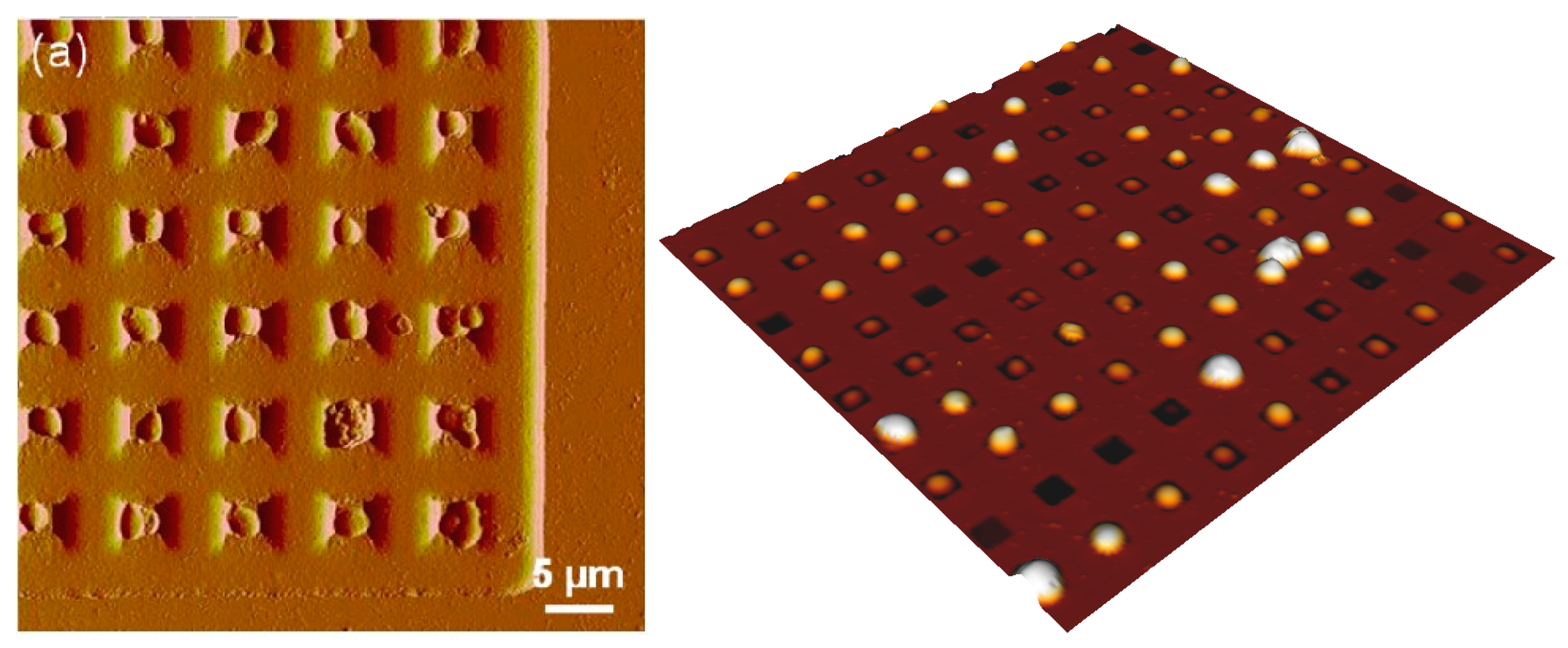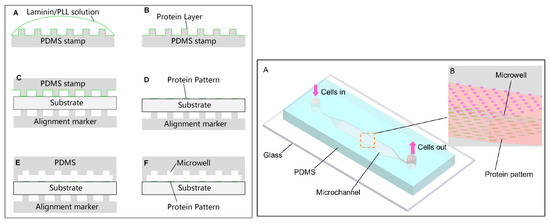 Figure 11.
On the left, a schema of a PDMS stamp with microwells to fabricate the microfluidic device, showing protein incubation (
A
,
B
), patterned proteins on the substrate (
C
,
D
) and microwell paring with a PDMS alignment marker. On the right, a schema of the final microfluidic chip showing triangular microwells where cells are captured. Reproduced with permission from [
82
].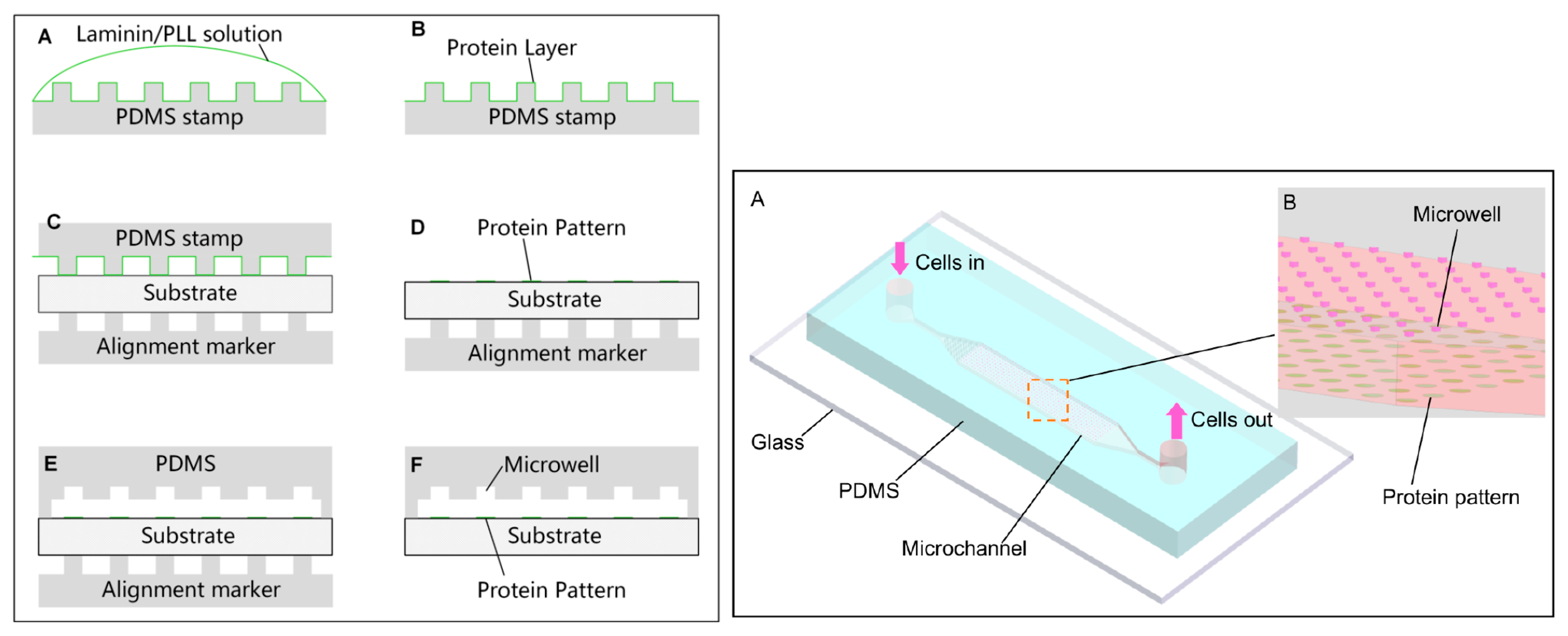 Technique
Advantage
Disadvantage
Inkjet printing (Physical)
Moderate cost Good controllability
Droplet formation Requires an external power source
Optical and optoelectronic cell trapping (Physical)
Remote and large-scale manipulation Highly specific due to the intrinsic charge and dielectric properties of cells
Thermal effects and photodamage in cells Requires an external power source
Laser-based cell patterning (Physical)
Cells and any particles can be manipulated
Large instrumentation Complex set-up
Acoustic patterning (Physical)
No significant heat generation and no effects on cell viability
Requires an external power source, piezoelectric surface, and electrode fabrication.
Dielectrophoresis (Physical)
Combine electrokinetic forces with hydrodynamic effects High-resolution patterning Large-scale parallel manipulation
Requires an external power source Dielectric force decreases due to the separation distance of electrodes
Magnetic techniques (Physical)
Remote manipulation High-resolution patterning, No stress behavior on cells
Magnets and labelling cells with magnetic particles are required
Surface chemistry methodologies (Chemical)
High precision and recognition by receptor or specific functional groups between the surface and cells
Pretreated surface is required The surface chemistry could modify the functionality of cells
Microcontact printing (Physicochemical)
Low cost, rapid prototyping
Difficulty in controlling the ink and the surface robustness
Microwells and filtration (Physicochemical)
Minimize the surface chemistry and conservation of cell functionality
Time consuming placing numerous cells inside microwells
DUV patterning
(Physicochemical)
It does not require expensive facilities
The resolution depends on the photomask design and patterning substrate.
Cell patterning in microfluidic devices combined with microcontact printing
(Physicochemical)
Study 3D culture cells and specialized biomedical microdevices
Requires specialized facilities, integration of techniques

© 2017 by the authors. Licensee MDPI, Basel, Switzerland. This article is an open access article distributed under the terms and conditions of the Creative Commons Attribution (CC BY) license (http://creativecommons.org/licenses/by/4.0/).