Open Access This article is
freely available
re-usable
Review
3D Printing Breast Tissue Models: A Review of Past Work and Directions for Future Work
1
Doctor of Medicine (MD), Faculty of Medicine, University of British Columbia, Vancouver, BC V6T 1Z3, Canada
2
Department of Urological Sciences, Vancouver Prostate Centre, Vancouver, BC V6H 3Z6, Canada
3
Department of Mechanical Engineering and Division of Medical Science, University of Victoria, Victoria, BC V8W 2Y2, Canada
*
Author to whom correspondence should be addressed.
Received: 29 June 2019 / Accepted: 25 July 2019 / Published: 27 July 2019
Abstract
:
Breast cancer often results in the removal of the breast, creating a need for replacement tissue. Tissue engineering offers the promise of generating such replacements by combining cells with biomaterial scaffolds and serves as an attractive potential alternative to current surgical repair methods. Such engineered tissues can also serve as important tools for drug screening and provide in vitro models for analysis. 3D bioprinting serves as an exciting technology with significant implications and applications in the field of tissue engineering. Here we review the work that has been undertaken in hopes of generating the recognized in-demand replacement breast tissue using different types of bioprinting. We then offer suggestions for future work needed to advance this field for both in vitro and in vivo applications.
Keywords:
breast reconstruction; 3D-printing; adipose tissue; biomaterials; stem cells; tissue engineering; drug screening
2. Materials and Methods
2.1. Review Methods
We scanned online databases for existing literature and news on breast tissue regeneration via 3D-printing. These databases included Medline Ovid, Google Scholar, PubMed, and Google searches of ongoing work discussed in press releases. Key words used in online databases included breast tissue, 3D, 3-dimensional, 3D-printing, 3D-bioprinting, reconstructive surgery, breast reconstruction, adipose tissue, implant, regeneration, mastectomy, tissue engineering. Multiple broad titles were used in the Google Search bar to pick up any ongoing research in the press that is related to our topic. We then selected relevant articles to include if they used 3D-printing in attempt to generate breast tissue. There were no limitations on date of publication for literature found.
This review aims to summarize the work that has been done to date using 3D-printing to generate breast tissue for both tissue engineering and drug screening applications. These studies are all pre-clinical and the majority were undertaken by two groups, the Pati group and the Chhaya group, both of whom have reported success in regenerating adipose tissue in animal models. We then offer our suggestions for future directions for the field.
4. Discussion
The development of a human in vitro model for testing these post-breast cancer environmental conditions would benefit the discovery and validation of novel breast regeneration strategies. Such strategies could take advantages of new bioinks and 3D printing methods, along with new stem cell technologies like induced pluripotent stem cells. Overall, this review demonstrates the promise of 3D printing breast tissues and its potential for further applications.
Author Contributions
Conceptualization, C.C. and M.R.; methodology, C.C. and M.R.; formal analysis, C.C. and M.R.; writing—original draft preparation, C.C. and M.R.; writing—review and editing, S.M.W.; supervision, S.M.W.; project administration, S.M.W.; funding acquisition, S.M.W.
Funding
Stephanie M. Willerth received funding from the Canada Research Chairs program, the NSERC Discovery Grants program, the NSERC Idea to Innovation program, and the Innovate B.C. Ignite grant program.
Acknowledgments
We would like to acknowledge Alex Seal and Adelyn Ho for their constructive discussions on this topic.
Conflicts of Interest
Stephanie M. Willerth has an on-going commercialization agreement with Aspect Biosystems, who produce a novel 3D printing system.
Figure 1.
Schematic illustrations of (
A
) microextrusion, (
B
) inkjet, (
C
) laser-assisted printing, and (
D
) stereolithography techniques. Reprinted with permission from [
31
]. Copyright 2016 American Chemical Society.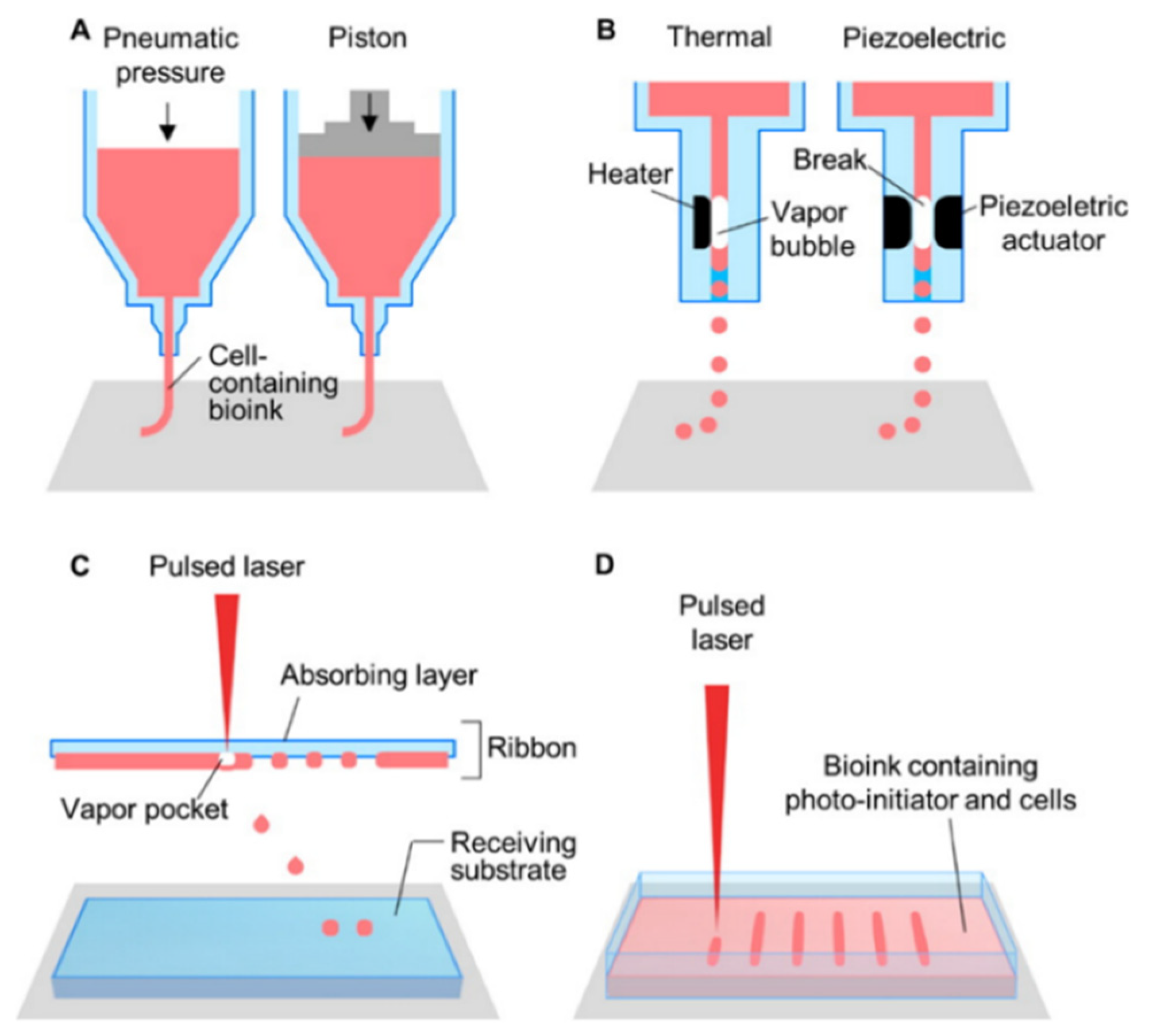 Figure 2.
Schematic showing advances in extrusion-based bioprinting. (
A
) Core-shell nozzles encase an inner cell-laden bioink within a protective cross-linked bioink to reduce shear-stress induced cell death. (
B
) An example of a microfluidic printhead design in which a cell-laden bioink is introduced to the crosslinker as the channels merge, allowing for crosslinking to take place moments after extrusion, thereby greatly reducing shear stress-induced cell death [
39
]. This figure is being reprinted under a Creative Commons BY 4.0 license.
Figure 3.
Reaction between the bioink and cross-linker in Aspect Biosystems' DUO-1 Printhead. (
A
) Thrombin cleaves fibrinogen to form fibrin monomers, which aggregate to form protofibrils. (
B
) Calcium chloride stabilizes fibrin and promotes polymerization. (
C
) Calcium chloride crosslinks alginate. (
D
) Genipin cross-links fibrin. (
E
) Genipin cross-links chitosan. (
F
) Alginate and chitosan interact due to polarity. (
G
) Printable gel enters the nozzle of the printhead and is subsequently deposited on the print bed. Reprinted with permission from [
46
]. Copyright 2019, American Chemical Society.
Figure 4.
Schematic elucidating the tissue printing process using decellularized extracellular matrix (dECM) bioink taken from [
50
]. This figure is being reprinted under a Creative Commons BY 4.0 license.
Figure 5.
Schematic showing the process of pre-vascularization followed by delayed fat injection taken from [
52
]. This figure is being reprinted under a Creative Commons BY 4.0 license.
Figure 7.
Proposed interplay between apoptosis and endothelial senescence, and its implications for pathogenesis, taken from [
62
]. ATM = ataxia telangiectasia mutated; b-FGF = basic fibroblast growth factor; ERK = extracellular signal-regulated kinase; IGF = insulin-like growth factor; LDL = low-density lipoprotein; MAPK = mitogen-activated protein kinase; SASP = senescence-associated secretory phenotype; SEK1 = stress-activated protein kinase 1; TNF = tumor necrosis factor. This figure is being reprinted under a Creative Commons BY 4.0 license.
Technique
Advantages
Disadvantages
Extrusion-based
Utilize high cell densities, high viscosity bioinks, print multiple bioinks simultaneously
Moderate resolution (~100 µm), slow speed, reduced cell viability secondary to shear stress, moderate cost
Advances: Melt writing Core-shell Microfluidic
Precise
High cell viability
High cell viability and resolution
Requires cell seeding post-print, moderate resolution (~100 µm)
--
--
Inkjet
High resolution (50 µm), fast speed, low cost, widely available
Not suited for viscous bioink, limited to non-complex architecture, reduced cell viability secondary to heat or shear stress, low cell density
Laser-assisted
No shear stress, viscous or solid bioink compatibility, high resolution (1–50 µm)
Reduced cell viability secondary to heat, medium speed, limited scalability, high cost
Stereolithography
No shear stress, high resolution (3–300 µm), high cell viability, fast speed, low cost
Require photo-curable bioink, UV toxicity to cells, poor hollow-structure capabilities

© 2019 by the authors. Licensee MDPI, Basel, Switzerland. This article is an open access article distributed under the terms and conditions of the Creative Commons Attribution (CC BY) license (http://creativecommons.org/licenses/by/4.0/).